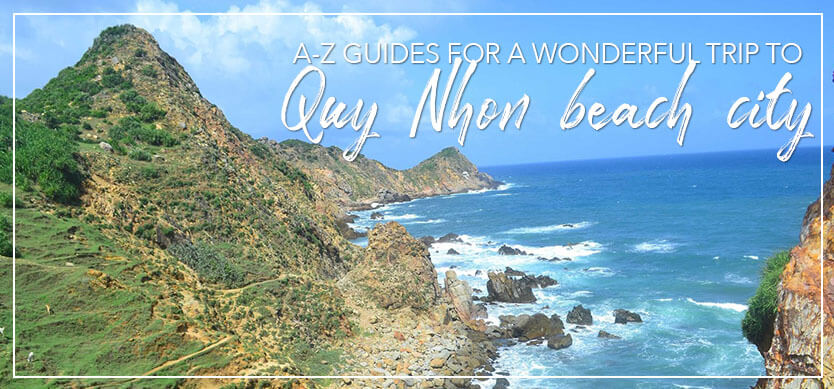 Not as bustling as Saigon, the beautiful harmony of the mountains and the sea of Quy Nhon city will help you dispel the complex life to enjoy the summer with blue sea, white sand, and sunshine. More than that, you will be "knocked down" by the rustic yet charming features of people and scenery here.
Belonging to Binh Dinh province, Quy Nhon is quite peaceful with a harmonious combination of mountains and sea. There are white sand, sunshine, and blue sea in this city, but the name Quy Nhon also arouses something "hot, sunny, and wild" that many people can feel hesitant. However, if you ignore Quy Nhon because of those, we're sure that you are missing a land of interesting things. The unexploited scenery and the simple yet charming life here will conquer everyone setting footstep on the beach city. When you have the opportunity to visit this land, make sure you spend enough time to enjoy the scene and life here with the most "authentic" experience.
How to travel to Quy Nhon
To get to Quy Nhon from Ho Chi Minh City or Hanoi, tourists can choose any type of transportation such as plane, train, or passenger car. If traveling by plane, after landing at Phu Cat airport, they can take a taxi or take an airport bus to Quy Nhon city about 35 kilometers away.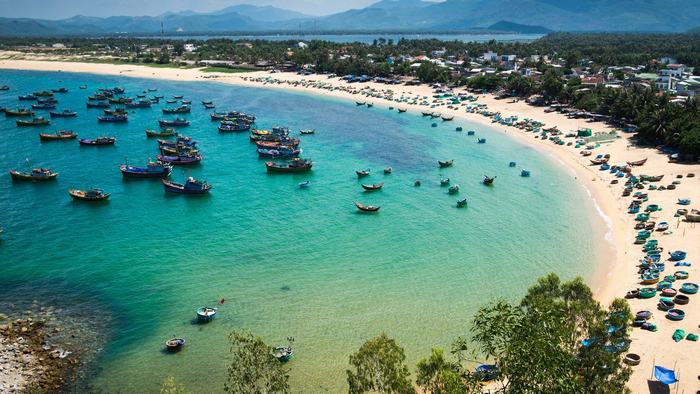 Quy Nhon overview
With train tickets from Hanoi to Quy Nhon or from Ho Chi Minh City to Quy Nhon, the trip will be more enjoyable when travelers have the opportunity to enjoy the view on the way. Finally, if they choose to travel by car, from anywhere, visitors will also be transported directly to the center of Quy Nhon city. Here, they can rent motorbikes in the hotel where they're staying or car rental services for about VND 150,000/day.
Top tourist spots in Quy Nhon
Eo Gio (Windy strait)
Eo Gio, or "Strait absorbing wind", is a strait of Nhon Ly commune, located between two high mountains close to the sea, creating a unique arch. As a convergence of mountains and sea, Eo Gio with the pristine and rugged cliffs has created a wild, majestic, and challenging natural landscape. However, around the strait is the fresh green grass field, making the surrounding scene suddenly becomes more beautiful in a gentle way.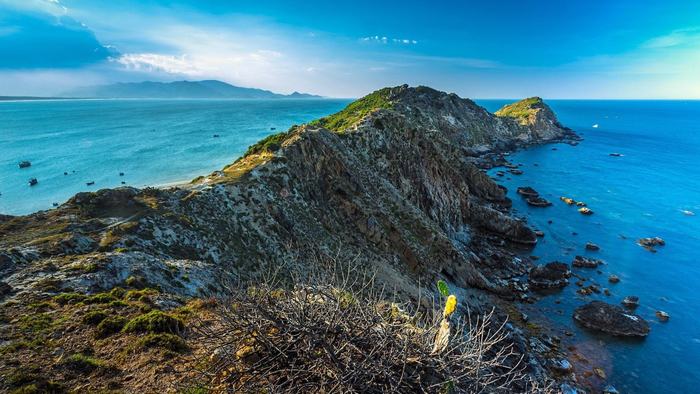 Eo Gio
Ky Co
From Eo Gio to Ky Co beach, tourists can move by boat or canoe which only take 30-40 minutes. Coming to Ky Co, travelers feel like they are lost in a wild place that is extremely beautiful. Life in Ky Co is quite rustic and not fully equipped because travel here is only initially noticed. However, this is also an opportunity for visitors to completely experience the rhythm of life, enjoy the fresh seafood and privacy on holidays.
Hon Kho (Dry islet)
Having few green trees, Hon Kho is an islet of only rocks, sand, and blue sea, but this has made the wild character for the islet. The sea is clean and clear enough to easily see the seafloor and the colorful, charming coral reefs. In particular, there is also a road to the beach that will give tourists an enjoyable walking experience. When the tide is down, this road becomes visible and travelers can walk along the sea road, swim, and watch the coral as well. The seafood here is also fresh at a very cheap price.
Egg beach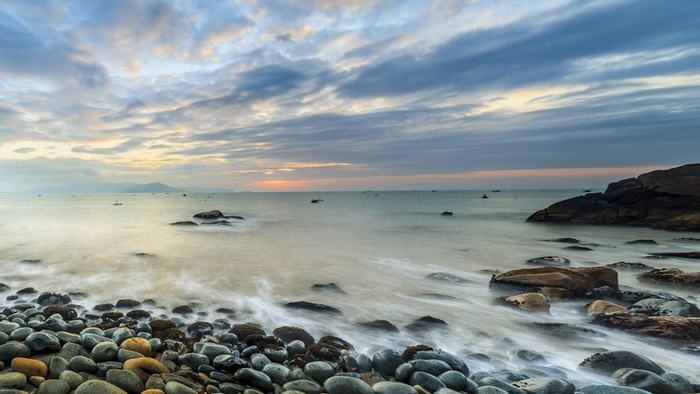 The Queen beach
As a coastal city, of course in Quy Nhon, stretching the city are the beautiful white sand beaches. There are many famous beaches, of which Egg beach (also known as Queen beach because this place once was a swimming area reserved for Queen Nam Phuong) with beautiful sea curve, clean blue sea water, and innumerable oval stones stacking like the eye-catching eggs is the most popular destination to tourists.
Green isle
Green isle or Nhon Chau island commune is an invaluable gift that nature offers to people here, just over 20 kilometers from Quy Nhon. Guests can be immersed in an endless space of blue sky and green island. At sunset, visitors are able to see the picturesque scenery with the boats swaying on the waves and learn the life of the fishermen in the peaceful scenery.
Specialties in Quy Nhon
Grilled chopped fish
Grilled chopped fish is very popular in Quy Nhon and can be processed into various dishes such as rice noodle, cake soup, etc. Cake soup with grilled chopped fish is very famous here. The uniqueness of the dish is the way to make the cake, chopped fish, and processed water. Grilled chopped fish here is made entirely from fresh fish with spices. The cake is made of rice flour mixed with wheat flour that will turn into a strange and clear color when being cooked. Water uses mainly fish bone, fish head creating sweet and fresh flavor that is unforgettable.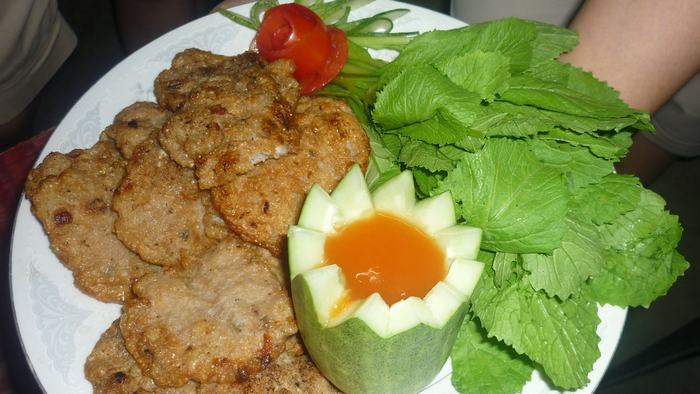 Grilled chopped fish
Shrimp pancake
Being small as the pancake style of Central Vietnam, crispy crust wrapping vegetables, bean sprouts, chives, and mango slices, etc can balance back the fat of the cake, so this shrimp pancake is quite easy to eat.
Water fern cake
Mentioning water fern cake, everyone will remind the cake in Quy Nhon. Just a small bowl of rice cake, soy sauce, and minced meat added a little chili, but the taste of this dish is surprisingly delicious.
Pig's offal congee with rice vermicelli
Rice vermicelli is a specialty of Binh Dinh. Visitors to Quy Nhon will see many signboards of pig's offal congee and rice vermicelli. Actually, they are two different dishes but local people combine them together to create in interesting dish.
Indeed, if not going to Quy Nhon once, going around and exploring this place, it would be difficult to imagine the land which is extremely interesting. The coastal city will definitely make your Vietnam tours as well as Asia tours become much more unforgettable. If you like this place, don't hesitate to like and share with others. Thank you.