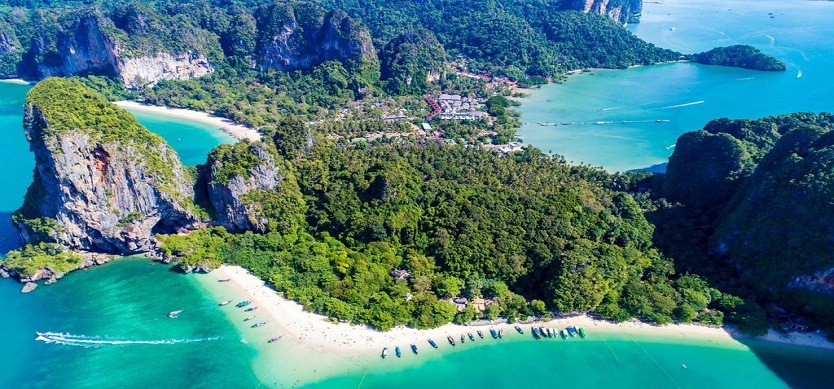 Explore Railay Beach - One of the most famous beaches in southern Thailand
As a peninsula located in the south of Ao Nang area, Railay beach is almost separated from the vibrant urban area of the North, just 5 minutes by boat from Ao Nang. Therefore, when coming here, visitors will feel like they are stepping onto another world – a forgotten paradise.
Railay Beach is well-known for climbing activities and underwater entertainment. You can choose to relax on the beach or join diving tours on some islands like Krabi. So if you are planning to travel to Thailand, do not miss Railay.
Railay Beach is divided into two different areas, one is the holiday paradise in Railay West area and the other is Railay East area with more affordable prices.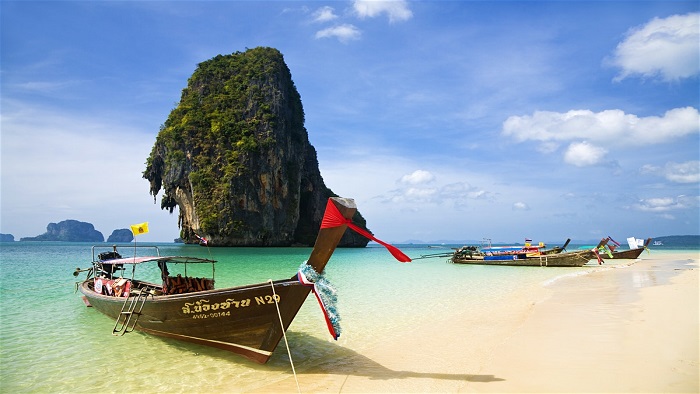 Railay Beach
The outstanding points of Railay
Railay West
The Railay West is the most famous area of Railay with such beautiful natural scenery that you will want to spend most of your time there. There are also many restaurants and bars along the coast that make Railay West an ideal entertainment destination.
Railay East
Railay East might be not as interesting as Railay West because most of the beaches are covered by the mangrove system. However, it is still an exciting place for you to stay and enjoy the nightlife of Railay.
Tonsai beach
In terms of geography, Tonsai is a private beach, but it is convenient to come here from Railay West. Near the coast of Tonsai, there are vast limestone cliffs surrounding Railay beach which you can take part in climbing activities.
Phra Nang beach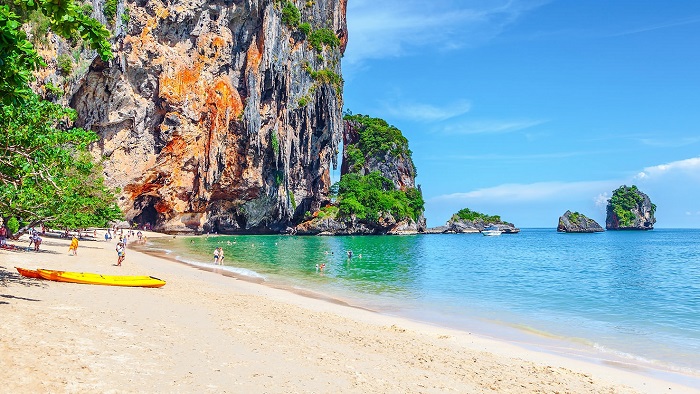 Phra Nang beach
Phra Nang Beach is just a short distance from Railay West, often known for its recreating caves and wooden Buddha. The clear water and white sandy beaches of Phra Nang even attract more visitors than Railay West in the peak season.
Interesting activities in Railay beach
Swimming and sunbathing
Unlike Ao Nang, Railay does not have many tourist destinations. Therefore, the best choice for you here is underwater activities. Swimming or enjoying sunbathing on the beautiful beaches will bring you the most relaxing time here.
Mountain climbing
Tonsai beach is one of the most famous mountain climbing spots in Thailand with numerous huge limestone cliffs. It is surely a challenging destination for experienced climbers.
Go on cruising to watch the sunset
Coming to Railay, you can choose a unique form of entertainment is to enjoy the sunset in the romantic space of the yacht Siamese Junk. The yacht route will take you to five islands including Poda, Tup, Si, Ta Ming, Wasam and Gai. Here visitors can take the time to swim, snorkel, kayak or participate in sailing activities. When the sunset falls, you can enjoy a dinner buffet and watch the sun fade away on Pranang Bay.
Kayaking
Renting a kayak is one of the best ways to explore Railay and Phra Nang. Kayaking rental service is available at Railay West.
Railay Viewpoint
Railay Viewpoint will be a challenge for travelers who are weak, but surely this place will give you a memorable time. Railay Viewpoint is located on the south side of Railay East, where the roads are quite slippery, so you should prepare carefully before conquering Railay Viewpoint. If you think Railay Viewpoint is not a real challenge, then try Railay Lagoon with lagoon ecosystems like steep slopes.
Snorkeling
If you are not interested in diving near the shore at Railay beach, rent a boat to try other diving sites. Snorkeling tours are frequently held at Railay West and East and other diving spots in Krabi.
Top luxurious hotels in Railay
Rayayadee Hotel
Rayayadee Hotel is a luxurious resort on Phra Nang beach. All villas here have outdoor swimming pools and other convenient services. This resort easily accesses to Phra Nang and Railay West.
Bhu Nga Thani Resort & Spa
Bhu Nga Thani Resort & Spa offers a lot of room choices for you, from the luxurious double rooms to presidential villas. All the rooms here are spacious and modern. This resort also has a large outdoor swimming pool and a luxurious spa.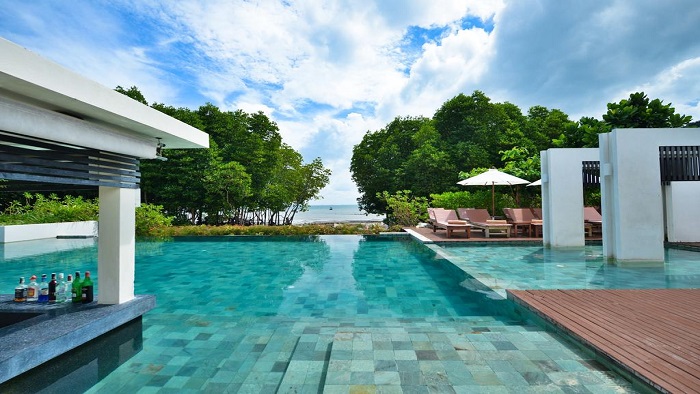 Bhu Nga Thani Resort and Spa
Mid-range hotels in Railay Beach
Railay Village Resort
Railay Village Resort with spacious and comfortable rooms combined with variable relaxation setting makes this place the ideal choice for travelers who are looking for a luxury hotel at an affordable price. From Railay Village Resort, you can enjoy food at beachfront and easily access to Railay West.
Railay Great View Resort
Located on a hill overlooking Railay East, Railay Great View Resort is a perfect place for those who are into beautiful scenery. The outdoor pool and spa will be ideal for you to relax.
Railay Bay Resort & Spa
As one of the major resorts at Railay West, Railay Bay Resort & Spa provides cottages and villas with pools and direct access to Railay Beach. Large rooms and the restaurant located right on the beach make it convenient for tourists to stay here.
With these suggestions above, hopefully you can find it worth visit Railay beach and make your trip here more convenient. For further information about traveling to Asia, do not hesitate to visit our website. Like and share this article if it is useful for you. Have a nice trip!