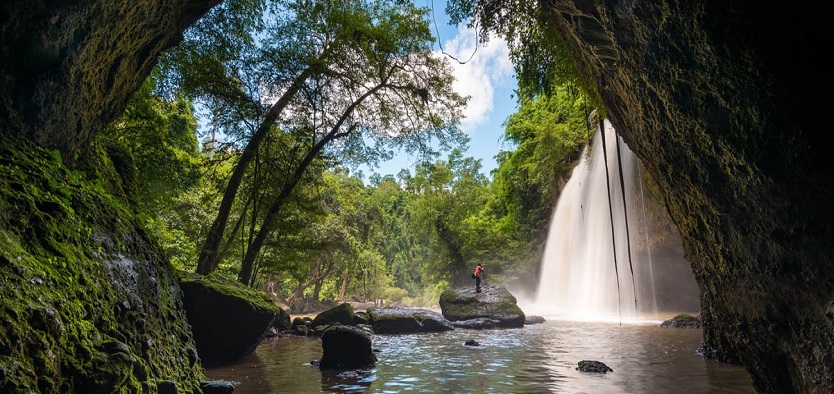 Located in the western part of the Sankamphaeng Mountains in Nakhon Ratchasima province, Khao Yai National Park is the first national park of Thailand established on September 18th, 1962.
The biodiversity of Khao Yai National Park
Covering an area of 2168 square kilometers, Khao Yai is Thailand's second largest national park including mountainous areas and grasslands. The average elevation in Khao Yai ranges from 400 to 1000 meters above the sea level of which the highest peak is Khao Rom with the height of 1,351 meters.
Khao Yai National Park was recognized as an ASEAN Heritage in 1984. On July 14th, 2005, this national park, along with the Dong Phaya Yen Mountains was recognized as a World Cultural Heritage by UNESCO under the name of "Dong Phaya Yen – Khao Yao Forest Complex".
Coming to Khao Yai National Park, you will be amazed by the rich ecosystem. There are 3,000 plant species, 320 species of birds and 67 mammal species, including Asian black bears, Asian elephants, cows, tigers, gibbons, Indian sambar, and boars.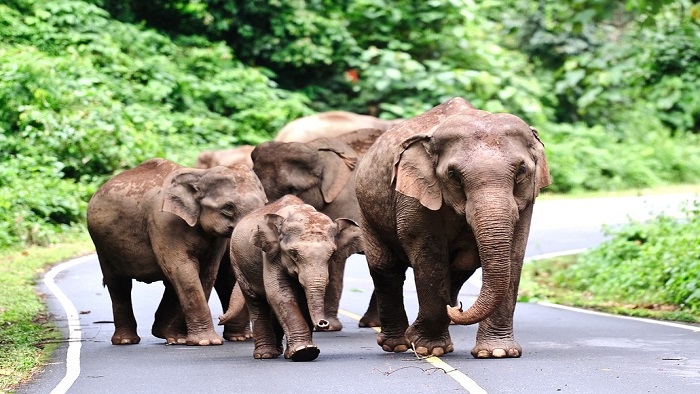 Khao Yai National Park
Khao Yai National Park is considered a unique tropical rainforest protection zone. There are many species of precious wood and orchids, especially the large populations of gibbons, of which the white gibbons are rare species in the world. In this national park, you can easily observe animals and birds, an ideal place for nature lovers. You can also see bears, bison, and leopards. There are 12 trails across the forest, ranging from 1.5 to 8 kilometers long and it will take you about one to six hours to cross. Along Krong Kaew Road, there are many beautiful waterfalls such as Heo Suwat (25 meters), Heo Narok (150 meters), and PaKuay waterfall with many kinds of forest orchard. You can also stand on the top of Nong Pakchee to see wild animals such as deer, wild boars or elephants, or explore Khao Luk Chang cave to see thousands of bats.
Amazing experiences in Khao Yai National Park
Khao Yai National Park will bring visitors enjoyable experiences. You will be overwhelmed by the breathtaking beauty of Khao Rom Mountain at the altitude of 1,351 meters. Khao Yai also attracts tourists by the vast grape hills, especially the Khmer Yai Winery – the place where fine wine is made. If you come here at the harvesting season, you can admire millions of grape bunches hanging on the branch. When taking the PB Valley Khao Yai Winery tour, you have the chance to enjoy the glasses of grape wine and buy souvenirs made from grapes.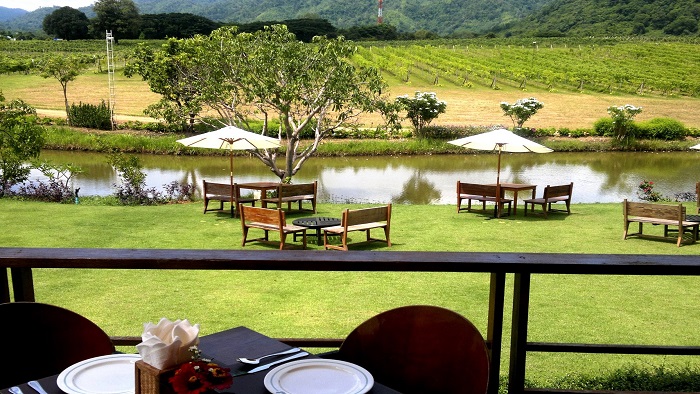 The valley Khao Yai Winery
After visiting the grapevine, visitors should visit the mushroom farm – Panorama Farm. On this farm, people plant a lot of mushrooms, from straw mushrooms to cat-ear mushrooms. Some are grown indoors, and some are grown outdoors. Visitors can also participate in the process of packing sawdust to plant, or picking up fresh mushrooms. In Panorama farm, there are several mushroom-shaped houses with two storeys and surrounded by a small pool. The path is paved with small stones which is suitable for the foot massage.
To continue your journey in Khao Yai National Park, let's head to the dairy farm – Fram Chokchai. This is a large area for dairy cattle and a small workshop to make ice cream. Coming to this farm, besides participating in dairy cow milking, visitors have the opportunity to make their own strawberry ice cream or delicious chocolate. In Fram Chokchai, people also grow clean rice and vegetables.

A small corner of the Italian – Primo Piazza will also cling visitors. Primo Pizza, also known as Little Italy, is a complex of restaurants, castles, and streets built in the Italian style. This place is always crowded with tourists. Guests can also feed the sheep and horses and admire the lovely balconies covered by the green vines.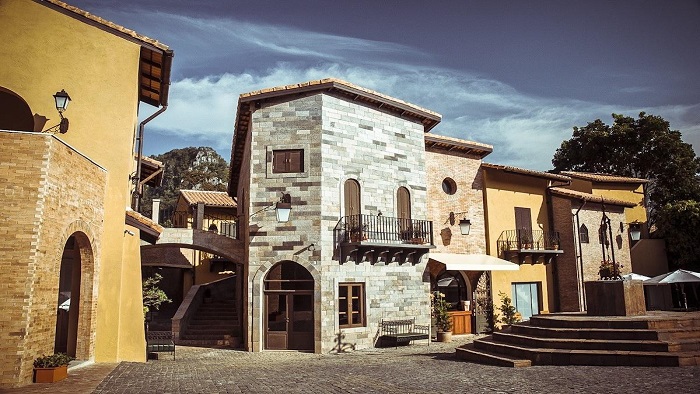 The Primo Piazza village
Where to stay and eat in Khao Yai National Park
In order to bring tourists a wonderful trip here, Khao Yai provides many restaurants and hotels for resting. One of the places worth visiting is Secret Art Garden – a luxury resort with unique architecture in harmony with the ecological garden.
In Khao Yai, there are a lot of good restaurants of local people along the road at affordable prices. In addition, guests can have meals ay some European restaurants including:
Dairy Home Restaurant: serves Italian dishes. After enjoying the delicious desserts of ice cream, you can bring the glasses to the store and exchange for the beautiful cups to bring home.
Teamo Restaurant: serves Italian dishes such as pizza, spaghetti or BBQ. At night, guests can enjoy dinner while listening to the piano and English songs from the 80s -90s of the indigenous singers.
Baan Mai Chai Nam Restaurant: located in the complex of shops and souvenirs, near a small river and serves Thai food.
Hope that with our information, you will find the interesting things about Khao Yai National Park and make your next trip here easier. If you concern more about package tours in Asia, you can visit our website. Share this article with others if you find it useful. Thank you!