Mai Chau is a beautiful valley in the midst of the majestic Northwest mountains of Hoa Binh province, Vietnam. Mai Chau is not as famous as the nearby Moc Chau plateau, but its hidden beauty has made every visitor arriving here thrilled to return. In this article, Asiapackagetravel will offer you the most detailed and useful guide for the perfect and enjoyable tours Vietnam.
How to travel to Mai Chau?
Located in the west of Hanoi, Mai Chau is the last district of Hoa Binh, adjacent to Moc Chau plateau (Son La province) and Pu Luong nature reserve (Thanh Hoa province). Being about 150 kilometers from Hanoi, taking 3 hours by car or 4 hours by motorbike, Mai Chau trip is suitable for short days or weekend. The road is not too difficult that is very ideal for those who want to try the first time driving through the curvy pass. Therefore, every weekend or on holidays, the peaceful Mai Chau awakes and exhilarates with the crowd of visitors.
There are many ways to travel to Mai Chau: you can ride motorbikes with friends to experience free driving, drive a car, or take a bus from Yen Nghia or My Dinh stations. They are the two stations having more cars departing to Xuan Mai. The last point is usually the Tong Dau crossroad, so from here, you can catch a motorbike to Lac village, Mai Chau. Tickets are between VND 90,000-110,000/passenger depending on different agents. For departing by private motorbike or car, there are 2 major routes to Mai Chau from Hanoi: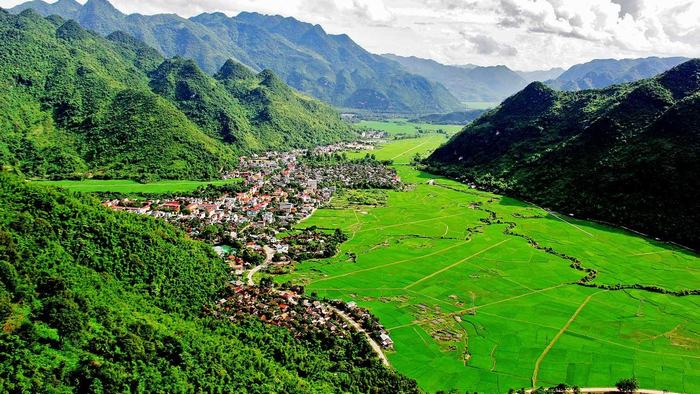 The peaceful scenery of Mai Chau
First route: From the center of Hanoi, you will follow Highway 32 through Nguyen Trai, Ba La crossroad, go straight to Xuan Mai town, then follow Highway 6 to Hoa Binh city. From here, you will ride uphill to Doc Cun, Thung Khe pass, then go downhill to Tong Dau crossroad, turn left about 5 kilometers to Mai Chau. This route is the shortest one to Mai Chau from Hanoi.
However, passenger cars do not go this route because the roads through Nguyen Trai and Ba La are usually controlled by polices, not allowing to move fast. Hence, this route is very suitable for private motorbikes and cars.
Second route: From Hanoi center, you will go towards Tran Duy Hung and Thang Long Highway, turn left to Xuan Mai town, then continue as the first route. This route is longer than the first one of about 10 kilometers, but it is more open and faster.
TIP: There are some nice check-in destinations on the road that you should not miss: Thung Khe pass and some roadside stalls. When going downhill, you can stop at the Mai Chau flag pole to capture the stunning panoramic view of Mai Chau valley from above.
When to travel
Mai Chau is a valley surrounded by mountains, making weather here is dry all year round. Therefore, tourists can go to Mai Chau in any season. Spring is probably the most beautiful season with blossom garden of peach, bauhinia variegata, and plum whitening the wide forest.
Mai Chau in summer is a blue color featuring mountains and forests, and then to dress a yellow color of the rice farms. In the evening, Mai Chau is usually colder than in the delta, so travelers should prepare enough warm clothes for visiting the valley in late winter and early spring.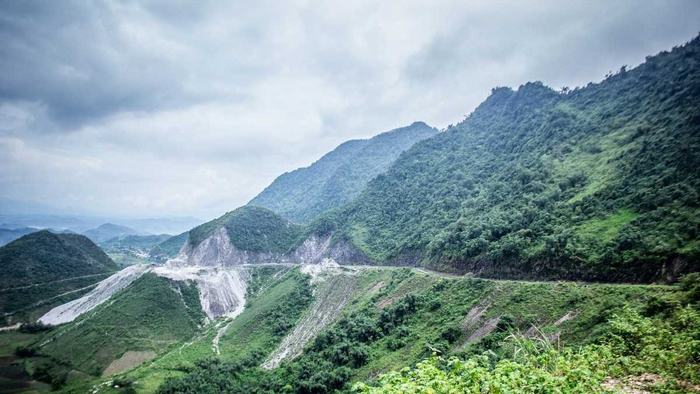 Thung Khe Pass
Where to travel
Thung Khe pass
Considered as the northern Europe hills of Mai Chau, Thung Khe pass offers tourists a scene as the winter scene in Europe with the white space of rocks and fog covered. From the top of the mountain, travelers can hold all the mountains and forests of the northwest in the camera lens. This is a check-in point you should not ignore in Mai Chau.
Lac village
Like other Thai villages in Mai Chau, Lac village is characterized by the connected traditional stilted roofs, the green bamboos surrounded by the rice fields. Furthermore, Lac village is also loved by the colorful brocade booths, the friendly and hospitable people yet very professional in tourism services, offering guests with various delicious specialties. As a result, the village is always busy and crowded. The young in Lac village also set up a performance team to serve tourists to the village, practicing passionately and dancing very well.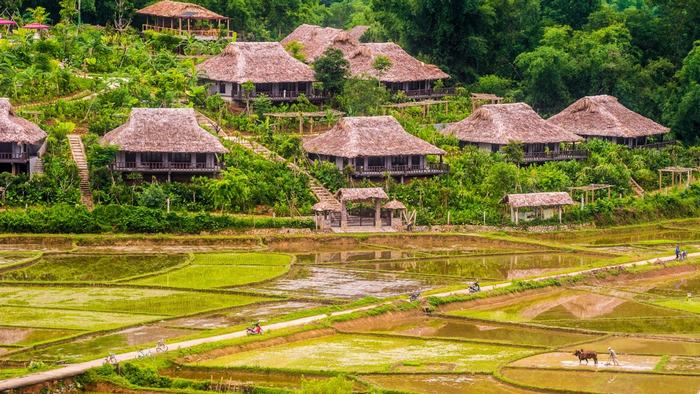 Lac Village
Go Lao waterfall
Go Lao waterfall is one of the most beautiful waterfalls in Mai Chau, belong to Phuc San commune, about 15 kilometers from Mai Chau. From Tong Dau crossroad to Moc Chau, you will easily find the way to the waterfall.
The way down the waterfall is the terraces of land built by local people, so if you go to Go Lao waterfall in rainy season, it will be quite slippery. You can park your motorbike at local people's houses in front of the waterfall and climb down to its foot.
Mai Chau Ecolodge
Mai Chau Ecolodge is a 4-star standard resort with 20 bungalows located on Na Thia hill facing the rice farms. The resort is one of the most picturesque spots in Mai Chau. Each bungalow is delicately built, blending harmoniously with nature. In addition, the Ecolodge also has a large swimming pool and restaurant on the top where you can watch the sunset and sunrise of Mai Chau.
What to eat
Bamboo tube rice
It is Mai Chau's signature dish that every visitor would like to try when traveling here. Materials to make this dish include rice, bamboo tubes, banana leaves, copra, and coconut milk, etc. Tasting bamboo tube rice cannot lack a traditional spice of the Thai people called "cham cheo". In addition, guests can eat with sesame salt.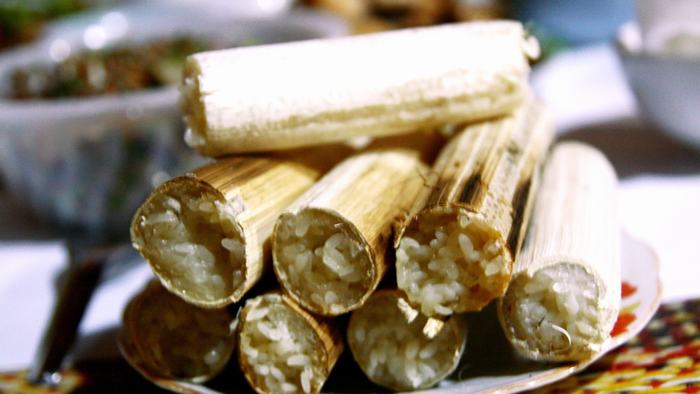 Bamboo tube rice
Hill chicken
It is a popular dish with many tourists in Vietnam, but if you want to eat the mouth-watering grilled hill chicken, let's take a trip to Mai Chau, Hoa Binh, you will be served devotedly by the local people here. Normally, chickens are raised in hen-houses or by industrial methods. However, hill chickens are raised on a large scale, fed only a small amount of food. They will have to go up to find food in the hill, so their legs are especially delicious. Their meat is firm, fragrant, and very sweet.
Chickens will be marinated with "mac khen" - a spice seed which makes chicken more fragrant and delicious than ever. Price of grilled hill chicken is from VND 300,000-350,000.
Grilled wild pork skewers
Pigs in Mai Chau are fed with food and vegetables, without stimulants. The pork is marinated with spices, galangal, and lemongrass. It is grilled slowly by charcoal. After a while, fat is melted and the pork turns into yellow color. That is when the dish being accomplished. In addition, wild pigs can be processed to the steamed pork tasted with "cham cheo" is also very delicious.
Mai Chau has attracted tourists by the pristine yet gorgeous nature, rustic life of Thai people, and the irresistible specialties featuring the forest and mountains here. With our full and detailed guidance, hope you will have great tours of Vietnam in Mai Chau, Hoa Binh. If you need more information, don't hesitate to contact us. Thank you.