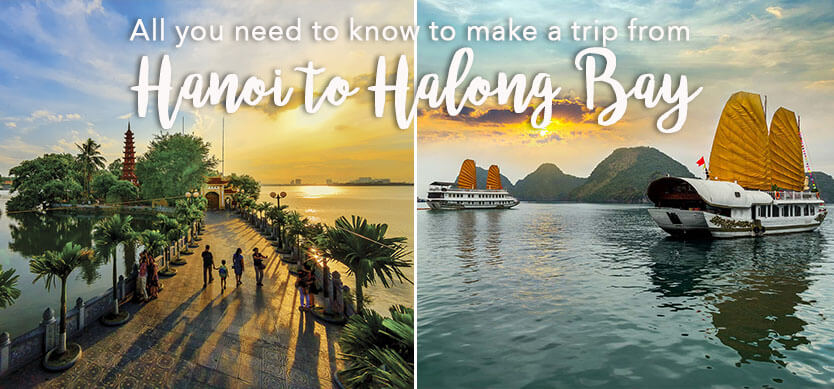 Halong Bay is famous worldwide by rich and gorgeous nature, located in the Gulf of Tonkin of Vietnam. For tourists in package tours Asia, the trips to Halong Bay from Hanoi is very easy with various ways for them to choose.
When to travel
For Vietnamese tourists, the period from April to October is considered the best time to visit Vietnam in Halong, because this is time for summer which is very convenient for a vacation on the beach. Halong with its numerous spectacular sandy beaches, islands, rocky mountains and majestic caves will definitely make their trip unforgettable. However, let's avoid going there in June and July due to storm or heavy rain in the region.
For foreigners, winter from December to February is very convenient to go on vacation combing with relaxation in this pristine yet gorgeous wonder of the world.
How to travel
Motorbike/car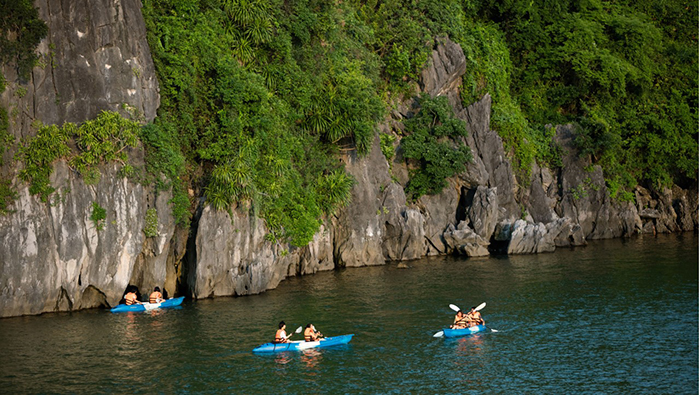 Tourists will enjoy an interesting kayak experience in the sea space of Halong
A trip to Halong Bay from Hanoi has 3 routes: Hanoi - Bac Ninh - Halong (155 kilometers), Hanoi - Hai Duong - Halong (170 kilometers), or Hanoi - Hai Duong - Haiphong - Halong (160 kilometers).
Hanoi - Bac Ninh - Halong is the shortest route from Hanoi to Halong that traveling by car takes about 2.5-3.5 hours. From Hanoi, you go to Highway 5 about 10 kilometers to Sai Dong junction, turn to Highway 1 and go straight around 23 kilometers to Bac Ninh province. From Bac Ninh, you go along Highway 18 about 122 kilometers through Pha Lai, Chi Linh, Dong Trieu, Uong Bi to Halong city.
Hanoi - Hai Duong - Halong is also very convenient. From Hanoi, you go through Hai Duong city to Nam Sach town, then turn to Highway 183 through Sao Do, Dong Trieu, Uong Bi to Halong. This way takes you about 3-4 hours.
Hanoi - Hai Duong - Haiphong - Halong is a road trip through Hai Duong city to Quan Toan (Haiphong), then turn to Highway 10 to go to Highway 18A in Uong Bi town to Halong. Time to go is from 3-3.5 hours.
Passenger car
A passenger car is the cheapest way in the trips from Hanoi to Halong Bay. Just like anywhere else in the world, the passenger car is very cheap. Guests can choose many reputable cars concentrating in My Dinh bus station such as Hoang Long Express, Phuc Xuyen, Quy Ngoc, Sinh Thanh, Ka Long, and Duc Phuc, etc. The earliest departure time is 6:00 a.m and the latest one is 5:00 p.m, taking about 3-4 hours to Bai Chay bus station in Halong, Quang Ninh province. The time between each departure is 5-15 minutes. Ticket price ranges from VND 100,000/seat to VND 200,000/bed.
Train
This way will depart from Hanoi railway station through Kep station (Yen Vien) to Halong railway station. Departure time from Kep station, Yen Vien is 5:15 a.m daily and traveling time is 7 hours. The route is currently being renovated and will become the most modern railway in Vietnam.
Seaplane
Currently, the trip to Halong Bay from Hanoi also has a new option with the modern seaplane of Hai Au Airline, costing USD 275/guest.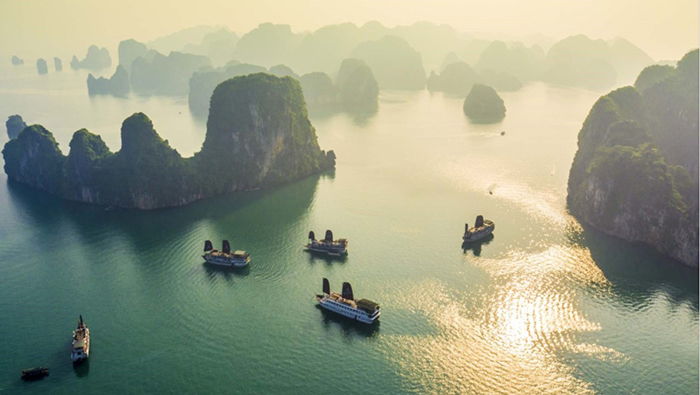 Halong Bay viewed from above
Airplanes with 2 seats for pilots, 12 seats for passengers, and spacious windows help tourists not only save time, enjoy the beautiful view from the plane but also record the memorable moments of the trips from Hanoi to Halong Bay from 150-3,000 meters above sea level.
What to travel
Titop island
Titop island is located about 7-8 kilometers to Bai Chay Port in the Southeast. Titop has a crescent-shaped sandy beach. The name of the island is to commemorate the occasion that on November 22, 1962, President Ho Chi Minh and an astronaut of the Soviet Union Gherman Titov visited the island. Titop island with the white and flat sandy beach is really an attraction in Halong.
Heaven cave
Heaven cave is located near Dau Go cave at the height of 25 meters that is the most beautiful cave in Halong Bay. Heaven cave with a width of 10.000 square meters has a complex structure including many levels with the ceiling and the walls which are very high. Especially at anywhere in the Heaven cave, we can see countless stalactites and stalagmites with strange shapes.
Three Peaches beach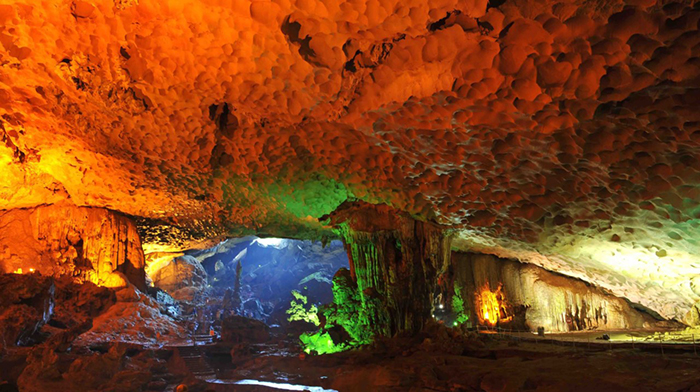 The beautiful stalactites in Heaven cave
Three Peaches is one of the most famous beaches in Halong Bay, about 22 kilometers to Bai Chay Port in the Southeast, near Cat Ba island. This is a beautiful beach with wild nature as a picture. The reason for its name is because there are three white sandy beaches shaping an arch, embracing the mountains with a peach shape.
Monkey island
Monkey island is 1 kilometer far from Cat Ba town, with a feature of the monkeys living in the island. They are very naughty and friendly who usually eat and play with travelers. Also, the island has a resort along the white sand and the green beach is suitable for playing and relaxing.
Cat Ba National Park
Cat Ba National Park is situated in Cat Ba island, used to be recognized by UNESCO as the world nature reserve with diverse flora and fauna including many rare creations. This is an interesting and useful trip for travelers, especially those who like to explore and experience nature.
Luon cave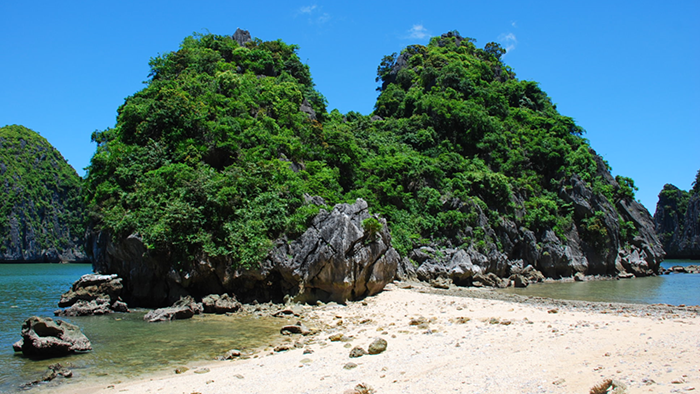 An attractive destination that tourists should visit in Vietnam
Luon cave is located on Bo Hon island, about 14 kilometers to the south of Bai Chay Port. In Luon cave, there are many upstanding cliffs with clear blue water as a mirror all year round. At the edge of the water, there is an arched gate opening at the foot of the island which is Luon cave. In here, tourists can take part in kayaking which is very interesting and also relaxing.
With thousands of wonderful islands and other creations of nature, Halong Bay is worth the name a natural heritage of the world. With our guides for trips from Hanoi to Halong Bay, hope you will have a wonderful time in this beautiful land. If you like the Bay, don't hesitate to like and share with your besties. Thank you.