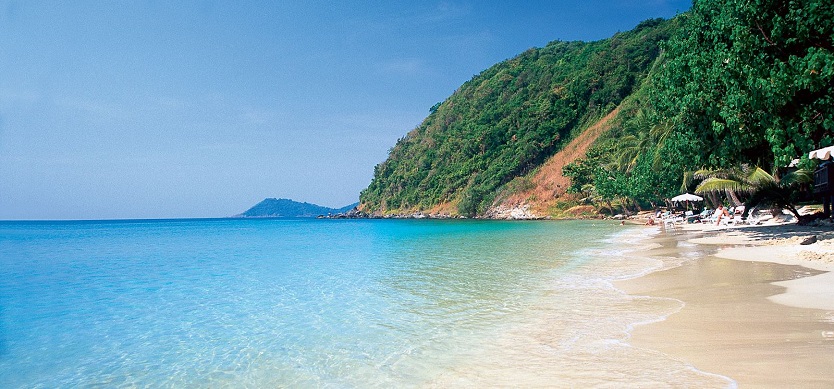 Covering an area of 152 square kilometers, Koh Phangan has full of criteria of an ideal tropical retreat with the white powdery sand beaches fringed by coconut tree groves, hilly hinterland covered with lush plants, and small rustic villages. So, there are many things in Koh Phangan that keep you busy during your day. Let's check the list of the outstanding activities you should do in Koh Phangan, Thailand.
Go diving
Thailand is a famous tropical paradise for western travelers. The country owns a long coastline with many beautiful beaches and islands. Koh Phangan is one of the most beautiful islands which is near to the famous sea site of Koh Tao. Most of the people know that Koh Tao is the wonderful place to go diving but don't realize that the dive sites that you can reach from Koh Tao are as near as you visit from Koh Phangan. Dive sites such as the Southwest Pinnacle and Sail Rock are halfway in the middle and are the great sites to check in. For those who are expecting for snorkeling, let's check out some beaches in Haad Salad and Haad Ya. Honestly, dive sites in Thailand are amazing, but the dive sites near Koh Phangan are worth to note in your itinerary.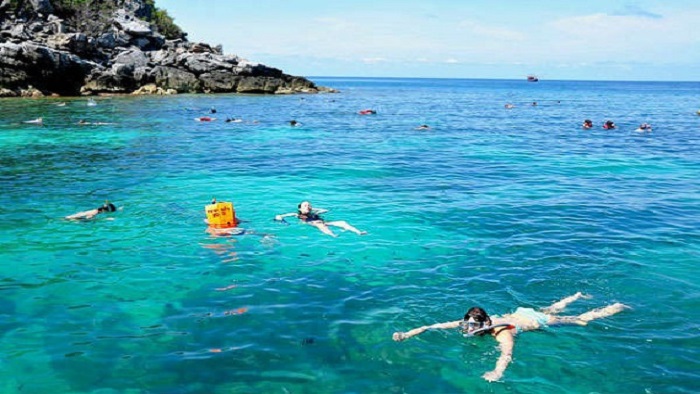 Snorkeling in Koh Phangan
Explore the night market
The Thong Sala night market is a must-visit place while you are in Koh Phangan. This market area is not like most of the night markets in Thailand, Thong Sala night market is full of food, the stalls of seafood is everywhere in the market with the pretty good quality and taste. There are plenty of food options for you to fill up your stomach, most of them are the traditional Thai dishes from sushi rolls, fried potatoes, etc.
Set off on a boat trip
Set aside the unfinished stuff and do yourself a favor and explore the beautiful sunny tropical beaches near Koh Phangan. From Koh Phangan, you can reach Ang Thong national marine park for a day where you can freely drown yourself in the blue cool water, go kayaking to see the vivid place. Spending a wonderful afternoon for swimming and snorkeling there, then in the evening, let's enjoy overnight camping on your boating trip for a minimal fee.
There are also boat tours which bring you to many beautiful tourist sites such as Thong Nai Pan, Bottle Beach, Ko Ma, and Ko Tae. It is great to rent a scooter to reach Bottle Beach.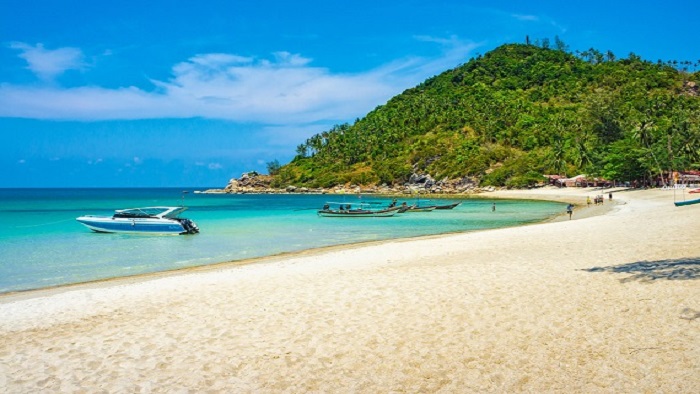 Koh Phangan beach
Take a cooking class
If you are a Thai food addict, it is no reason to not join in a cooking class to learn how to cook the delicious Thai food.
Koh Phangan has no shortage of cooking schools but schools near this attraction like Same Same in Haad Rin, C&M Study Center, as well as Jang's Thai cooking school are recommended.
Go chasing waterfalls
There are 7 different waterfalls in Koh Phangan including Sramanora waterfalls, Pheang waterfalls, Thaan Prapaad waterfalls, Thaan Sadet waterfalls, Wangsai waterfalls, Paradise waterfalls, and Thaan Prawes waterfalls, all of it relatively close to the main town. So, it is such a regrettable if you don't visit the waterfalls while in this attraction. However, remember that some of the waterfalls here dry up during the rainy season. The most
Go trekking in Koh Phangan
If you are an adventure lover, there are some great trekking routes on the island for you. The trekking trails have lied on the eastern coastline of the island where you can head up to the tallest mountain in Khao Ra or head into the Phaeng waterfall national park. If you head up to Khao Ra, you can see the neighboring island of Koh Tao on a clear sunny day.
Relax at a Yoga Center
Yoga centers and retreats are trendy in Koh Phangan. There are a lot of yoga centers in Koh Phangan such as Orion Healing Center, Agama Yoga Retreat, Blooming Lotus Yoga. You can book to register in the yoga class to learn how to do yoda under the guide of skillful teachers.
Watch the sunset
With the romantic and poetic souls, sunset is the most glorious moment of the day and believe us, sunset in Koh Phangan doesn't make you disappointed. One of the favorite spots to watch the sunset on the island is in Amsterdam bar or Ao Playlaaem restaurant. Having a relaxing moment on the floor cushion of the restaurant as enjoying the colors of the sunset unfold in front of you, there, you seize the paradise in your hand.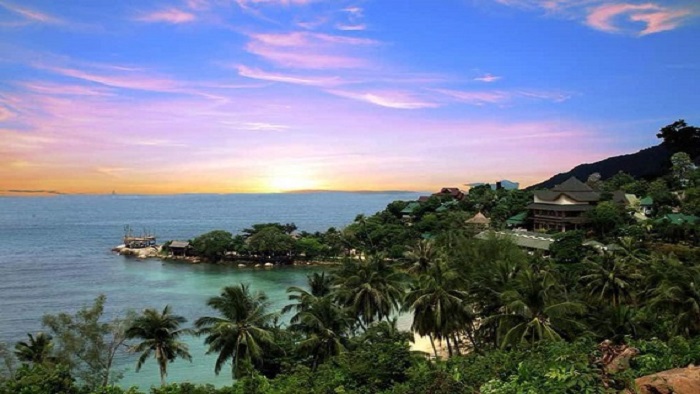 Sunset in Koh Phangan
While there are many things to do in Koh Phangan, we suggest you explore the destination on your own and find your slice of heaven where you can relax and unwind. If you have any questions about Asia package tours, don't hesitate to contact us via our website. Thank you and have a nice trip!