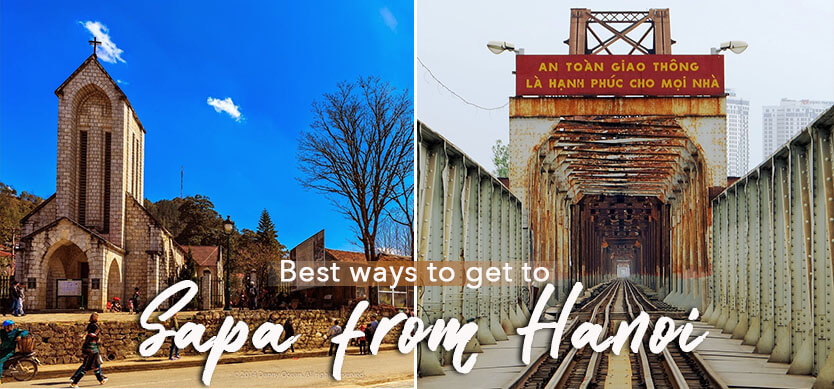 Sapa, Lao Cai is located on the Northern Uplands of Vietnam, so the weather in Sapa is always cool and fresh with many attractive landscapes like mountains, forests, rice terraces in Vietnam, and waterfall, etc. So how to get to Sapa from Hanoi? For tourists from Hanoi, there are various ways to travel to the town as following.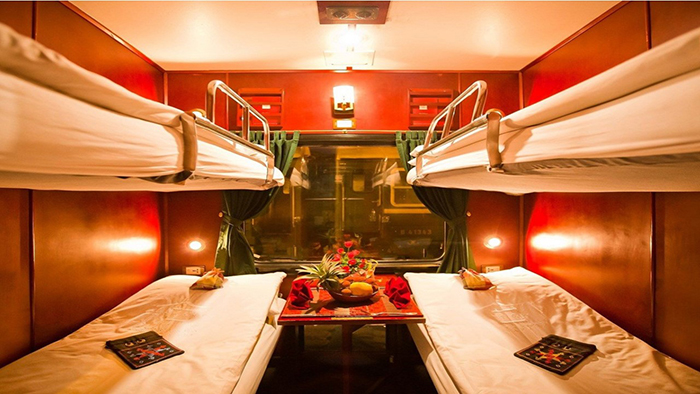 Train to Sapa
The distance from Hanoi to Sapa varies according to the different routes: about 320 kilometers if traveling along the Hanoi - Lao Cai Highway; 390 kilometers if traveling along Highway 70; 340 kilometers if going by Hanoi - Lao Cai train, then take a car or bus to Sapa town from Lao Cai station; and 455 kilometers if traveling by motorbikes or cars along Highway 32 through Mu Cang Chai, Yen Bai.
Passenger car
It is the easiest way to move to Sapa. All the cars run only on the Hanoi - Lao Cai Highway, taking just about 5-6 hours to Sapa instead of 10-11 hours as before that followed Highway 70. The advantage of the meanings of transportation is the short transfer time.
There are many different cars so you can be active in time and can choose different times that are convenient for you. Now, there are many car services from Hanoi to Sapa, divided into 2 types: Seat and bed. Most of the car manufacturers are good and clean to serve tourists such as Sapa Express, Inter Bus Lines, Hung Thanh, and Queen Cafe. Ticket prices range from VND 200,000-350,000/seat.
Train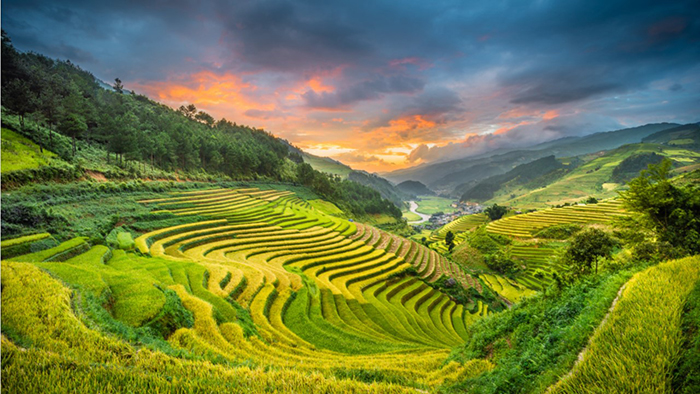 Tourists will see the natural beauty of Mu Cang Chai along the motorbike tour to Sapa (andreluu.com)
Train Hanoi - Lao Cai was the main means to go to Sapa in the past. Currently, a large number of passengers turn to go by car. Going by train from Hanoi railway station to Lao Cai railway station will take you about 8-9 hours, then you also have to go by other means to reach Sapa like a bus (VND 30,000/guest), motorcycle taxi (VND 150,000/taxi), or taxi (VND 400,000/4-seat taxi). You can buy train Sapa Hanoi ticket on the official website of the Vietnamese railway station dsvn.com or directly in Hanoi station, Tran Quy Cap street, Hanoi.
The train is still a good choice of how to travel in Vietnam if you have time because it is very safe and suitable for those who want to experience the landscape along the route. Train Sapa-Hanoi price tickets are from around VND 150,000-280,000/seat. If choosing a wooden cabin with 4 beds with cushion, air conditioning, you have to pay about VND 400,000/bed. For this option, you can sleep well before coming to Lao Cai.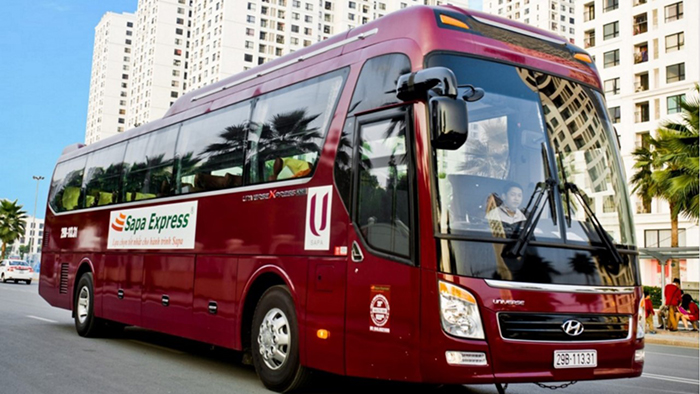 Passenger car is the easiest way to Sapa
Motorbike
Motorbike is forbidden in Hanoi - Lao Cai Expressway, so you will take the motorbike along Highway 70 or Highway 32. Highway 70 route can take riders about 10-12 hours to reach Sapa. At present, this road has been degraded and the scenery along the road is not as beautiful as Highway 32. Highway 32 originates from Cau Giay, Ha Noi and runs through Phu Tho, Yen Bai, and Lai Chau. At the ending point of the route which is Binh Lu junction (Lai Chau), let's go along Highway 4D, you will go to Sapa.
This route is famous for its scenic beauty and is one of the favorite streets of travelers. You will go through a variety of scenic spots such as Tu Le and Mu Cang Chai with terraces, Khau Pha pass, and O Quy Ho pass which are two of the four greatest passes of the Northwest mountains. Sapa Silver waterfall is also an attraction on your journey.
Currently, Highway 32 has been upgraded, becoming the ideal route for you to explore by motorcycle. However, the distance is quite long (about 455 kilometers), so you can go to Than Uyen (Lai Chau), Nghia Lo town or Mu Cang Chai town (Yen Bai) to sleep and continue to go to Sapa on the next day.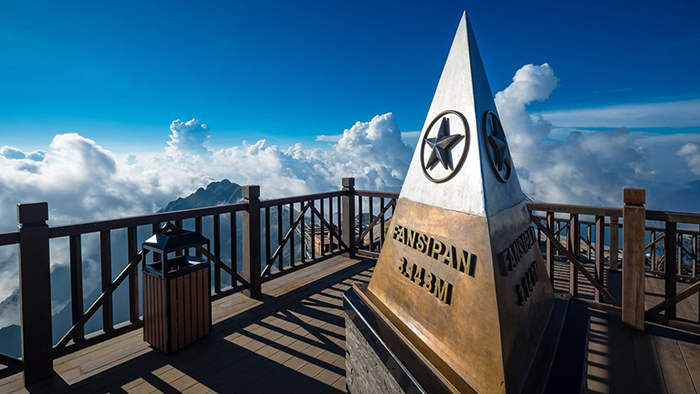 Conquer the Fansipan peak
Car
You will go on the Highway Hanoi - Lao Cai which is 265 kilometers long and takes around 4 hours. From Lao Cai city, continue to go to Highway 4D to Sapa which takes about an hour or more.
If you rent a car to travel to Sapa, the renting cost for the car of many suppliers is normally depending on the number of days, about VND 2 million/7-seat car/day, 2.5 million/16-seat car/day, and 3 million/29-seat car/day.
Limousine Sapa
Limousine Sapa once was a 16-seat car, then its interior was redesigned which has only 9 seats to serve guests. The car is fully equipped with convenient amenities such as leather-covered chairs, telephone charger, TV, live sound system, refrigerator, and wifi, etc. There are many companies offer limousines to Sapa from Hanoi with a price of about VND 400,000/person/way. If booking the whole car, you have to pay about VND 3 million/way.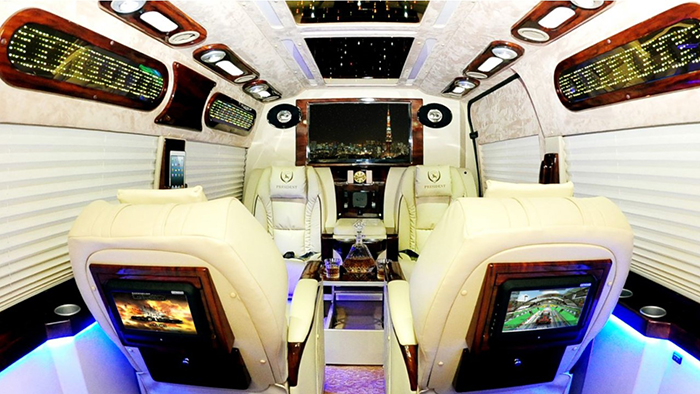 Interior of the limousine
Sapa is located on a quite flat site at the height of 1,500-1,650 meters in the slopes, however, getting to Sapa from Hanoi is easy with various ways to choose. With our guides of how to get to Sapa from Hanoi, hope you will have a good package tour in Vietnam this summer. If this is useful for you, don't hesitate to like and share with others. Thank you.