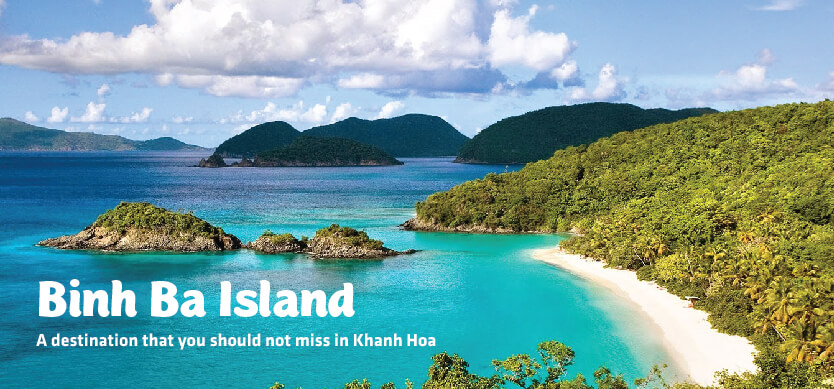 Binh Ba Island - A destination that you should not miss in Khanh Hoa
If you're finding a place to escape from the hustle and bustle of busy life and refresh your mind, look no further than Binh Ba island in Khanh Hoa province. With the breathtaking beauty, this destination is definitely a perfect choice for your best Vietnam tours.
A brief about Binh Ba Island
Binh Ba is a small island with the area of three square kilometers located in Cam Binh Commune, Cam Ranh City, Khanh Hoa Province. It's about 60 kilometers from Nha Trang and about 390 kilometers from Ho Chi Minh City. To get to Binh Ba, you have to depart from Ba Ngoi which is 15 kilometers from Cam Ranh Airport.
Binh Ba is still a pristine island with untouched beauty. Recently, the number of tourists coming to the island has been increasing rapidly while the infrastructure has not developed yet so the environment is as not as clean than it was before.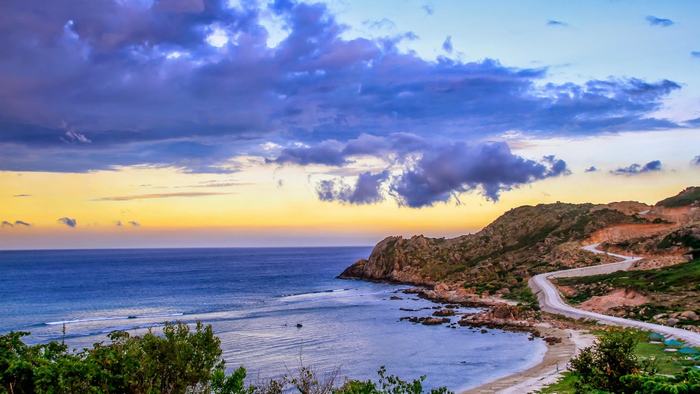 Binh Ba island
The ideal time to visit Binh Ba is from March to September. To enjoy the entire beauty of the island, you should not come here on holiday because of the crowd. The best duration to stay on the island is two days.
From Ba Ngoi port, the only transport to get to Binh Ba Island is by boat which departs daily. The ticket price ranges from 25,000 VND to 30,000 VND per person (depending on the type of boat).
Accommodation on Binh Ba Island
There are a lot of motels on the island which is full-equipped. The normal price is about 100.000 VND per person weekdays (At the weekend, the price can be double).
Or if you want to save money, you can stay at a homestay in which the price is only half of the motels.
What to eat in Binh Ba
The most famous food in Binh Ba is seafood so do not miss them when coming here. The price of lobster ranges from 400.000 VND to 1.800.000 VND/kg. The price changes depending on the day and season but it's still cheaper than other places.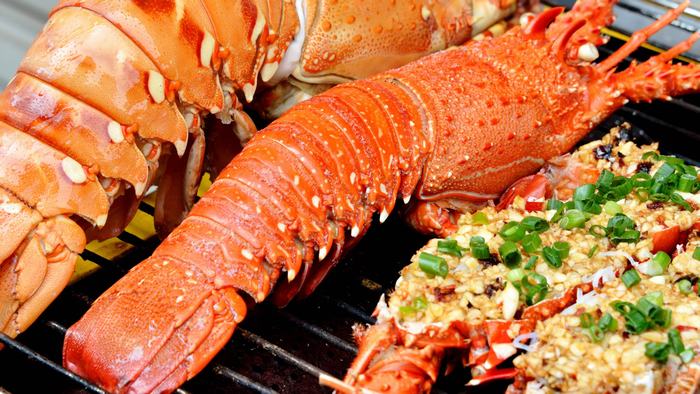 Delicious lobster in Binh Ba
If you want to experience new things, you can go to the market and organize a seafood buffet party by yourself. There are so many types of shrimps, fish, shells, squid, oyster, and holothurian. Let's choose the most suitable one for you.
In addition, there are also restaurants which serve many delicious and cheap dishes such as grilled-chopped fish noodles, grilled-pork meat noodles, smoothies, and grilled pancake. The price of this food is only 10.000 NVD – 20.000 VND.
The early market opens from 5.30 am to 7 am and the main goods are fish and squid which have just been caught by fishermen in the morning.
What to do in Binh Ba Island
Swimming and watching coral in the morning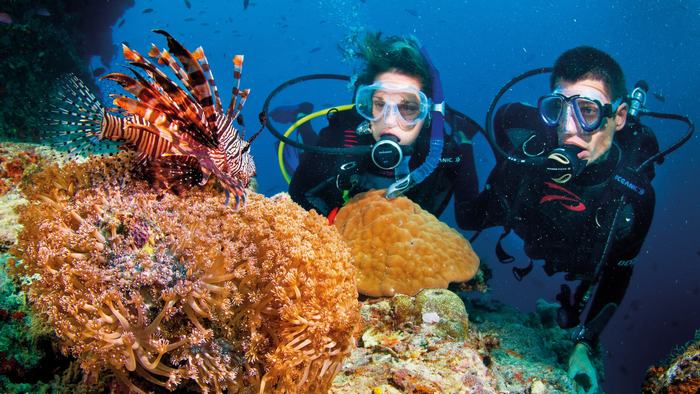 Diving in Binh Ba
The thing that you cannot miss when coming here is to rent a boat to explore beaches and dive to watch corals. The package tour to rent a boat is about one million dong to 1.2 million VND.
You don't have to dive into the sea. Just wear a life jacket and put your face down then you can see the corals and remember to bring the swim glasses. Sometimes at the Nha Cu Beach when the tidal is low, the colorful coral reefs are shown under the sunshine, you can see and even touch in them.
There are many beaches here in which 3 of them we can drive motorbikes.
Nom beach
This is a very large beach and has reefs. Most local people and tourists swim here due to its clean water.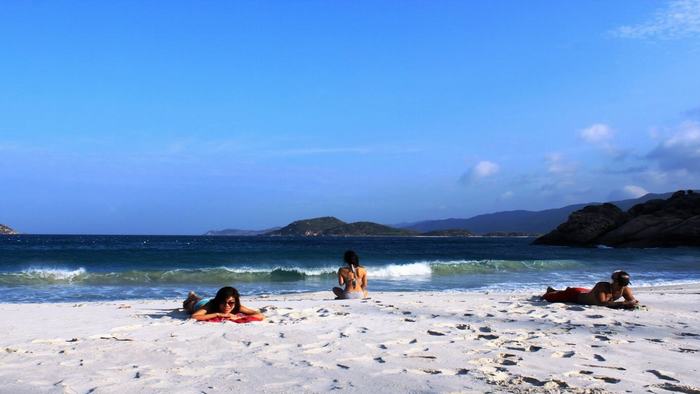 Laze yourself on the beach
Chuong Beach
This beach is located about 30-minute walk from the port. It's the only place on the island where we can see the sunrise.
Nha Cu beach
There are a lot of sea urchins in this beach which can prickle in your feet when you're swimming so you should be careful. However, the water sea here is extremely clean and clear.
If you have more time left, you can rent a boat to visit other nearby beaches. There is also a dining service on the boat.
Rent motorbikes to explore the island
Besides swimming and watching corals, taking a motorbike to explore the island is also an interesting thing. The price is about 100,000 VND per day. You should ride a motorbike to Chuong beach in the early morning to see the sunrise then explore the mountain passes.
There are many places offering beautiful views, especially 3 highest points in the north, the south and the east. From there, you can have the chance to see the panoramic view of Cam Ranh, Turtle Island or fishing boats.
Beautiful attractions in Binh Ba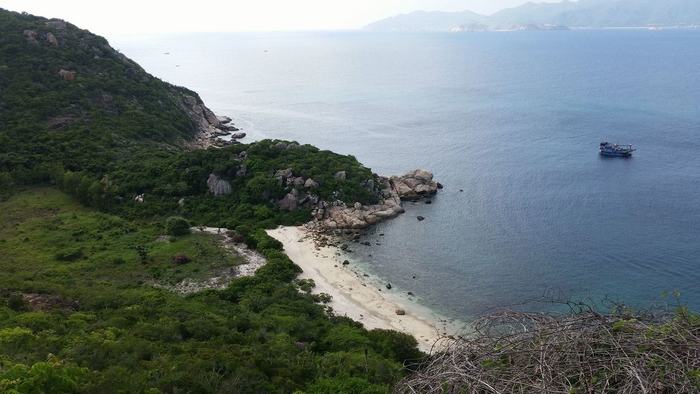 Turtle beach
Nom beach
Nom beach is home to many residents, motels and hotels and also the main beach here.
Nom beach is a wide sandy beach surrounded by two mountains. Therefore, the sea here is calm and the climate is cool.
Turtle Beach
Turtle Beach is an appealing attraction for visitors to explore the unique nature. It is called Turtle Island because of the remote look of the island like a turtle swimming to the sea.
Pink grass hill
There is a field with pink grass located between Turtle island and Nha Cu beach, covering an area of 200 square meters. Tourists can sit on the grass to enjoy the fresh air.
Visiting Binh Ba Island when taking Asia group tours will be an unforgettable experience for you. Do not hesitate to come right now. Share this article if it is useful for you. Have a nice trip!