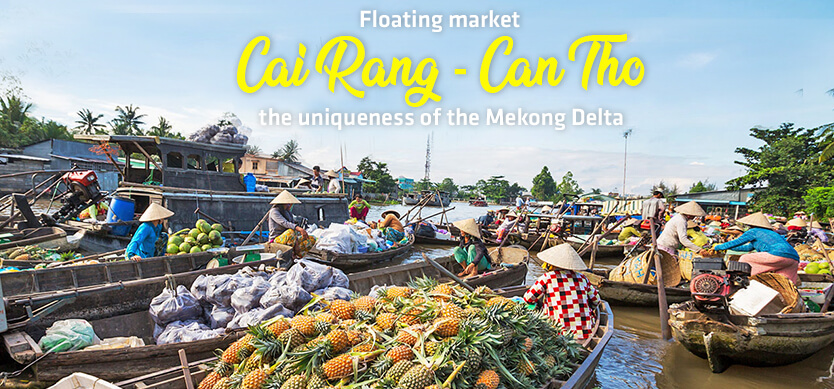 Cai Rang Can Tho floating market is one of the three largest floating markets in Can Tho. Unique features and characteristics of Cai Rang floating market is specialized in trading fruits and other specialties of the Mekong Delta.
A rich culture of Mekong Delta
Cai Rang floating market is operated on Cai Rang river, next to Cai Rang bridge. Like other floating markets in the Mekong Delta, Cai Rang market was formed to meet the demand of trading and exchanging goods when roads and vehicles were not developed.
People gather in the river by means such as boats, canoes, etc. Today, although the vehicle and street have developed, Cai Rang floating market still exist and grow more crowded, bringing economic and tourism potential for this Southwest region.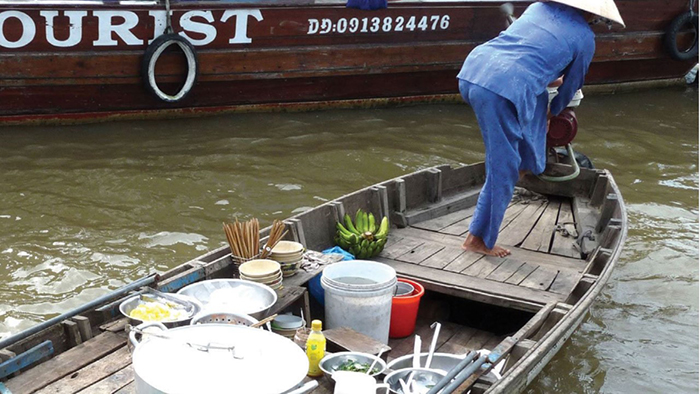 Tourists can try "hu tieu" or rice noodle right on the river
Best time to travel
Vietnam in summer is most attractive in the Southwest like Can Tho, especially around June to July because this is the fruit season here with diverse types. Cai Rang floating market operates very early from 4-5 a.m, so you need to go a little early to be able to take part in the market in the most crowded time.
How to travel
From Saigon to Can Tho, there are two ways to go: by motorbike or by car.
You can choose to take a car to spend more time resting on the car and saving energy before experiencing Cai Rang floating market. There is a number of passenger cars moving between the two cities: Thanh Buoi (VND 115,000/guest) or Phuong Trang, etc.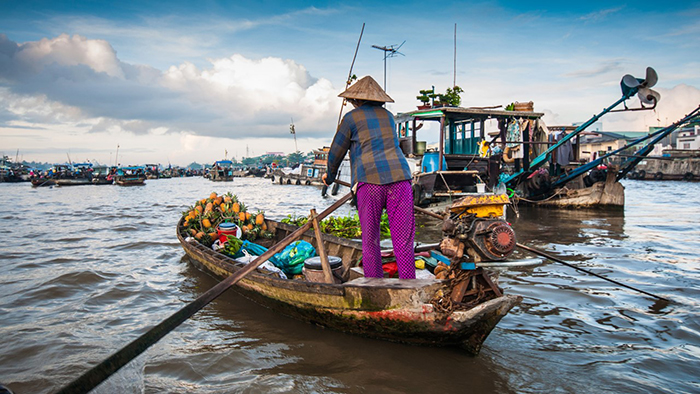 The life of people in Can Tho is associated with the boats
If you want to go by motorbike, let's find the way to Highway 1A, then go to My Thuan bridge and turn left towards Can Tho city. Along the road, there are a lot of signs so you will be assured not being lost. Riding by motorbike takes you about 4 hours. Getting to Can Tho, you go to Ninh Kieu wharf to go boat to Cai Rang floating market. This market is located on Cai Rang river, about 6 kilometers from the center of the city.
Top attractions in Cai Rang floating market
Fruit boats
Cai Rang market operates quite early, usually from early morning to 8-9 a.m. The goods are sold on boats, of which each boat usually sell a specific type of item. In front of the goods on the boat, there is usually a pole on which hangs the kinds of items that the boat sells. For example, if the boat sells sweet potatoes, the pole will dangle a few potatoes, and if the boat sells mango, some mangoes will be hung on as people want the buyers to know that they're selling potatoes or mangoes. These boats are called "ghe beo".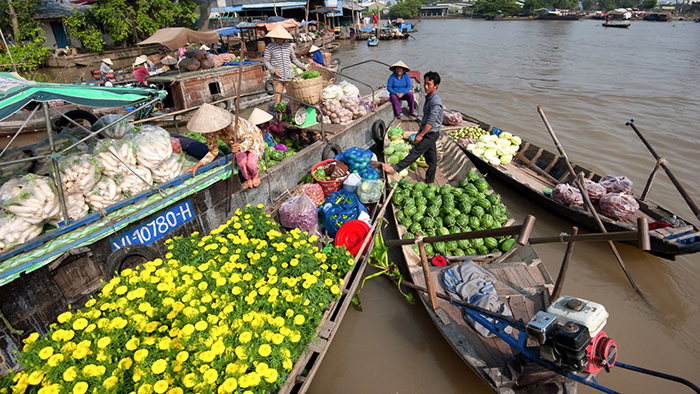 From June to July is the fruit season in Can Tho
In spite of being the land of fruits, generally, fruit prices at the market are not cheaper than goods in the city and other regions. However, the advantage and also the attraction of Cai Rang floating market for customers is the maintenance and development of the traditional characteristics of the river and the freshness of goods here.
Breakfasts on boats
The most crowded time in Cai Rang floating market is around 7-8 a.m. Usually, the market does not operate on days of Lunar New Year festival (1st and 2nd of Lunar New Year, Mid-year festival (5th of May on the Lunar calendar). Due to the needs of people, in addition to fruits, there are many kinds of services in this market such as "pho", "hu tieu" (a popular type of noodle in the South), coffee, wine, and drinks, etc. The service boats (usually small boats) are used to serve both the customers and the visitors.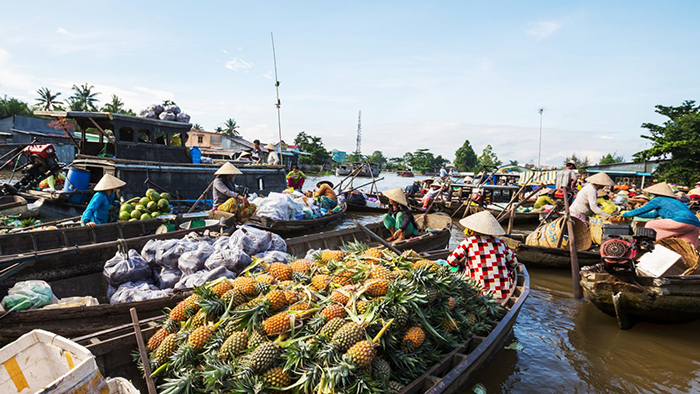 The crowded scene every morning on the river
Tourism
Today, motor boats (boat service) are also developed to serve tourists in the market, therefore travelers have many interesting things to do in South Vietnam. Almost from early morning to the end time of the market, every boat is crowded with travelers and operates every day. Price for visiting Cai Rang market is VND 20,000/guest. If tourists want to see Can Tho bridge (from the river) at the time of sunrise, they will purchase an additional fee of VND 10,000/guest. It not only opens the economic potential, creating jobs for people living around the river but also promotes the strength of tourism in the region.
In front of the immense combination of water and sky, visitors seem to see their soul wider and more peaceful to feel the distinction of life here and see the sincerity, simplicity, and hospitality of the people of Hau Giang river.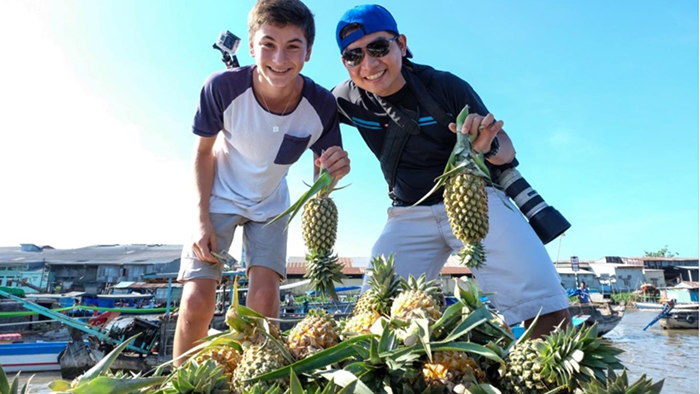 Cai Rang market is an interesting place to visit
Not only preserving the cultural beauty of the Southwest rivers, but Cai Rang floating market today is also a tourist attraction that tourists, especially foreigners love to explore and experience in a Vietnam package tour. If you like this place, don't hesitate to contact us for more information. Thank you.