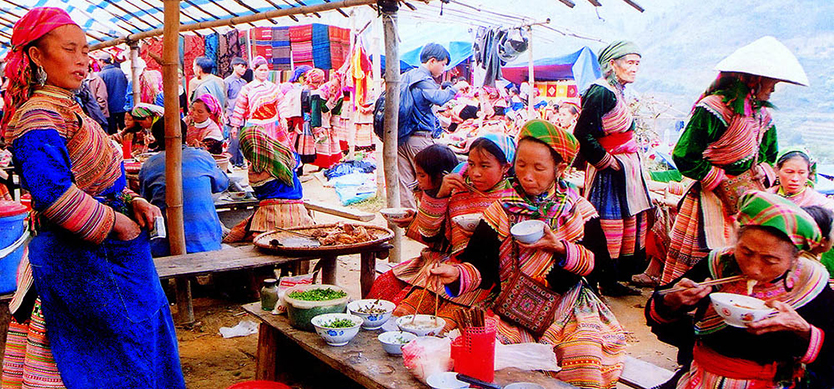 Lao Cai has been renowned for the diverse local culture of the ethnic tribes, which always stimulates the curiosity and the desire to discover of the travelers. One of the best places to mingle with residential lives is the market that not only intends for commercial activities but also reflects the cultural values. Can Cau which is one of the most famous markets in Lao Cai deserved entirely to be involved in your trip to Vietnam. Do not forget to take Asia tours as well as Vietnam tours to get more information about the best places to visit in Vietnam.
What is Can Cau market?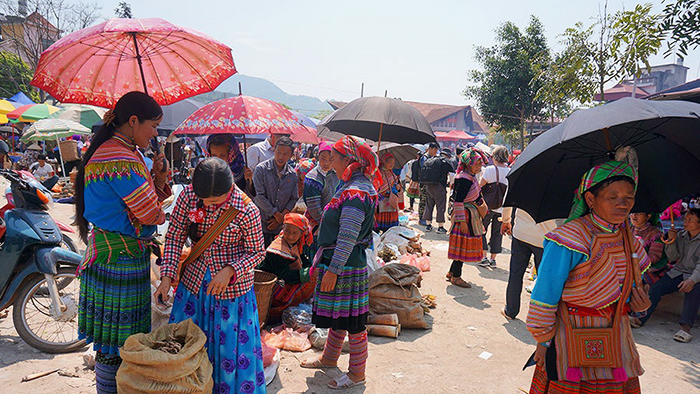 Can Cau market is a unique feature of Northwest Highlands
Located in Can Cau commune, Simacai district, Lao Cai province, Can Cau market is 100 kilometers away from Lao Cai city to the northeast and about 30 kilometers from Bac Ha town to the North. From Lao Cai city, going along Highway 4D, travelers will approach Phong Nien commune in Bao Thang district. Just going on driving along Provincial Highway 153 through Bac Ha town, tourists will reach Can Cau Market.
Organized on a highland with untouched lush greenish forests, the towering mountains and the endlessly stretching terraced paddy fields from afar sticking to the hillside, Can Cau market is set up on the roadside of Road 153 that is the only soil road linking Bac Ha town to Simacai borderland district. From distances, Can Cau market's scenery is extremely beautiful and vivid. You will be amazed at seeing local women in the colorful brocade costumes. The costume of Chinese H'mong women looks striking with the checked headdress that is multi-colored, meticulously woven with layered garments.
Despite being the fair of Chinese Hmong and Giay ethnic tribes, Can Cau market is held as commercial practices of the Dao people. Frequently held on every Saturday and holidays across the year, the fair attracts the participation of a large number of ethnic groups who come from the nearby villages gather in the market from early morning. They carry handmade textile products as well as self-grow agricultural products and cattle.
The market is divided into various separate pavilions for all types of items. The product is quite varied, including vegetables, herbs, spices, utensils and especially the colorful brocade products that are made by skillful Hmong women. Most of the products are put onto the plastic sheet on the ground so that both buyers and travelers can recognize and observe comfortably.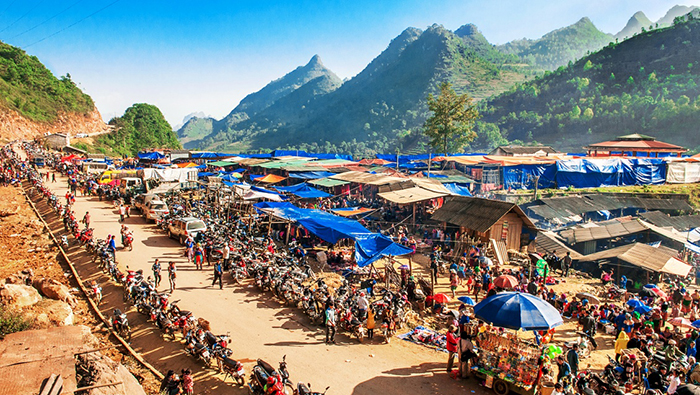 The beauty of Can Cau market
However, the most remarkable area is the livestock section. Buffalo and cow may be two most popular cattle here. It's amazing to see some adorable moments of buffalo when they are having the mud bath. The residential have a great love for animals and are always concerned with good cattle breeds. It's easy to recognize buyers and sellers scattering along the road to deal with each other. The atmosphere is truly vibrant and bustling.
Coming to the cuisine area, you will experience the lively mixture of the different sounds: voices of sellers and buyers, the cheerful conversations of the customers, and amazing sounds of bowls colliding with each other. In this vibrant atmosphere, it is truly a shortcoming not to try a bowl of "thang co" that is the famous traditional dish of H'mong people.
"Thang co" is a hotpot of horse organ meat. To make the dish more aromatic, some spicy herbs such as "thao qua" and "dia dien" are added. Men often eat "thang co" with wine while women have the dish with rice balls. Sitting around the steaming "thang co" hotpot, people tell their stories about their families, hunting, crops, or the affairs in their villages. Being involved in the group meal of "thang co" is a good chance to make new friends or even find the future spouse.
A day in Can Cau market
► Drive to Can Cau market
► Spending time exploring the market. Mix with the locals and the vibrant atmosphere. Buy some lovely items for your mementos and sometimes maybe try to bargain politely.
► After finishing the tour in Can Cau market, you may reach Bac Ha town to have lunch in a local restaurant where you can enjoy the traditional dishes such as thang co, corn wine, etc.
► Drive to Ban Pho village and take a short walk around the communes where the Chinese Hmong, Tay and Nung minorities settle down.
► You may see the locals making corn wine or men men (ground maize) in their houses
► In the afternoon, pay a visit to the house of Mr. Ho who is a local Hmong man famous for performing traditional music & dance and telling folk stories.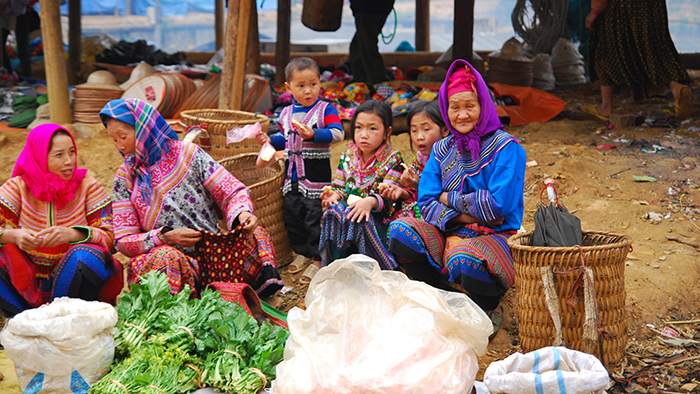 The local life in Lao Cai
Insider tips
► It may take 45-minutes to reach Can Cau market by motorbike or car from Bac Ha town, or less two hours from Lao Cai. This doesn't matter if you are using a private vehicle. However, if you transport by bus, you'll have to change in Bac Ha. The buses only run at 08:00 or 09:00 and you are likely to stay here overnight. The bus returning to Bac Ha from Can Cau is at 14:00.
► The route to Can Cau market is scenic. Therefore, you can consider discovering this by self-drive motorbike.
► Light trekking to nearby hamlets is suggested.
► The ground is considerably muddy so you are highly recommended to wear good walking shoes with the firm grip.
Can Cau market is a beautiful genuine local market where you can immerse yourself in the local culture. Exploring Can Cau market, you will feel like getting lost in a totally different world. Let's visit Can Cau market, experience the unique local culture and forget all about your everyday troubles.