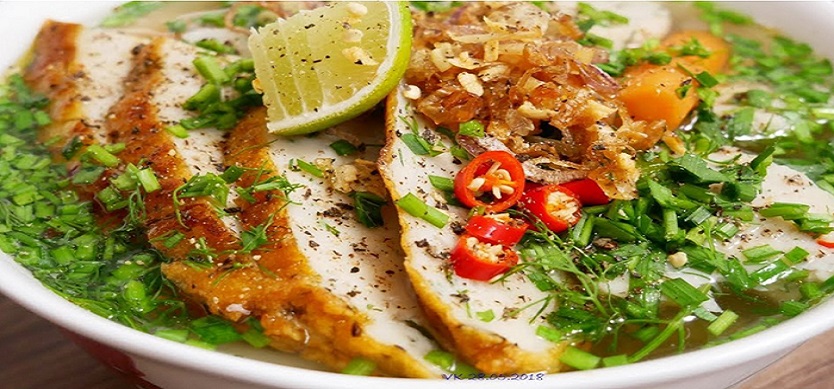 The land of Phu Yen is famous not only for its beautiful landscapes but also for the unique specialties of the rich sea, attracting several tourists in tours to Vietnam. If you're still wondering what to do in Vietnam on Independence Day, this is an answer. What can be more enjoyable than travelling to the beautiful Phu Yen and try the best specialties here? Let's explore these dishes with us.
"Mot nang" beef
A Phu Yen specialty which is often referred to is "mot nang" beef or half-dried beef. To understand its name, let's take a look at the way people process the dish. Cows are grazed naturally on the Phu Yen mountains, so the beef is solid and fragrant. Beef is sliced, marinated with shallot, garlic, chili, pepper, fish sauce, salt, and some other spices, then dried under sunlight once (about one day long) and kept to be not too dry. Hence, the beef is still sweet and tough. Before eaten, the "mot nang" beef must be grilled on a charcoal stove to be cooked. The dish can be eaten with some raw vegetables and soy sauce. "Mot nang" beef is tough and spicy yet very tasty.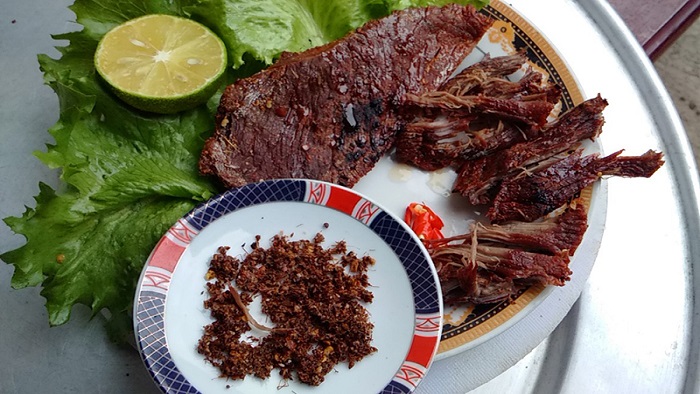 Mot nang beef
Seafood
The land of Phu Yen is famous for its abundant seafood, which can be processed into many delicious dishes, including the famous tuna, hot and greasy grilled cobia, oyster porridge, King crab, O Loan swamp blood cockles, Cau river crab, deep herring salad, grilled chopped tuna and mackerel, dried seafood, etc. These dishes are very delicious, nutritious, and extremely fresh and sweet, creating a very featured taste of Phu Yen seafood.
Pigeon sticky rice
Pigeon sticky rice is one of the delicious specialties that must be mentioned when visiting Phu Yen. The dish is processed meticulously and sophisticatedly. Pigeon meat is chopped with the bones and chilli, pepper, fried onion, and some other spices, then fried until being cooked. Fragrant sticky rice is mixed with pigeon meat, producing a very special color which can be eaten with sesame salt or peanut salt to increase the aroma of the sticky rice.
Chive cake soup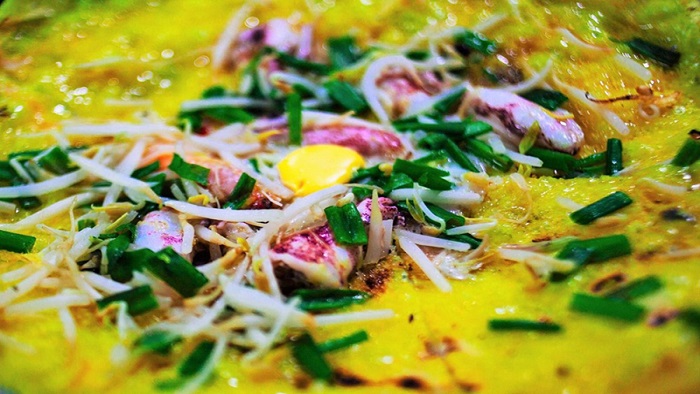 Seafood rice pancake folded in half in Phu Yen
This rustic dish attracts a large number of visitors to enjoy in Phu Yen. Ingredients for chive cake soup is very simple, including grilled chopped fish, meat, eggs, and cake soup. Cakes here is similar to noodles in the northern but it is slightly larger, made from rice flour. When eaten, it is soft but not chewy. Chopped fish is sliced thinly and fried with fish meat molded into small pieces. Especially, the bowl of cake soup will be better much more attractive with the aromatic green chive, creating the distinction only in Tuy Hoa.
Squid rice pancake folded in half
Different from Hue rice pancake folded in half, the cake filler in Phu Yen is very diverse with many kinds of seafood such as shrimp, squid, and meat, etc. The cake is fried and folded into semicircle. The aroma of the cake mixing with the sweet smell of shrimp and squid really stimulate the taste of visitors. Especially, it cannot forget to mention the sauce of the dish, which is a mix of the salty, sweetness, sourness, and piquancy.
Girdle-cake Hoa Da
For a long time, Hoa Da girdle-cake has been known as a familiar food of Phu Yen people. Different from girdle-cake in other regions, the shell of Phu Yen cake is neither too thick nor too thin. Girdle-cake here is very suitable for processing rolls and delicious, crispy grilled girdle-cake. If travelers want to buy Hoa Da girdle-cake as gifts, they can buy at any markets of Phu Yen such as Tuy Hoa market, or retail stores at reasonable prices.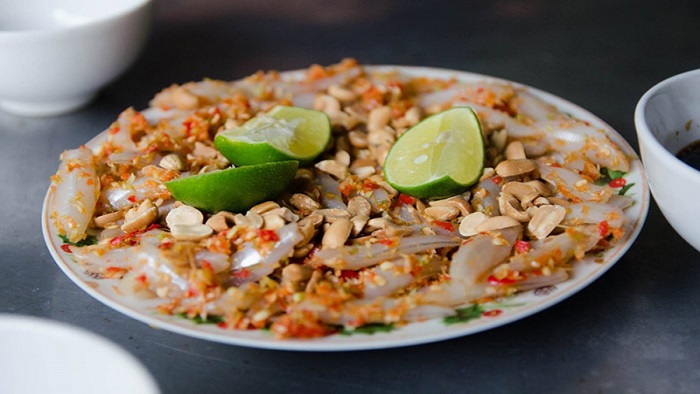 Delicious deep herring salad specialty (quynhonplus.com)
Ant salt
Ant salt is an extremely unique specialty of Phu Yen. As its name, this special salt is made from s special material - yellow ants living in the forest or fruit trees, which are collected and processed by local people in a special way. Phu Yen ant salt is spicy salty, and sour, especially to eat with "mot nang" beef specialty.
"Dong" rolls
"Dong" rolls are processed from the "dong", a kind of reptile living in the sandy land along the coast of Central Vietnam. The meat is marinated and mixed with spice, rolled with girdle-cake, then fried on small fire, so that the "dong" rolls are not too hot yet still have a yellow color and brittleness. "Dong" roll is eaten with raw vegetables and spicy, sour, and sweet fish sauce.
Mouth-watering color of pigeon sticky rice dish
Exploring about the famous Vietnamese cuisine in Phu Yen, we can see that each dish is a harmonious combination of fresh seafood, greasy meat, and vegetables through the hands of talented chef of the land of yellow flowers and green grass. If you like this land, don't hesitate to like and share with your friends to have a wonderful Independence Day vacation here. Thank you.