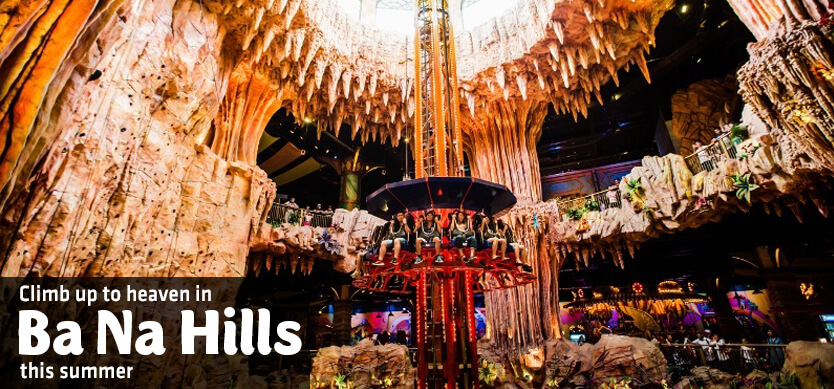 Ba Na Hills is one of the destinations that tourists definitely should not miss when coming to Da Nang. With beautiful space and many attractive games, Ba Na Hills promises to bring exciting experiences for you in this summer. Let's explore this heaven with us.
Best time to travel
If you enjoy the vibrant atmosphere of Ba Na Hills, April to August is the perfect time for you. Otherwise, Ba Na Hills on Tet holiday is also very busy with a large number of visitors. However, if you do not like the noise and crowds, you can visit Ba Na Hills from September to December.
Ba Na Hills is a large space with many beautiful destinations and attractive games so that you might have to spend a few days to be able to discover all of the entertainment centres. If you go to Ba Na Hills on one day, you should come early in the morning to have more time to visit the gorgeous scenery here.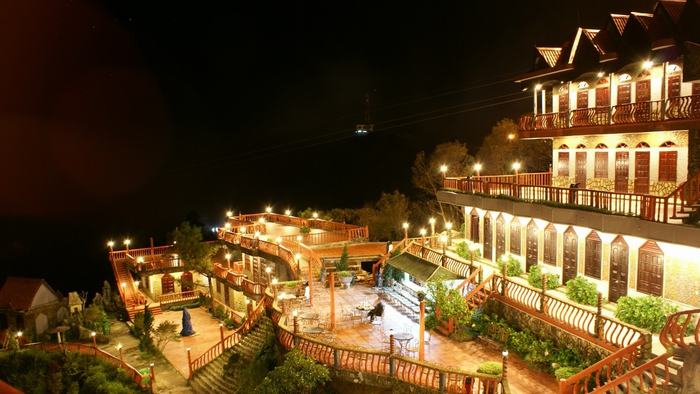 The sparking Ba Na at night
Brief information about Ba Na Hills
Located on Chua mountain of Hoa Vang district, Da Nang city, Ba Na Hills is one of the tourist spots attracting millions of travelers to visit and enjoy fun every year. Coming to Ba Na Hills, tourists will not only be able to sit at a height of nearly 1,400 meters to see the panoramic view of the city but also participate in many exciting and new games.
Besides, Ba Na Hills also has a system of motels, hotels, and resorts with luxury facilities to meet the needs of relaxation of tourists.
Top attractions in Ba Na Hills
Fantasy Park
With an area of up to 21,000 square meters, Fantasy Park is the largest indoor gaming complex in Asia which will provide visitors with exciting and new entertainment. The park consists of 3 floors with thousands of adventure games and more than 90 complementary games such as Skiver Pilots, Jurassic Park, Outrun Race, Windmill, Fairy Forest, 4D Death Race, Horror House, etc.
Besides, in Fantasy Park, there are 3 dining areas serving a variety of Asian and European cuisines and also souvenir stalls with a variety of products for tourists.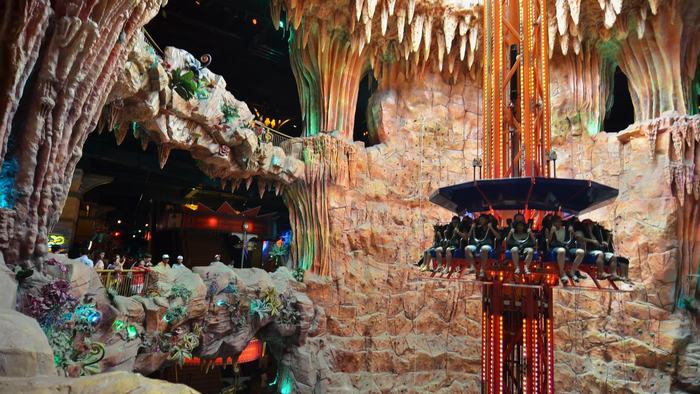 Fantasy Park
Le Jardin D'Amour Garden
Le Jardin D'Amour is an enormous flower garden with an area of 8,206 square meters located in the east of Ba Na mountain, attracting visitors with its cool climate and beautiful flowers. Especially, there are 9 small gardens with unique architecture: Mo Spring Garden, Heaven Garden, Secret Garden, Love Garden, Thought Garden, Legend Garden, Memory Garden, Holy Garden, and Grape Garden.
Coming to Le Jardin D'Amour for a day trip to Da Nang, visitors can also admire many rare and colorful flowers such as hydrangea flower, lavender, salvia flower, shaped blossom, and globe amaranth, etc.
Linh Ung Pagoda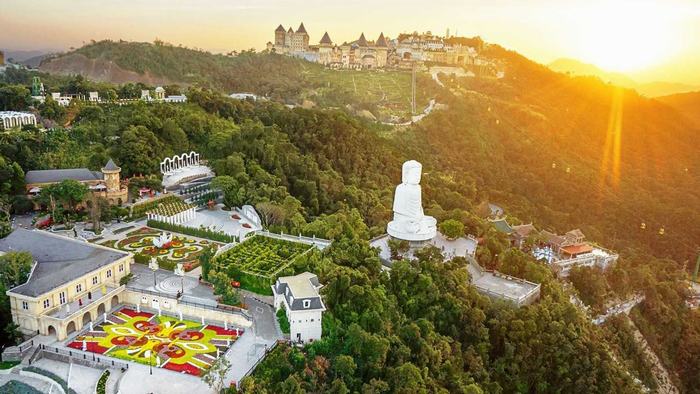 Linh Ung Pagoda
Situated at the top of Ba Na, Linh Ung pagoda, with a height of nearly 1,500 meters, has become a popular spiritual destination that travelers should not miss. The pagoda has the same architecture as other Vietnamese pagodas with curved roofs and wide yard tiled with stone. In front of the pagoda are pine trees with 3 different types of leaves.
In particular, visitors will see the 27-meter-high statue of Shakyamuni Buddha meditating on a lotus. Below the statue, there are 8 reliefs carved delicately, which reflect the life of Shakyamuni Buddha. Besides, visitors can also enjoy the panoramic view of Da Nang city, Son Tra peninsula, and My Khe beach from this place.
French Village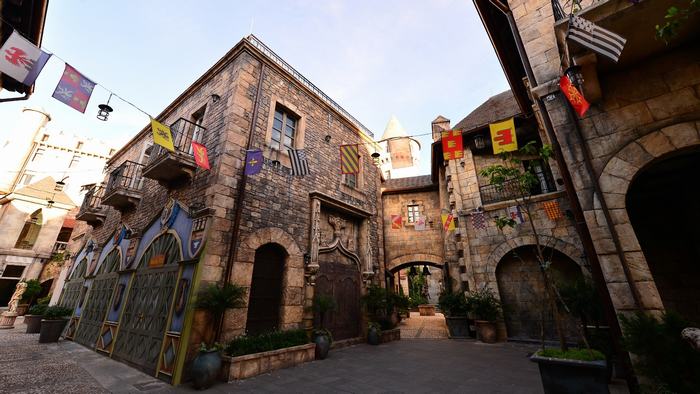 A corner of the French village in Ba Na
Coming to the French village, visitors will experience a romantic and classic France space of the 20th century with unique architectural works such as Chateau De Chenonceau castle, St. Denis cathedral, Brittany, Apremont sur Allier village, square, hotels, villages, and towns, etc.
In addition, the French village also has many modern facilities such as spa system, conference room, closed swimming pool, shopping area, bar, outdoor coffee, and "four seasons" entertainment program for children and adults, etc.
Toc Tien Waterfall
Only 2 kilometers to the east of Ba Na Hills, Toc Tien waterfall is located in Mo spring which is a 700-meter-high waterfall and flows all year round to Thuy Duong lake. Especially, the magnificent Toc Tien with 9 white layers of the waterfall has formed the majestic scene surrounded by a rich and diverse fauna and flora.
Cable car in Ba Na
In Toc Tien spot, visitors can watch the dreaming scenery while listening to the stream and resting on the flat pebbles. In addition to Toc Tien waterfall, visitors can visit the Standing waterfall and Banyan Tree waterfall right next to Toc Tien which are also very beautiful and unique.
Debay Wine Cellar
According to the history of Ba Na Hills, Debay cellar is a unique architectural work built by the French that is nearly 100 years old. The Debay stone cellar is 100 meters long and 2 meters wide, and it always has a temperature of 16-20 degrees Celsius for storing many antique French wines.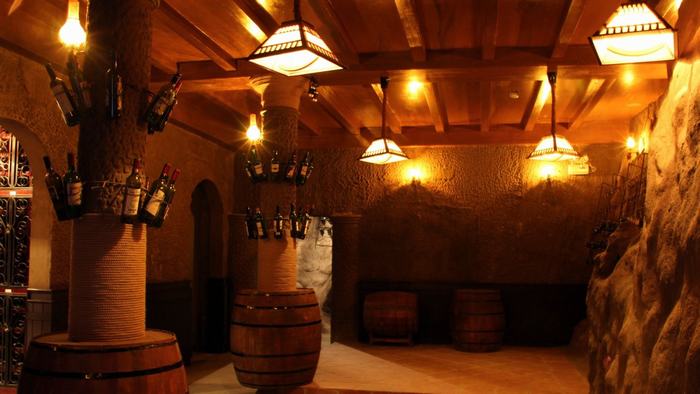 Debay Wine Cellar
In addition, there are also distilleries, storage rooms, fireplaces, bar areas, and lounges, therefore, in addition to sightseeing, guests can also enjoy the barbecue here, sip a glass of wine, and buy the fine wines as gifts for friends and family.
Wax Statue Museum
The Wax Statue Museum in Ba Na is the largest one in Vietnam, where each statue is a fine artwork made by many Italian artisans. At the Wax Museum, visitors can view and photograph the wax copy of many famous people in the world such as the basketball player Michael Jordan, football star David Beckham, composer Park Jae Sang, singer Victoria Adam, and President Barack Obama, etc.
We believe that our guides of Ba Na Hills above will help you get the best relaxing moment and experience in the journey to explore the beautiful city of Da Nang. If you need more information for a luxury tour Vietnam or best Asia tours packages, don't hesitate to contact us. Thank you.