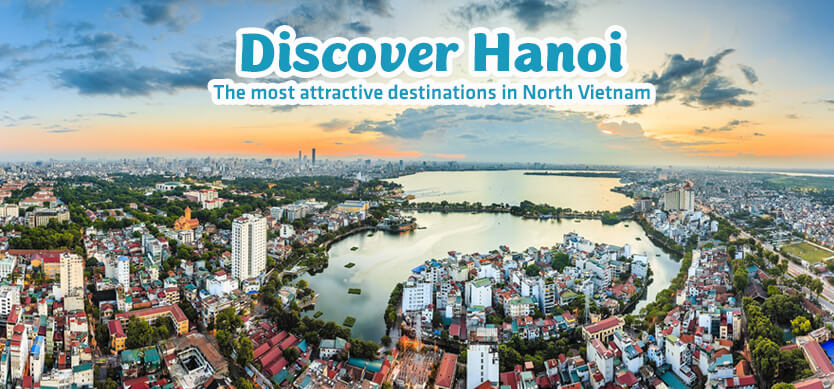 When one talk about Vietnam tourism, it's deficient if we don't mention Hanoi - the capital of the country. Not only famous for its historical values, but Hanoi is also home to numerous beautiful attractions and amazing cuisine. Let's take a quick look at this city in our best Vietnam tours.
Top attractions in Hanoi
Hoan Kiem Lake
The special feature of Hanoi is that the city is surrounded by big rivers and there are many lakes in the city. Hoan Kiem Lake is located in the heart of the city with an ancient turtle tower lying on a small peninsula in the middle of the lake. Pen Tower, The Huc Bridge leading to Dac Nguyet or Tran Ba Temple and Ngoc Son temple are appealing architectural works and valuable treasures of Hanoi located near Hoan Kiem Lake.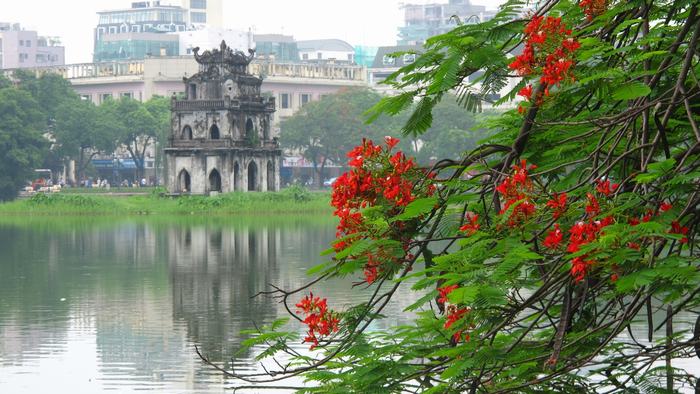 Hoan Kiem Lake
The temple of Literature
This is the place to worship Confucius and also the first university of Vietnam. Today, the Temple of Literature becomes a popular tourist destination in Hanoi which is the place of awarding certificates of merit to students with outstanding achievements.
One Pillar Pagoda
Hanoi is the religious and Buddhist center of Vietnam so there are many hundred-year-old temples in the city. The most famous one is the One Pillar Pagoda, which is said to be one of the most unique pagodas in Vietnam. It is also a must visit place when traveling to Hanoi. Besides that, there is also Tran Quoc Pagoda, a long ancient pagoda built from the reign of King Ly Nam De (6th century).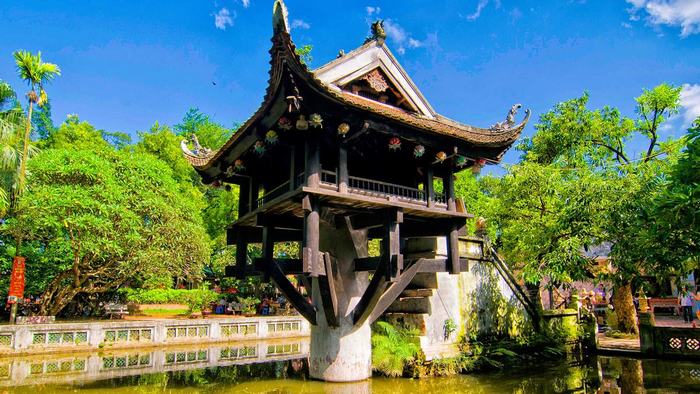 One Pillar Pagoda
Hanoi Old Quarter
This is the highlight of Hanoi tourism. Hanoi with ancient houses and 36 streets has been still retained their appearance from the 19th century. Hanoi 36 streets with old houses and streets still retain their appearance from the 19th century. You can wander all day on the old streets to explore the peaceful and casual place. Coming here, you can feel the beauty of Hanoi people.
Ba Dinh Square - Ho Chi Minh Mausoleum
Visiting Hanoi, tourists cannot miss Ba Dinh Square and Ho Chi Minh Mausoleum where Uncle Ho read the independence declaration. Ho Chi Minh Mausoleum is the place where his body is kept. Ho Chi Minh Mausoleum opens all the week except Mondays and Fridays. Visitors are bound to comply with requirements such as dress code, do not bring self-recording devices and keep order in the mausoleum.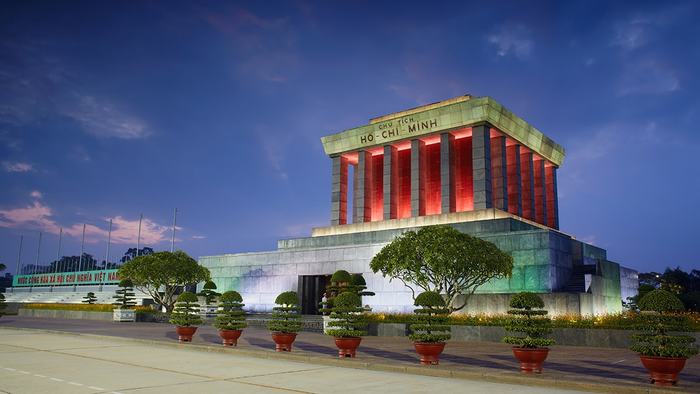 Ho Chi Minh Mausoleum
Tran Quoc Pagoda
This pagoda has the architecture as a blooming lotus. It was built in Ly Nam De King dynasty which is located on a peninsula in the east of West Lake. The pagoda still retains many historical and cultural relics such as the statue of Buddha and Shakyamuni. This is an attractive destination when taking best Asian tours.
West Lake
West Lake is known as the largest lake in Hanoi which is located not far from the city centre. The most popular activities here are to rent a water bicycle or a boat to go round the lake. The best time to visit the lake is the sunset.
Beside the West Lake is the ancient village Nghi Tam where much elegant entertainment of old Hanoians still is retained. Nghi Tam is also known as a flower village. Ngu Xa village and Yen Phu Village which are renowned for traditional bronze casting and incense making near the West Lake that you should visit once.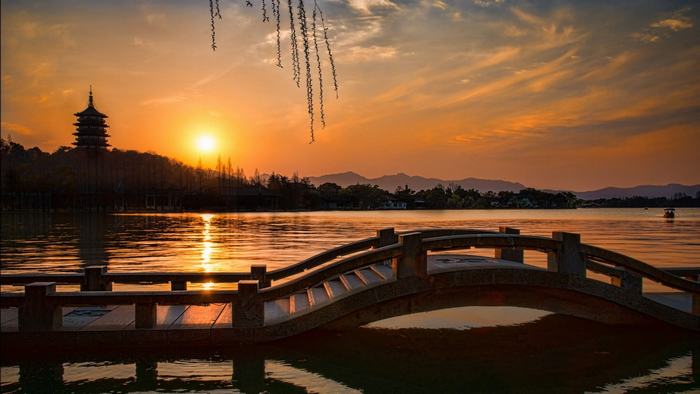 West Lake in the sunset
Must-try dishes in Hanoi
Pho
Pho is considered the most famous food for tourists, especially international ones when traveling to Hanoi. Ly Quoc Su Noodles is the brand which is famous for beef noodles. If you want to try chicken noodle, let's go to Quan Thanh street. The price of this dish ranges from 15,000 VND to 35,000 VND.
Com (Green Rice Flakes)
This is the gift that reminds us of childhood and also expressing the beauty of Hanoi cuisine. The scrambled plastic fragrant and fluffy seeds carefully wrapped in lotus leaf can be made into sticky rice, sweet gruel or chopped rice nuggets.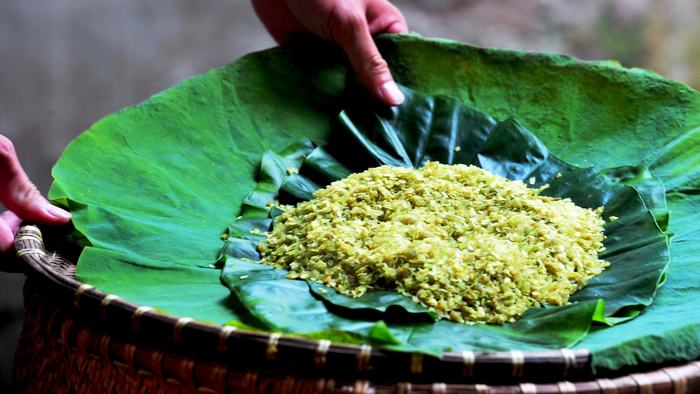 Green Rice Flakes
Beautiful places to take photos in Hanoi
Nhat Tan flower garden
Situated on Au Co Street in Tay Ho District, Nhat Tan Flower Garden attracts numerous young people come to take photos and admire the colorful flowers such as sunflowers and butterflies flowers. This is also one of the most beautiful photography sites for young people.
The lotus pond in West Lake
Situated at the end of To Ngoc Van Street in Tay Ho District, the Lotus Pond is an ideal place for young people, especially the girls to take photos when the lotus season hatch. When taking pictures, they often wear long dress or dress shirt bare back of the ancient women.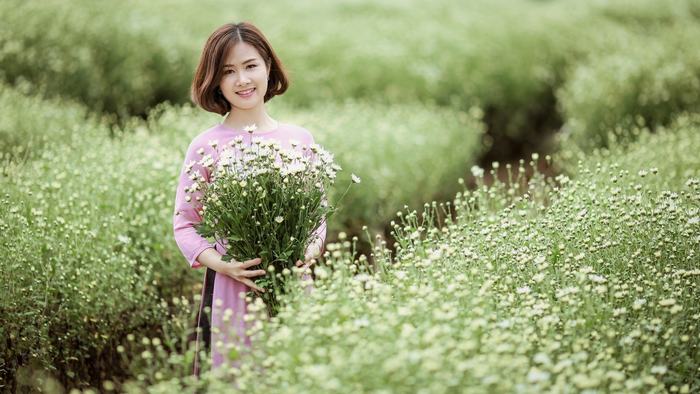 Beautiful places to take photos in Hanoi
The Stone Reef in Red River (Bai Da Song Hong)
This reef is very large which is located right on Red River's bank. This is an ideal place to take photos for couples, especially for romantic wedding photos with chariots, hanging chairs, swings, wooden bridge and flower field.
We cannot say enough how amazing Hanoi is. The best way is to come to Hanoi and discover yourself. For more information about best Vietnam tours, you can visit our website. Like and share this article if it is useful for you. Have a nice trip!