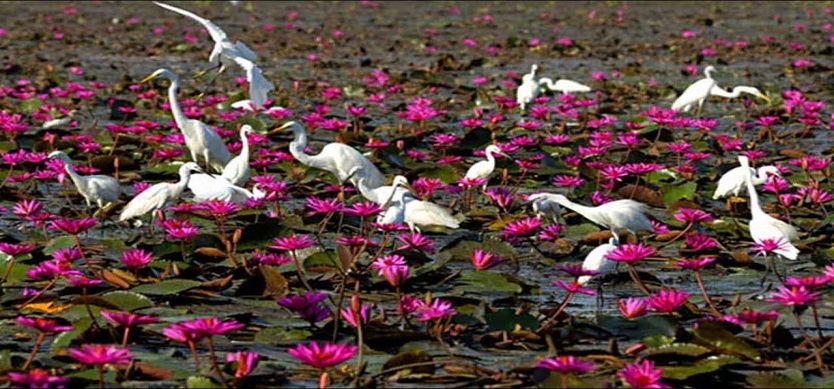 Vietnam is a tropical country with an extremely diverse national park system. The wildlife of the jungle and the mystery of rare animals are attractive things that you should not miss when taking tours to Vietnam. Let's discover the most popular national parks in Vietnam in this article.
Tram Chim National Park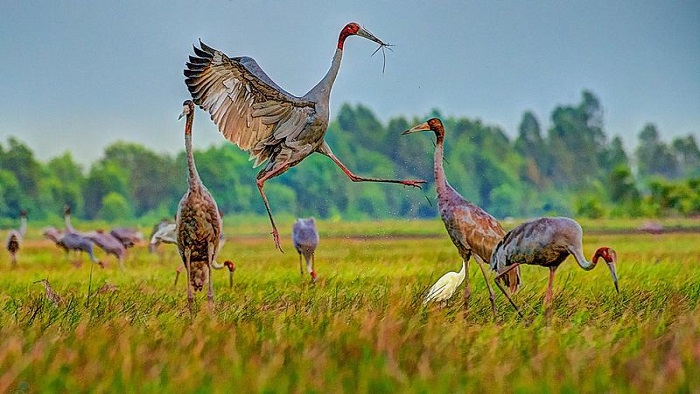 Tram Chim National Park (via mekongreviews)
Traveling to Southwest Vietnam, you will be fascinated with bustling floating markets, boats between green forest or pink lotus flowers on the lakes. After that, do not forget to visit Tram Chim National Park in Dong Thap Province – one of the most famous Vietnamese national parks.
Tram Chim National Park is home to more than 100 vertebrate species, 147 waterfowl species (of which 13 species are rare ones in the world, particularly the Grus Antigone) and 40 species of fish.
Coming to Tram Chim Tam Nong, you have the opportunity to sit on the canal along the green canyons, watch the birds fly to find their herd. You can also admire the beauty of the white and red lotus fields and rice fields in the sunshine.
Cat Tien National Park (Dong Nai – Lam Dong – Binh Phuoc)
As one of the world's largest biosphere reserve, Cat Tien National Park is Vietnam's largest national park which is located in three provinces of Dong Nai, Lam Dong, and Binh Phuoc. This destination is isolated as an island located in Dong Nai River.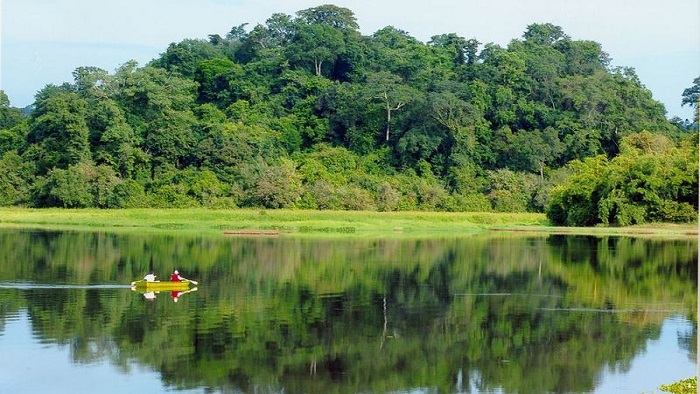 Cat Tien National Park
The green forest accounts for approximately 50% of Cat Tien area, while the bamboo forest accounts for 40% and the farm account for 10%. Cat Tien is home to 40 species listed in the World Red Book, in particular, the rhino. This is also the convergence of countless beautiful birds that nature lovers cannot ignore. Moreover, Cat Tien National Park is also home to numerous rare and beautiful orchids.
You have to explore this place by taking a boat. You should spend at least 2 -3 days to discover the whole national park. Inside this "uninhabited island", there is a full range of recreational activities, accommodations, dining, and sightseeing.
Coming here, you will feel like back to the primeval life with the great ancient trees, the trunks and wild animals of the forest.
Bach Ma National Park (Hue)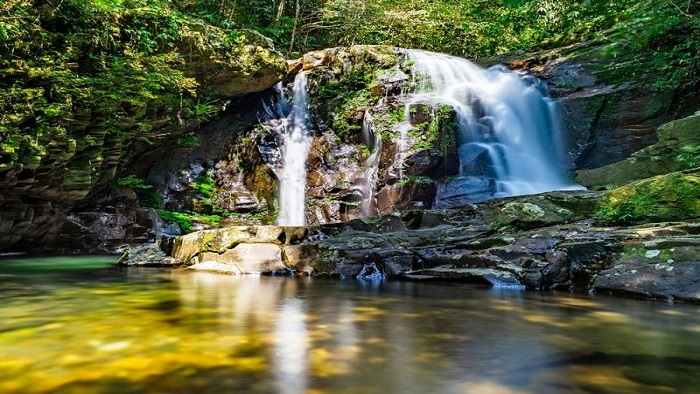 Bach Ma National Park (via mylittleadventure)
Bach Ma National Park is a highly diversified forest with 2147 species of plants including rare arboreal and fern species, and 1493 species of animals, of which the rare species are saola (Vu Quang ox). This national park is located in Thua Thien Hue Province, about 40 kilometers from the city center.
This is one of the most famous tourist destinations in Hue with magnificent natural scenery such as Do Quyen Waterfall, Vong Hai Dai, and Ngu Ho. These scenes make Bach Ma beauty as a harmonious watercolor painting. From Vong Hai Dai – the highest point in Bach Ma National Park, you will see majestic mountains. The beauty of the landscapes here makes visitors open the eyes of nature in Vietnam.
Cuc Phuong National Park (Ninh Binh)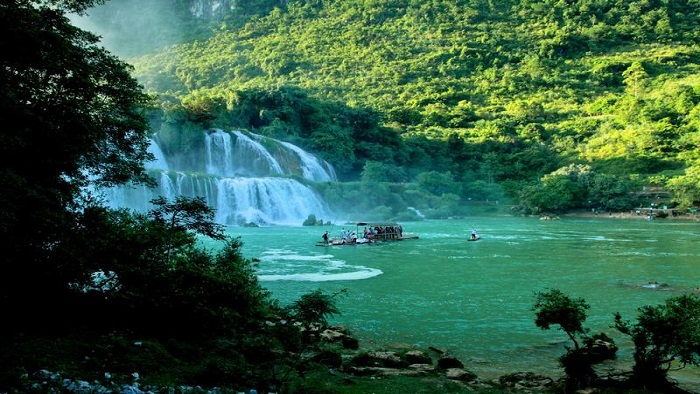 Cuc Phuong National Park
Founded on July 7th, 1962, Cuc Phuong National Park is the first national park and also the first nature reserve in Vietnam. The park covers an area of 22,220 hectares on the territory of three provinces Ninh Binh, Hoa Binh and Thanh Hoa, of which the area in Nho Quan District, Ninh Binh Province accounts for over 11,000 hectares. Cuc Phuong is famous for its diversity of species in the forest system, the beautiful natural scenery, cultural values and the native Muong ethnic culture.
Cuc Phuong National Park is truly amazing in biodiversity with many types of organisms, hundreds of thousand-year-old trees, endemic plants and animals. There are beautiful caves lie deeply in the wild forest such as Pho Ma Giang Cave, Son Cung Cave, and Vui Xuan Cave. Con Moong cave and the Ancient cave are associated with the archaeological excavation site about the prehistory of Son Vi culture 7000 years ago.
Ba Vi National Park (Hanoi)
Ba Vi National Park
Located in Hanoi, Ba Vi National Park is a famous destination thanks to its diversity of ecosystems, beautiful scenery and cool climate. This national park is situated in the high mountain range along the northeastern – southwest direction with 1,296 meter Tan Vien peak and 1,120 meter Ngoc Hoa peak.
In the national park, there are over 1,000 species of plants, of which about 200 species of medicinal plants and many precious species. There are 45 species of mammals, 115 species of birds, 61 species of reptiles and 27 species of amphibians including many rare species listed in the World and Vietnam Red Book such as white pheasant, monkey, leopard, bear, and flying squirrel.
At the weekends, many groups of young people go to Ba Vi National Park for picnic and camping. They come here to enjoy the fresh climate, spectacular natural scenery with streams such as Ao Vua, Khoang Xanh, Tien Sa Pond.
A trip to the most popular Vietnamese national parks will make your eyes open and learn more about the nature. You can also get further information in other interesting Asian tours via our website. Share this article if you find it useful. Thank you!