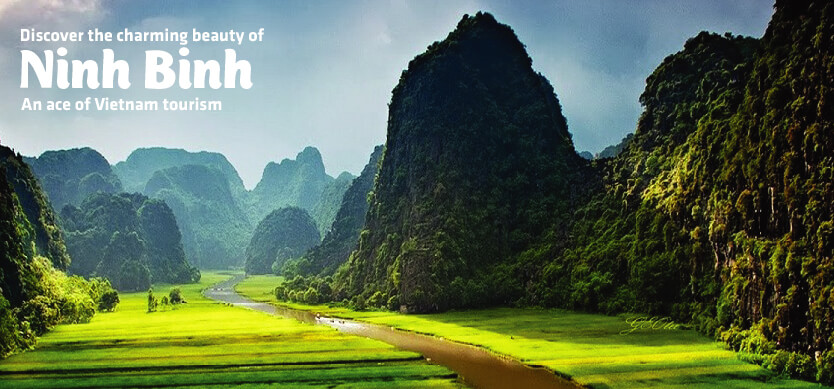 Ninh Binh is a small beautiful province in the north of Vietnam. It is considered as one of the most beautiful lands of Vietnam with a range of the beautiful natural and religious cultural spots that tourists can't ignore in Southeast Asia tour packages.
Where is Ninh Binh?
Ninh Binh is a small province in the south of the Red River Delta. The province is considered the natural border between the north and central of Vietnam by Tam Diep mountain range and the cross-cultural point of these two regions of Vietnam. Besides, the mother nature has prior to offer this land with the breathtaking sceneries where the river, mountain, and sky meet together.
The best time to get to Ninh Binh
You can travel to Ninh Binh on all year round, but the best time to go to this beautiful land is from January to March. If you go to Ninh Binh right at the end of May and the beginning of June, you will luckily have a chance to see the golden ripen rice paddies in Tam Coc, which make up the picturesque views very suitable for tourists who like to take pictures.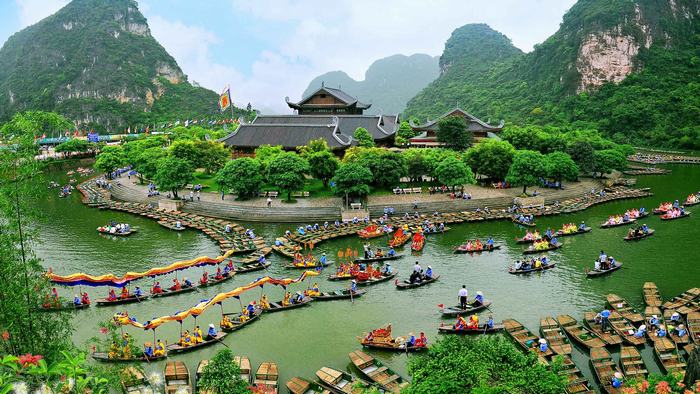 Trang An Complex
What to see in Ninh Binh
Trang An Complex-Where heaven and earth meet
Trang An is proudly recognized as a mixed natural and cultural heritage by UNESCO. After opening to the public in recent years, Trang An quickly becomes the most attractive tourist destination in Laos and Vietnam tours with the yearly increasing number of tourists. The best way to explore the beauty of Trang An complex is riding on a boat along the river.
It is a worthy experience for you to admire the majestic limestone mountain settings, a system of mysteriously hidden caves and visit ancient temples on the banks. Especially, this is the place filmed the worldwide famous movie of Kong, they set up a location as in the movie for you to visit.
Mua Cave
It is located in Ninh Xuan Commune, Hoa Lu district, Ninh Binh province. From here, you can easily go to visit Tam Coc, Trang An or Bai Dinh pagoda by bike.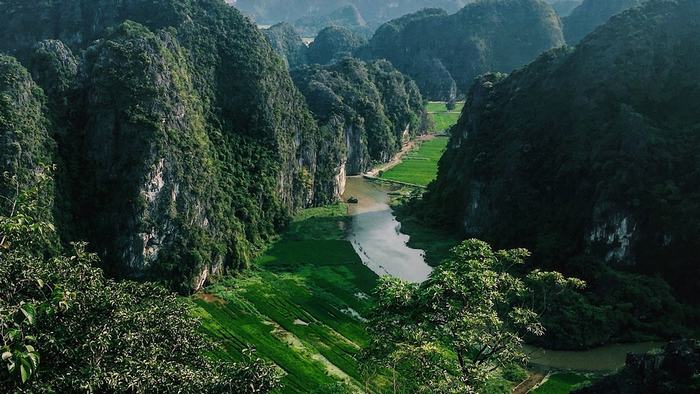 Mua Cave
The meaning of the name of Mua cave is "dancing cave" because, in the legend, this is the place Tran Kings used to come to enjoy the dancing and singing performances performed in this cave. Nowadays, Mua cave becomes an eco-tourism complex with Hang Mua resort where you go to relax and stay overnight and trekking activities.
Mua cave is constructed based on the miniature model of " Great Wall" in China with nearly 500 steps up to the top of the mountain. You will have a hard trekking tour going through many uneven limestone steps but finally, it is worth your efforts for the impressive panoramic view of Tam Coc, Trang An and even Ninh Binh city when you reach the top of Ngoa Long mountain. Standing on top, you will see the wonderful panoramic photos of golden rice fields and limestone mountains. It is truly breathtaking.
Tam Coc-Bich Dong
Tam Coc- Bich Dong is considered as one of the most attractive destinations in Ninh Binh province, the beauty of this cave complex is compared to Halong and so it is also well-known for the name "Halong Bay on land" or " the most second beautiful cave in the Southern sky".Tam Coc – Bich Dong area is 115 km from Hanoi on highway 1 to Ninh Binh.
Indeed, you can contemplate the charming beauty of mountains, rivers and the romantic scenic rice fields here. What an impressive landscape if you visit Tam Coc – Bich Dong from the middle of May to the beginning of June when the rice is getting ripe from green to yellow colors. Great views for you to have beautiful photos.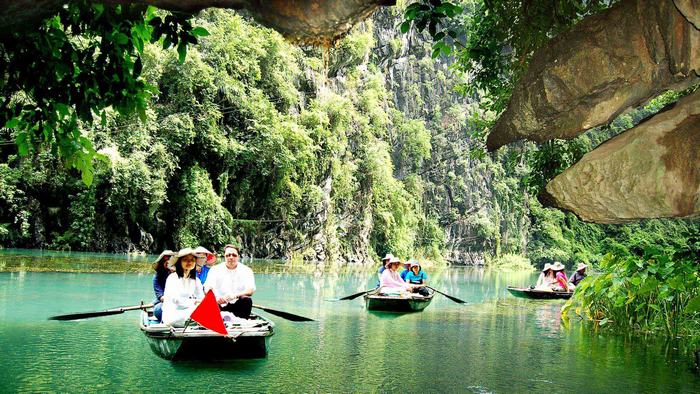 Tam Coc - Bich Dong
Hoa Lu ancient capital
Hoa Lu ancient capital is one of the ancient capitals in Vietnam history where it still keeps itself the great values of important culture and history in Vietnam.
After the victory against Han Chinese invaders, Ngo Quyen announced the citizens as a King. In 968, Dinh Bo Linh reunified the country under the name of Dai Co Viet (Grand Viet), took the name of King Dinh Tien Hoang. Hoa Lu was chosen as the country's capital for 41 years in the independence period.
As the head of the country for 41 years, Hoa Lu used to have many palaces, pagodas, tombs, and pavilions built for many years. However, due to the destruction of wars and time, many structures have been destroyed. When coming to this place, you can see two famous temples built in the 17th century.
The first temple is Dinh temple worshiped King Dinh Tien Hoang and his wife. The second temple is Le temple worshiping Kinh Le Dai Hanh, his family, and his mandarins. Apart from these temples, you also can visit the vestiges of royal palace such as the Bao Thien Tue palace, which was plated with gold and silver, some beautiful pagodas like Ngan Xuyen pagoda, and Nhat Tru pagoda.
Bai Dinh pagoda
Bai Dinh Pagoda
It is located in Gia Sinh commune, Gia Vien district, Ninh Binh province, Bai Dinh pagoda is one of the famous attractions in Ninh Binh with a large number of local Buddhist pilgrims and foreign tourists coming to pray in and visit this holy complex. It holds a lot of records in Vietnam, Southeast Asia and even Asia such as the largest pagoda of Vietnam, the biggest gold - plated copper of Asia and the longest lobby in Asia.
Cuc Phuong national park
Cuc Phuong national park is the biggest and well-protected national park in Vietnam with the rich in fauna and flora. Coming to this park, you have a chance to contemplate many giant trees and endangered species that are being protected in this park.
It is very wonderful to choose to do a trekking route to visit this national park although the biking option is also a good choice. In addition, you will have a great time to stay with local Muong ethnics in the core area of the park. If you come to Cuc Phuong park in spring, you will have a chance to see thousands of colorful butterflies flying around the forest like a Disney film scene.
How many chances do you have for traveling in life? Let's come and explore the charming beauty of Ninh Binh and Vietnam right now. If you need further information about Vietnam destinations, feel free to contact us. Have a nice trip!