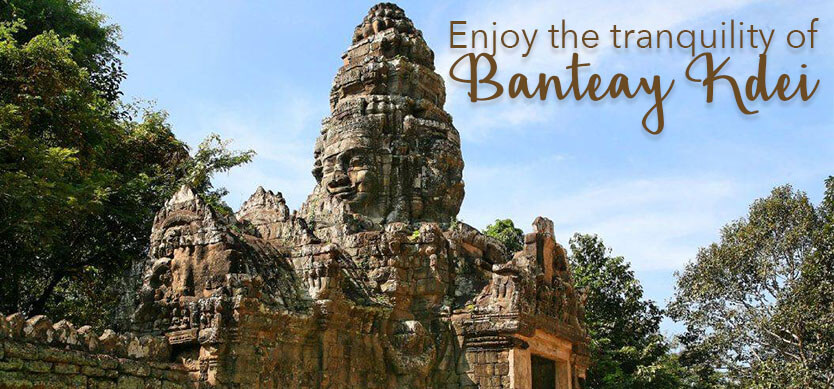 With its own unique appeal, Banteay Kdei is different from other temples in Angkor. This small temple will get you out of the tourist crowd and give you a sense of peace.
Interesting facts
Banteay Kdei which means "Citadel of Chambers" is a Buddhist temple in Angkor. It is 3 kilometers east of Angkor Thom and 600 meters southeast of Ta Prohm. Banteay Kdei was established in the late 12th and early 13th century during the reign of King Jayavarman VII. The architecture of the temple resembles that of Bayon, Ta Prohm, and Preah Khan but it's less complex and smaller than other temples.
The name Banteay Kdei stemmed from an earlier name, Kuti that used to appear in the Sdok Kak Thom. According to this stele, during the arrival of King Jayavarman: "When they arrived at the eastern district, the king bestowed an estate and a village called Kuti upon the family of the royal chaplain". This royal chaplain was the scholar Sivakaivalya who is the chief priest of Delaware sect.
Enjoy the tranquility of Banteay Kdei
Despite owning the specific characteristics of Bayon architectural style, the whole temple is on only one level. The temple was initially built as a monastery. It's surprising that there is a lot of cicadae – one of the loudest insect, living in the tree in the site of Banteay Kdei. The sound of these cicadas may startle visitors, and even in some cases when cicadas are overexcited, they can produce big sounds dominating other around ones. Moreover, if you are amazed at the insect, you will be pleased with the popularity of the large and strange arachnid. These arachnids are colorful and you may be interested in posing with them. You can discover them accidentally or the very enthusiastic sellers may show it for you.
Banteay Kdei is one of the rare tourist destinations that there are more vendors than travellers. The atmosphere is quite peaceful and you can wander around the temple and take your most satisfying pictures without queueing up behind crowded tour groups.
When entering Banteay Kdei, you will pass a small shrine. You can find a Buddhist monk or nun there, protecting the temple. What about making a donation and being given a blessing and thread bracelet in return? This is optional so you can skip if preferable.
An interesting part of Banteay Kdei's design is its gate, like Angkor Thom gate, that is decorated with the same face towers, called gopuras. Historians agreed that the face tower is the signature of King Jayavarman VII which represents not only himself but also the god Lokesvara. Moreover, there is an amazing common thing between Banteay Kdei and Ta Prohm, which is the hall of dancers situated on the entrance way.
It is adorned with the bas-relief of apsara dancers and Buddha sitting and seeing toward the corridor. In the courtyard, when looking up at the towers, you can find amazing historic devatas. These details are still preserved well, compared with the rest of the temples.
Why can't you miss Banteay Kdei?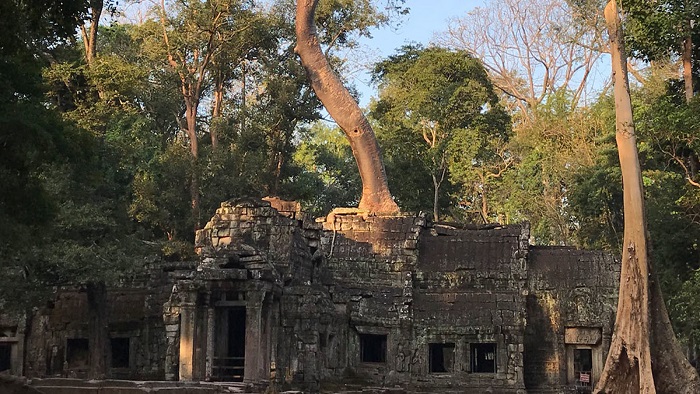 Enjoy the tranquility of Banteay Kdei
Supposedly you are in a tourist destination and like to escape from the noisy crowd or the busy main attraction in Angkor. It's so spacious and tiring, especially on summer days when the temperature rises but you don't want to return to your car, tuk-tuk or bike. In that case, the Banteay Kdei is for you.
Why don't you reach Banteay Kdei and enjoy its tranquility? After the time, when the number of tourists decreases, you can get back to your first destinations. Banteay Kdei is also perfectly suitable for those who simply want to have daybreak in a peaceful place rather than mix with the cheerful atmosphere in tourism locations. Let's just sightsee, mingle with nature and contemplate the awesome stony blocks. Surely you will have an unforgettable spiritual experience that is much more wonderful than you expect.
It's such a good idea to start the tour of the Angkor park with Banteay Kdei and come back to the more popular major temples within Angkor after the crowd thins out. Like Srah Srang, Banteay Kdei is a gorgeous place to watch the sunrise.
Insider tips
Tuk-tuk or bicycle are believed to be the best vehicles for visiting Banteay Kdei. From Siem Reap city, the total one-way distance is 10.5 kilometers. If you travel by tuk-tuk, it can take 15 minutes. The road is flat. The journey by bicycle which can take about 1 hour is also reasonable if you are fit and like to save your transportation expense.
Insider tips
►Some enthusiastic vendor can show you the place of arachnids and in return, it's better to tip them for guiding you through the dark and narrow corridor to seek the beasties instead of buying their souvenirs.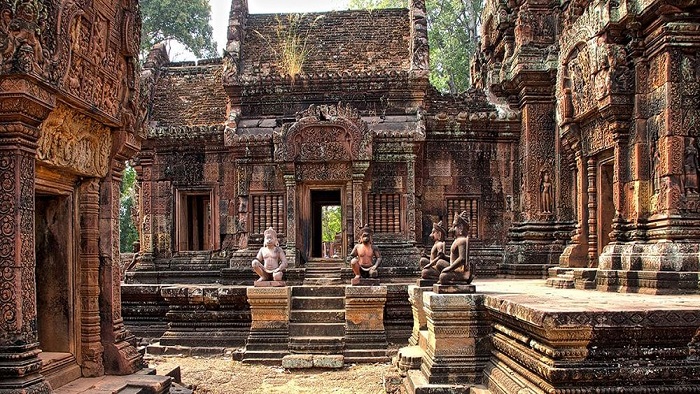 Enjoy the tranquility of Banteay Kdei
►You need to go to the Apsara Authority booths on the road to Angkor Wat to buy the ticket first even if you pass the main temples and reach Banteay Kdei directly from Siem Reap.
►At the end of the temple, there is a small stall of souvenir. The goods have enough good quality and it's worth spending money on for your mementos. It's advisable to haggle gently since the price may tumble easily.
Although few tourists have Banteay Kdei in their list when coming to Angkor, its delicate loveliness and peacefulness will surely leave a strong impression on you. Let's explore Banteay Kdei and have memorable moments.
"Why don't you stand up and take Thailand Cambodia tour right now? Do not forget to take Cambodia cheap tours to get more information about Banteay Kdei as well as other Cambodia amazing destinations. Cambodia is waiting for you! Share the post if you find it useful. Have a nice trip!