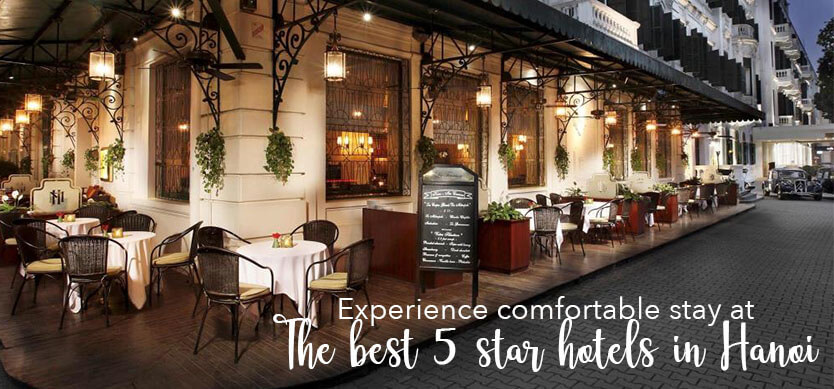 Hanoi is always the top choice for tourists when thinking about best Asia tour package thanks to its beautiful landscapes, diverse culture and famous cuisine. If you have the opportunity to visit this city, let's spend time in the best 5-star hotels there to have a memorable time in Hanoi.
JW Marriott Hanoi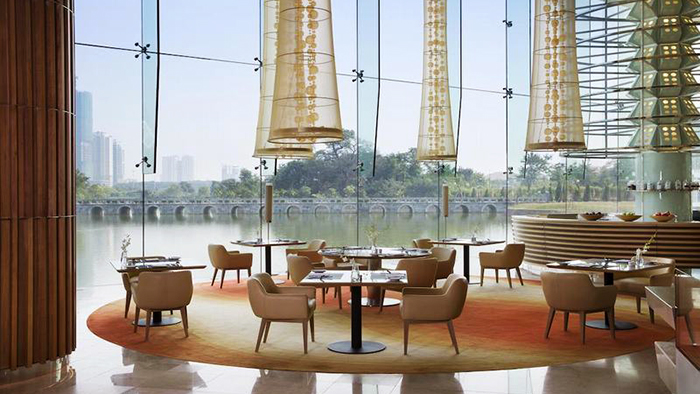 JW Marriott Hanoi
Launched in November 2013, JW Marriott Hanoi is proudly one of the best 5-star hotels in Southeast Asia. Situated next to the National Convention Center and the highest building in Vietnam - Landmark 72 building and just about 27 kilometers to Noi Bai International Airport, it's convenient for guests to travel around Hanoi. Designed by the famous architectural company Carlos Zapata Studio and inspired by the legendary dragon in the folk and the beautiful coastline of Vietnam, JW Marriott Hanoi has created sympathy for customers through the modern style but still brings featured Vietnamese traditional culture.
With a total area of more than 5,000 square meters, the JW Marriott Hanoi is an ideal venue for meetings, incentives, conventions, and exhibitions. The hotel has a total of 17 meeting rooms, including 2 large conference rooms with 1000 square meters and 480 square meters and large lobby area serving 1000 guests. All services for the conference are conveniently designed on a floor with a separate entrance and parking.
The hotel brings guests the most wonderful staying experience with 450 rooms including 55 suites. The smallest one is 48 square meters. All rooms are featured wooden floor and 24/7 room services.
The hotel provides an amazing dining experience by French Grill restaurant, Crystal Jade Palace, and JW Cafe. With the capacity of up to 82 guests, the French Grill restaurant serves traditional French dishes and special wines. Crystal Jade Palace Restaurant is where you can enjoy the most famous Chinese food. The restaurant accommodates 140 seats including 6 private rooms and 3 outdoor tables with the lake view.
After a hard-working day, take a rest with a cup of tea at The Lounge located the main lobby or soak up the tunes and sip some delicious drinks made from Whiskey, Gins, Vodkas, and wines at Antidote Bar. In addition, one of the most effective ways to relax is dropping by Spa by JW and enjoy featured Vietnamese and Asian massage therapies. You can also get to 24/7 fitness center with modern equipment, the hanging 310 swimming pool, and a luxurious sauna room.
InterContinental Hanoi Westlake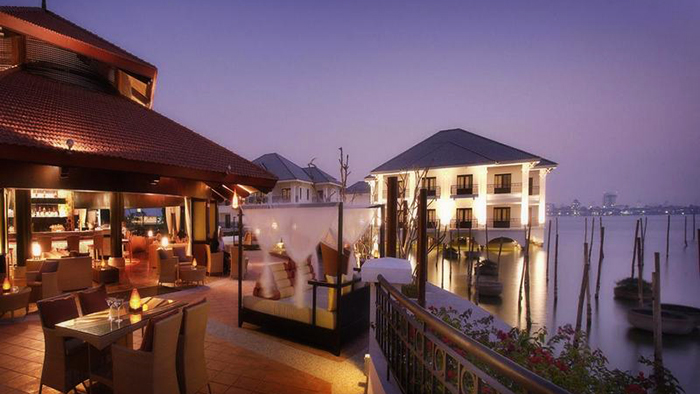 InterContinental Hanoi Westlake
If you want to find a private and quiet atmosphere, InterContinental Hanoi Westlake is the place for you. The hotel is a unique building built on West Lake with the sophisticated style - the combination of Vietnamese culture and the modernity of the Western-managed by the hotel group InterContinental - the largest corporation in the world.
The hotel accommodates 293 rooms and suites including 132 rooms located in two luxurious floating villas on West Lake. All rooms are featured with LCD 32-inch TV, cable channels, standing shower and bathtub, wooden floor, fridge, private balcony, and free wireless internet access. The hotel provides one club and Milan Saigon for dinner or Du Lac Cafe. In addition, you can go to the Sunset Bar, Milan Saigon Bar in the main house or Diplomat Lounge on the first floor. Other services and facilities in the hotel are a meeting room, fitness center, spa, outdoor swimming pool, gift shop, laundry service, child keeping, and currency exchange service.
Crowne Plaza West Hanoi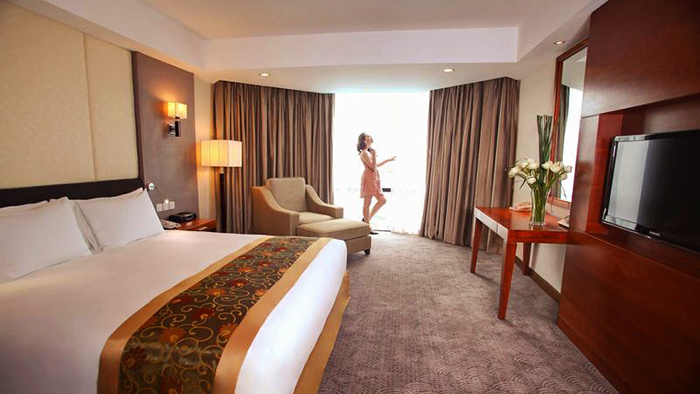 Crowne Plaza West Hanoi
Crowne Plaza West Hanoi is conveniently located in the new urban in the west of Hanoi. It's a landmark of the commercial and residential complex, right next to My Dinh National Stadium and the National Convention Center, about 30-minute drive from Noi Bai International Airport. Opened in 2011, this is a comfortable 5-star hotel with a 19-story building.
Featuring 393 rooms with the sweeping garden view, the hotel promises to bring you the most wonderful staying experience. The room amenities and facilities include television, an iPod dock, a DVD player, soundproof windows, en-suite bathroom with hairdryer, walk-in shower and bath sheets, electric kettle and coffee/tea makers. All meals are served at the small restaurant with fusion dishes or the poolside bar. After a hard-working day, you can spend time on leisure with our casino, spa & wellness center, fitness center, swimming pool, library, tennis court, golf course or garden area.
Sheraton Hanoi Hotel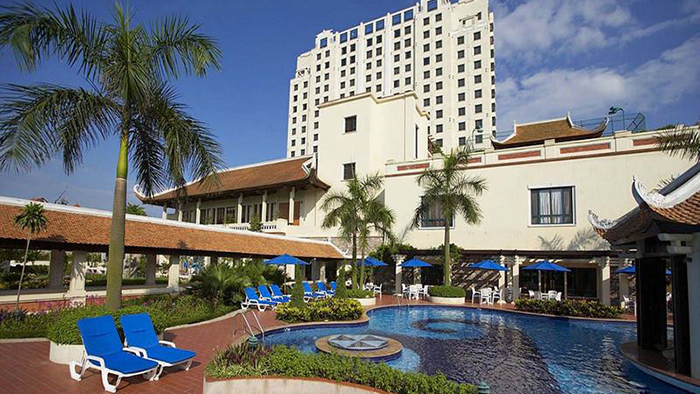 Sheraton Hanoi Hotel
Situated next to West lake bank, Sheraton Hanoi Hotel is one the best place to stay when traveling to Hanoi. The hotel brings many cultural features of Hanoi with the affection of the ancient French architecture. Sheraton Hanoi Hotel accommodates 299 rooms with air-conditioning, TV, telephone, safe box, minibar, voicemail, coffee/tea maker and free internet access.
The hotel offers a wide range of dining selection for guests with Vietnamese, Asian and Western culinary specialties. Begin your culinary journey at Oven D'or restaurant, Lobby Lounge, Hemispheres Steak & Seafood Grill restaurant or Bar Déja Vu. To give guests the most relaxing time, the hotel provides with enormous choices such as Lotus Relax Centre with the treatment room and adjacent private sauna, fitness centre, Sheraton Club Lounge and the outdoor pool.
The best 5-star hotels in Hanoi will never disappoint you when spending time there with the excellent services and attentive staff. For more information about Asian tours, you can visit our website. Share and like this article if you find it useful. Have a nice trip!