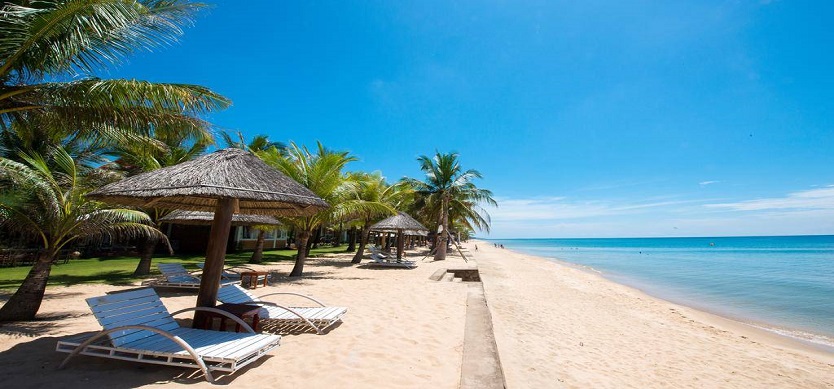 Owning the pristine beauty with breathtaking landscapes, Phu Quoc Island is one of the most famous tourist attractions in Vietnam. Traveling there, you have the opportunity not only to take part in fascinating activities but also to stay in the most comfortable resorts. Below are the 4-star resorts that you shouldn't miss in Phu Quoc Island.
Green Bay Phu Quoc Resort
Located next to Cua Can beach, about 14 kilometers from Duong Dong town, Green Bay Phu Quoc Resort & Spa is an ideal place to escape from the hustle of city life. With the elegant and sophisticated architecture and owns a magnificent view of the hills and ocean, Green Bay Phu Quoc brings guest the experience to immerse in nature and sea. The resort has 60 villas and bungalows equipped with private balcony, outdoor bathtub and shower, minibar, hairdryer, air conditioning, safe box, wireless internet access, 42-inch LCD TV and complimentary water. Guests can enjoy delicious meals at Green Bay Restaurant, Sunset Restaurant and Dream Bay Restaurant with local food, traditional Vietnamese and international cuisine. You can also sip cocktails, cold coconut juice or other drinks at Pool Bar. Let's enjoy the relaxing time and re-energize at the spa with special therapies by professional staff.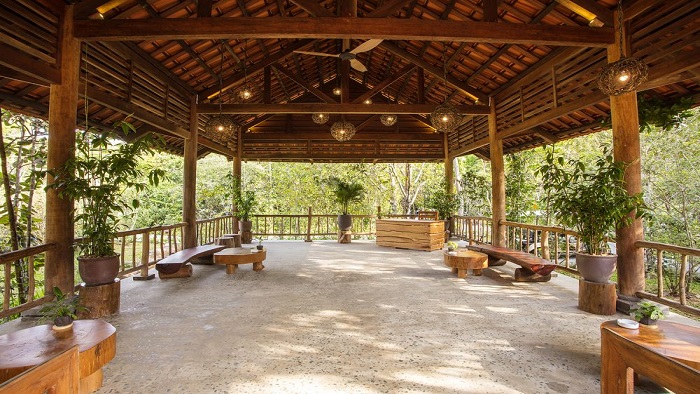 Green Bay Phu Quoc Resort and Spa
Famiana Resort & Spa
Located in one of the most beautiful beaches in Phu Quoc, Famiana Resort & Spa Phu Quoc is a 4-star resort that offers the beautiful view to the beach with cool-shading palm trees and white silken sand. Featuring 100 rooms in two separate areas known as Beach & Spa Section and Green Villa Section, the rooms are equipped with interior furniture and modern facilities, spacious balcony overlooking the ocean, the pool, the green garden or the hill. For the dining experience, you can have the meals at the Garden Restaurant with Asian - European cuisine and Famiana Restaurant in Ocean Section with Phu Quoc specialties and Vietnamese cuisine. Le Viet Cafe and Cheers Bar are the places where you can enjoy tropical soothing drinks, delectable snacks and selected wines, imported beers and well-known cocktails while chatting with your friends. The resort provides a wide range of entertainment activities such as mini golf, tennis, archery, kayaking, water floating and so on. All relaxing services make sure to bring guest unforgettable experiences when staying there.
Saigon Phu Quoc Resort & Spa
Covering an area of 4 hectares, Saigon Phu Quoc Resort & Spa is a luxury resort located in the west of Phu Quoc Island. The resort offers 103 rooms fully-equipped with air-conditioning, fridge, minibar, private balcony, LCD 32-inch TV with satellite channels, wireless internet access, private bathroom with bathtub, shower, toiletries, and hairdryer. Guests can have meals at the dining area including Vietnam Restaurant and Saigon Restaurant with buffet breakfast, Phu Quoc special seafood and seafood barbecue party every day. The Pool Bar and Beach Bar are the places where you can enjoy music with drinks, wine, beer, and snacks. Let's relax at spa area where you can enjoy massage service, body, and facial treatments. You can indulge in the sun on the private beaches or enjoy comforts at the outdoor pool or spa tub. The hotels also offer a variety of facilities and services including a business center, limo/car service and complimentary newspaper in the lobby, airport shuttle service (on request). The resort has an area of 150 square meters for holding events including conference area and meeting rooms.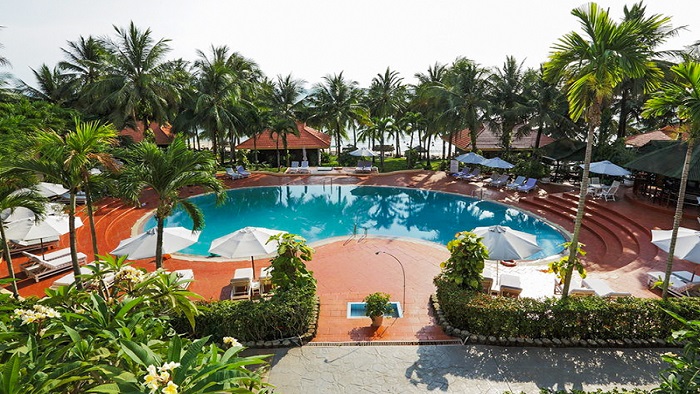 Saigon Phu Quoc Resort and Spa
Sea Sense Phu Quoc Resort & Spa
Sea Sense Phu Quoc Resort & Spa is a truly ideal paradise resort which is suitable for family and couples with the private atmosphere. The resort is located on a beautiful hill on Ong Lang beach - one of the most gorgeous beaches in Phu Quoc. Featuring 55 beach bungalows, the resort ensures to bring guests the most comfortable stay. All suites and villas here are equipped air-conditioning, flat screen TV with cable channels, minibar, private bathroom with shower and hairdryer. The private balcony is the ideal place to watch the sunset. Take a rest and sip a glass of drinks with your beloved will be an unforgettable experience for you. The Seasense restaurant with wooden design will be the best place to enjoy delicious meals. At the Beach Bar, you can enjoy many delicious drinks while sunbathing. There is nothing better than sipping a glass of cocktail while listening to the waves breaking the shore.
Camia Resort & Spa
Camia Resort & Spa Phu Quoc will be the last one in our list today. With 35 bungalows on Ong Lang Beach, the resort surely brings guests a quiet but luxury atmosphere after hard-working days. The villa amenities include the bathroom with oval bathtub, outdoor shower, balcony with table & chair and hammock. Dining at Camia Resort & Spa will be a wonderful experience with refined and contemporary Vietnamese, pan-Asian and international cuisine thanks to skilled chefs and fresh local ingredients. There are two restaurants including Ocean View Restaurant serving meals all day and Waves Bar next to the beach for cocktails and fined food. The spa area opening all day meet the demand of relaxing. With the spacious swimming pool, Camia Resort & Spa is definitely the right choice for tourists when traveling to Phu Quoc.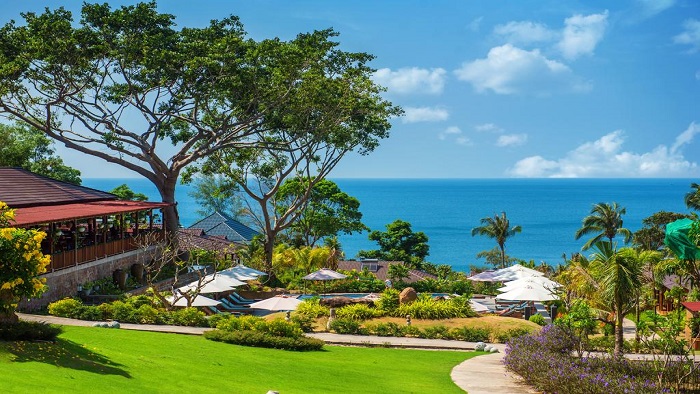 Camina Resort and Spa
No matter when you visit in Phu Quoc island, you will find the best place to enjoy your dream vacation here. You can visit our website for more information about Vietnam tours. Share and like this post if you find it useful. Thank you!