Tay people is a large ethnic living mainly in the north of Vietnam. This ethnic has a close-knit relationship with Kinh people in the Red River delta and also has some similarities with the Kinh's culture. Yet, there are so many special things Tay people want to show off us, so let's find out what the Tay's culture is special.
Overview of Tay people
The Tay ethnic is the second largest ethnic in Vietnam after Kinh people. Now they appear in all the provinces of Vietnam, but most Tay people live along the valleys and the lower slopes of the mountains in the north of the country. The living area of Tay people spans on a wide scale of northeastern Vietnam with the lush and beautiful landscapes such as Ba Be lake, Ban Gioc waterfall, etc. The Tay people speak Tay language, which is a branch of the Tai-Kadai language family.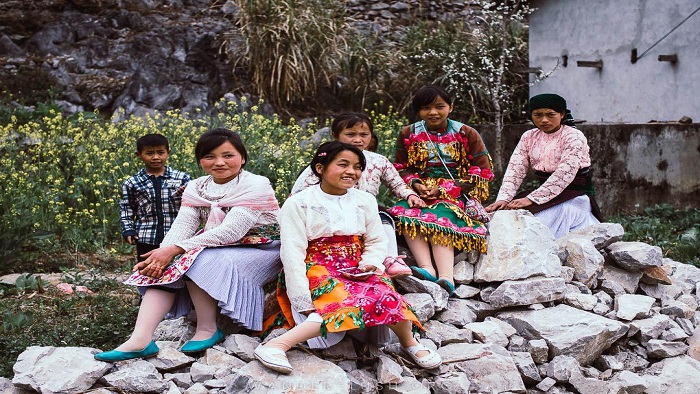 Explore The Culture Of Tay People In Northern Vietnam
Tay people is one of the most ancient residents living in Vietnam, according to research studies, perhaps as early as 500 BC. With Kinh people in the Red Delta, Tay people had created the oldest civilization of Vietnam under the time of Van Lang kingdom. Nowadays, this group owns a greatly special culture which is shown by the lifestyle, costumes, and traditional dances.
The lifestyle of Tay people
Tay people usually live in small villages from 20 households to even hundreds of households. House of Tay people is the stilt house which is made of the woods or bamboo with a tiled or thatched roof. Fences are made of wood or bamboo, which is also the main materials for the local to make their handicrafts, such as bamboo mat, extracting plant oil, textile or forging.
Most Tay families are nuclear families with 2 parents and kids, and the husband is the head of the family. A noticeable thing is that the parents are usually cousins, in fact. Nowadays, young people can date anyone before getting married. Similar to Kinh people, Tay people really focus on the marriage, so the traditional wedding of Tay people includes these steps: proposal, engagement, 'seu tet', and wedding. All of the steps will be carefully happened on the lucky days after asking for the opinion of the fortune teller.
The belief of Tay people about death is also really special. They believe that after they pass away, their soul will live in heaven. If someone dies in a sudden, they will have to be buried right in their current place. If a child is dead, they will bring the baby's body to bury far from their house. Ancestor worship is a religious rite of the Tay.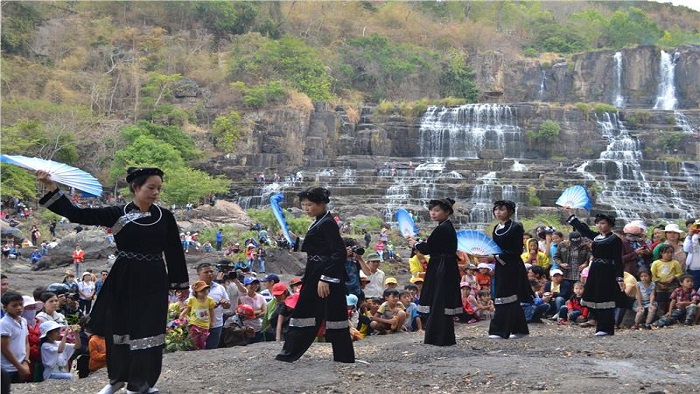 Explore The Culture Of Tay People In Northern Vietnam
They only clean and decorate their ancestral graves in April in Thanh Minh festival and do their worship rite in Tet holiday.
Traditional Tay costumes
The traditional costume of Tay people in the north of Vietnam is well-known for its simple, classic and graceful beauty. People can hardly mistake the Tay for other ethnics because they are one rare group to use all indigo for their dressing.
Tay costumes are made of cotton with indigo color and almost no decorations. Tay women wear short-sleeve 5-piece dresses with buttons along the right side, usually going with headscarf and belts. Besides that, women usually wear low-crotch long dresses or another similar type of Vietnamese traditional ao dai. Nowadays, it is hard to distinguish them from Kinh people because both of the two groups wear clothes which are similar to together in the modern style.
Traditional arts of Tay people
Tay people love singing and dancing, they have a diverse system of literature and art. In the past, besides that using Chinese character to save the documents, Tay people also have their own writing system which saves a huge number of poems, songs, folk tales, music, dances, and humorous stories, etc. The most common folk music of Tay people is a lullaby, besides that, wedding songs and 'luon' singing are also popular which include "Sluong luon" type, "Then luon" type and 'nang hai'.
There are also some other types of singing such as "then" singing, also called 'van ca' singing used in funerals, 'co lau' songs at weddings.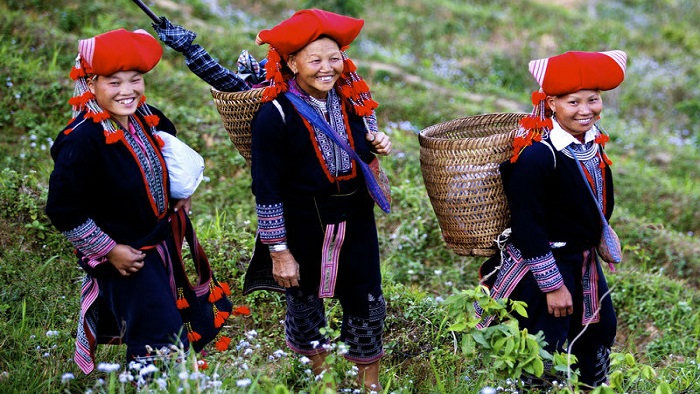 Explore The Culture Of Tay People In Northern Vietnam
The "dan tinh", "tinh Tau" or gourd lute is a stringed musical instrument of the Tay people in Lang Son province. Although "tinh tau" is a Tay word, both "dan tinh" or "tinh tau" are used in Vietnamese. This kind of traditional instrument has two strings in two courses. The strings are made of silk, nylon or fishing wire. It is used by shamans in the important events in the hope that it will be animated by spirits.
In 2007, the Ministry of Culture, Sports and Tourism of Vietnam had a plan to promote the 'dan tinh" instrument, as well as the "then" singing to advertise the tourism of the northeast of the country. People started to collect, transcribe and record the traditional songs and that this type of music also has brought to the local school to teach for the Tay young generations.
Booking a Vietnam tour via Asia tour companies to have the best trip in northeastern Vietnam as well as the time to explore the culture of local Tay people. We hope that with this information, you will know what to do in Vietnam and be completely confident to immerse in the cultural lifestyle of Tay people. If you need further information, feel free to contact us. Thank you!