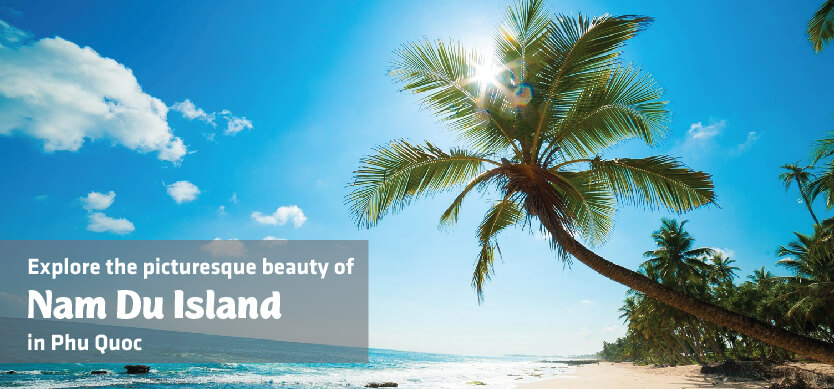 Located about 250 kilometers from Ho Chi Minh City, Nam Du is a newly emerging tourist destination in Vietnam tours that you should visit once in your lifetime. Let's take a brief look to know why it is so attractive.
Overview of Nam Du Island
Nam Du archipelago includes two wards An Son and Nam Du with 21 small and large islands. The largest islet is Hon Lon located in An Son Ward with the area of 771 ha and nearly 5000 residents living there. The most beautiful spots there are Chet Beach, Co beach, Ngu Beach and Gieng Beach. Nam Du Ward is home to 10 pristine islets in which there are 1000 residents living on growing maritime products.
The best time to visit Nam Du is from December to March when the sea water is clean and calm. The rainy season here lasts from April to November.
Transports to travel around the island
Boat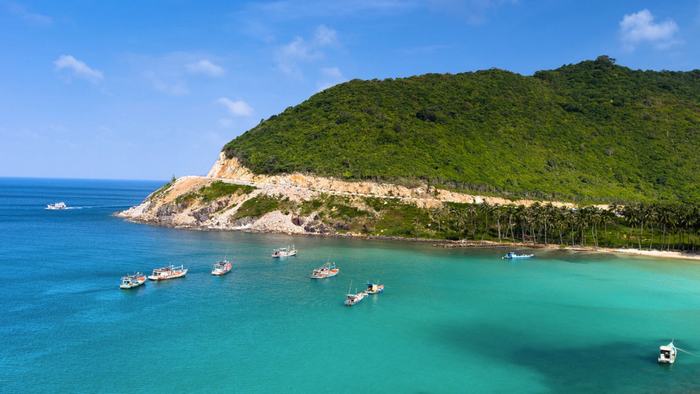 Boat to Nam Du Island
To explore islets around Hon Lon and other destinations, you should rent a boat. There are some people who offer the renting service on the island.
Motorbike
You can hire a motorbike at the motels with the price of 150,000 – 200,000 VND per day.
Where to stay in Nam Du Island
The first choice is to stay in a hotel or homestay with the price ranging from 150,000 – 200,000 per night.
The second one is to rent a hut to camp on the beach. The most suitable beach to stay overnight is Hon Dau where there are coconut trees and large sand. The cost is about 70,000 per person.
Homestay in Nam Du
Popular destinations in Nam Du
Hon Lon
Being a beautiful bay with a compact area in the Gulf of Thailand, Hon Lon is considered as the most gorgeous beach in the Nam Du archipelago. The coconut trees have the life expectancy up to 70-80 years. Coming here, you can dive to catch squid or watch colorful coral reefs. Cay Men beach is quite deserted, so you can freely play on the beach or swim in the fresh and cool water. Moreover, you can also catch shells on the beach.
Ngu Beach
Ngu beach is located in the west of Cu Tron. Like the legend, on the way to Thailand, Gia Long King stopped there so it was named Ngu. In the dry season, this beach is still of freshwater while water in other place is scarce. There is a well here and the local people say that it was dug by the King so it is called King Well.
Nam Du Lighthouse
Nam Du Lighthouse is situated on the top of Hon Lon in An Son ward. It is considered the highest lighthouse in Vietnam thanks to its location over 300 meters above the sea level.
Hon Dau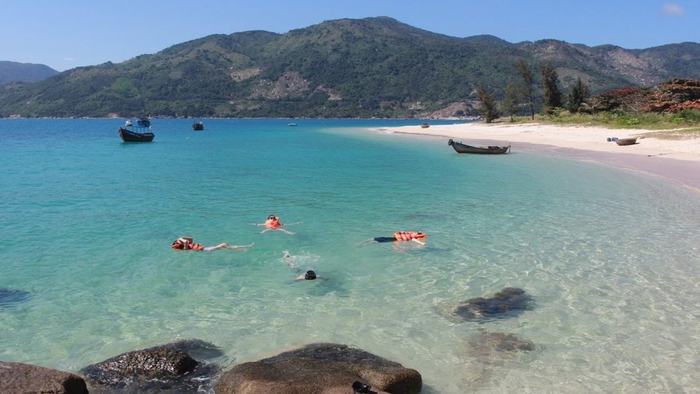 Like Hon Lon, the beach in Hon Dau has the line of coconut trees. Hon Dau is quite large in which the primary forest accounts for 90% of the area.
Near the beach, there are developing coral reefs. In the noon, you can take a nap in the cool breezes under the shadow of coconut trees.
Mau Beach
Hon Mau covers an area of 200 ha with over 120 families living there. Most people in this area are fishermen. This island is quite small so the people will know you are strangers if you come here to visit.
The mother nature gave this island beautiful beaches. There are 5 beaches there including two soft and smooth beaches are Chuong beach and Nam beach and three rock beaches are North beach, Black Rock beach, and White Rock Beach.
Chuong Beach
An interesting thing is to immerse in the cool water in Chuong Beach. This area is like a giant lake covered by old coconut trees. The coast is long with very clear blue water.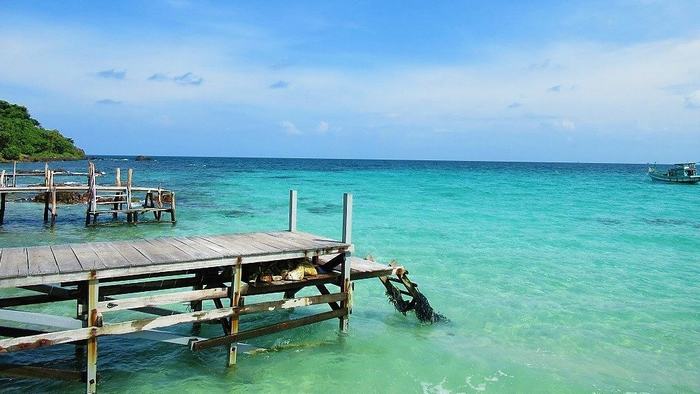 Chuong Beach
Beside that are two impeccable rocks. The Black Rock owns a lot of beautiful stones. Most of them are shiny black so people take that as its name. The stones on this beach have many colors especially when the shines down, the rocks under the sea sparkle very beautiful. From the Black Rock beach, you take a 15-minute walk then get to White Rock beach. The place is totally covered by the white color. This beach has almost no sand, just only white stones. Anyone coming here takes several stones home as the gift of the sea.
Hon Ngang
Ngang islet has the most peaceful port in Nam Du so it attracts thousands of boats and cages. It takes about 30 minutes to take a boat from Hon Lon to Hon Ngang. There are two departures from this place every day at 7 am and 3 pm.
Hon Ngang is the center of Nam Du Commune. The port here has thousands of boats and nearly 60 cages anchored in no order. The bank of the port has a range of stilt houses stretching 2 kilometers long. There is only a 1.5-meter road without any means of transportation.
Hope that with our guides above, you can find the most beautiful islets and useful information when traveling there. To see more cheap Asia tours, visit our website. Share this article if you find it interesting. Thank you.