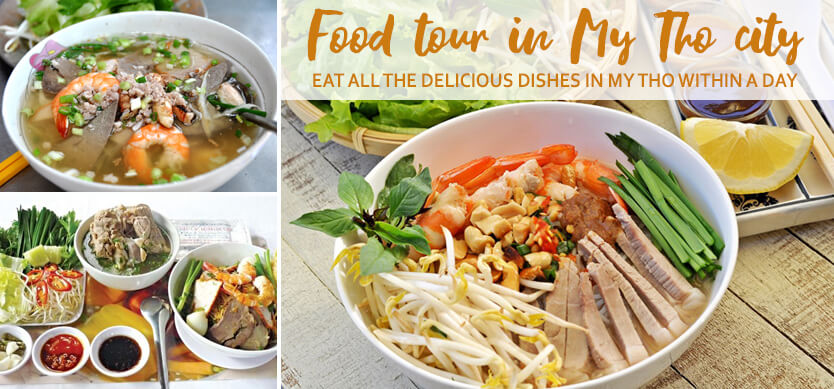 My Tho is a small city on the edge of Tien river which is one of two main branches of Mekong river in Vietnam under the administration of Tien Giang province in the southwest of Vietnam. Visiting My Tho, you not only have a chance to come to beautiful places such as the floating market, fruit orchard but also have the wonderful moments to experience the amazing cuisine of this city. So, in order to not waste a daytime, let's come to us at Vietnam Cambodia tour and follow our feet right now.
My Tho noodle soup (Hu tieu My Tho)
The origin of My Tho noodle soup is from a traditional Chinese noodle soup. When Chinese people migrated to Vietnam, they brought this dish along and going through the time in Vietnam, it has undergone many changes to be able to suit the appetite of My Tho people. Till now it becomes a completely different dish with the original dish of Chinese people, and it has become an outstanding culinary delight in Vietnamese cuisine.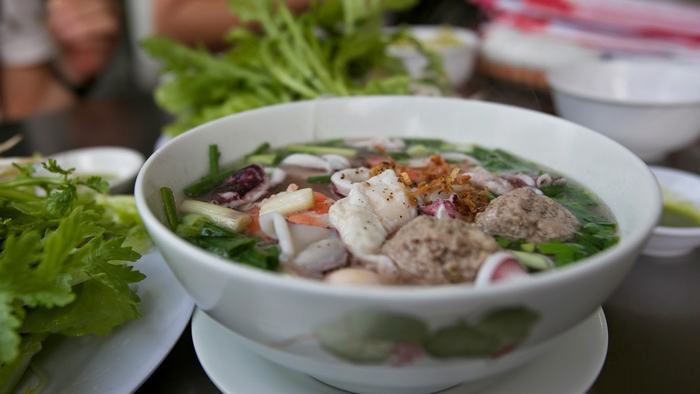 Delicious hu tieu
A bowl of My Tho soup for a wonderful morning, when enjoying this dish, you can easily realize some familiar ingredients in Vietnam cuisines such as dried shrimp, sliced barbecue pork, herbs, bean sprouts, meat, and some vegetables. Taking a sip of broth, you will feel the sweetness of pig bone and the fragrance of herbs. It is truly the most stunning feature making it famous in the north and south of Vietnam. Of course, It is the secret of My Tho people for how to make the sweet and surprising fragrant broth. To level up the taste of My Tho noodle soup, you should add a slice of lemon, soya sauce, and chili.
Tamarind broth with rice noodle (Bun goi ga)
Beside Hu Tieu My Tho, the specialty you must try in My Tho is Bun Goi Ga (Tamarind broth with rice noodle). Even with Vietnamese people, the name of this dish is quite strange. Most of them just know that it is primarily a bowl of rice noodle with tamarind broth and some seasonings. The main ingredients of the dish are fish sauce and tamarind water, which creates the harmonizing nutty flavor that anyone can't resist. It's the unique combination of the sourness, sweetness, and unique saltiness in the recipe. Let's try a bowl to feel the quintessence in My Tho cuisine.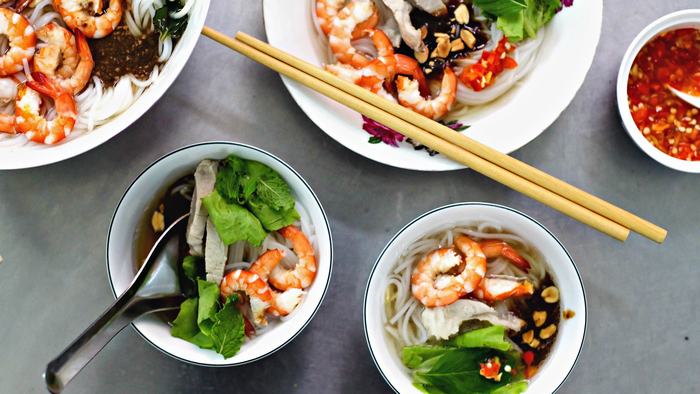 Tamarind broth with rice noodle
Fried Prawn Cake (Banh Cong)
Fried Prawn Cake is the next dish you have to try when visiting in your Mekong Delta tour. The dish has its origin from Soc Trang province, and then thanks to its tasty savor, it has spread out to many different areas of Mekong Delta.
The right way to enjoy this crunchy fried shrimp cake is you have to eat it with the fresh herbs, lettuce, sweet and sour fish sauce. How great it is when sitting in a small restaurant on a rainy day and biting the crunchy pieces of cake. An alternative way to enjoy this dish is to combine it with Vietnamese steamed rice pancake rolls. It is worth trying!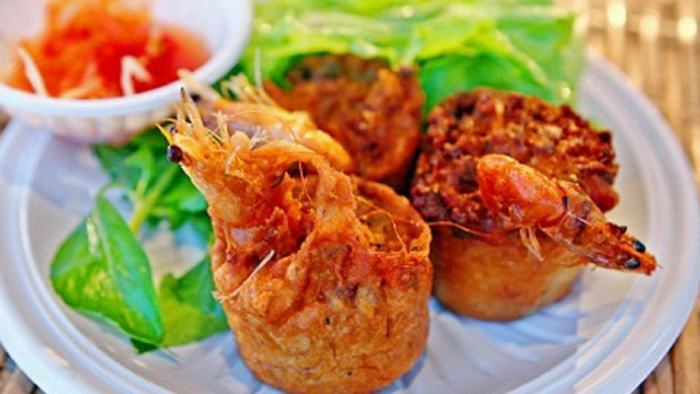 Fried prawn cake
Star Apples in Lo Ren
Star apples in Lo Ren, Vinh Kim is a kind of indispensable fruit in your list of what to eat in My Tho in your Mekong Delta tour. Thanks to the delight sweetness in its flavor, it becomes the favorite fruit of both local people and inbound and outbound tourists.
Normally in order to enjoy a fresh star apple, we have to cut it into two parts and use a spoon to take the core out, but you also can peel its skin and take the core to make the juice. Enjoy it and feel the phenomenal flavor of this beautiful fruit by all senses.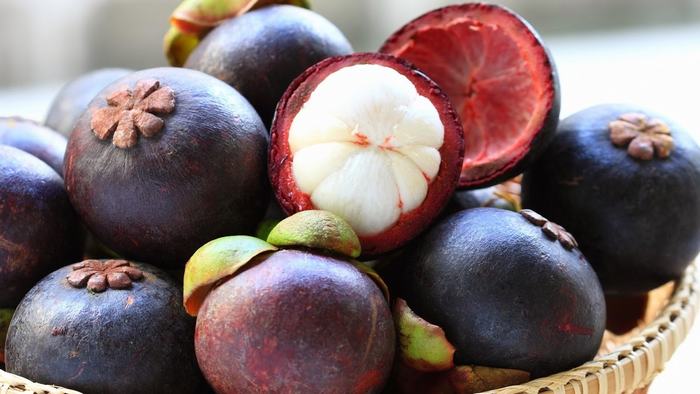 Star apples
Sugarcane juice with jelly (Nuoc mia rau cau)
After filling full your stomach with the delicious dishes in My Tho, let's soothe your throat by a glass of sugarcane juice with jelly. It is a kind of drink that you definitely have to enjoy when you arrive in My Tho. This drink will not make you regret because it is totally different from the normal sugarcane juice anywhere else in Vietnam.
Besides that the main ingredient is sugarcane juice, people here add more other things to level up this dish such as peanut, jelly, and jackfruit. It gives you the feeling of both delicious and strange in the very first sip. The price of a glass of sugarcane with jelly is super cheap, it is just 8000 VND for a full glass.
There are more delicious dishes in My Tho that you have to go there to explore yourself in the tours of Southeast Asia. Share this post with others if it is useful for you. Best regards!