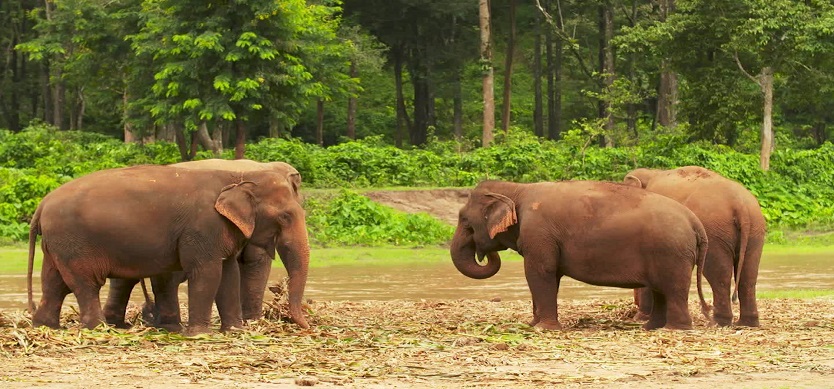 Located about 60 kilometers from Chiang Mai Center, the Elephant Nature Park is a sanctuary and rescue center for elephants which covers an area of 8 square kilometers. It was also the capital of the ancient Lannathai kingdom.
This Elephant park is a popular tourist destination for visitors all over the world. Coming here, you have the chance not only to learn about the origins and daily life of elephants but also get many interesting experiences with these elephants.
About the Elephant Nature Park
Although elephants are the symbol of Thailand, the elephant hunting for ivory doesn't decline. It is estimated that the number of elephants living in Thailand in the last century was about 100,000, but so far, the number has declined to about 5,000. The reasons for this might be hunting, urbanization, deforestation and the loss of habitat.
Elephant Nature Park in Chiang Mai
Recognizing the risk to elephants, the Thai government has built the park to prevent extinction and preserve the country's iconic animals.

This park now is home to 37 elephants consisting of 32 female elephants and 5 male ones.

These elephants are not the same bloodline but they are taken from all over Thailand. Each elephant has a different story with different background and life stages. They might be tormented by his owner or exploited by labor. Some had a tragic life in the circus. There are also elephants born in this park. People here purify elephants and protect them from external dangers.
Surrounded by mountains, forests, and rivers, Elephant Nature Park is a natural habitat for elephants. In this park, the elephants will not be trapped, they are let to feed, wander and play in the wild. The park currently consists of two of Asia's largest animal health and rehabilitation centers: Elephant Nature Park and Elephant Heaven.
The Elephant Park
This is a treatment and nursing home for injured or abused elephants. Once recovered, these elephants will be moved to the Elephant Heaven.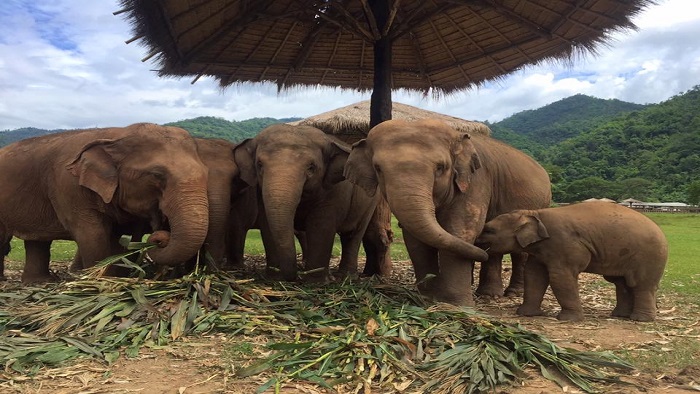 Elephant Nature Park
The Elephant Heaven
Covering an area of 800 hectares, this is the elephant sanctuary and also the most attractive place for tourists. Coming here, you will have the chance to watch gentle elephants, feed and bathe them. These are very interesting activities, especially for animal lovers.
Interesting experiences in the Elephant Nature Park
Apart from the purpose of nurturing and preserving elephants, this park is also an ideal place to visit for visitors.

Coming here, you will have the chance to learn more about the lives of people in the northern mountainous region of Thailand. The landscape of wild and majestic mountains will definitely make you amazing and fascinated. You can combine the trip to visit other famous destinations in Thailand.
Doi Suthep temple
Doi Suthep temple is situated on the top of Doi Su Thep mountain in the northern part of Chiang Mai. To reach the temple, you have to pass 300 steps as a way to prove the heart of Buddhist believers. Along two sides of the stairs, there are statues of snake gods with special carvings. There is a magnificent large gilded stupa. On good weather days, you can overlook the city from the temple. You can also get the temple by cable car for only 20 baht.
Watch the city from parachute
Parachute is the best choice for tourists to see the panoramic view of Chiang Mai city. On favorable weather days, there will be two tours by Balloon Adventure Thailand. Each trip lasts 90 minutes, and the best time is in the early morning when the weather is not so sunny. From there, you can see the spectacular view of sprawling rice paddies and misty valleys.
Eating in Chiang Mai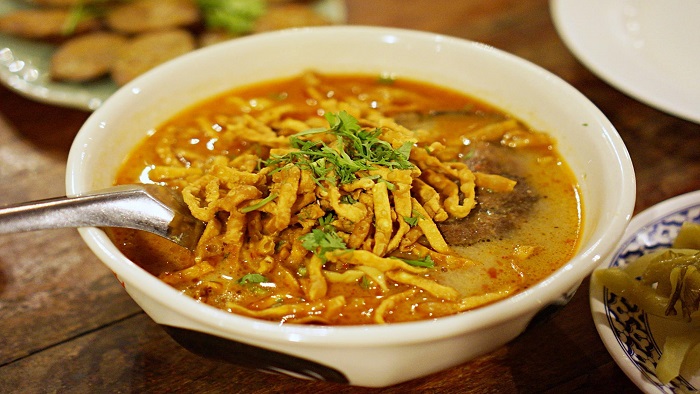 Khao Soi in Chiang Mai
The most famous dish that you cannot miss in Chiang Mai is Khao Soi. You can try it at Khao Soi Khun Yai restaurant in Old Town, opening from 9 am to early afternoon. Besides, the food in Chiang Mai is similar to Bangkok such as Pad Thai, Tom Yum or noodles. You can also find many other Thai dishes at night markets. Along the Old Town, there is also a range of food outlets serving from early morning until late at night with a lot of Chiang Mai's specialties.
Visit the tribes
Chiang Mai is home to many minorities, often known as the Hill Tribes. Most of these tribes have moved to Chiang Mai since the last century and still retain their traditions and culture which attracts both locals and visitors. Each tribe has its own distinctive character. You can easily recognize the Meo people by their houses – in contrast to the stilt houses, the Palong people with their job of planting tea and the Karen people, who are often called "weaving masters" and is Thailand's most populous tribe.
There are also a lot of interesting things that you can try when taking Package tours to Asia. Please our website to get further information. If you find this article useful, share with others. Thank you!