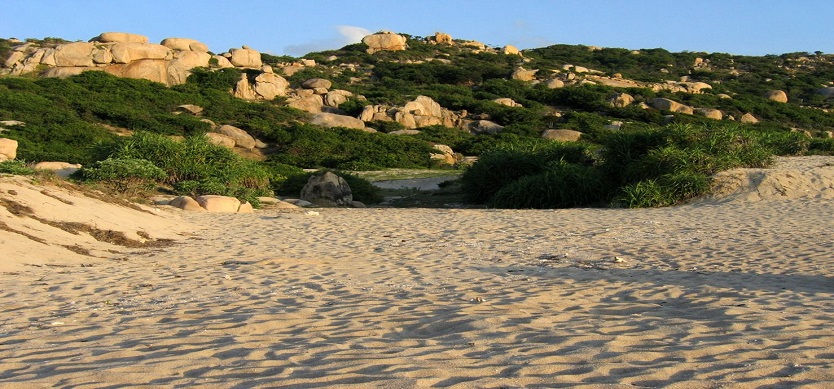 Ninh Thuan is one of Vietnam's most magical cities. Here, you will not only be surprised at the ornate architecture of Champa's culture but you are also impressed by the breathtaking natural landscapes which can't nearly found outside this area. One of them is Nui Chua National Park, which is worth exploring. Do not forget to take Vietnam tours to get more information about the best places to visit in
Vietnam.
Background
Nui Chua National Park which is a dry forest in the driest area in Vietnam is home to a unique dry ecological system of forests rarely found outside with abundant and diverse creatures both in quantity and species. With a whole area of 29,865 ha primitive forests, Nui Chua National Park is 1,039 meters above the sea level. This is the residence of over 1000 species of high- level, rare and precious floral species; over 300 species of wild animals, in which many species are listed in the global Red Book such as Tibetian Bear, Malayan Bear, etc.
Nui Chua national park
Sightsee the beautiful rare natural landscapes
After walking around the sinuous curves embracing Nui Chua mountain, visitors will reach Ngoan Muc Mountain Pass and enjoy the most unique and superb scenery of sea and forest in the Central Coast. It is even more exciting to visit "Hanged Lake" on Da Vach mountain at the altitude of 250 meters above sea level which is still lesser-known for tourists. With the diameter of 70-80 meters, the lake is located in the harshly dry area, having clear crystalline water, alternating with greenish fauna, along with heaving broken stone blocks, all of which create a whole magnificent picture of Mother Nature.
Squeezing on the towering mountainsides, many streams flow very quickly, tossing white foams, which make tourists exciting. Lo O Stream is a beautiful one on mountain cliffs, surrounded by a lot of small cool waterfalls. Here is the location of granite blocks eroded when time goes by with smooth flatness for tourists sit on and sightsee. Overall, it looks like a charming painting of the natural landscape, making people passionate.
Trekking
Doing a trek to Nui Chua Mountain is also an amazing experience. it is a moderately challenging trekking trip to explore the pristine beauty of Nui Chua National Park. Apart from trekking and camping in the jungle, there are some fascinating activities that visitors may expect as learning about the culture of Raglai people which are an ethnic group in this area or studying more about the unusual dry ecosystem of the park. The sleeping beauty of this area has touched the heart of all those who have good eyes and good senses of discovering the beauty of Mother Nature.
The popular itinerary lasts 3 days. Overall hikers will trek about 7 hours per day. In the first day, travelers will start from Hang Da Hamlet to O Liem River, then you can have a lunch near the stream-side and you will be rewarded with the scenic view along the routes. You will sleep overnight in the heart of Nui Chua Jungle, which is the highlight of this trip. The second day is more difficult. You will trek to the highest peak of Nui Chua mountain. After 3 hours, you will reach the top and be excited at the breathtaking landscape in front of your eyes.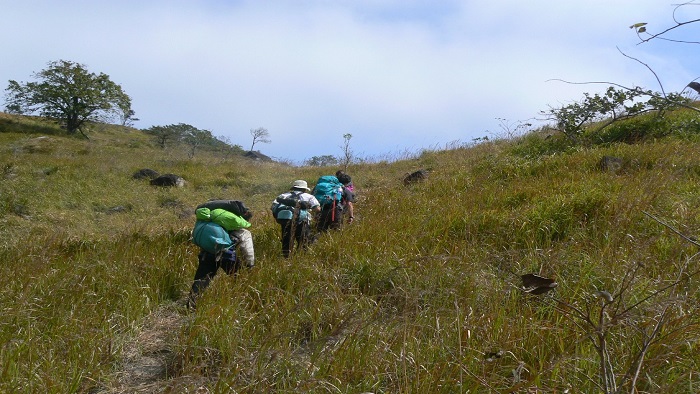 A trek to Nui Chua mountain
In the last day, trekkers will get to "Broken Bridge" Village where is the residence of Ragley people. Here, you can visit local craft shops and see how the artisans produce good-looking items by their skillful hands as well as learn more about their culture as well as their community customs. This trip can be done best in the dry season and the best time to do it is from December to August.
Otter Cave
Leaning its back on Nui Chua mountain, Otter Cave is home to plenty of stone blocks in unique shapes piled together, forming exceptionally wild caves. If you are looking for something more adventurous, you can walk through some small caves before reaching the fantastic ancient coral reefs drifting on the sea which used to be a favorite living place for otters. That may be the reason why the cave is given the name of otter although there are no more otters nowadays.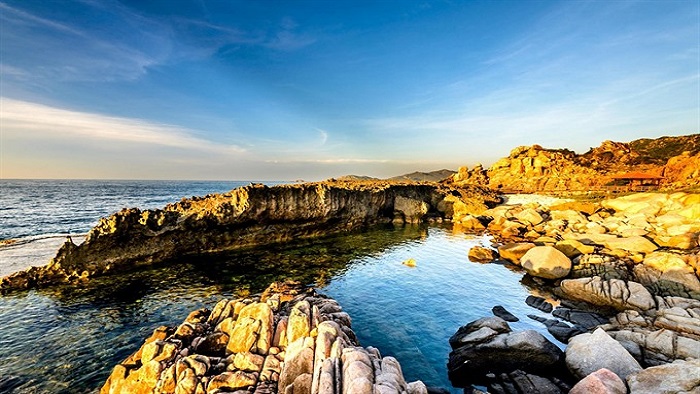 Otter Cave
The coral reef island
At dawn, the island's landscape is magnificent. Because of low tide, the green mossy rock blocks are exposed. A field of colorful coral is formed. This is a marvelous occasion for divers to explore the marine creatures as well as the lovable coral under the ocean. The pretty coral reefs under the crystalline water will be a perfect treat for any travelers. Setting foot on the coral reef island, you may not distinguish whether you are on earth or heaven.
Nui Chua National Park is described to be the harmonious combination of marine and mountainous landscapes, unique geographical and weather features along with high biodiversity, making this park a promising tourist spot. Do not hesitate to visit Nui Chua National Park and get enjoyable experiences as well as the relaxing time as much as possible. Why don't you stand up and take Asia group tours right now? Asia is waiting for you. Share the post if you find it helpful.