Khone Phapeng Waterfall is one of the famous waterfalls in the world known as Niagara of Asia. This is the most ideal destination for the tourists who love to conquer the beauty of nature and the majestic destinations. Why don't we together explore this famous waterfall of Laos - the land of a million elephants right now! Do not forget to book Laos tour package to have the trip to beloved Laos today!
Brief of Khone Phapheng Waterfall
Khone Phapheng Waterfall or Khone Waterfall is located in Champasak province, southern Laos and it is close to the Cambodian border. Despite the low height (only 21m), Khone Phapheng waterfall is more than 10km long and 5km wide to the horizontal. Khone Phapheng has become an indispensable destination in exploring the region of southern Laos of many visitors.
According to estimates, there were more than 150,000 domestic and international visitors going to visit Khone Phapheng waterfall in 2017. Among that, the number of tourists coming from Asian countries is very high.
In order that tourists can go here to admire and discover the beauty of Khone waterfall, the Lao government has allowed the construction of resorts, infrastructure, and safe places for tourists to admire the scenery and take photos. As a result, the number of tourists has been increasing significantly.
What to do in Khone Phapheng Waterfall
One of the reasons tourists go to Khone Phapheng waterfall is to enjoy the scenery. In the dry season, the waterfall is gentler but it still falls strongly. In the rainy season, it flows extremely powerfully, creating a fanciful white smoke. Going here and taking many photos will be the most exciting memories.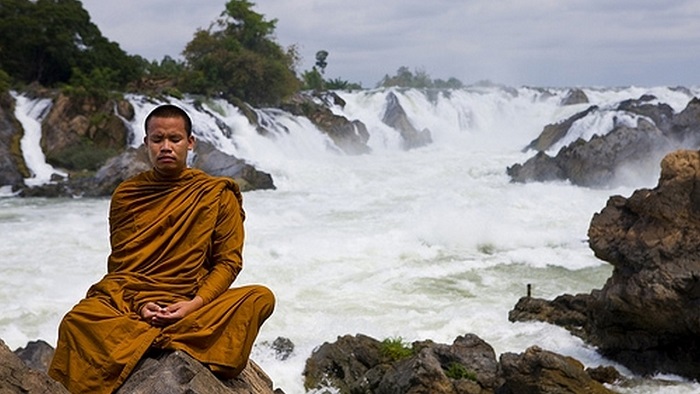 A beautiful image in Khone Phapheng Waterfall (via goeatgive.com)
Besides admiring the Khone waterfall, when coming here tourists can also rent a canoe to visit the river resort with 4000 islands at the upstream of the waterfall. This is also home to much freshwater fish. Among that, there are two of the world's most famous freshwater fish. They are Irrawaddy dolphins and Pangasius.
In addition, you can rent a canoe to fish, or listen to the gentle sound of the flow of the waterfall. Besides, there are also many resorts, restaurants, souvenir shops, rest areas, and camping places... for tourists to enjoy fun and relaxation.
How to get to Khone Phapheng Waterfall
There are 2 routes for you to get to Khone Phapheng waterfall.
On the first route, you will start from Pakse to Ban Nakasang village – a small town on the Mekong river. It takes about 2 hours to get to Ban Nakasang from Pakse by a minivan. Besides you can go to Ban Nakasang village from Pakse by a local bus in 4 hours. If you want to take a bus, you have to move to the 8KM bus station along Route 13, 8 kilometers East of Pakse downtown.
On the second route, you will start from the ferry in Ban Nakasang village to get to Don Det (Don Khong) island in 20 – 30 minutes.
Where to stay when coming to Khone Phapheng Waterfall
The River Resort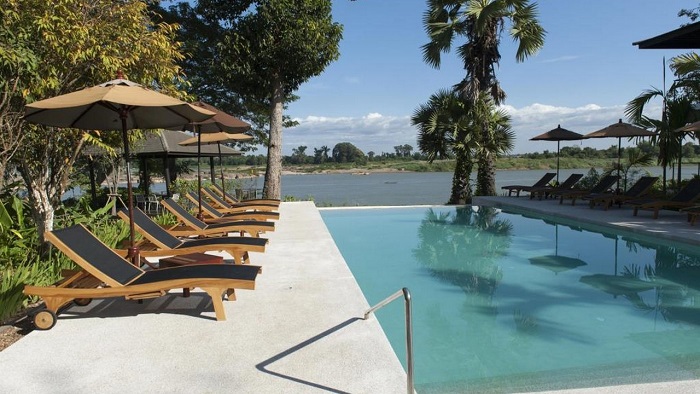 The River Resort (via Agoda)
The River Resort offers stylish air-conditioned rooms with private balconies and Wi-Fi. Guests can relax with a massage or relax on the pool deck. Pets are allowed here if guests request. It is about 25 minutes far from Pakse city and 40 minutes from Pakse International Airport. The rooms are furnished in neutral tones. Each room has a flat-screen TV, a minibar, and a safety deposit box.
The private bathrooms come with shower facilities. Guests can rent a bicycle to explore the surrounding area. The staff will provide assistance with laundry and currency exchange services. There is also a meeting room and a shuttle service. The resort's restaurant serves a variety of Lao and Western dishes.
Mekong Paradise Resort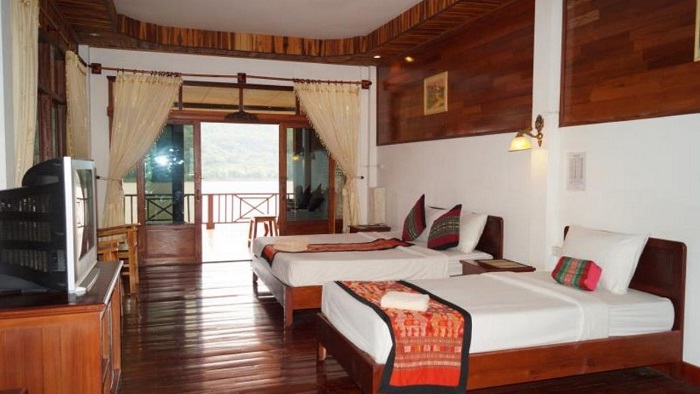 Mekong Paradise Resort (via Agoda)
The resort is located near the Mekong River and the Pakse Bridge and it provides a restaurant and free WIFI service. All rooms are equipped with air-conditioners, large windows, and private balconies. It takes about 20 minutes to drive from Mekong Paradise Resort to Pakse National Airport and 10 minutes to get to the nearest bus station.
The rooms at Mekong Paradise Resort are fitted with wooden flooring and furniture. Each room also has cable TV and a minibar. In addition to the currency exchange and shuttle services, the resort also offers free parking.
PhuBachiang Golf & Resort Pakse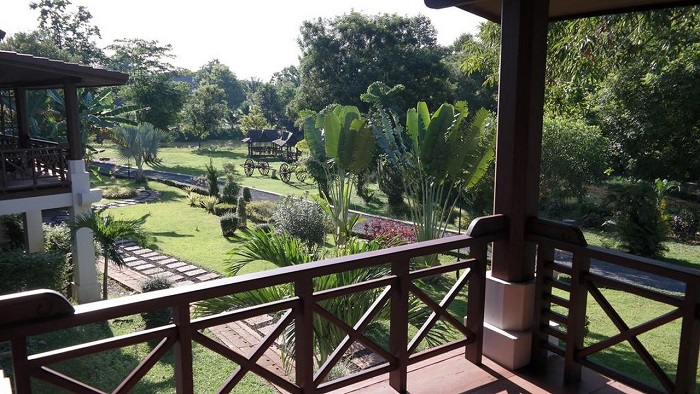 PhuBachiang Golf & Resort Pakse (via Booking.com)
Located in Pakse, the resort is a 3-star accommodation. It is about 3.4km and 8km from the resort to the international bus station and Pakse International Airport respectively. All the rooms here are equipped with televisions and private bathrooms. Many Asian and Lao dishes are served here.
If you are attending to visit Khone Phapheng waterfall, do not forget to contact us via package tours to Southeast Asia for more information. We hope that the post will provide you with some useful information about Khone Phapheng. We will be very happy when becoming your partner on the trip to beloved Laos in the near future. Have a nice trip!