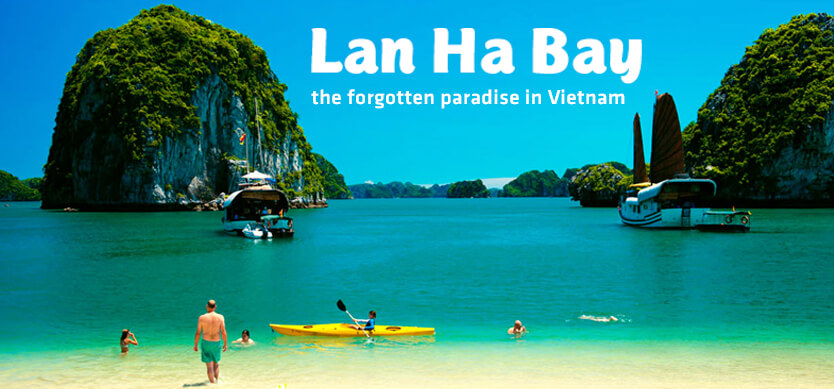 Not only Halong Bay, but there is also a beautiful bay named Lan Ha Bay in package tour Vietnam. With its pristine beauty, this bay has many attractive sites that tourists have not still discovered yet.
The geographical location of Lan Ha Bay
Lan Ha Bay is located in the east of Cat Ba Island, off the beautiful seaside city of Hai Phong about 30 km from the city center. This is an adjacent bridge between Cat Ba Island and the world natural wonder of Halong Bay. From Cat Ba Island Pier, it takes about 30 minutes to get to Lan Ha Bay.
Lan Ha Bay is considered lovely silk that is woven from deep blue sea water and the green vegetation with more than 400 different islands. The area of the bay is over 7,000 ha, of which more than 5,400 ha is under the management of the biosphere reserve recognized by UNESCO - Cat Ba National Park.
Explore the poetic beauty of Lan Ha Bay
Swimming in the stunning beaches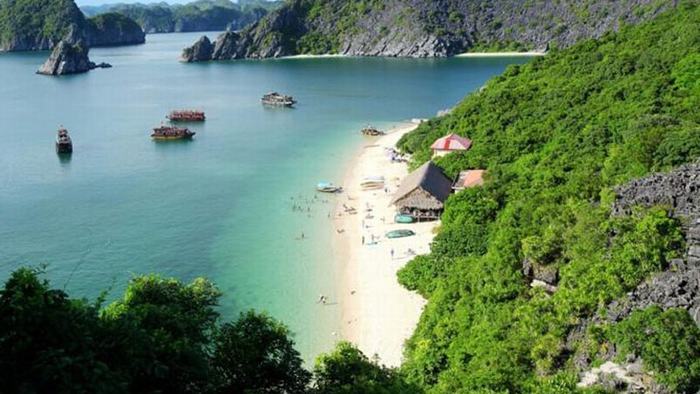 Lan Ha beach
Halong Bay is recognized as a world wonder, but in terms of the natural beauty, Lan Ha Bay also has its own unique charm. Although the number of surrounding islands of Lan Ha Bay is not as many as Halong Bay's, Lan Ha Bay has up to 139 small pristine sandy beaches.
With sand beaches between the two mountains and deep blue sea water to the bottom as the "blue straits", they will be the safe and ideal beaches for the travelers who love swimming. You will drop yourself into the blue sea water or lie on the sand to sunbathe in the beautiful beaches such as Ang Vem, Cat Dua, Cat Co 1, 2, 3, Ben Beo, Co Tien, Van Boi, and Van Ha beach.
Watching the colorful coral reef
Besides bathing in the gentle and pristine beaches, visitors can admire the colorful coral reefs. The waves here are very quiet, the sea is so peaceful that you can both relax to view the beauty of the sea and watch the brilliant coral reefs in the islands such as Cu Island, Monkey Island, Sen island. You also can satisfy your passion for taking gorgeous photos here.
Kayaking through the majestic mountains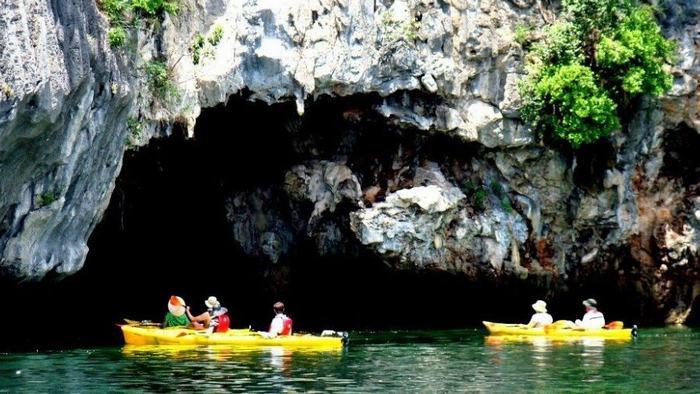 Kayaking in Lan Ha
Coming to Lan Ha Bay, you not only swim, watch the coral reef but also cruise to admire the most beautiful landscapes in Cat Ba Island. On the way to the bay, you will discover the majestic mountains. These small mountains stand out on the clear blue sea water.
There are hundreds of mountains here with different names that when hearing of the name, visitors will be comfortable to satisfy their imagination such as Guoc islet (like a clog) and Doi islet (like the bat flying). The density of limestone mountains here is quite thick and very wild, which divide the sea into small bays.
Many interesting things in Lan Ha Bay and caves have not been discovered yet. Traveling by kayaking, tourists can weave the small mountains to explore the stalactites cave here such as Ham Rong, Do Cung, Ca Cave and Tung Gau Cave, etc.
Visiting Cat Dua Island (Monkey Island)
Continuing your journey by boat, you will visit Cat Dua Island or Monkey Island with the sparkling white sand beach in the sunshine formed by the coral fragments. This island is famous for its "specialty" but not for eating, which is Monkey. The monkeys here are very intelligent, active and lovely. They are willing to respond by teasing the visitors who tease them.
However, to meet these cute monkeys, you should visit Monkey island at the time without the sunlight. The monkeys here will escape into the cave if it is sunny. In addition, in Monkey Island, there is also a pearl-breeding facility, which is an attractive destination for visitors who are interested in exploring this fascinating village.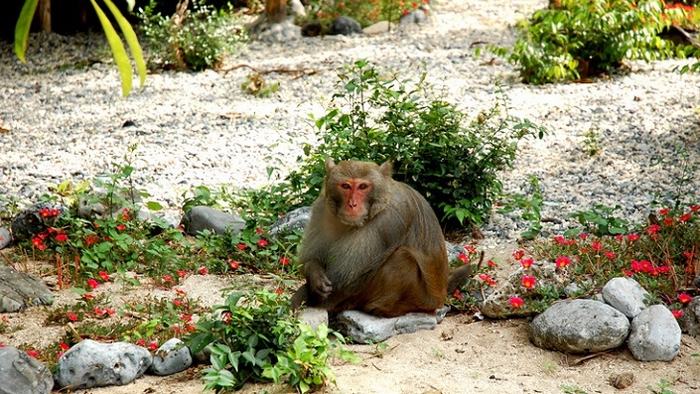 Cat Dua Island
Discovering Rua Giong Island
If you want to find a new experience, you can come to the Rua Giong Island situated near Monkey Island. This is a new ecotourism site so it is still quite simple and wild. On this island, there are only a few stilted houses for tourists to rest. However, Rua Giong Island is not less attractive with its simple appearance. In return, nature here is very beautiful and worthy of the name " watercolor painting".
Many visitors coming to Lan Ha Bay stop here for a long time to swim, watch the coral reefs as well as kayak to see the sight. Rua Giong Island with two sides is surrounded by long sandy beaches, wild pineapple bushes and mountains forming a lagoon. At night, when the sea level is down, you can easily catch the sea cucumbers, a species of precious and rare seafood in this area.
There are a lot of interesting things that are waiting for tourists to discover. To know more information about package tour Vietnam, via our website. Share this article if it is useful for you. Have a nice trip!