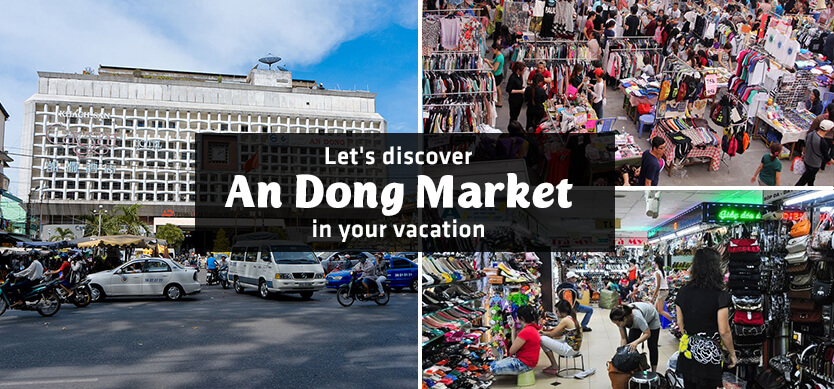 For those who have been with Saigon for a long time, it will not be impossible to mention An Dong Market - one of the oldest markets in this area as well as one of the best markets in Vietnam. An Dong Market Saigon brings the ancient harmony of the magnificent Sai Thanh which attracts many foreign tourists to visit.
Where is An Dong Market located exactly?
An Dong Market is situated at 34-36 An Duong Vuong Street, Ward 9, District 5, near the area of the Chinese in Ho Chi Minh City. An Dong Market was established in 1954 and well-known for its rich history of 56 years. This is one of five long-standing markets with the annual turnover of commodity transportation up to 3,000 billion VND. This market is always crowded with people who purchase.
For Saigon people who live here in many years, they often look for the cheap and beautiful goods in this market. For foreign tourists who come to the "never-sleep" land, the An Dong Market in Saigon is the destination to visit and learn about the culture as well as the people here.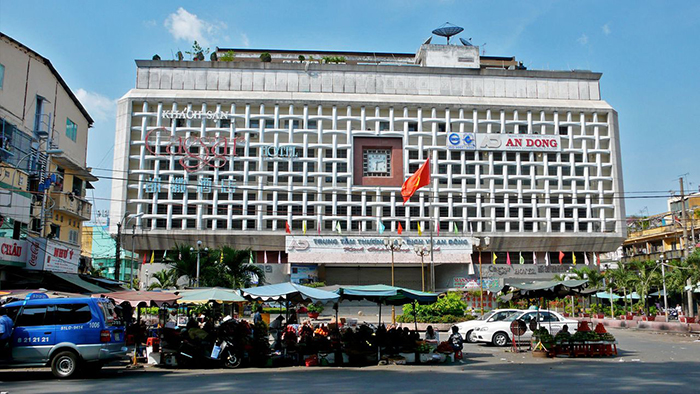 An Dong Market in Sai Gon
Why is An Dong Market famous?
Up to now, with 2,702 stalls and the circulation turnover of about 1,500 billion VND per year, An Dong Market has contributed significantly to the revenue of District 5 in particular and Ho Chi Minh City in general. An Dong Market is one of the first markets of Vietnam applying the quality management system ISO 9001-2000. This is also one of the main venues for promoting commodities in the city center with the main items such as clothing and fashion accessories.
It can be said that, in addition to the usual business items in the market, this place is considered the fastest update fashion store with the best quality, compared to the high-quality shops and supermarkets in the area. According to business analysts, An Dong Market is the largest fashion wholesale market in Ho Chi Minh City, which provides fashion for retailers in the south and central provinces. An Dong's wholesale fashion clothing comes from all over the world such as Guangzhou, Hong Kong (China), Thailand, and items ordered from other furnaces, workshops and fashion companies in Vietnam.
Because of the diverse sources, An Dong market is the place where there are many different items of clothing, footwear, and fashions with the soft price compared to other markets. As a wholesale supplier, almost all merchants from other regions have come here to get the affordable prices and updated designs.
What to buy at An Dong Market?
Some of the most popular commodities at An Dong Market are wooden furniture, lacquer, and hosiery. You can also see jewelry which is made by gemstones such as jade and amethyst. However, it can be difficult to check its authenticity, so the hand-crafted items are the safer selection if you are not sure. The ground floor of An Dong market has some stalls selling traditional light refreshments, bulk foods, and desserts which cost less than US$1.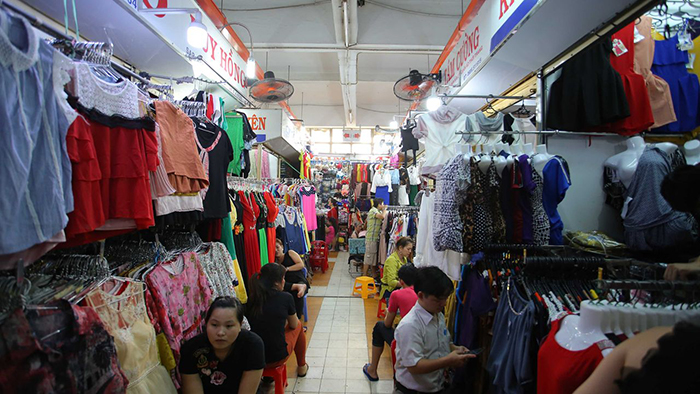 An Dong market always updates the newest fashion
Besides, there is also a food booth where you can enjoy delicious Vietnamese dishes such as beef noodle, Vietnamese crepe, spring rolls, and Quang noodles, or turmeric noodles during the day. Although the items put up for sale here are much cheaper than the other famous markets in Ho Chi Minh city, you can still bargain to get the lower prices.
TIP: At first, you should haggle about 50% of the item's price, then negotiate with the seller until you reach the agreed price.
Some popular hotels near An Dong Market
When you come to Ho Chi Minh city and visit An Dong Market, you can refer to some popular hotels near this oldest market.
Phuoc - Loc- Tho 2 Hotel
Phuoc - Loc - Tho 2 Hotel features 28 rooms equipped with an air conditioner, a minibar, and a flat-screen TV. Free wireless Internet access helps you to connect with your friends or relatives all day. With the holidays at Phuoc - Loc - Tho 2 Hotel, Big Market, District 5, Ho Chi Minh City, you only take some minutes to walk to An Dong Market and this hotel is not far from Cho Quan Church. This hotel is also close to Hoa Binh Market and Thong Nhat Stadium.
Valentine Hotel
If you are looking for a quiet space with good services near the city center, Valentine Hotel will become a suitable accommodation for you when traveling to Saigon. Valentine is situated at 93/1 Nguyen Chi Thanh Street, District 5, Ho Chi Minh City, away 4.2 km from the city center and 10.7 km from the airport.
Valentine Hotel has the ideal location which is convenient for tourists to reach the famous tourist destinations of Saigon such as the center in District 1, An Dong Market, Thong Nhat Stadium, Binh Tay Market. Designed with modern and luxury style, Valentine Hotel with 27 spacious rooms will bring you the most comfortable feeling with free wifi.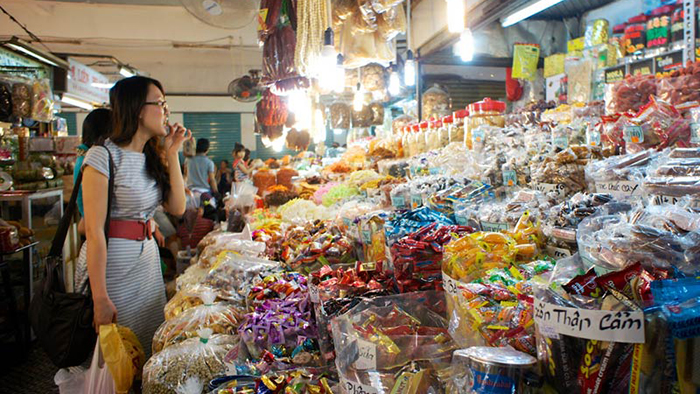 Go shopping in An Dong market
Windsor Plaza Hotel
Away 257m from An Dong Market, the 5-star Windsor Plaza Hotel offers the perfect holiday, travel, shopping, and entertainment experience when you come to the city of Uncle Ho. The professional staff at Windsor Plaza are always ready to welcome you and your family to a memorable stay. Windsor Plaza was honored in the top 10 5-star hotels in Vietnam. The 386 luxurious, comfortable and modern rooms system are waiting for guests to book their room. With the fast service, modern equipment, Windsor Hotel will bring you the most wonderful moments when you choose this 5-star hotel in Ho Chi Minh City.
It is undeniable that An Dong Market is an ideal destination for tourists to shop in Vietnam package tours when visiting Ho Chi Minh City. Share this article if it is useful for you. Have a great trip!