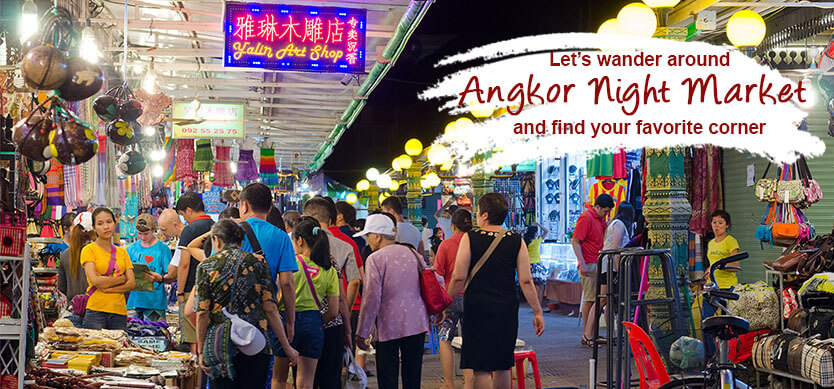 The Angkor Night Market is an ideal place for not only shopping but also eating and chillaxing. Once you set food on Siem Reap, you can't miss the Angkor Night Market for exciting experiences.
Background
The culture of one region is reflected clearly and correctly by its local market. Therefore, if you like to mingle with the resident's lives or have authentic experiences when coming to a new land, what you must do is to visit the local market. Each land has its own representative market which not only is a commercial place but also expresses the original cultural values. In a well-known tourist destination, the night market is established in an effort to preserving the native customs and traditions and meeting the tourism demand. Travelers like to learn more about the daily lives of the local while the residential wish to improve their income. Fortunately, the night market can satisfy these expectations.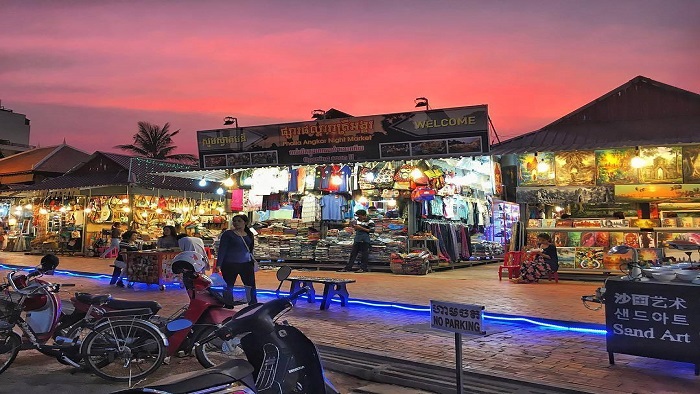 Let's wander around Angkor Night Market and find your own favorite corner
Angkor Night Market which is the first night market across Cambodia is the most famous shopping venue in Siem Reap. This Siem Reap's biggest and most stunning market which was founded with the purpose of helping preserve local Khmer handicraft that is burying and enhance Khmer people's living standard that is still considerably low in general.
The market consists of 200 bamboo huts by local sellers or non-governmental organizations. Situated in the heart of the downtown Siem Reap, Angkor Night Market was built in 2007. The goods are diverse, ranging from clothes, handicrafts to images and statues with a great volume. Angkor Night Market is an outdoor one. Each stall is set up simply and each hut is covered by a roof to protect from external factors such as sunray or rain. If you like to take a rest, you will find all the things you need in this market. There is a wide variety of things to watch, eat and relax.
Interesting highlights
If you wish to have a souvenir for your mementos or as a gift for your relatives in your hometown, Angkor Night Market is for you. You will be overwhelmed by the unique goods which hold the precious cultural values, you can't nearly if you are out of Siem Reap such as silk paintings, shadow puppets or intricate stone carvings. The "Angkor Recycled" stall provides a massive range of bags, wallets, purses or pouches that are truly eco-friendly since all of them are made of recycled materials. Chinese tat which is a specific popular product of Southeast Asia is simply found in Angkor Night Market.
What about visiting the stall of hand weaving brocade fabric that is still preserved and even develops more strongly to meet the demand of tourism because many tourists are impressive by craft brocade products which include colorful hat, dress, bag, shawl, purse, etc? It takes lots of time, energy and patience to weave a gorgeous brocade product. The special thing about these craft products is they are totally handmade. You will be amazed to see women sit next to their looms, fluently manipulating the multi-color threads in and out to create stunning detailed patterns.
Shadow puppet is a unique tradition of the Cambodian. The master of this traditional art create the leather carved pieces for performance and this good is also produced for tourist purpose. It's nearly impossible to find this local art outside Cambodia.
Rice is used to create artworks. It's strange but amazing, right? The skillful local master produces pictures that is 100 percents made of rice. Each work can take from a few weeks to several months. You will surely be admirable to the dignity, patience, and creativity of those stunning artists. These unique lovely items are worth spending money.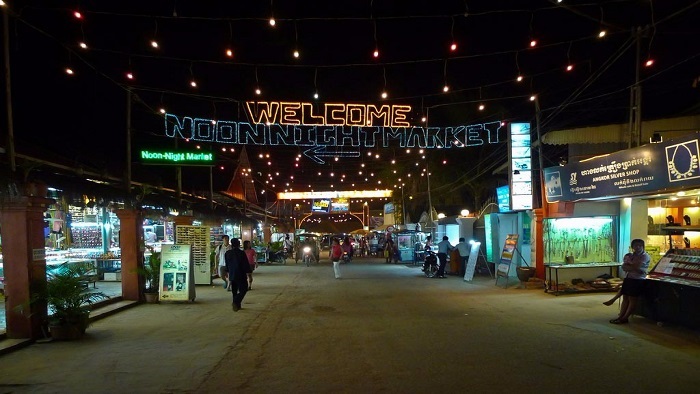 Let's wander around Angkor Night Market and find your own favorite corner
If you are passionate about the cuisine and like to taste the awesome local dishes, you must visit Angkor Night Market right now. From the bar, pub, lounge, restaurant to food vendor and stall, Cambodian, Western and Asian specialties, all of which can be found in Angkor Night Market. Truthfully there is a mini culinary world inside this outdoor market. You are a fan of cocktail? There is a unique Khmer kind of cocktail that includes Khmer spices and herbs. Let's not miss this attractive beverage. You will surely have a memorable experience of taste.
Another unique local dish which is worth trying is roasted insects (spider, cricket, etc). This is an outstanding part of Cambodian local cuisine. All you need to do is to overcome your fear and taste it. It is not as terrible as you think. Let's visit all the huts, it's alright whether you buy anything or not.
After having browsed through numerous huts, what about the soothing foot or body massage? Some spas offer excellent services at a reasonable price. It can take $20 for 60 minutes and $25 for 90 minutes. The traditional Khmer massage method which uses the local herbs and white wine are truly helpful to pamper tired muscles. After a long traveling day, why don't you indulge yourself with that incredible treatment? You totally deserve.
Useful information
► From the central Siem Reap, it can cost you $1-2 by tuk-tuk to get there.
► The market is open from 5 pm to 12 am for the whole week.
► Most of the shops, even small stalls accept the dollar, so it may be not important for you to change your notes to the local currency all the times.
► The price can vary greatly from stall to stall so visit some stalls before deciding to buy for the most reasonable price.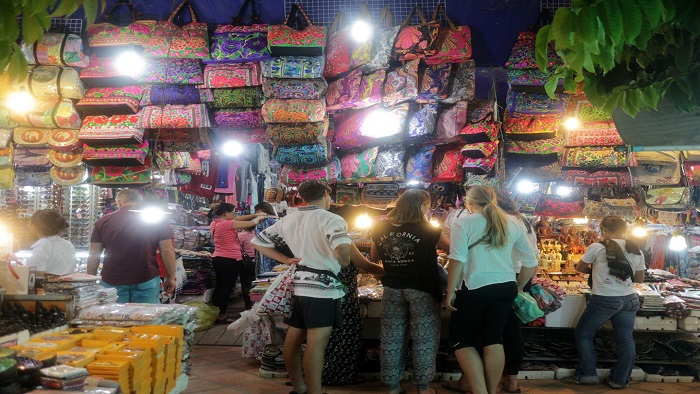 Let's wander around Angkor Night Market and find your own favorite corner
You are a shopping holic? Do you like to hunt for the cheap souvenir to bring home? You want a market to stroll around? Angkor night market is for you. Once you set foot on Siem Reap, visiting the night market is the must. Angkor night market always satisfies the strictest travelers.
"Why don't you stand up and take tours of Southeast Asia right now? Do not forget to take Cambodia tours to get more information about Angkor night market as well as other Cambodia amazing destinations. Cambodia is waiting for you! Share the post if you find it useful. Have a nice trip!