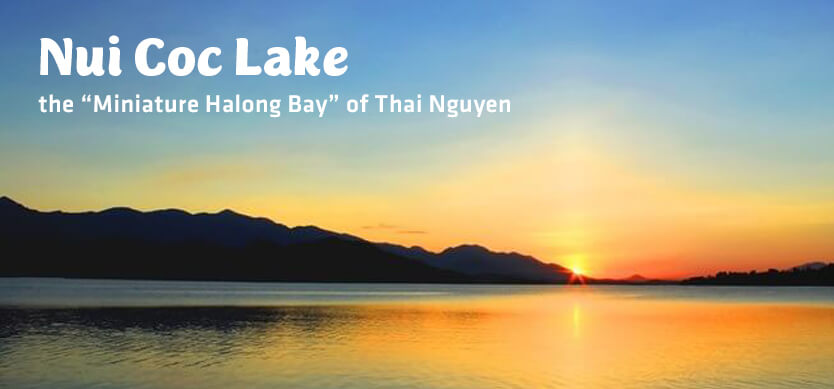 Located near Hanoi, Nui Coc is an artificial lake chosen by many visitors for weekend breaks or one-day picnics. Nui Coc lake is also associated with the legend of Mr. Coc and Ms. Cong. With the beautiful natural landscape, Nui Coc lake is like a small "Halong" of Thai Nguyen province.
The legendary beauty of Nui Coc lake
Nui Coc is an artificial freshwater lake formed after the dam of Cong river was built between 1973 and 1982. The lake is responsible for supplying irrigation water for 12,000 hectares of land, tourism, lowering the downstream flood for Cau river, supplying water for the resort, and raising fish.
The river is the most famous tourist destination in Thai Nguyen province, located about 16 kilometers from the city center and 100 kilometers from Hanoi. In here, tourists can take a boat to visit several islands, watch the lake, explore the house over 200 years old with many valuable relics on Cai mountain and populations of Golden Waterfall Pagoda, etc, or play in the water park in summer.
Nui Coc lake is an ecotourism area associated with many legends, notably the love story of Ms. Cong, who left and cried a river and Mr. Coc, who waited for her until turning into a mountain.
Shakyamuni Buddha statue in Golden Waterfall Pagoda
With the landscape of cloudy heaven blending with the mountains and forests, the lush grass silhouetting in the charming blue lake surface, Nui Coc becomes more attractive than ever, especially for those who are familiar with high buildings and crowded streets. The lake in Thai Nguyen is not only a place for visitors to relax but also to immerse themselves in the myth, feel better about life, and even have the opportunity to have peace in mind to look back at themselves.
When to visit Nui Coc?
Depending on the purpose of your trip, you can travel to Nui Coc lake at any time of the year of which the best time to explore Nui Coc is from March to September. At this time, Nui Coc lake attracts so many tourists so it is very crowded and busy.
Sightseeing and artistic activities here are also held more. On the other hand, you should not go here in the winter, because the scenery at this time is not featured as the other. Especially, due to the limited number of guests, many sightseeing and entertainment activities are not organized.
How to reach Nui Coc lake
About 100 kilometers from Hanoi and 16 kilometers from Thai Nguyen city, the road to Nui Coc lake is very convenient. You can go by passenger cars from My Dinh station which goes to Thai Nguyen or even to Cao Bang, Bac Kan, Lao Cai, Yen Bai, and Phu Tho because all these routes are through Thai Nguyen.
When getting on the car, remember to tell the driver to take you to Thai Nguyen station. From Thai Nguyen station, you can call a taxi, motorbike taxi or take a bus to Nui Coc Lake.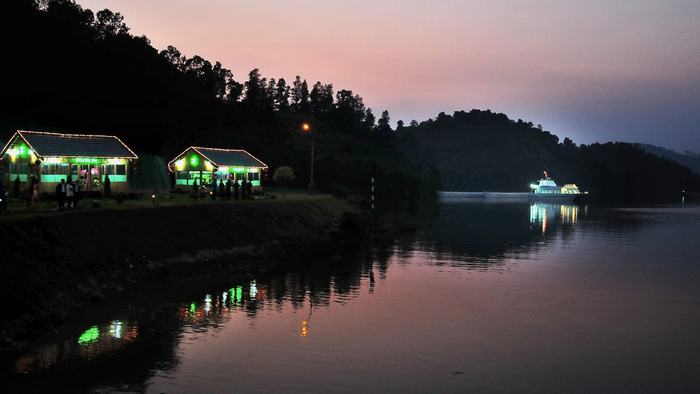 The romantic night scene in Nui Coc lake
If traveling by private motorbike or car, you will go along the old Hanoi - Thai Nguyen expressway (passing through Noi Bai airport) to Thai Nguyen city, then you can follow one of the two routes: Thai Nguyen - Bo Dau - Cu Van - Ha Thuong - Dai Tu - Nui Coc lake, or Thai Nguyen - Dan - Tan Cuong - Nui Coc Lake.
Guests from Saigon traveling to Nui Coc lake can go to the East station to pick up the passenger car from Saigon to Thai Nguyen and then follow the guide as above.
What to do in Nui Coc lake
Nui Coc lake is a complex entertainment center. Package ticket price is VND 130,000/person. After buying a ticket, tourists can participate in any activities in the entertainment center.
A boat trip to visit islands
The most interesting thing in Nui Coc is having a boat tour on the beautiful lake. Traveling around the lake takes visitors about 1 hour, so if you want to enjoy a more intense feeling in a shorter trip, let's choose a high-speed boat instead.
If you like the pristine beauty here, you can camp to enjoy the quiet mountainous space and the sound of insect at night. In the morning, you can explore the uninhabited islands such as Stork island, Goat Island, Monkey Island, and Eucalyptus island, etc.
An interesting stop on Nui Coc lake which is not widely known is the "Traditional village product showcase" on Nui Cai island (the largest island of Nui Coc lake). On the island, you will have to climb 108 steps to visit the 200-year-old ironwood house and admire more than 1,000 exhibits representing 90 traditional villages across the country.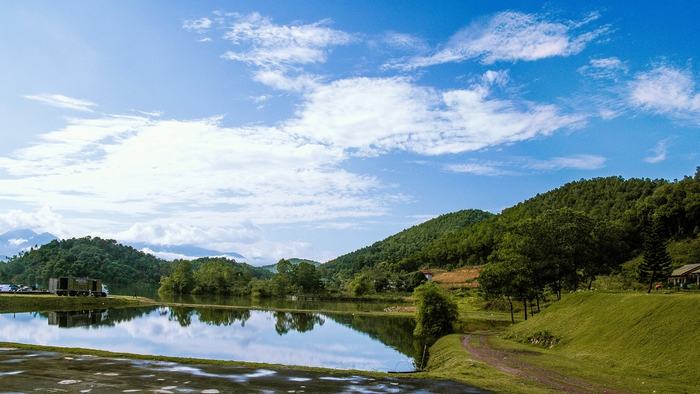 View of Nui Coc Lake
Golden Waterfall Pagoda
One of the highlights of Nui Coc lake tourist spot is the population of "Causality", which imitates the 45-meter-high Shakyamuni Buddha statue on an area of over 5,000 square meters. This is considered one of the largest Buddha statue in the country.
Inside this statue is a pagoda named "Golden Waterfall Pagoda" with a majestic architectural landscape, expressing the national cultural identity. With the meaning that "in the pagoda has the Buddha, in the Buddha has the pagoda", Golden Waterfall Pagoda is the destination many visitors choose to travel in early Lunar New Year.
Legendary Palace
After leaving Nui Coc lake, you can visit the caves: Hell, Aquarium, Legendary Palace, Three Pine Cave, Golden Nui Coc entertainment area, etc. Finally, let's visit the Love Market to buy souvenirs for friends and family. In the evening, you can go to see the campfire or water music program here.
Water park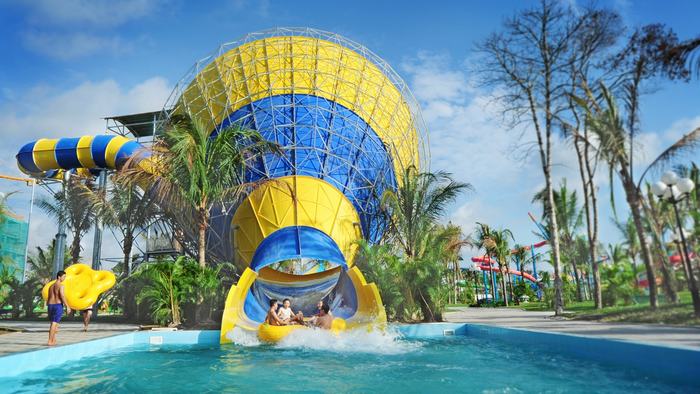 Enjoy the most fascinating activities in the entertainment center
Nui Coc lake water park offers attractive services such as "Fish pond in areca garden", "The monkey king story", "Swimming pool", "Slip line", "Carp", "Dolphin", etc. Buying ticket to the Nui Coc lake, tourists can immerse themselves in the cool water of the park all day long.
Being gradually invested, Nui Coc lake has become one of the dreaming tourist spot for visitors in summer in which they can combine the experiences of entertainment, exploration, and relaxation. If you need more information for package Asia tours or luxury Vietnam tours, don't hesitate to contact us. Thank you.