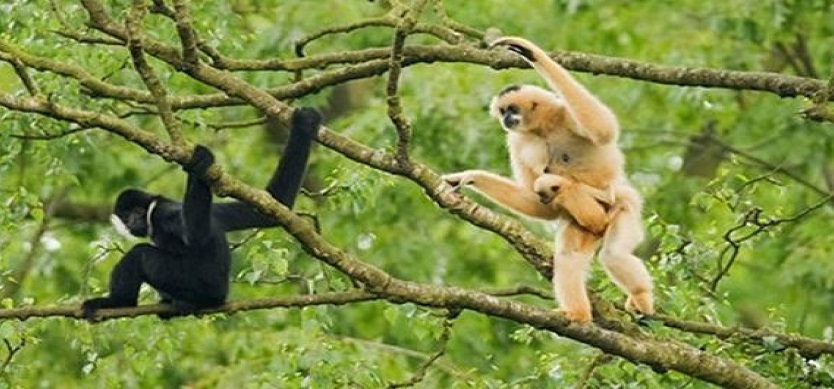 Nowadays in Vietnam, there are few well-preserved national parks and Pu Mat is one of them. Pu Mat National Park is an ideal place for scientists to explore a rich biodiversity of untouched nature while tourists can explore the beautiful scenery along with rich ethnic cultures. You are a nature lover? Do you like to find a quiet place to relax? Pu Mat National Park is for you. Do not forget to take Vietnam tours packages to get more information about how to travel around Vietnam.
Biodiversity
Pu Mat National Park is one of the first venues where sao la - a rare animal is found out. The park is also home to the biggest herd of elephants in Vietnam. Established in 2001 with, Pu Mat National Park has an area of 180,804ha, in which 94,804ha are core zone and 86,000ha of the buffer zone.
The park owns high biodiversity, well-conserved wild animal and rare genetic source. The flora system comprises 2,494 species, including many medicinal plants, rare wood plants, vegetables, and fruit trees. The fauna system consists of over 2000 species, including the mammal, bat, birds, butterfly, reptile, amphibian, fish, ant, insect, etc. In 2007, Pu Mat National Park was inscribed as the center of Western Nghe An Biosphere Reserve and recognized as World Biosphere Reserve by UNESCO.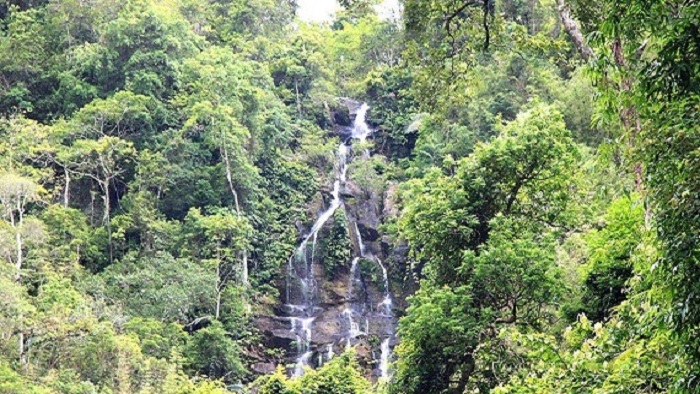 Pu Mat national park
Should-not-miss spots in Pu Mat National Park
►Primary forests of Khe Bu, Khe Thoi, and Khe Choang.
►Sang Le Forest
►Ta Bo Stream
►Kem Waterfall
►Giang River
►Tham Nang Man Cave
What to see?
According to Thai ethnic group, "Pu" is referred to the mountain peak. With the height of 1,814 meters, Pu Mat is the highest mountain peak in this area. With a vast area covering three districts of Anh Son, Con Cuong and Tuong Duong, about 120 kilometers to the northwest of Vinh City in Nghe An province, Pu Mat has three typical seasons.
From December to March, it is chilly when the temperature can drop down to less than 20 degree Celsius, while from April to July, it's beautifully sunny and the heavy rain is frequent from August to November. Thus, summer is the best time to explore this attractive destination.
One of the most popular spots in Pu Mat is Kem Waterfall. Being about 20 kilometers from Con Cuong to the south, Kem waterfall which stands at the height of 150 meters, is considered to be one of the most primitive waterfalls in Vietnam. It is fairly adventurous to reach there due to the unstable and small path. Once setting foot on Kem Waterfall, you will take a chance to get a view of a wonderful landscape which you can rarely find in your busy and bustling life. From afar, Kem Waterfall looks like a white silk ribbon on the green background of forests full of wild plants and colorful flower gardens. It's a good idea for tourists to hire a boat or a raft for fishing, and enjoy the one-in-a-life pristine beauty of Mother Nature.
A trekking tour is never a worse option. Travelers will take an opportunity to explore the jungle as well as unique villages, which are among the top choices. Pu Mat is the main living place of Thai which is an ethnic minority in Vietnam, together with a small group of Dan Lai and a few Kinh people. Thu, during your visit to Pu Mat, visitors can speak to ethnic minorities and learn more about their culture. Besides, travelers can visit some villages producing brocades which is the main living source of many women in Pu Mat.
Pu Mat National Park (via vamvo.com)
Visitors can watch the pretty Thai women perform traditional music or dance with their beautiful traditional dresses. It's even more amazing to sing and dance along with them. You are always greeted.
What about wandering around the village to visit some local families and observe the intricate handicraft. You will be surely admirable to the way the skillful local women create the sophisticated brocade products. It's an enjoyable experience to have a sumptuous local meal, which includes Mat fish (a kind of local stream fish), organic farm meat, Mooc (a home-made traditional steamed cake), fresh vegetables, com lam (bamboo tube rice) and ruou can which is a traditional rice wine drunk communally through straws from a tall vase.
If you want to stay overnight, there is a wide variety of hotels and motels with almost fully-equipped amenities and facilities so you don't have to worry about the accommodation when visiting Pu Mat.
Another appealing spot is Sang Le Forest which is 40 kilometers from the headquarter of Pu Mat National Park. It is a place where you can observe the endless green color of forest leaves mixing with the white color of Sang Le stem. This is suitable for tourists to go picnicking or relax in the breezy and cool atmosphere as if you are getting lost in a fairyland which is never intervened by the human.
It is not easy to take a chance to discover one of the most primitive forests in Vietnam. While there are tons of poisonous air in the big cities, in Pu Mat, you can find a relaxing place hidden under the lush green color of trees. Let's pick up your backpack and explore Pu Mat national park. Your decision won't disappoint you. Why don't you stand up and take Asia tours right now? Asia is waiting for you. Share the post if you find it helpful.