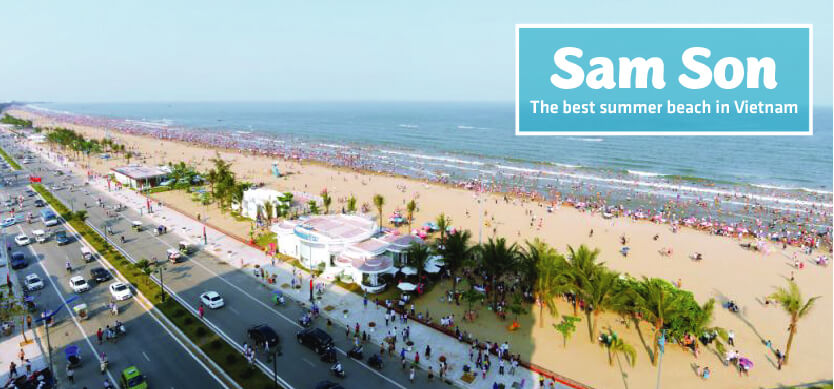 Sam Son beach is a famous beach in the north-central of Vietnam with the cool wind, healthy sun, and clear water. Whenever summer comes, this beach becomes the gathering spot of people who find a way to escape the heat of the sun and relax in the cool sea water.
Where is Sam Son beach located?
Sam Son is located 16 km from the east of Thanh Hoa city. From the beginning of the 20th century, it has been a famous resort in the north of Vietnam. After being discovered by the French in 1906 and the beach was planned to be the ideal summer resort of Indochina. This place is also rich in cultural features with various traditional festivals. Sam Son boasts its legendary beauty of several historical buildings and natural landscapes together with the folk legends which link the past with the present and one of the most beautiful beaches in the north of Vietnam. With a lot of tourist projects being planned in this place, Sam Son is expected to be the most romantic and relaxing destination in the region for tourists.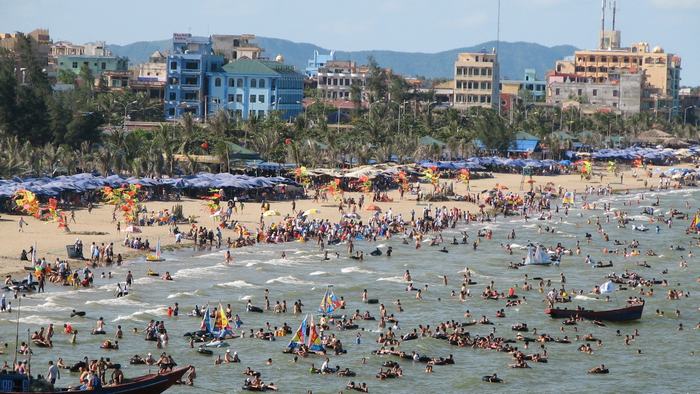 Crowded beach in summer
Sam Son beach is one of the most Vietnam romantic beaches in Asia travel package tours stretching 6 km from Lach Hoi estuary to the foot of Truong Le mountain. The mother nature has created a beautiful beach full of sunlight in summer and warm climate in winter in this place. The bronze sandy beach is wide and flat which slopes gently to the sea. The water is clear with big waves and an average salt concentration which is good for health. Sam Son receives a million turns of international and domestic tourists each year.
How to get there
Sam Son beach is only 170 km from Hanoi, so it is quite easy to visit this beautiful beach. However, there are two common ways to get to Sam Son from Hanoi.
The first way is you can catch a coach at a bus station in Hanoi, it takes over 5 hours to get there with the ticket fare around 70.000 VND -120.000 VND.
The second way for you to go to Sam Son is catching the train. You come to Hanoi or Long Bien station to get on a train to Thanh Hoa. When arriving in Thanh Hoa station, you have to get on the bus or catch a taxi to come to Sam Son. The ticket fare of the train is 70.000 – 150.000 VND.
In addition, if you are a good driver, it is better to drive a motorbike to come to this beautiful beach. It is a good chance for you to breathe the fresh air and contemplate the beautiful and peaceful landscapes along the way.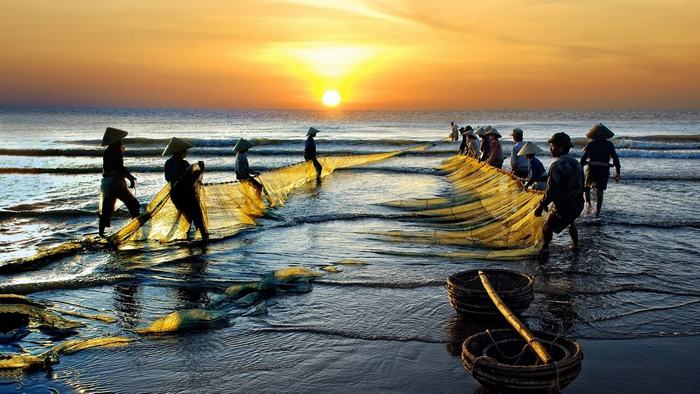 Beautiful beach in the sunset
What to do and see in Sam Son
You will have an unforgettable experience when visiting Sam Son. Coming to the beach, it is time for you to drown in the cool blue sea, listen to sounds of the wave and the wind, and lie on the sunlight sandbanks or build sand castles. Moreover, this is also a good place to taste the fresh local seafood such as shrimps, crabs, fishes and also to bring back home some nice souvenirs.
Nowadays, Sam Son city has a variety of hotels and restaurants. Many attractive activities are offered to meet the needs of tourists such as double bike, electric car, cycle, etc. Coming to Sam Son in summer, tourists can participate in many interesting kinds of games such as kite competitors.
In each summer afternoon in Sam Son sea, you can see the beautiful colorful kites flying in the pure blue sky. When looking at those colorful kites, you will be like sinking in the memorable sky of childhood.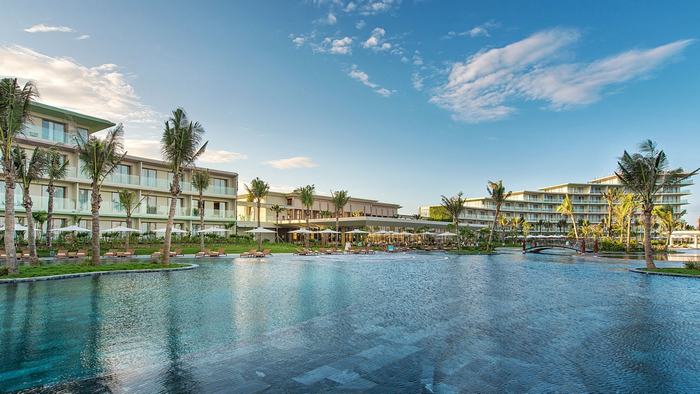 FLC Sam Son - best place to stay
Sam Son has not only the beach but also contains scenic spots such as Trong Mai Rocks, Doc Cuoc Temple, and Mount Co Tien. It is very near to the beach and you can easily take a visit to these destinations. It is easy to visit the natural attraction and historical relic, the Truong Le mountain range, at the end of the beach. The part of this mountain contiguous to the sea is called Co Giai Islet.
Going to the top of this islet, you will see a small pagoda named "Doc Cuoc", which means "One Leg". The pagoda is where the local people come to worship a giant that managed to slay a sea monster and to guard the sea in the past. Also, from there, you will look out the special rock named "Trong Mai", which is formed with two huge boulders on a flat rock. There is a story that this pair of rocks represent a pair of husband and wife, who love each other passionately even when both have been transformed into birds.
Sam Son is one of the attractive beaches in tours to Vietnam and Laos, it is attracting more and more tourists from the regions of Vietnam and other countries whenever summer comes. If you feel interested in this information, please feel free to contact us. Have a nice trip!