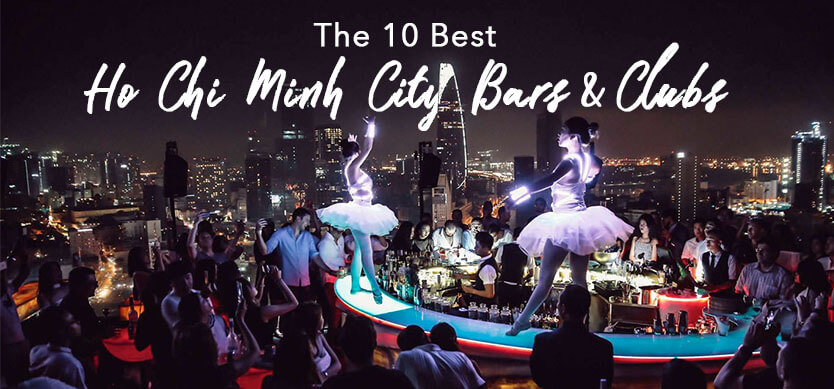 The night is young and you have had a long day in the Ho Chi Minh attractions, let's pay your best in Ho Chi Minh night. Here are the best places to visit in Ho Chi Minh at night that you can consider going when visiting this vibrant city in your Asia package tours.
Xu Bar
Address: 71 Hai Ba Trung, District 1, Ho Chi Minh city
In Ho Chi Minh City, the life cycle of a bar and club is usually around two to three years. Xu Bar is an exception. It has been around and is still going strong for nearly 10 years. The reason why they have successfully stayed in business is that they have a professional and well-trained team of bartenders and staff. Xu bar is located on Hai Ba Trung street, one of the most crowded streets in Ho Chi Minh City and this bar is definitely the perfect place to have fun at night. It has a unique combination of Vietnamese and Western ambiance so that is no surprise that you will see people of different races and nationalities at this place.
Xu bar provides happy hour from 5:30 pm to 8:30 pm which is free for all alcoholic drinks. Xu is a great place to feel the young night in Ho Chi Minh city.
XOXO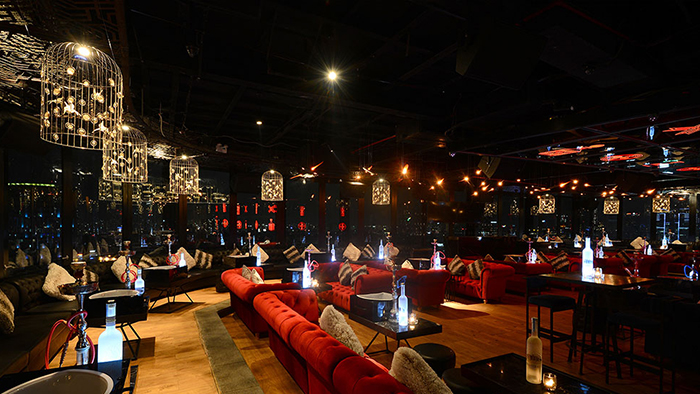 XOXO Saigon
Address: 138 Le Thi Hong Gam, District 1, Ho Chi Minh city
XOXO is the ideal destination for people who look for a "make it rain" night. It is known as one of the most upscale clubs in Ho Chi Minh City on the weekends. Located on the 21st floor of Ben Thanh Tower, you can have a view of the city while flowing with the music. You will be shocked by the elegant and dynamic design of XOXO.
There are the huge bird cages where dancers dance and play with it throughout the night. XOXO is where you can come to see the world-class events with famous DJs and worldwide singers coming from all over the world to perform a wide range of music from EDM, Hip-Hop, to Trap.
Piu Piu
Address: 97 Hai Ba Trung, District 1, Ho Chi Minh city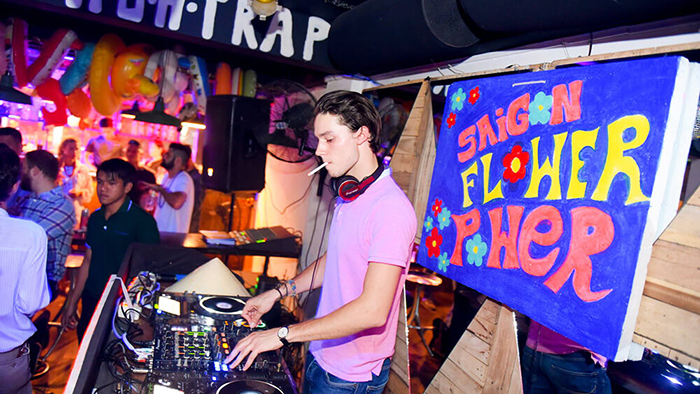 Piu Piu Saigon​
Piu Piu calls itself as "the clubs of the grown-up kids", so the concept of this club is also different from the rest of the clubs. This is the destination for those who want to freely express themselves and escape from reality. So you can easily many types of people here from blue-collar people to people that come in barefoot.
There are three floors in Piu Piu with a variety of activities, whereas, the first floor is designated for DJ parties and concerts. Stepping into the second floor, this is where the club owners provide a pool table and a beer bar and the third floor is in the rooftop, this floor is where people come to play disco, funk or retro hip-hop. The special thing about Piu Piu is that they organize different events on certain days of the week.
Envy
Address: 76 Nam Ky Khoi Nghia, District 1, Ho Chi Minh city
This club looks like a theatrical nightclub providing you the unforgettable experience with the vibrant sound and light systems. Envy is very spacious with standing tables on the first floor and sofas on the second floor. The exterior of the club is like bringing you back the previous time when the old colonial house and the interior giving you a vintage feel with curvy metal decor is a trend.
Stepping into Envy, you will feel the atmosphere of a classic Vegas nightclub in distant America. You'll be greeted by a host and escorted in by a group of black-suited security guards. We make sure that Envy always hopes to provide you with the most exceptional night in Ho Chi Minh city.
Qui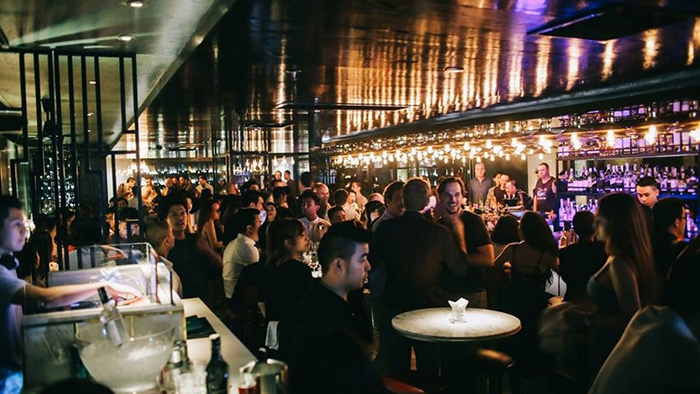 The hectic atmosphere at Qui Saigon
Address: 22 Le Thanh Ton, District 1, Ho Chi Minh city
Qui is located on Le Thanh Ton street, opening every day of the week after 9 pm. This bar ranks the top of upscale spots in the Saigon nightlife scene because of the number of accesses. There are a range of booths, the bar, and high tables near the entrance door and limited dining space toward the back. Besides that, it also ranks the top bar in this city upon it's close to little Japantown and its late-night ramen spots.
Lush Nightclub
Address: 2 Ly Tu Trong, District 1, Ho Chi Minh city
Lush Nightclub is a nightlife hotspot in Ho Chi Minh City and the popular entertaining place for the young. Coming to this club to see the young and beautiful of Saigon, they often dress up to impress and show off their modern styles. The venue is designed in the industrial chic style with spacious room to dance and ample seating in the upstairs.
Chill Skybar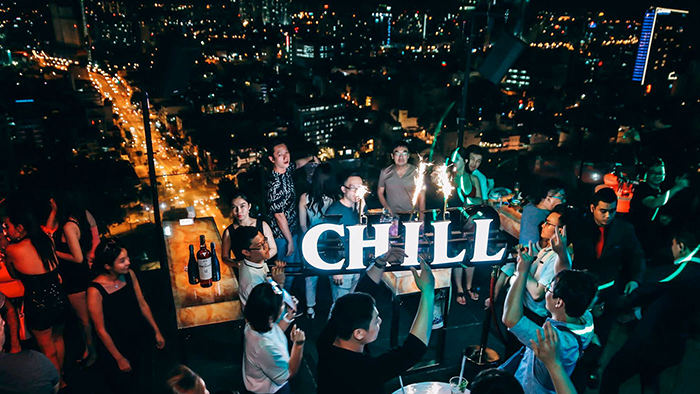 The panorama of Saigon at night from Chill Skybar
Address: 76A Le Lai, Ben Thanh, District 1, Ho Chi Minh city
There is no better place than Chill Skybar to capture an amazing rooftop view as it is an upscale venue located on the 26th floor of the AB Tower. Come here you reward yourself with great cocktails and a beautiful view.
Broma Saigon Bar
Address: 41 Nguyen Hue, District 1, Ho Chi Minh city
Broma Saigon Bar is highly valued as a hidden gem of the city. With its own unique western-style decoration, it offers the unforgettable experience with open space and the wonderful view overlooking the Bitexco financial tower.
Go2 Bar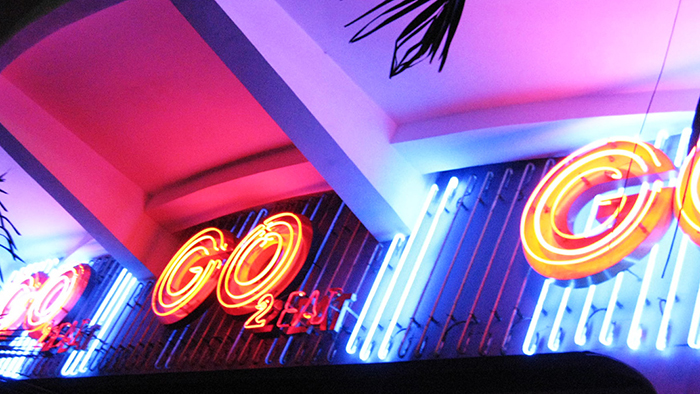 Go2 Bar Saigon
Address: 187 De Tham, Pham Ngu Lao, District 1, Ho Chi Minh city
It is a popular nightspot of the city. Here, you will stand a chance to enjoy rock tunes, dance, pop, hip hop, and RnB. The drink is great and the atmosphere is pleasant.
America Discotheque
Address: 18 An Duong Vuong, District 5, Ho Chi Minh city
This well-known nightspot is probably the largest nightclub in Vietnam. It is famous for the separate hip-hop and RnB rooms, dance, and techno on the main dance floor as well as great food and drink
Let's come to these destinations to answer where are the places to visit in Ho Chi Minh city! This city is not only the historical sites but also the modern entertaining zones that you should go to have a "live once only" night. If you need further information about this list, contact us to get more details. Thank you!