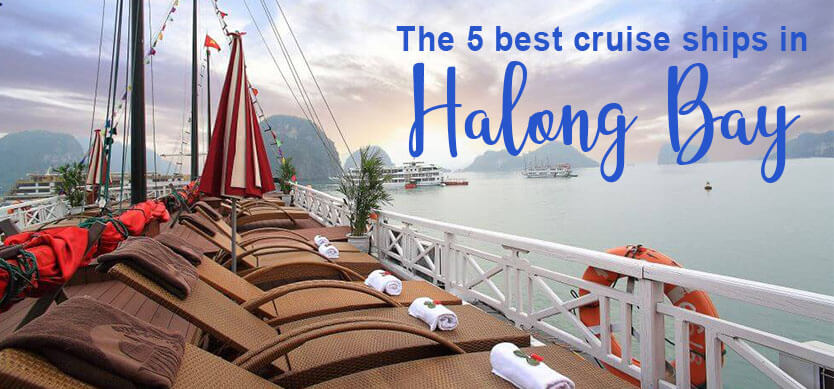 The name of Halong is not strange with many traveling worms because it is considered the most beautiful place in Vietnam that was recognized by UNESCO. The best way to explore the beauty of this site is boarding on a cruise to wander around the corners of this bay, so we are here today to recommend to you top 5 best cruise ships in Halong Bay for you guys to take note.
La Pinta Cruise
La Pinta cruise is one of the best mid-size cruise ships operating on the tour of Halong Bay and Lan Ha Bay. It includes 16 spacious cabins with the full windows, ample deck, and well-equipped interior, that is why it is named on the top customer services of cruise ships in Halong Bay.
When boarding on this ship, you will have a chance to use the sharing services with Lux-Van and private Limo, 24-hour security and room service, bar, restaurant, and massage. Besides that, this ship is also an ideal place for couples, organizations choosing to operate the important events such as wedding anniversary, birthday party, company gathering party and family reunion.
Coming with La Pinta cruise, you will have the chances to participate in many fascinating outdoor activities such as swimming, sunbathing, kayaking, biking, sunset party, cooking class, night squid fishing and exploring the caves by bamboo boat.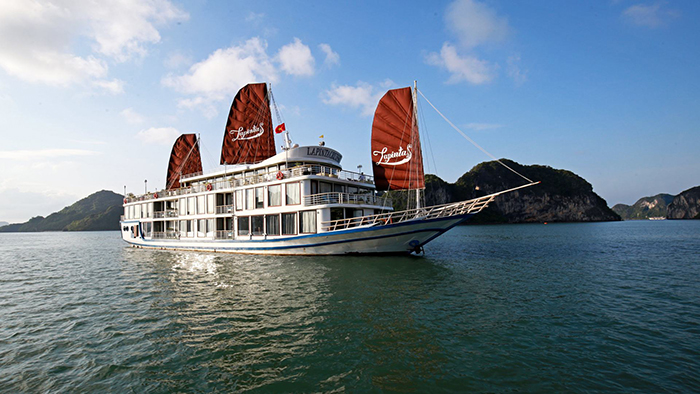 La Pinta Cruise
Paradise cruise
If you are looking for an ultimate luxurious cruise around Halong Bay, Paradise Cruise (including Paradise Luxury, Paradise Peak, and Paradise Privilege) is top of the chart in every aspect. The cruise not only is good looking but also has amazing amenities with spacious and clean cabins. It is well worth spending the money for a cabin with a private balcony because of standing on the balcony, you can have the best moments to chill the view and enjoy the cool fresh breeze.
The staffs are very friendly and attentive. Besides that you will be served the superb fresh seafood platters on board, it is available to order the Halong best food and a cooking demonstration for you.
This cruise ship is the unique 3 sails cruise with the excellent service where many other cruises operate in the bay. You just pay $200/pax for a 2 day-1night to stay on board while visiting the magnificent Halong Bay.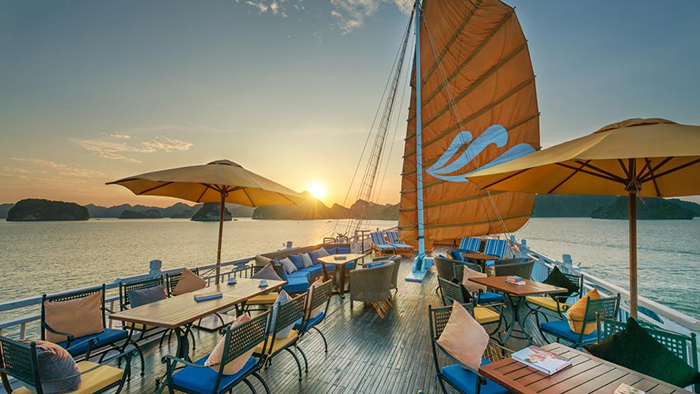 Paradise Cruise
Emeraude Day Cruise
Emeraude Day Cruise looks so different from other cruise ships in Halong Bay because it is designed with the French paddle steamer, probably reflecting the origin of the French owner. When you only spend 1 day on board, you will feel the differences of this cruise ship from Chinese junks. It surely gives you an interesting experience in your Halong Bay trip.
Because the visiting time is limited, the cruise will only take you to the finest and widest grottoes in the bay, which is Surprise Grotto. Visiting this grotto, you will feel the cool atmosphere and the wind flows from the inside cave. There are numerous stalactites in various bizarre shapes and sizes waiting for you to witness. After visiting Surprise Grotto, Hang Trong cave is the next destination in the attraction list where you can go kayaking or go swimming in the blue seawater.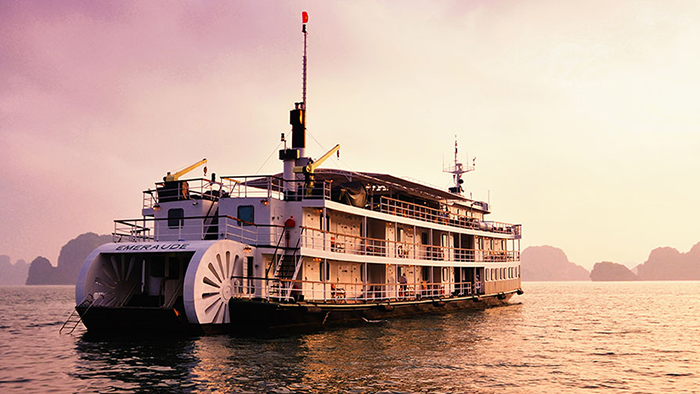 Emeraude Day Cruise
Dragon Pearl Junk (by Indochina Junk)
There are many kinds of cruises in Halong Bay but sometimes you still have to wait for your turn to go on your board to visit the sites in Halong Bay. Coming to Dragon Pearl Junk, it promises to pick you up in time and so you won't waste any precious time for waiting.
You can visit many attractions with an ample time fund to chill at the bay. The boat anchors in an airy area with an immense vision so that you can freely gaze at the sky and landscape without being blocked by other junks. You can also enjoy a relaxing swim at the small beaches and a fabulous dinner on the islands.
The staffs are polite and friendly, they are always ready to help you whenever you get troubles. All meals are served with excellent standard while drinks are appropriately priced. Vegetarian food is available to serve the dieters.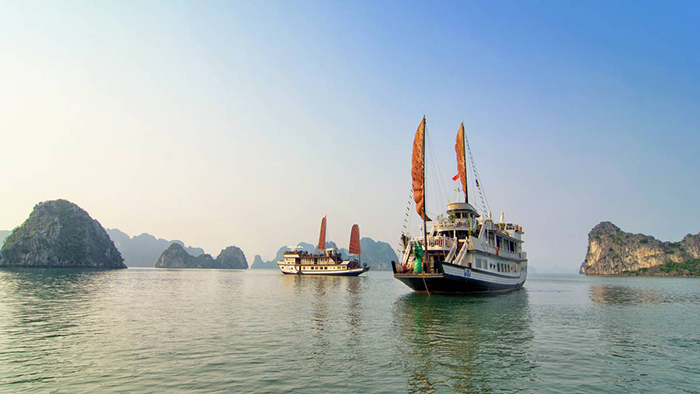 Dragon Pearl Junk
Au Co Cruise
Although most of the junks and cruises in Halong Bay are made from wood ( a part or most of their body are from wood), yet, there are some larger vessels made of steel like an Au Co cruise.
Au Co cruise is one of the steel cruises that operating the tour of exclusive 3 days 2 nights in Halong Bay. Boarding on this cruise ship, you will have a 3-day 2-night itinerary running through 3 bays in Halong area which are Halong Bay, Bai Tu Long Bay, and Lan Ha Bay. Besides that, it will take you to Cat Ba island where you are able to have a fascinating time to relax on the beach. There are many exciting activities waiting for you ahead if choosing to escort with Au Co cruise.
Kayaking, biking, swimming and cave exploring will be the interesting activities you can join in all 3 days. Au Co is one of the biggest cruise ships in Halong Bay with good equipment of a full range of amenities, it hopes to bring the best moments for you in your Halong trip. The cruise also offers a spa and jacuzzi area for tourists to unwind after a long day traveling in the bay. The price of $540/pax may be quite expensive but it is worth to pay to take many unusual breathtaking locations in just one trip.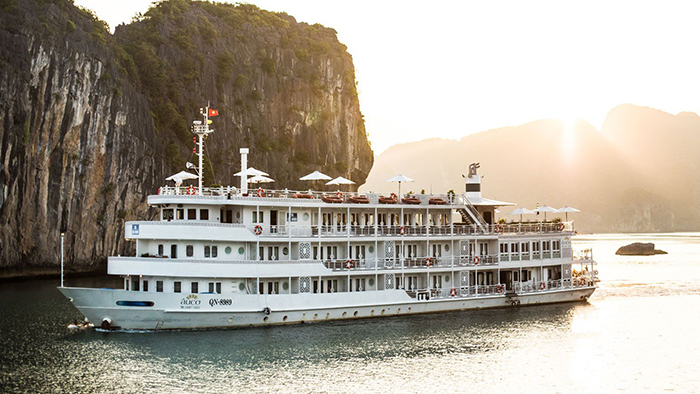 Au Co Cruise
Halong always satisfies all of you who spend your time to visit this beautiful attraction. Coming to this bay in tours of Asia package, you won't resist the fairy beauty of Halong as well as the activities in this bay. If you need further information about Halong cruise ships, let's contact us to get more details. Thank you and see you in Halong soon!