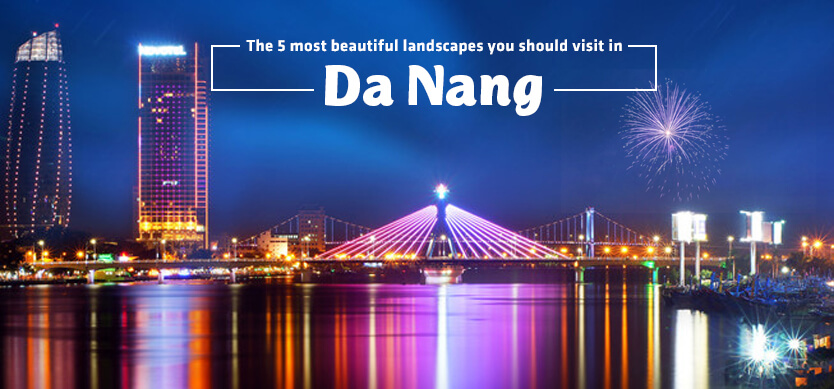 Da Nang - the largest port city in Central is known as the most worthy living city in Vietnam. When you come to Da Nang, you will admire many natural landscapes with poetic beauty. Here are 5 most beautiful tourist destinations in Da Nang that you should go.
Where is Da Nang city in Vietnam?
Da Nang city is located in the center of Vietnam, away from 766 km north of Hanoi, 961 km south of Ho Chi Minh City and 101 km from Hue City to the northwest by National Highway 1A. Da Nang is also the center of the world heritage such as Hue Ancient Capital, Hoi An Ancient Town, and My Son Sanctuary.
Da Nang city is located on the north-south axis of the road, railway, seaway, and airway, which is one of the important gateways to the sea of the Central Highlands and Laos, northeastern Cambodia, Thailand, and Myanmar. The distance from Da Nang to the main economic centers of Southeast Asia such as Bangkok (Thailand), Kuala Lumpur (Malaysia), Singapore, Manila (Philippines) is in the range of 1,000 - 2,000km.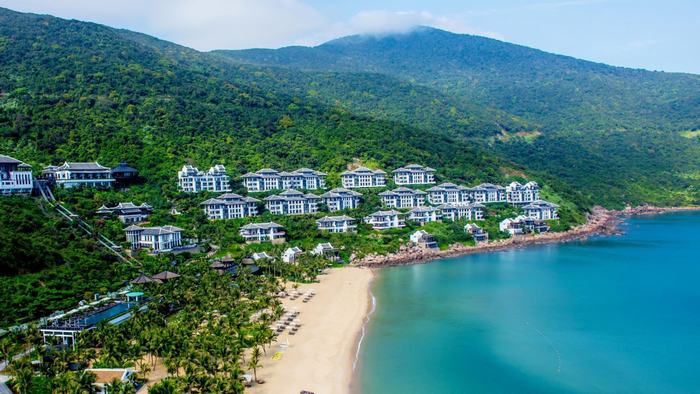 Da Nang
Da Nang city at night - the most worthy living city in Vietnam (youtube.com)
Ba Na Hill
This destination is located on Chua Mount at an altitude of 1,489 m above sea level, about 25 km from the city center, in Hoa Ninh, Hoa Vang, Da Nang. In the early 20th century, Ba Na was discovered by the French military while looking for new resorts. With the cool climate and the average temperature of about 18 degrees Celsius, Ba Na is suitable for tourists to enjoy the fresh air and spectacular scenery from above. The green trees, colorful flower gardens in Ba Na are also destinations for visitors to stop and save beautiful memories. In addition, Ba Na Hill also has a French village with unique Western architecture and attractive leisure games. In 2006, the Ba Na cable car system began to be built, attracted a large number of visitors here.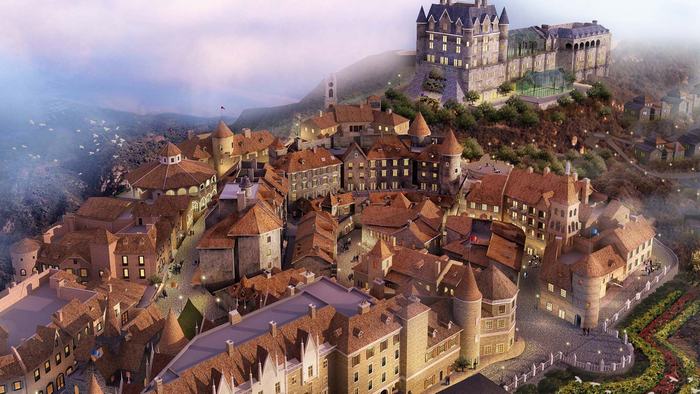 Ba Na Hill
Son Tra Peninsula
Son Tra Peninsula is considered as the "green lung" of Da Nang city. This site belongs to Tho Quang ward, Son Tra district. Covering an area of 4,439 ha, Son Tra peninsula has rich fauna and flora which is preserved intact. The road leading up to Son Tra from the city center bends around the coast, embracing the edge of this peninsula.
When coming to Son Tra Peninsula, you will visit the statue of Guan Yin 67m high overlooking the sea. Here are the peaks of nearly 700m high so visitors can view the city from a distance. The winding roads, green trees with the fresh air of Son Tra are always attractive to any tourist who love traveling by motorbike. Moreover, you can also visit the stunning beaches surrounding Son Tra such as But beach, Xep beach, Con beach, Tien Sa Beach, Da Den beach.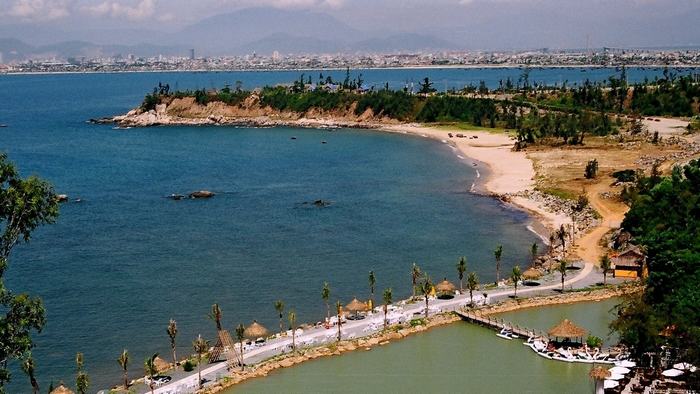 Son Tra Peninsula
Ngu Hanh Son
Ngu Hanh Son is situated about 8 km in the southeast Da Nang with 6 limestone mountains such as Kim Son, Thuy Son, Moc Son, Hoa Son, and Tho Son. Visitors coming to Ngu Hanh Son can feel the beauty of the sea and sky as well as learn the spiritual values of culture and history.
Thuy Son is the highest mountain with a height of 106 m. Here are many temples and caves attracting a lot of visitors. Thuy Son has Linh Ung Pagoda, Tam Tam, Tam Thai, Tu Tam. In particular, Tam Thai is the oldest pagoda with relics such as Hoa Nghiem cave, Huyen Khong cave, Giang Dai, etc. If you do not climb mountains, you can choose the 43m high elevator system which brings tourists to the mountain.
After visiting Ngu Hanh Son, you should come to Non Nuoc stone handicraft village. This place is famous for the sophisticated and beautiful products made from stones.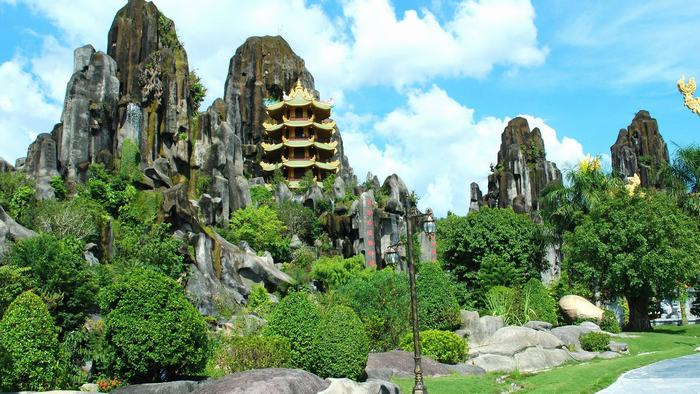 Ngu Hanh Son
My Khe Beach
Being a famous destination in Asia tours, My Khe Beach was voted as one of the 6 most stunning beaches on the planet by Forbes Magazine in July 2013. This beach is about 900m long, owns the flat sandy beaches and light waves, which is suitable for swimming and playing sports on the beach. In addition, My Khe is not too far from the center so it is convenient for tourists to travel.
If you come to My Khe beach on a sunny day, the sea water here will be deep blue. When the sunset falls, the sea becomes more tranquil to relax. For families with children traveling together, parents can let the children play baby games on the beach or build sand castles. My Khe beach has stunning beaches such as Pham Van Dong beach, T20 beach, and 1,2,3 beaches.
Hai Van Pass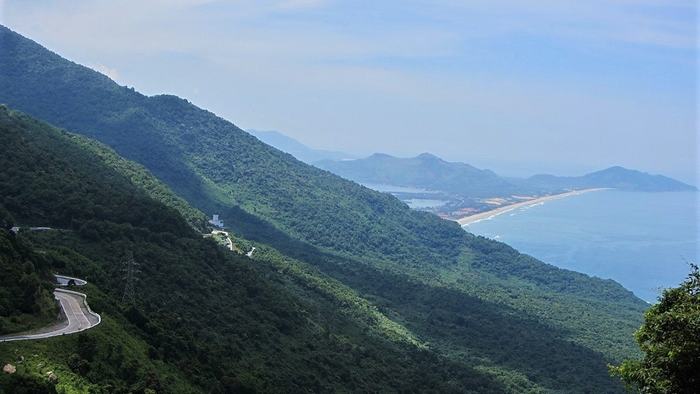 Hai Van Pass
Hai Van Pass is the natural border between Thua Thien - Hue province and Da Nang city. Visitors climbing to the Hai Van Pass will see the vast nature with the majestic mountains, green forests next to the winding road. From Hai Van Pass, you can see Da Nang city, Tien Sa port or overlook the territory of Thua Thien - Hue.
Since the road tunnel through Hai Van Pass was built, the road to the pass has less traffic. Therefore, this place becomes an attractive place to enjoy motorcycle experience. You can wait until the late afternoon to admire the breathtaking sunset at about 20 degrees Celsius.
Listed in the 10 most worthy living cities to stay abroad by Live and Invest Overseas tourism magazine in 2018, Da Nang will be the perfect destination for you in this summer vacation. Let's travel and feel. To know more information about Da Nang city and best Vietnam tours, via our website. Share this article if it is useful for you. Have a nice trip!