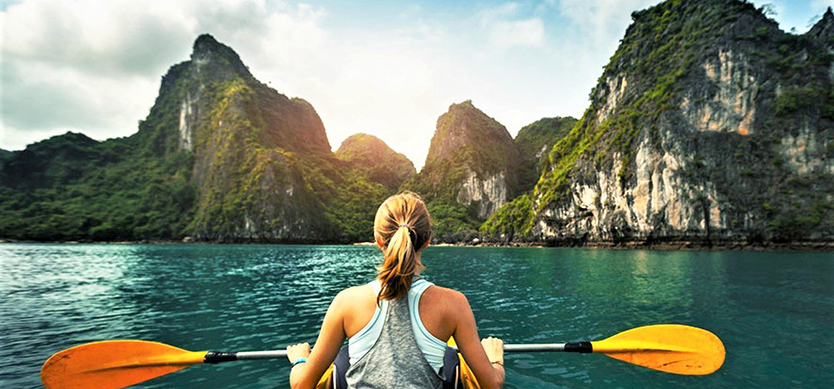 When one talks about Vietnam tourism, it's deficient if we don't mention Halong Bay - one of the most beautiful and famous destinations in the country. Besides the stunning landscapes, Halong Bay also provides numerous interesting things to do. If you take luxury tour Vietnam, do not miss these ones below.
Kayaking
Kayaking is one of the most popular activities for all tourists when traveling to Halong Bay. Exploring Halong Bay by kayaking, you can see a different beauty of Halong that you cannot see when you are on the cruising boat. Kayaking is a wonderful experience which you can creep into the caves, manually stroke the stalactites and shimmering shells. Halong was voted as one of top 25 destinations for kayaking in the world by National Geographic Adventures magazine.
Taking part in this activity, you have the chance to explore the unique culture of fishermen here. Many visitors prefer to sail near the rafts to see the daily life activities of the daily life of fishermen from how to knit nets, feed fish to cook on the raft.
The best destinations to visit are Vung Vieng, Cua Van or Ba Hang fishing villages. Kayak boats can be made from composite plastic, cast rubber or inflatable boats with oars. Areas such as Luon Cave, Three Peach Beach, Ba Ham, Dau Be or Co Cave are suitable places for kayaking. The maximum capacity of a kayak boat is two people. When kayaking, you have to strictly follow the guidance of tour guides and wear the life jacket. Kayaking activity is also included in the itineraries of cruising boat.
Diving
Diving in Halong
Diving to discover underwater life is a must-do activity when traveling to Halong Bay. Along Cong Do and Van Don Island, there are countless different coral reefs and marine creatures. The bottom of the ocean consists if many crustaceans, mollusks, fish and marine organisms for the visitor to observe. Let's spend an afternoon diving around colorful coral reefs and take the photos by the waterproof camera. Imagine the tranquil setting surrounding you as you dive to the depths of dozens of meters and see yourself the "inhabitants" of the mysterious bay.
To have the best diving experience in Halong Bay, you should take a tour of travel agencies or cruising boats. When participating in scuba diving activity in Halong Bay, tourists will be provided with protective equipment such as the mask, oxygen tube, compass, diving suit, and propellers. All of them are safeguarded by security guards, so you do not have to worry much.
Visiting floating villages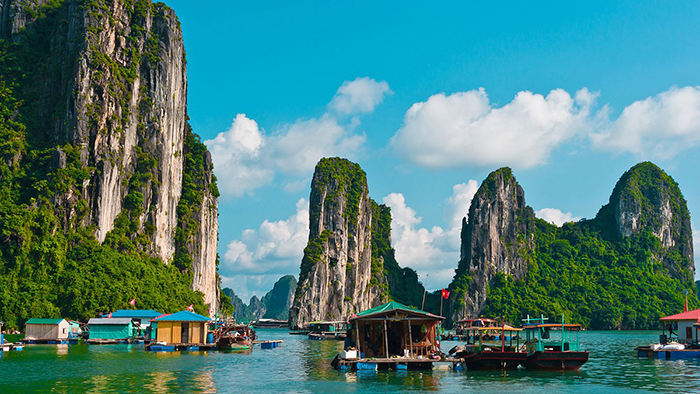 Cua Van fishing village
If you want to experience the flavor of life of local people, let's visit fishing villages. The people living there are fishermen and they also sell some items. Some cruise tours offer this activity.
It is interesting that you spend two or three days floating on the water. Seeing floating houses is the thing that you should not miss while kayaking or watching from the sailboat. You will be immersed in a peaceful space, firsthand the majestic natural scenery and learn the cultural life of fishermen. All their daily activities such as cooking, working and studying happen there. Four major floating villages in Halong Bay are Cua Van, Vung Vieng, Cong Dam, and Ba Hang.
Taking cruising boat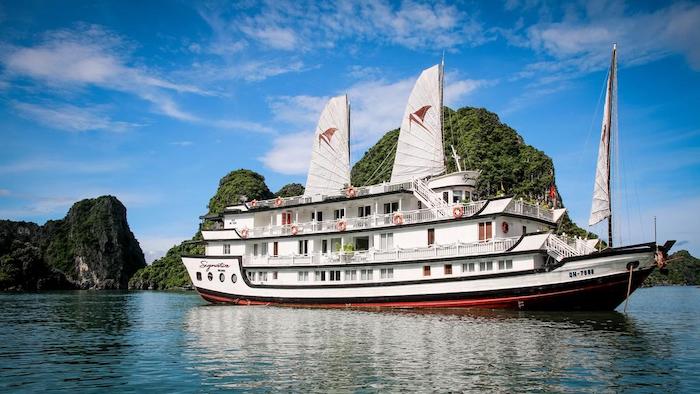 Having a cruise tour on Halong Bay
Taking a cruise boat is one of the most popular and interesting things for tourists when visiting Halong Bay. All the cruise boats offer a lot of excellent services. You do not have to worry about where to stay because you will stay overnight on the boat, in the luxurious cabins like the rooms in the hotel with full equipment.
With the special itinerary that they provide, you can explore magnificent caves, go swimming or kayaking in beautiful beaches, do Tai Chi exercise in the early morning, participate cooking class to learn how to cook Vietnamese traditional dishes, experience night squid fishing, visit floating village and much more. At present, it is very easy for tourists to book a cruising tour in Halong Bay because there are hundreds of cruise boats there from the budget to the luxury ones.
Admiring Halong Bay from the seaplane
If you want to see the panoramic view of Halong Bay from above, the seaplane will be the best choice. Arranged at the most beautiful and suitable time, the 25-minute flight will amaze you. Each flight can contain a maximum of 12 passengers and two pilots.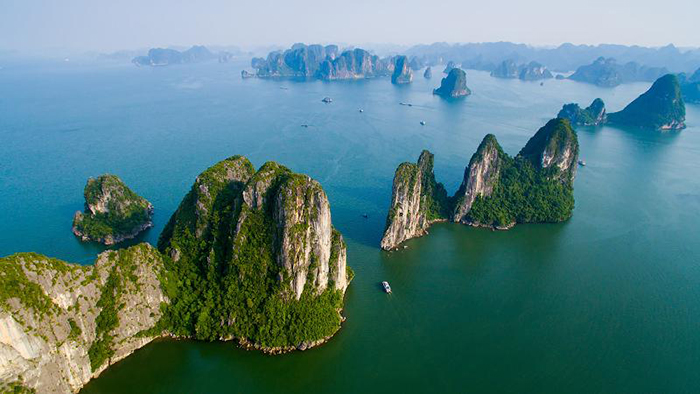 Halong Bay view from above
Thanks to the spacious windows, you can admire the stunning beauty of Halong Bay and capture the memorable moment from the altitude 150 meters - 3000 meters above the sea level. From the seaplane overlooking down, the panorama of Halong Bay with nearly 2000 islands appearing lively and magically undulating on the turquoise beautiful sea water.
There are also many other interesting things awaiting you in Halong Bay. Take your backpack and get there right now. You can also refer to Asia tours via our website. If you find this article useful, share with others. Thank you!