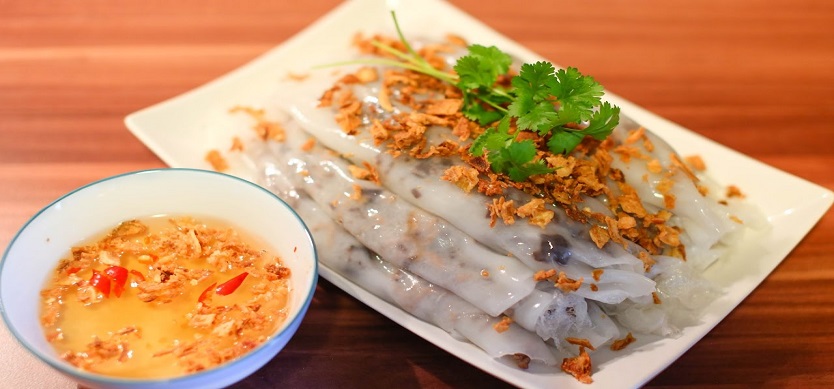 Originating from Northern Vietnam, banh cuon (steamed rolled rice cake) is a popular dish with tons of flavor. The way of making banh cuon is considerably unique and complicated. That may be the reason why everyone frequently has this dish in the stores, instead of preparing for themselves. Banh cuon is one of the most renowned street foods in Hanoi that is the cuisine center of Northern Vietnam. Here are the best banh cuon stores in Hanoi, which are worth exploring. Do not forget to take Asia vacation tours to get more information about what you need to travel to Vietnam.
What is banh cuon?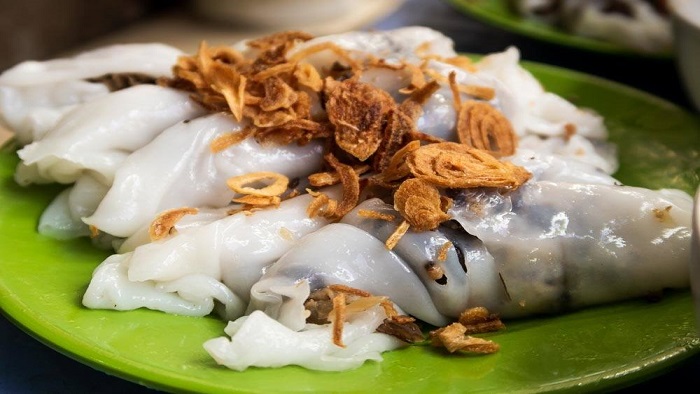 The best banh cuon shops in Hanoi
In fact, banh cuon is the steamed rolled rice cake. In which, the thin sheets of rice batter is wrapped with the savory filling and dipped with the sweet-sour dressing made of nuoc mam (fish sauce). The rice is ground, then mixed with water to make the batter that is considerably washy. A thin layer of rice batter is spread on top of a cloth stretching over a boiling water pot that is covered with a lid. The rice batter is steamed until it is cooked thoroughly. However, actually, this takes less than 1 minute. The cook will gently lift off the steamed thin sheet with a long stick. You will be surprised to witness how skillful the cooks do this. To make the filling, ground pork is stirred with onion, wood-ear mushroom. The silky layers of rice batter get on really well with the flavorful savory filling. The crispy fried shallot causes a plate of banh cuon much more aromatic. Adding some majoram (rau kinh gioi) and some cha que (Vietnamese roasted cinnamon pork), dipping with the light dressing, you have a glorious dish that will surely boom in your mouth.
Banh cuon Ba Hanh
Address: 26B Tho Xuong street, Hoan Kiem district
In Vietnamese, "Ba" means "Mrs" while "Hanh" is the private name. Being an artisan from Thanh Tri village (nowadays Thanh Tri ward, Hoang Mai district) that has been famous for making banh cuon, with the brand of "Banh cuon Thanh Tri" spreading out the whole nation, Mrs. Hanh is the chief in the store. Making banh cuon requires the cook to be patient and dexterous. Seeing her make banh cuon, you can't help being admirable to this skillful cook. Every step is performed meticulously. In Banh cuon Ba Hanh, every ingredient is selected carefully to create the most nutritious, delicious and freshest dish. In which, the most important thing is to choose the best rice.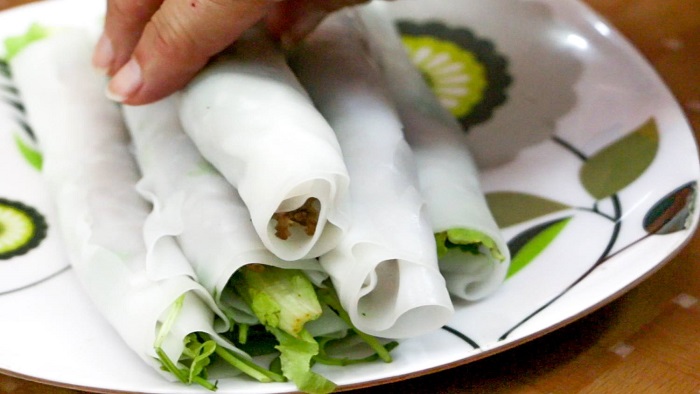 The best banh cuon shops in Hanoi
The outstanding thing about Banh cuon Ba Hanh is the rice batter made of Khang Dan rice that isn't too hard or sticky. The dressing of the store is assessed to have a tangy aroma, mixing so well with rolled rice cake that is incredibly thin, tough and full of rice fragrance as well as includes the tasty savory filling. It is no surprise that Banh cuon Ba Hanh has been remarkable among several the stores buying this food in Hanoi. Many of local people, as well as foreign travelers, visit Banh cuon Ba Hanh to enjoy the exquisite flavor of banh cuon that is the cuisine quintessence of the thousand-year capital.
Banh cuon Thanh Van
Address: 12-14 Hang Ga street, Hoan Kiem district
Located in a hub street of Hanoi Old Quarters, banh cuon Thanh Van is favored both by the residential and the overseas tourists. The distinctive thing of banh cuon Thanh Van is that there are two types of filling: pork and chicken. Chicken is not popular meat used to make banh cuon. However, lots of customers like to choose the chicken filling to experience a new taste of this traditional dish. The chicken filling is considerably fine by the eaters. Another interesting thing of banh cuon Thanh Van is that the guests can add the attar of belostomatid to the dressing to make it have a distinctive aroma, which may give you an exciting culinary experience. In the store, the fried shallot is handmade so it is fresh and has a much more delicious flavor than that of other stores. A serving of banh cuon includes a plate of steamed rolled rice cake that is topped with some fried shallots and cilantro and some pieces of cha que that are relatively thick. If you set foot on Hanoi Old Quarter, don't miss the chance to have banh cuon Thanh Van.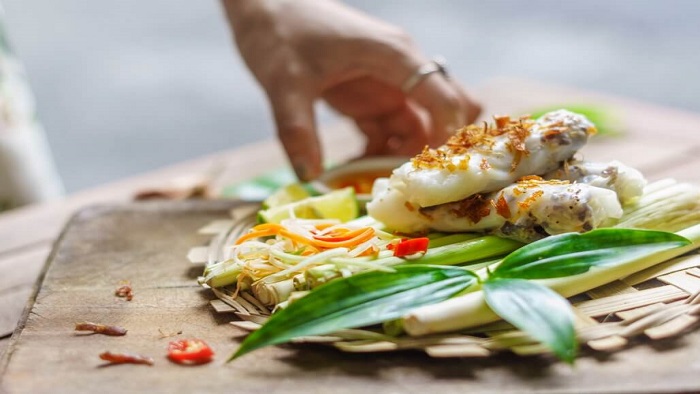 The best banh cuon shops in Hanoi
Banh cuon Ba Hoanh
Address: 66 To Hien Thanh, Hoan Kiem district
Being supposed to have the authentic traditional taste of banh cuon Thanh Tri, banh cuon ba Hoanh attracts the customers with the rice sheets which are made available instead of just being made as soon as the guest's arrival is thin, chewy and silky. The characteristic thing about banh cuon Ba Hoanh is the cake has no filling. The cake is eaten with cha que (roasted cinnamon pork) and grilled pork that is crunchy, flavorful and becomes the hallmark of the dish. Cha que and grilled pork are put into the bowl of dressing directly with little ground pepper sprinkled on top. The cake is also served with majoram (rau kinh gioi) to raise the aroma of the dish. It's not difficult to see that the store is always jam-packed with customers, especially in the morning.
Banh cuon is a special dish made of rice that is the grain Mother Nature offered. Once you have tried this exquisite traditional dish, its wonderful unmistakable flavor will leave a strong impression on your mouth. Let's visit these above banh cuon stores and have an exciting culinary experience in Hanoi. Why don't you stand up and take Vietnam tour packages right now? Vietnam is waiting for you. Share the post if you find it useful.