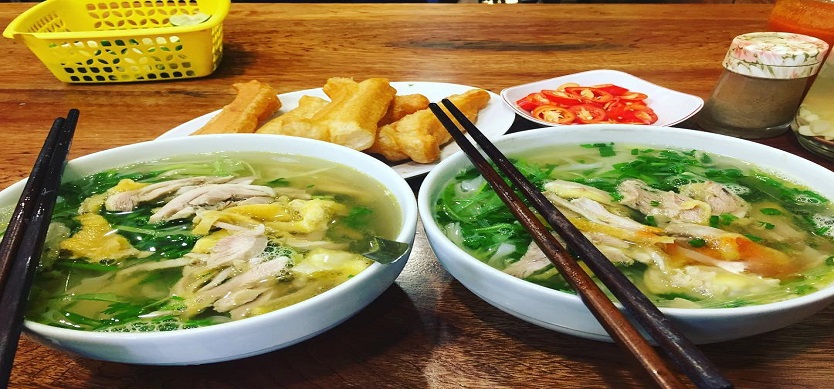 Being supposed to be "the national dish", pho (a kind of Vietnamese noodle) impresses the eaters with the exquisite flavor. Undoubtedly, pho deserves to be listed on the best food in Vietnam. Being the cradle of pho, Hanoi is considered to have the most famous pho store in the whole country. Here are the best pho stores in Hanoi, which are worth trying.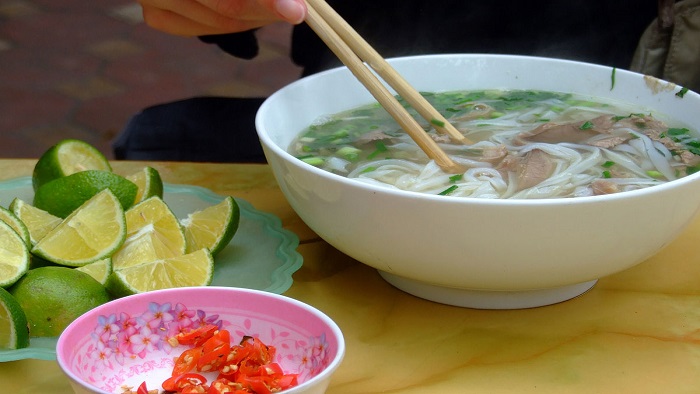 The best pho stores in Hanoi
Pho is a type of Vietnamese traditional noodle made of rice. Pho can be cooked in several ways such as pho soup with beef or chicken, rolled pho (pho cuon), stirred pho, dry pho (mixed pho) or fried pho. Each dish has its own distinctive delicious flavor. However, pho soup with beef seems to be the most popular one. For pho soup, pho is served with boiled or poached parts of beef. To make the broth, the beef bone is stewed for hours so that only quintessence is kept. To make the broth aromatic, some spices such as ginger, onion, cinnamon, and etc are added to the broth. Besides, rolled pho is the large flat rice noodle (banh pho) rolled with stirred beef and several kinds of herb such as mint, cilantro, and lettuce. Rolled pho is dipped with the sweet-sour dressing made of nuoc mam (fish sauce). Stirred pho is pho that is stirred with beef and various kinds of vegetable while for dry pho, pho is mixed with a special dressing, chicken and some herbs. To make fried pho, pho is fried until it is crispy and has the golden brown color. A mixture of stirred beef and vegetables is put into the previously fried pho.
Pho bo Gia Truyen (Bat dan pho)
This store is also called Bat Dan pho since it is located in 49 Bat Dan street. Being one of the most famous and oldest pho stores in the Old Quarter, Bat Dan pho has operated for over 70 years with the secret recipe that is passed down from generation to generation. In Bat Dan store, pho still keeps the authentic ancient flavor of Hanoi pho. From the early morning, the store is quite crowded so the customers will have to queue up and wait for their turn. This may take time. The customers must carry their bowl to the table by themselves. However, in return, you will have a chance to enjoy a hot bowl of pho with the flavorful aromatic broth, the thin tender slices of beef and the silky pho strips. It's totally worthy, right? Moreover, if preferable, you may have a poached egg that gets on really well with a bowl of pho.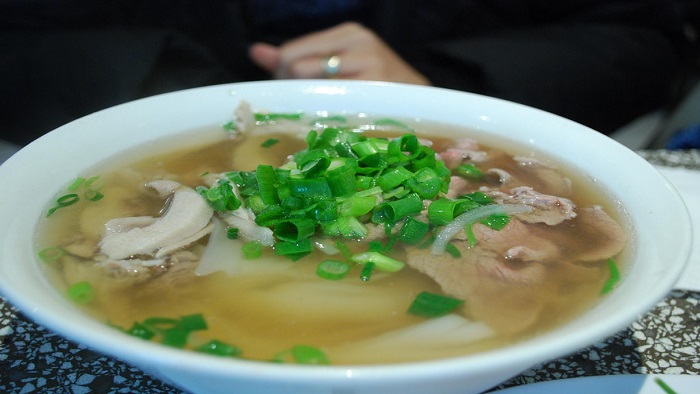 The best pho stores in Hanoi
Ly Quoc Su pho
Being one of the most famous brands of pho nowadays, Ly Quoc Su pho has various branches across Hanoi. However, if you like to try the most authentic and exquisite flavor, you are highly recommended to visit the store of Ly Quoc Su at 10 Ly Quoc Su street that is the original store. Despite being one of the most expensive pho stores in Hanoi, Ly Quoc Su is jam-packed most of the time. Even sometimes, the store is out of pho strips so despite having come already, the customers still accept not to be served. If the store is crowded, normally you have to wait for 10-15 minutes. The staffs will arrange the table for you. Not only the locals but also the foreign travelers choose Ly Quoc Su pho. A bowl of pho here is evaluated to be considerably large with lots of pho strips and beef. The broth is described to be good, delicate and characteristic. The price of a serving is about 65,000-80,000 ($3.4-4).
Thin pho
The outstanding thing about this store is that instead of being boiled or poached, the beef is stirred rare with ginger, shallot, and garlic. The stirred beef is not only incredibly tender but also flavorful and full of herb fragrance while the broth is assessed to be distinctive with the creaminess and the good flavor. A bowl of pho has lots of green onion and beef. Even the big eaters are full after finishing a bowl of pho here. The store is mostly crowded however the service is considerably fast. Youtiao is served freely. However, the drawback of the store is the small space. In the summer days, the customers may feel hot and stuffy in case of sitting in the store.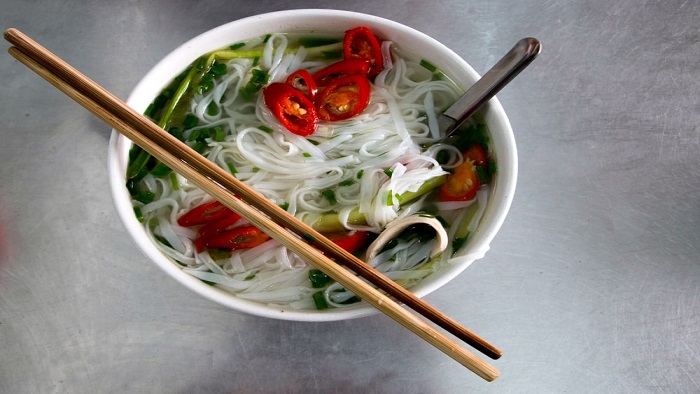 The best pho stores in Hanoi
Hung Ben rolled pho
This store is extremely renowned for rolled pho. Being a pioneer shop selling rolled pho, Hung Ben is for those who get bored with the traditional soup pho. Rolled pho is highly evaluated by the guests. Banh pho (large flat pho) is silky but chewy, rolled with the stirred beef that is seasoned flavorful and the fresh cilantro and lettuce. Rolled pho is dipped with the sweet-sour dressing with papaya pickle. A serving of rolled pho has 10 rolls, sufficient for 2 people. Moreover, you are also suggested trying sour pho and fried pho. Sour pho is pho mixed with the special thick sauce which the dominant flavor is sour. You can have traditionally fried pho or the egg fried pho that is a unique dish only found in Hung Ben. Banh pho is fried in the hot oil until it bloats and has the golden brown color. Fried banh pho is not oily but super crispy. For traditional version, banh pho will be topped with the stirred beef and the mustard greens. The only difference of egg fried pho is an extra layer of fried egg on top of fried pho, together with the stirred beef and vegetable. The topping is truly gourmet. Don't hesitate to try fried pho and have a unique cuisine experience.
It seems not to be convincing if you set foot on Hanoi without trying pho. Let's visit these above famous pho stores and its wonderful flavor will surely boom in your mouth. Having pho and you will feel the Hanoi spirit in that. Moreover, why don't you take Vietnam package tour to get more information about how to travel in Vietnam between cities. Vietnam is waiting for you. Share the post if you find it useful.