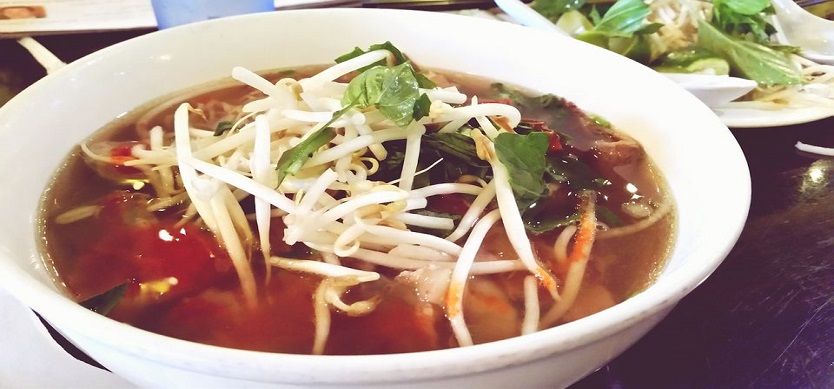 Noodle is an indispensable part of Vietnamese cuisine. Instead of being made of wheat flour like the Western, Vietnamese noodles are made of rice flour since rice is the most popular type of grain in Vietnam. In Northern Vietnam, there are lots of noodle dishes with the distinctive exquisite flavors which are difficult to find outside this region. Here are the best traditional noodles in Northern Vietnam, which you can't pass. Do not forget to take Asia tours package to get more information about what to eat in Vietnam.
Flat rice noodle (Pho)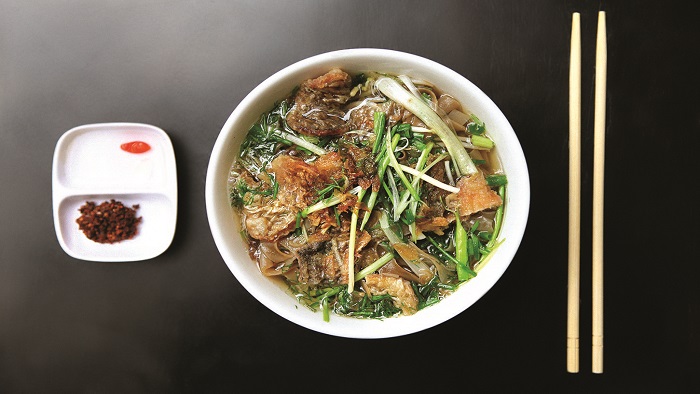 The best traditional noodles in Northern Vietnam
It's greatly faulty to mention Vietnamese noodles without talking about pho that is a flat type of rice noodle. Pho has several types including pho soup, with beef or chicken, rolled pho (pho cuon), stirred pho, dry pho (mixed pho) or fried pho. Each dish has its own distinctive delicious flavor. However, pho soup with beef seems to be the most popular one. Pho strips must be flat and full of rice fragrance. The broth of soup pho is made by stewing the beef bones for hours with several kinds of spices including hoa hoi, thao qua, cinnamon, pepper, onion. The broth will absorb the quintessence of the herbs and become incredibly aromatic. The spiciness of the herbs gets on really well with the sweetness and creaminess from the beef stock while beef must be tender and crunchy. Squeezing little lemon, adding some youtiao and you have an extraordinary bowl of pho. Hanoi and Nam Dinh are two places that are considered to have the most delicious pho in Northern Vietnam. In general, Hanoi pho and Nam Dinh pho have something in common. However, Nam Dinh strips of pho are thinner than that of Hanoi. Besides, a bowl of Nam Dinh pho has more pho strips than Hanoi pho does.
Vermicelli with fried tofu and fermented shrimp paste (bun dau mam tom)
"Smell like hell, taste like heaven" is a sentence that is frequently used to describe mam tom (fermented shrimp paste). Instead of keeping pure, mam tom is mixed with some sugar, chili, shallot and lime juice in order to reduce the saltiness and add the aroma. Despite being assessed to smelly by some person, actually, mam tom is flavorful. Mam tom combines perfectly with vermicelli, fried tofu that is soft inside and crispy outside, and herbs, creating an exquisite dish. Type of vermicelli used to make this dish is bun la (vermicelli leaf), instead of rice noodle strips. Nowadays, more ingredients are added to bun dau mam tom including boiled pork and bowel, doi (pork blood sausage), spring rolls, cha com (the savory green rice cake) or nem chua (deep-fried pork roll) so that the dish is tastier and more diverse in texture.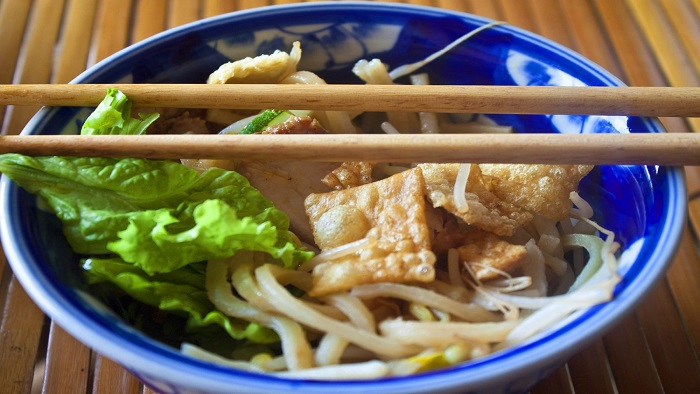 The best traditional noodles in Northern Vietnam
Vermicelli with grilled pork (Bun cha)
Originating from Hanoi, bun cha is a popular dish for Northern people. Despite being considered to be similar to bun thit nuong (the same ingredients)of the South, bun cha has its own distinctive good flavor. Vermicelli is eaten with the pork that is seasoned flavorful is grilled directly on the pink coal, the sweet-sour dressing made from nuoc mam (fish sauce) and several herbs. To keep the most authentic flavor of bun cha, the used herbs must include majoram (rau kinh gioi) and perilla. The outstanding thing about the dressing is that it must be delicate with the balance between the sweetness, sourness, and saltiness. The dressing is often put into a bowl with papaya and carrot pickle that creates the crispiness for the dish.
Glass noodle (mien)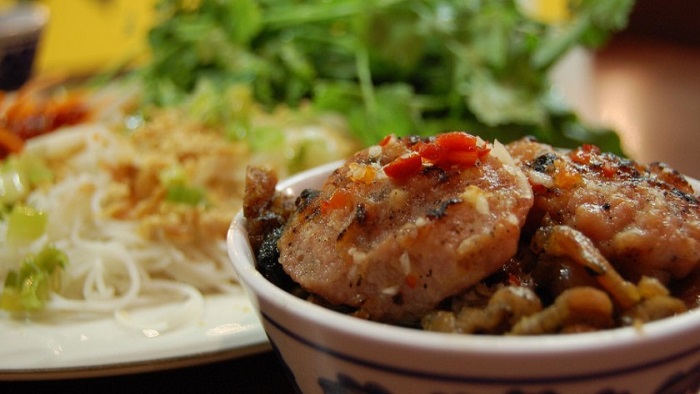 The best traditional noodles in Northern Vietnam
Being made of canna starch, the glass noodle is a common dish in Northern families. The party of the North can't lack the boiled chicken and the chicken stock is frequently used to cook with the glass noodle. Moreover, the glass noodle can be also cooked with the bamboo shoot rib soup as a dish on a special occasion. Another fanciful dish is stirred glass noodle. The noodle is stirred with meat and various vegetables, which is not only tasty but also extremely nutritious. Eel glass noodle which is imported from the Central is also an attractive dish. Eel is deep-fried and becomes super crispy. There are two types of eel glass noodle: dry and wet version. Dry noodle is served with the thick dressing while for the wet version, the aromatic broth is poured over noodle. Bac Kan and Cao Bang province are two locations that are famous for making the glass noodle.
Red noodle (Banh da do)
Being the specialty of Hai Phong, the red noodle is a unique one of Northern Vietnam. Despite being called the red noodle, in fact, the noodle has the color of light brown that originates from the caramel. It's strongly believed that Hai Phong people add the caramel to the noodle to make it more flavorful and chewy as well as be stored longer, especially when the fridge is not available and the food goes off easily. Crab red noodle is a specific dish of the port city with the characteristic lovely flavor. A full bowl of crab red noodle consists of many items including the crab paste, the pork wrapped in betel leaf, cha ca (fish cake), fried tofu, the water spinach, some tomato slices, and the fragrant broth. Crab red noodle is served with some herbs, especially the dish can't lack banana blossoms. Put some chili paste and little garlic vinegar, and you have a wonderful bowl of crab red noodle. Be ready to let the stunning flavor boom in your mouth.
Do you like to have the authentic cuisine experience like the locals? If so, these above tasty dishes are must-have. Once you have had these above noodle dishes, their exquisite flavors will certainly linger long in your mouth. Why don't you stand up and take Vietnam tour packages right now? Vietnam is waiting for you. Share the post if you find it helpful.