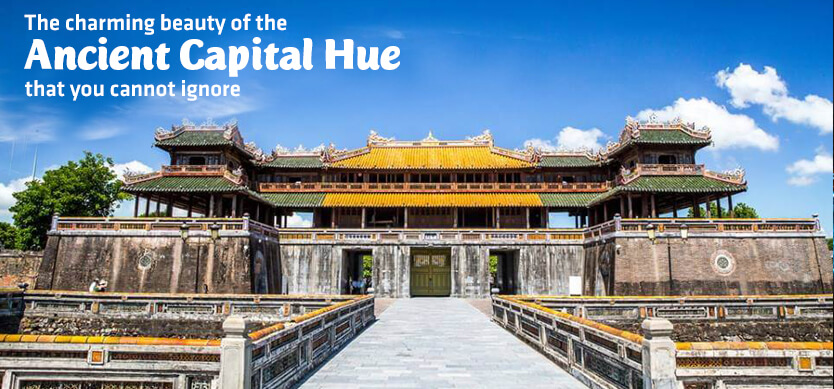 Hue is home to numerous palaces and ancient temples which bring the ancient emperors. Everyone wants to travel Hue once to see the vivid evidence of the last feudal dynasty. If you have the chance to take a tour to Asia, don't miss this attraction.
Must-see attractions in Hue
Imperial City of Hue
The Imperial City is the first place that you should visit when traveling to Hue. After more than 100 years, the number of massive architecture in the Citadel is only less than half the original number but still carry ti majesty of a feudal one. This place is quite large so you should spend at least one day to visit.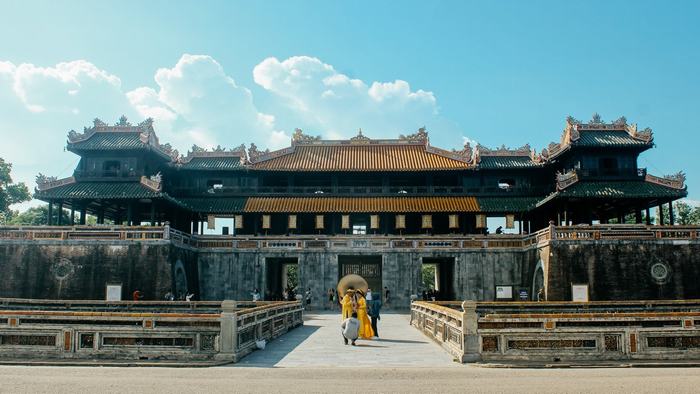 Imperial City
Listening Ca Tru on the Perfume River
The poetic Perfume River is the pride of Hue. In the evening, you can buy a ticket for 50,000 VND sitting on a boat to see the ancient city during the night and listen to the tunes that bring you back to the past.
Hue Imperial Museum of Fine Arts
Situated in Long An Palace – the most beautiful palace in the Nguyen Dynasty Palace system, Hue Imperial Museum of Fine Arts is the place to display the collections of antique furniture, coats, and belongings of the Nguyen Dynasty. The architecture is furnished beautifully in the royal style.
Hue Imperial Museum of Fine Arts
Tombs
Visiting tombs of Kings is the activity that you should not miss when travelling to Hue. The tombs of the King in Hue have their own characteristics and interesting historical stories. However, the tombs are far apart from each other and not located in the center of the city. You should rent a car or taxi for a tour visiting Tu Duc Tomb, Minh Mang Tomb, and Khai Dinh Tomb.
Thien Mu Pagoda
With the magnificent but equally pure and poetic beauty, Thien Mu has been attracted a lot of tourists since it was built over 400 years ago. To go to Thien Mu Pagoda, you can go boat along the Perfume River. It's extremely romantic.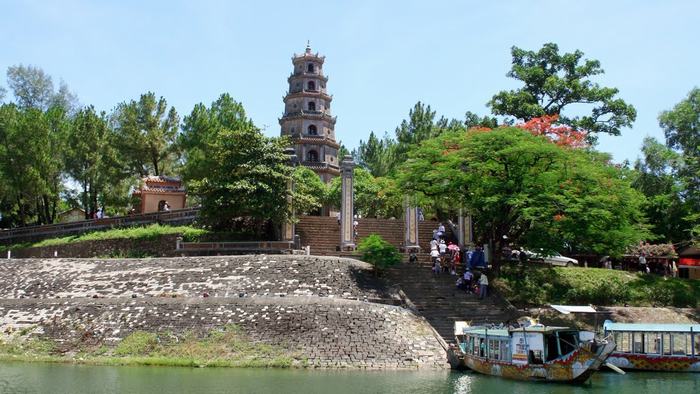 Thien Mu Pagoda
Ngu Binh Mountain
Along with the Perfume River, Ngu Binh Mountain is the second gift of nature to create the charm of Hue and becomes a symbol of Hue nature. From the mountain, you can view famous landmarks and natural scenery around the city.
Bach Ma Mountain
Located about 60 km from Hue City, Bach Ma Mountain is famous for its spectacular streams and waterfalls such as 400m high Do Quyen Waterfall. Famous in nearby Hue such as Hai Van Pass, Tuy Van Mountain, Cau Hai Lagoon and Hue at night can be viewed from the top of Bach Ma Mountain.
Must-try experiences in Hue
Zipline and highwire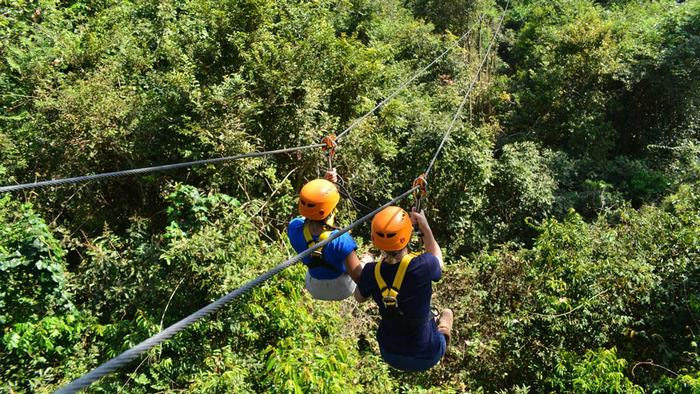 Zipline and highwire
Zipline is no longer strange to young people which have appeared in some places such as Quang Binh, Dalat or Lam Dong. And now it appears in Hue. By hanging on long cables and sliding down from the top of the mountain to the foot of the mountain, you will experience an extremely exciting experience from an extremely high altitude setting.
Unlike the zip line, highwire is a series of challenges that require ingenuity and flexibility. There are 3 periods with different challenges such as bridge zigzag, swing and bridge grid. There is a staff to guide and follow you to make sure your safety. To go through all the challenges, you will need about an hour of climbing on strings which are about 5 meters from the ground.
Bath in the hot mineral springs
Situated in the tourist area of Thanh Tan, the natural hot springs system here attracts so many local and international tourists. Mineral springs are particularly hot at temperatures from 30 degrees and up to 60 degrees Celsius. In addition, there are games such as the slide in the water park which the young people really enjoy.
Where to stay when traveling to Hue
There are numerous hotels and homestays in Hue to meet the demand of tourists. You can easily choose a suitable one depending on your budget. Below are the most popular ones: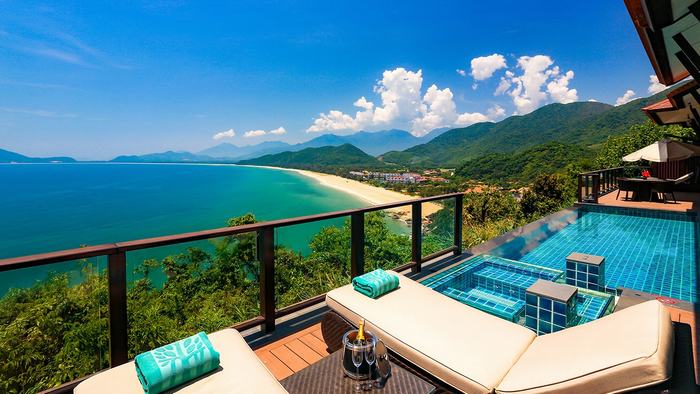 Banyan Tree Lang Co Resort
Angsana Lang Co Hue
EMM Hotel
Banyan Tree Lang Co Resort
Ana Mandara Hue Resort & Spa
Alba Wellness
Best places to take photos in Hue
Trang Tien Bridge
Trang Tien Bridge is the destination that you should not miss when traveling to Hue. The romantic and poetic scene will surely bring you impressive pictures of the historic bridge of Hue.
Trang Tien Bridge
The Perfume River
Coming to Hue, the first place to visit is probably the Perfume River. The lyrical beauty of this river touches the hearts of many nostalgic people. Perfume River is 33km long. All the scenery along the Perfume River is suitable for you to save beautiful photos.
Thuan An and Lang Co beach
As one of the 20 beauties of ancient Hue, up to now, Thuan An Beach still attracts tourists to Hue. The combination of sunshine, blue sea, and white sand is very suitable to save beautiful pictures. If you come to Lang Co, you can take pictures with white sand dunes, then in Thuan An Beach, you have beautiful pictures, glittering yellow sand dune.
Hope that our guides can help you know more about Hue and have an easier trip when traveling there. For more detail about Asia vacation tours, you can visit our website. Share this article if it's useful for you. Thank you