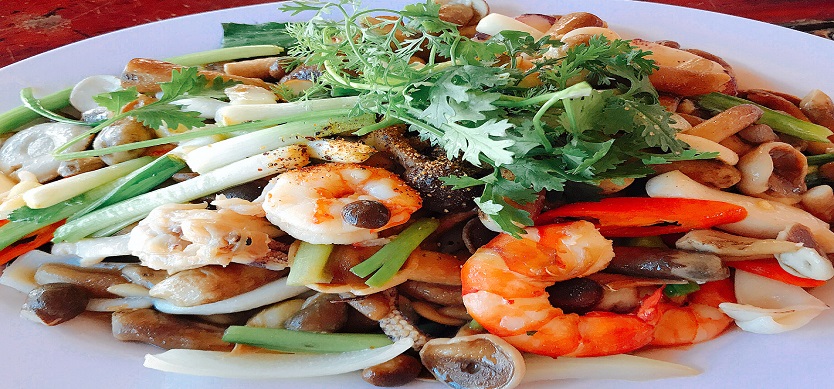 Not only is famous for breathtaking landscapes with numerous beautiful beaches, Phu Quoc Island is also well-known for its stunning cuisine. If you have the opportunity to take Vietnam tour packages, don't miss these famous dishes below.
Tram mushroom soup
Traveling to Phu Quoc, you shouldn't miss the chance to try Tram mushroom – the specialty of Phu Quoc. Tram mushroom is purple, its life cycle is about one month. People on the island have a harmonious combination of mushrooms and fresh seafood such as squid, shrimp, and oysters to make a delicious dish that is nutritious. The dried mushrooms could be fried with abalone or sea cucumber.
Herring salad
In the richness of the seafood and the originality of processing, the herring salad has become the bold flavors of Phu Quoc that many people love.
The harmonious blend of fresh fish meat with ingredients such as onions, purple onions and scraped coconut to bring a delicious flavor of the sea. The process to make herring salad is very marvelous and you have to choose the fresh fish meat. When eating this dish, mix the ingredients with fish meat and sour sauce made from chili, garlic, and roasted peanuts.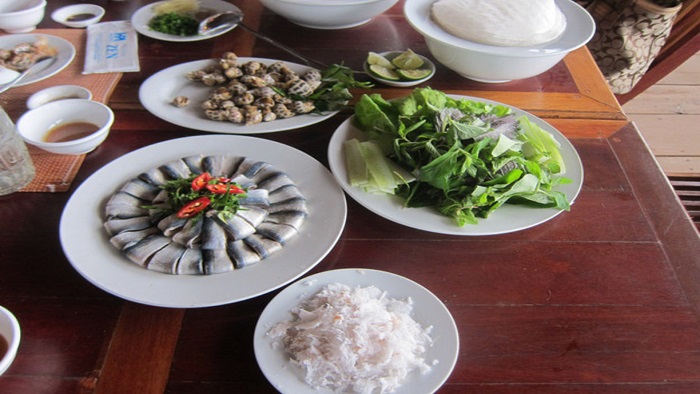 Herring salad
Grilled abalone
Abalone is one of the most famous food in Phu Quoc. Fresh abalone can be made many kinds of food by boiling, grilling, frying or making porridge of which the most attractive dish is the abalone grilled on the charcoal fire. As soon as the mouth of the abalone opens, we pour a sauce mixed of green onion, garlic, and sliced ginger and enjoy right when it's hot to feel the sweetness of the dish.
The abalone shell is also used by the Oriental medicine called "thach quyet minh". Many studies have shown that the abalone shell contains calcium carbonate, magnesium, iron, silicon, phosphate, and chloride. According to Oriental medicine, abalone shell can cure dizziness and headache.
Ham Ninh crabs
Crab is a very popular seafood and is abundant in the sea. Apart from enjoying grill abalone and drink rose myrtle wine (sim wine), you can also try fresh Ham Ninh crab. This crab is small but has firm meat and unique flavor.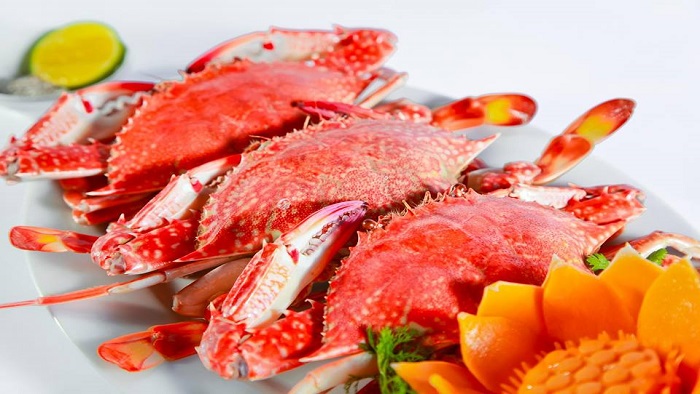 Ham Ninh crab
Grilled spike snails
The spike snails are abundant in Khem Beach and Star Beach Phu Quoc. This snail is relatively rare, so they are rarely sold at seafood stores like other snails. There are many ways to make this dish such as grilling, boiling, frying with garlic, steaming with ginger, and salad mixing but the most popular ones are boiling and grilling.
The grilled spike snails have a unique taste. When eating, use the bamboo toothpick to spit out the meat. The smell of the dish can stimulate the taste, making people eager to eat.
Grilled horn scallop
Horn scallop is a triangular shaped shell, large as the size of the adult hand and lives deeply under the sea. It's one of the most famous specialties in Phu Quoc.
The horn scallop is processed into many delicious and strange dishes such as sweet and sour fried dish, steamed dish, soup or hotpot. For the gourmet who wants to enjoy the pristine flavor of the sea, nothing is better than grilled horn scallop with chili salt. `The horn scallop is cut into short circles, marinated then peeled into a stick. The horn scallop must be roasted on a charcoal fire.
Phu Quoc Sea Cucumber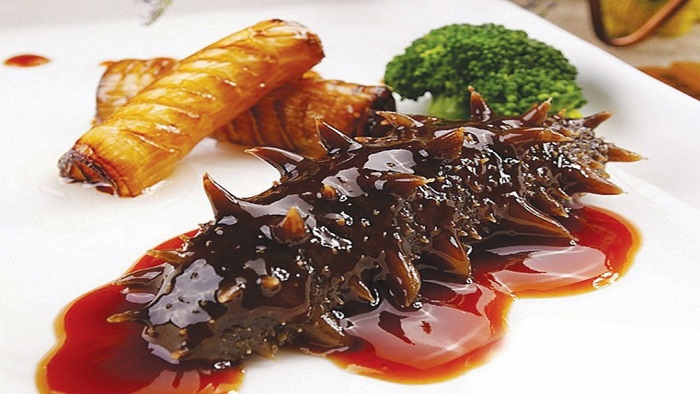 Phu Quoc sea cucumber
In the Phu Quoc sea, there are a lot of sea cucumbers that people call "Don dot" or "dot ngau". This is a favorite seafood because of high nutrition. The sea cucumber is relatively rare but you can find in Ham Ninh Market. It has been classified as 4 kinds of precious food along with monkey brain, bear hands, and bird's nest. The price also increases several times.
The delicacies processed from sea cucumber are fried sea cucumber with herbs, sea cucumber with quail, sea cucumber cooked with papaya, fried sea cucumber with borecole, etc of which the most popular one is sea cucumber soup.
Mat Cat sticky rice cake
Mat Cat sticky rice cake is a popular cake in Phu Quoc, is the unique feature of this land.
The ingredients to make the cakes are sticky rice, green bean, and pork. The cake is wrapped by palm leaves and not packaged into round shape but the triangle ones. The leaves must be dry, wash and wipe with oil to make it soft.
Phu Quoc Rose Myrtle Wine (Sim Wine)
Sim Wine is a specialty of Phu Quoc made from rose myrtle fruits. The roots, leaves, and fruit are used as traditional medicine. The sim wine is very good for the digestive system, blood and help sleep well.
These dishes above enrich the beauty of Phu Quoc cuisine becoming one of the reasons for tourists to visit this stunning island. For more information about best places to see in Vietnam, you can visit our website. Share this article if you find it useful. Thank you!