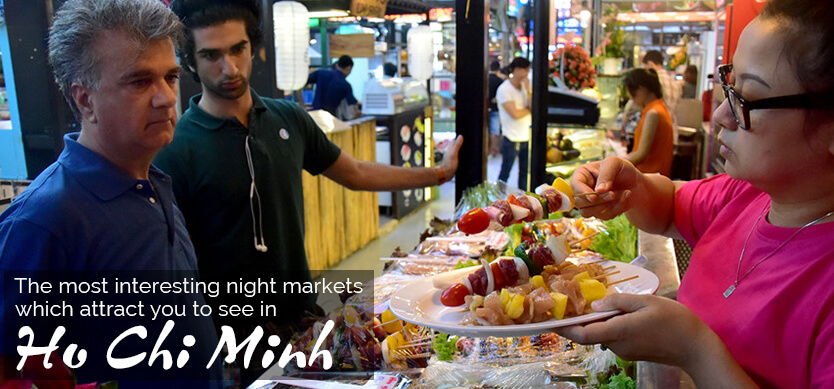 Night markets have become one of the featured cultures in Ho Chi Minh City - the must-see attractions when traveling there. If you get the opportunity to take Vietnam tours, do not miss these night markets below.
Ben Thanh Night Market
Address: The West Gate and East Gate, Ben Thanh Market, District 1
Opening hour: 6 pm – 12 pm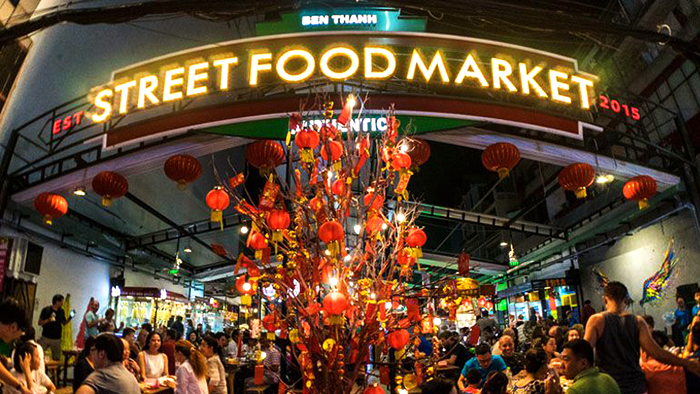 Ben Thanh Night Market
Ben Thanh Night Market is one of the most famous markets in Ho Chi Minh City that attracts a lot of domestic and international visitors. There is a variety of goods sold here, from exported goods, processed goods to high-end goods, food, vegetables, fruits, and seafood. In addition, Ben Thanh Night Market also has many handicrafts such as embroidery, lacquer painting, oil painting, rosewood, bamboo blinds, and ceramics. These works are truly masterpieces of Vietnamese artists.
The dining area is a unique feature of Ben Thanh Night Market due to typical flavors of many regions such as Hanoi noodles, Hue beef noodles, Quang noodles, or Phnom Penh noodle soup at a very reasonable price. Grilled dishes are also popular here, from grilled ribs, grilled chickens to grilled corn.
Hanh Thong Tay Night Market
Address: 10/2 Quang Trung, Ward 11, Go Vap District
Opening hours: from 6 pm.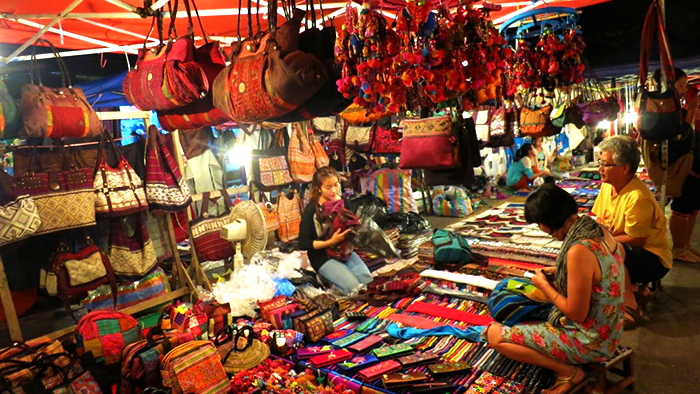 Hanh Thong Tay Night Market
Hanh Thong Tay Night Market is very popular with students because of the cheap price of goods. Coming here, you can see colorful items from clothes, shoes, bags to accessories and interesting touting of sellers. About 7 pm -8 pm is the busiest time of the market.
The accessories stalls attract a lot of customers, especially the young. You can choose for yourself the beautiful ribbons, necklaces, watches or unique handmade lace belts.
There are also stalls with fabric, cosmetics, and household appliances. After a busy day, this is the time to buy something for your family.
Minh Phung Night Market
Address: 122 Bis Minh Phung, Ward 6, District 6
Minh Phung Market, also known as Cay Go Market is a famous night market in Ho Chi Minh City. Covering a total area of 2412 square meters, the market is divided into 440 small stalls. The goods here are sold not only in the market but also on the sidewalk. The goods here are clothes, laces, backpacks, and accessories at a cheap price.
Ba Chieu Night Market
Address: 40 Dien Hong, Ward 1, Binh Thanh District
Ba Chieu Market is one of the oldest and largest markets in Ho Chi Minh City. When it is dark, the stalls in Ba Chieu Market on Bach Dang Street become crowded. Goods here are very abundant. It's easy to find clothing items here because it is the most sold one. In addition to clothes, other items such as handbags, lace belts, and jewelry are sold here. From a distance, the night market attracts visitors by bright lights, vibrant colors of goods and the bustling of buyers and sellers.
Binh Tay Night Market
Address: 57A Thap Muoi, Ward 2, District 6
Binh Tay Night Market
Binh Tay Market has existed nearly 100 years with over 2300 stalls and divided into 5 separate areas. The market was started building in 1928 and completed in 1930 by the reinforced concrete according to Western techniques but still had the Asian architecture.
The market gate has a high tower of which the style is like a pagoda with the yin and yang roof. The four corners of the market have four small huts. There are 876 booths specializing in food and spices, the major goods in the market. The goods in the market are mostly distributed in the form of wholesale for other provinces and traders in small markets in the city.
The market is the main trading place of Chinese compatriots in Ho Chi Minh City. The Chinese businessman accounts for about 25% of the total number of business households. Along the market, there are food stalls with many dishes of Southern Vietnam at reasonable prices to serve visitors and traders in the market. In the evening, Binh Tay Market is poetic with red lanterns swinging in the wind. At that time, visitors can see fruit counters with a lot of specialties from Southwest such as Hoa Loc mango, Nam Roi pomelos and Vinh Long rambutans.
Ho Thi Ky Flower Night Market
Address: Ho Thi Ky, Ward 1, District 10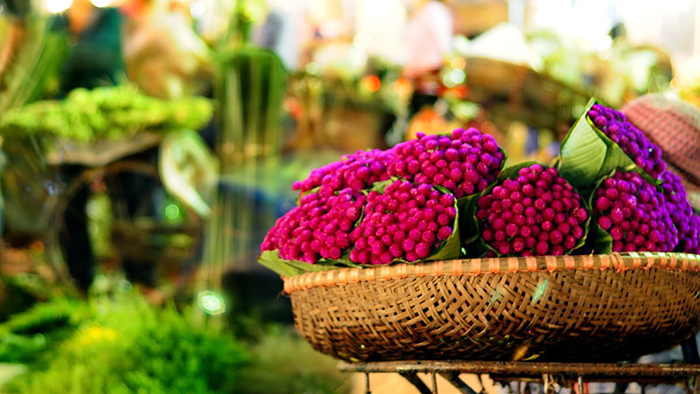 Ho Thi Ky Flower Market
Ho Thi Ky Market is the largest and most famous flower night market in Saigon opened in 1987. The market is rich in hundreds of different kinds of flowers and colors, originating mainly from Dalat and other regions such as Hanoi and the Southwest. Ho Thi Ky Flower market provides beautiful flowers at the lowest price in Saigon. From types of chrysanthemum, marigolds, gerbera, orchids, roses, sunflowers to saucers are always fresh and bright. Besides flowers, this market also sells flower baskets from bamboo, rattan and flower arrangements. The evening is the best time for visitors to explore the market.
Your trip in Ho Chi Minh City would not complete without visiting top interesting night markets here. You can also refer more information about Asia package tours via our website. Share this article with others if you find it useful. Thank you!