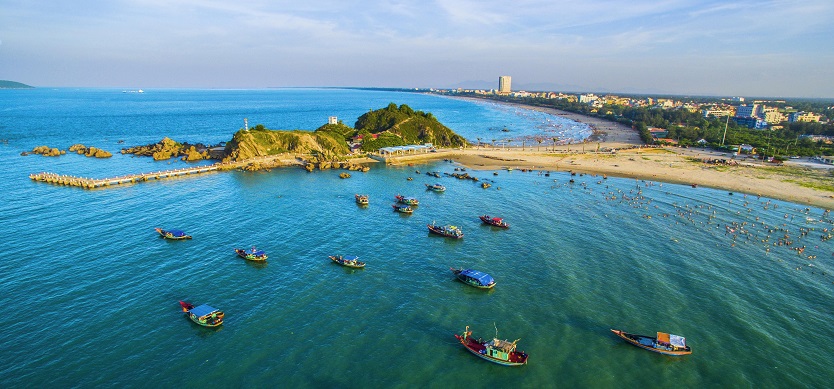 Nghe An is the hometown of Uncle Ho and many talented people throughout Vietnam history. Besides the meaningful historicals sites, Nghe An is home to lots of beautiful beaches, some of which remains unpopular for tourists. Here is our suggestion of the most stunning beaches in Nghe An, which you should not miss. Do not forget to take Vietnam tours packages to get more information about how to travel around Vietnam.
Cua Lo
Being about 18 kilometers from Vinh city to the northeast, Cua Lo is one of the most stunning beaches in the North Central, attracting a lot of visitors during summer vacation. Including 3 beaches of Xuan Huong, Lan Chau, and Song Ngu, Cua Lo owns 10km-long coastline, soft white sand, blue clear seawater, and verdant casuarina tree rows.
It's a good idea to get up early, greet the dawn, admire the fanciful beauty of the perfect harmony of sky, clouds, and sea, watch fishing boats returning to the mainland and busy commercial scenery of fishermen. Coming to Cua Lo, travelers can enjoy the delicious seafood specialties such as crab steamed with tamarind, oyster or eel porridge, grilled or steamed flashing cuttlefishes, etc and participate in sea activities such as beach volleyball, surfing, jet skiing, etc and the unique local festivals. At night, do not forget to try fishing flashing cuttlefishes – a Cua Lo specialty.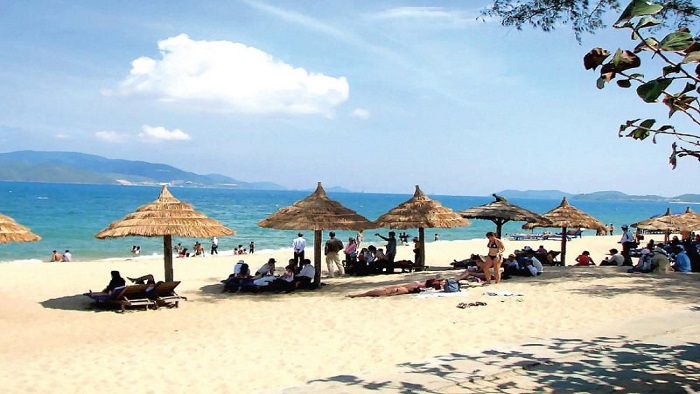 Cua Lo beach
Cua Hien
Located in Dien Trung Commune in Dien Chau district, Cua Hien is a wild beach. It is said that it is the place where An Duong Vuong king cut the head of princess My Chau, then followed the turtle lord to the sea after a myth of goose-feather coat. Cua Hien beach is quite flat with fine sand. On the beach, there are thousands of rocks in the shape of sea fish. The stone blocks along the beach resemble a "fishing ground" so the residential often call it Ngu Hai beach (beach of sea fish). There is a very high large flat stone plate which looks like a chess board. According to the legend, the male fairies frequently land on this stone to drink wine play chess and sightsee.
Cua Hoi beach
Situated between Cua Lo Beach (in Nghe An province) and Xuan Thanh Beach (in Ha Tinh province), Cua Hoi is the place where the Lam River comes to the East Sea. Cua Hoi will surely make tourists pleasant with the tranquility in the absent noon or the bustling scene of the market when the boat just returns from the sea. Nghe An people have a common saying that eating in Cua Hoi beach, swimming in Cua Lo beach. It means Cua Hoi is an ideal location of the high-quality seafood specialties. On the coastline along Cua Hoi, there are casuarina and mangrove forests murmuring with waves across the year. In the mainland, Giai Kiet islet is in a straight line with Lap Thach Mountain, creating an interesting landscape.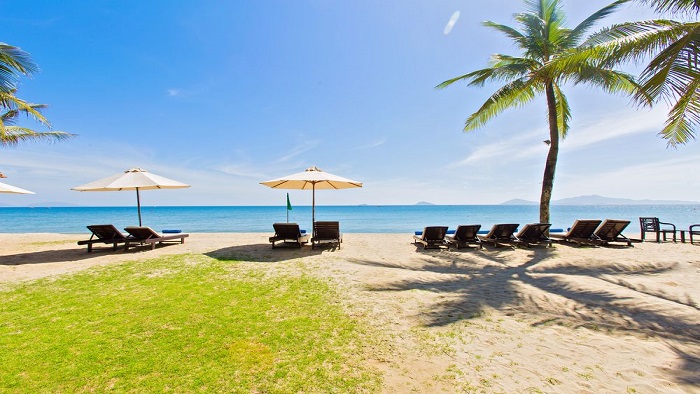 Cua Hoi beach
Quynh beaches
Being 65 kilometers away from Vinh city, Quynh is not the name of a particular beach, but a common name for seven beaches in Quynh Luu District and Hoang Mai Town. These beaches include Quynh Bang, Quynh Lien, Quynh Phuong, Quynh Luong, Quynh Nghia, Quynh Minh, and Tien Thuy.
Each beach will offer visitors distinctive experiences. Quynh Phuong is related to Con shrine - one of the four most sacred shrines in Nghe An. Quynh Bang and Quynh Lien attract tourists by the light waves while Quynh Nghia is dotted with the relics such as temples worshipping the deities of Cao Son, Cao Cac, and Sat Hai. It is also the location of the mystery Dragon Head mountain. Coming here, tourists can not only explore natural beauty but also enjoy the delicious seafood with the affordable price.
Lu beach
Lu beach belongs to Nghi Loc district in Nghe An. Its name originates from the name of mount Lu standing majestically along the beach for thousands of years. Coming to Lu beach, visitors will be overwhelmed by the perfect harmony of forest and ocean. One side is the blue crystalline water while another side is the lush green color of pine forest. The seawater is so crystal-like that you can see clearly every gravel. The stretching sandbanks look like silk strips beside Lu beach, creating the softness and charm for the beach like a girl.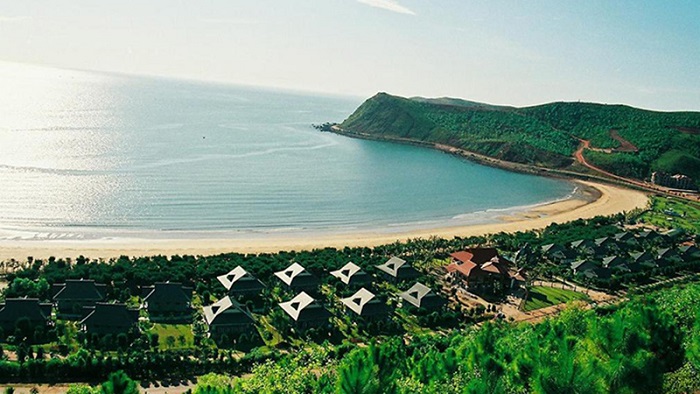 Lu beach
Dien Thanh beach
Located in Dien Chau district, Dien Thanh beach is an ideal place for those who look for relaxation. Being about 40 kilometers away from Vinh city, Dien Thanh is an expansive and sandy beach. Ocean waves are calm, and the seawater is not deep, sometimes hundreds of meters reaching your stomach. Not as noisy as other tourist beaches, Dien Thanh holds a sense of peace. People seem to become small in the space of wind, sand, and casuarina trees. Without human intervention, a whole sea remains wild. The beach is in the most beautiful state in the transfer between day and night. Walking on the shore on the smooth sand, feeling the wind blowing, watching the immense sea, visitors will feel relaxed and forget all everyday troubles.
Nghe An is evaluated to have a great potential for tourism development, thanks to the fascinating historical sites and the picturesque beaches. Apart from the famous Cua Lo beach, Nghe An owns other lovely beaches, which are worth exploring. Do not hesitate to visit these above beaches and get a relaxing time. Why don't you stand up and take Asia tours right now? Asia is waiting for you. Share the post if you find it helpful.