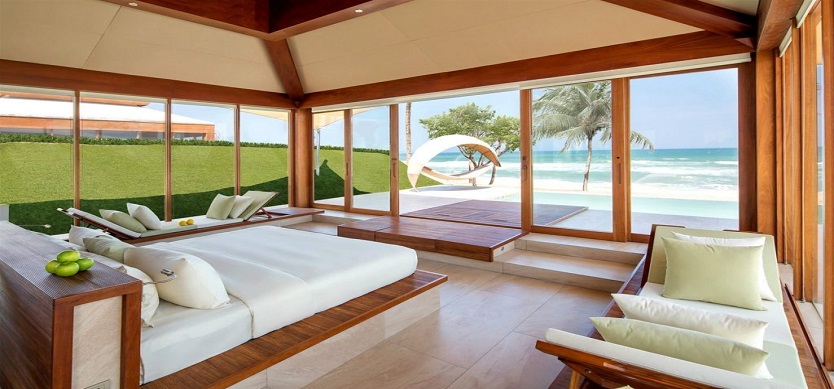 The beautiful Danang coastal city is one of the most famous tourist destinations in Vietnam, with the natural highlights, the fantastic historical and cultural sights. If you are still confused about Danang accommodation, here is our suggestion of top 10 best hotels in Danang. Do not forget to take Vietnam tours to get more information about the best places to visit in Vietnam.
Brilliant Hotel
Located in the heart of Danang City, this 4-star hotel owns panoramic views of the Han River. It's just 2 kilometers away from Danang International Airport and 7 kilometers away from Son Tra peninsular while it takes one hour to get to My Son Sanctuary. With 102 non-smoking rooms have a glamorous interior design, especially floor to ceiling windows that permit the natural light to fill the room, along with cable TV and a well-stocked minibar.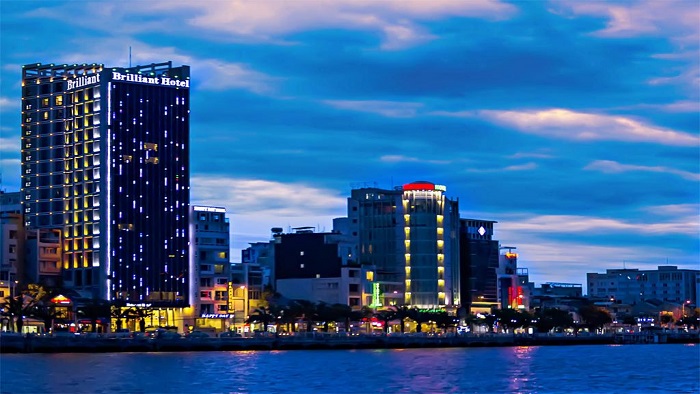 Brilliant hotel
Diamond Sea Hotel
Located in the entertainment district, just 4-minute drive from the spectacular Dragon Bridge or a 4-minute walk from the lovely My Khe Beach, Diamond Sea Hotel owns the excellent service including a 24-hour business center, the laundry services, and complimentary newspapers in the setting area.
The cozy modern architectural style combines with the high-quality amenities and facilities, which will surely make the guest feel like their house at their first stay. With 20 storeys in height, customers can get a breathtaking view from the rooftop pool while sipping the signature cocktails and enjoying the light music all around. It's such an enjoyable experience, right? Moreover, the hotel offers the roundtrip shuttle to the airport.
The Blossom Resort Danang
Staying at The Blossom Resort Danang, guest will be within a 10-minute drive of Museum of Cham Sculpture. Each room is equipped with modern and comprehensive amenities and facilities. The dry cleaning/laundry services are available. A roundtrip shuttle to the airport is provided with a surcharge during the limited time.
Fusion Maia - Spa Inclusive Resort
It's an all-villa resort, all dedicated to the only factor: relaxation. This five-star resort houses 80 chic Pool Villas, three Beachfront Villas, and four spa villas. In Fusion Mai, absolute privacy is always guaranteed, which ensure the great sense of relaxation for guests. The simple and rustic decor goes really well with the Zen-like atmosphere of Fusion Maia. Besides the high-end amenities, each villa includes a lush garden surrounding the swimming pool.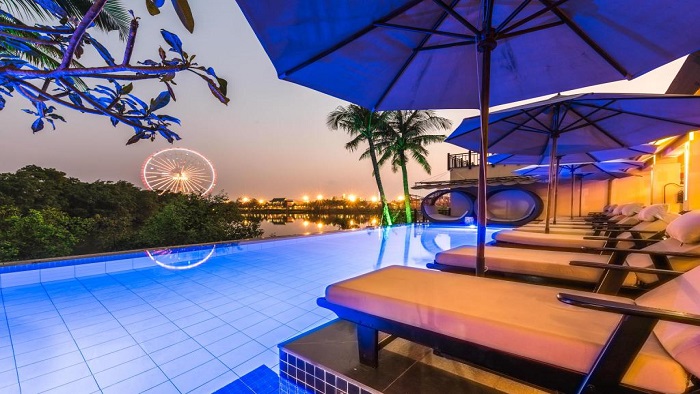 Fusion Maia- Spa Inclusive Resort
Sanouva Danang
This 79 - room opulent boutique hotel lies in the center of one of Danang's most fashionable sites. Being a 1900's heritage building, Sanouva brings the area's rich heritage to customers with the style which is a blend of contemporary minimalism and oriental highlights. Sanouva Danang has gained lots of award during its operation in the tourism field, including the winner of Experts' Choice Award in 2018.
The Blossom City Hotel
Situated on the Eastern bank of the poetic Han river, the Blossom City Hotel is a good option for all tourists who seek for comfortability and relaxation in Danang.
At The Blossom City Hotel, the world-class service quality is provided, which brings a memorable holiday to travelers. All rooms are furnished with the modern equipment, 24/24 housekeeping service, feather blankets imported from Japan, spacious bathroom and hi-tech toilet. Laptop, fax, and printer are always available for public use while professional massage service will surely meet your expectation.
Hyatt Regency Danang Resort and Spa
This five-star resort is located on the pretty Nuoc Non beach within the majestic view of the Marble Mountains and it just takes about 15 minutes to reach here Danang International Airport. This idyllic venue seems to be a perfect choice for beach lovers and families. Situated at the gateway to the dynamic Danang city, Hyatt Regency Danang Resort and Spa is a fantastic base to explore Central Vietnam's exotic charm no matter the occasion, from business meetings and intimate events to memorable family holiday.
Minh Toan Galaxy hotel
Beautifully situated in the center of Danang city, Minh Toan Galaxy hotel has been well-known for opulent accommodation, contemporary full-equipped facilities, and comprehensive services. This hotel is just about 5 minutes from Danang International Airport and it's also fairly close to famous tourist spots such as Han market, Museum of Cham Sculpture and My Khe Beach which is one of the most gorgeous beaches worldwide.
The combination of oriental and European architecture enables this hotel to be a very distinctive property of the city. All of 175 rooms are lavishly decorated and offer a breathtaking view of magnificent Danang city. Especially, the outdoor swimming pool at the rooftop, along with sky bar is a supreme area to contemplate the beautiful coastal city.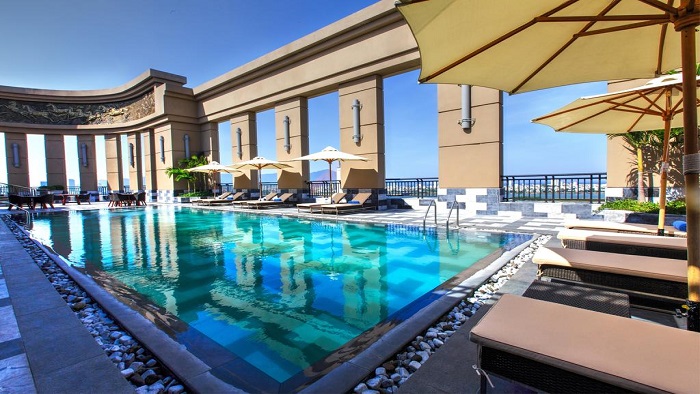 Minh Toan Galaxy hotel
Vanda hotel
Situated on one of the most good-looking streets in Danang city, right next to the spectacular Dragon Bridge, with 19 floors, Vanda Hotel houses 114 elegant rooms with opulent amenities and excellent services, which will definitely satisfy even the most demanding customers. In Vanda Hotel, the highest quality of service is always reserved for your stay.
Avora Hotel
Strategically situated at the famous Bach Dang riverside street by the splendid Han River, Avora hotel is uniquely designed. With over 30 state-of-the-art luxury rooms & suites, Avora is emerging as an ideal hotel right in the heart of Danang. Its lavishly-decorated restaurant and bar, offer an amazing culinary experience with a wide collection of food & drinks served by professional staffs.
These above hotels are ideal for tourists who look to unwind after a day of sightseeing. These properties house fashionable rooms, modern facilities, and comprehensive service at great rates. They're also situated close to the shopping venues, top restaurants, historical and cultural sights, and pretty beaches of Danang. Why don't you stand up and take Asia group tours right now? Asia is waiting for you. Share the post if you find it helpful.