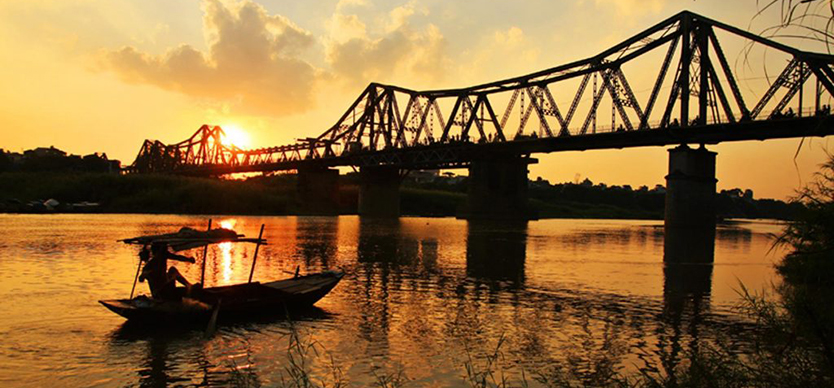 Hanoi - the 1000-year-old capital of Vietnam - is the economic and cultural center of Vietnam as well as the heart of the country where every native Vietnamese and Vietnamese-born oversea people head to. This city often is the first site in your Vietnam tour, so what it has in Hanoi? Here are the top 10 significant places to visit in Hanoi we are supposed to recommend to you.
Imperial Citadel of Thang Long
Address: Quan Thanh, Ba Dinh, Hanoi
The Imperial Citadel of Thang Long is recognized as the World Heritage Site by UNESCO, and now it is often deemed as a symbol of Hanoi. This is the ancient citadel standing at 40 meters high, it comprises the royal enclosures built during the Ly Dynasty. It is located in the central district of Hanoi and very close to many other attractions in Hanoi. Closed on Mondays.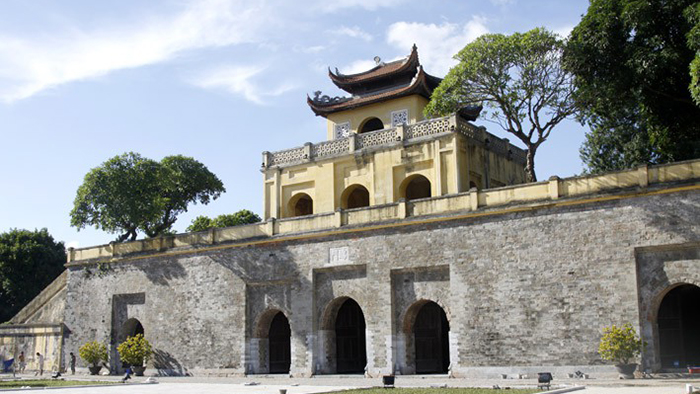 The ancient citadel of Thang Long
Ho Chi Minh Mausoleum
Address: 25 Hung Vuong, Dien Bien, Ba Dinh, Hanoi
This is the resting place of the great leader of Vietnam, Ho Chi Minh. Uncle Ho is one of the most talented leaders in Vietnam history who devoted his entire life to the independence of the country and happiness of Vietnamese people. In the mausoleum, his body is laid to rest in a glass case for tourists to show their gratitude. Visiting here, please behave and dress respectfully.
Hoan Kiem Lake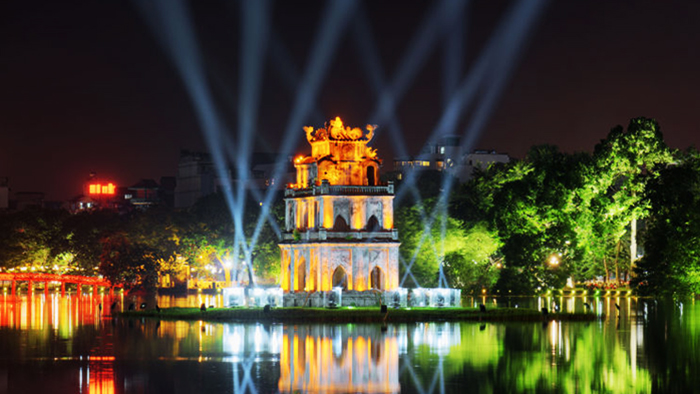 Hoan Kiem Lake
Address: Hang Trong, Hoan Kiem, Hanoi
Hoan Kiem Lake or Sword Lake is a favorite hangout spot for locals and foreigners. This is the must-see place when you come to Hanoi because, besides its natural beauty, the lake owns itself the stories and legends involving in the important stages of Vietnam history. Coming to the lake, you will see a temple on a small island in the center of the lake. It is Ngoc Son Temple, you can go to visit this temple through a graceful red bridge, The Huc bridge. This lake is an ideal destination for tourists with a beautiful background for photos, and perhaps you may even catch couples doing their wedding photoshoots.
Dong Xuan Market
Address: Dong Xuan, Hanoi
Dong Xuan market is the most famous and largest market in Hanoi with four storeys. Coming to this market, you can find all sorts of apparel, electronic items, and food which are displayed in the small booths. It is great for some shopping or to just experience the day-to-day life of the locals. If you are worried about how to make a deal when going shopping in Vietnam, Dong Xuan market is the perfect place for you to practice some bargaining because it is a popular tourist market, and prices quoted may be slightly inflated.
Temple of Literature
Address: 58 Quoc Tu Giam, Van Mieu, Dong Da, Hanoi
This beautiful temple complex is the very first university in Vietnam. It was originally built in 1070 following the demand of Emperor Ly Thanh Tong, this was a place teaching the royal and high-class children as well as a center of worshiping place, dedicated to the Chinese scholar Confucius. Now, it is the symbol of the fond of learning of Vietnamese people and the familiar place of candidates whenever the examination season comes.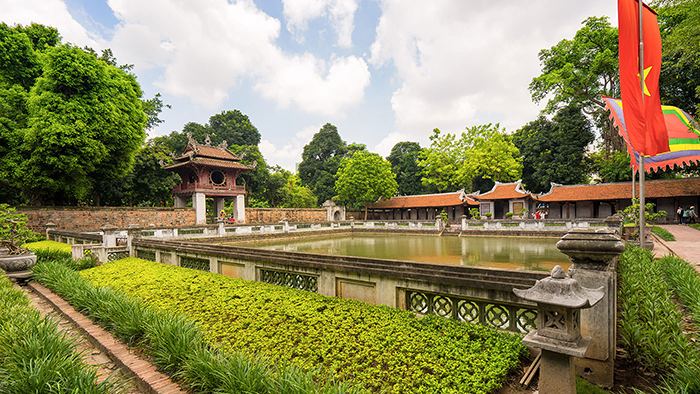 Temple of Literature
Hoa Lo Prison
Address: 1 Hoa Lo, Tran Hung Dao, Hoan Kiem, Hanoi
Hoa Lo prison was built by the French in the 1880s to hold the political criminals who were accused of against the mother country of France. American POWs sarcastically named this as the "Hanoi Hilton" although the name of "Hoa Lo" literally means "stove". Senator John McCain was held here after his capture, and his uniform is on display. Now, this prison is used as a memorial museum to remind the young generations about the guilty of French colonizers and the unbroken spirit of Vietnam lovers.
One Pillar Pagoda
Address: Doi Can, Ba Dinh, Hanoi
This pagoda lies on a single wooden pillar of 1.25 meters in diameter. This is an ancient pagoda built under the Ly dynasty in order to obey the order of King Ly Thai Tong. The emperor Ly Thai Tong at that time was quite old but he still hadn't had a son, after a dream that he met the Goddess of Mercy and then, he married a young peasant girl who gave him a son. The pagoda was built in 1054 to express his gratitude for the event.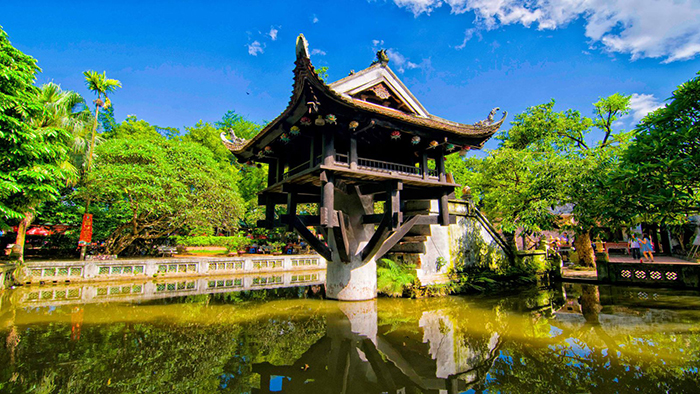 One Pillar Pagoda
Long Bien Bridge
Address: Phuc Tan, Hoan Kiem, Hanoi
This bridge was designed by the French and built by the Vietnamese with indigenous construction material, this bridge connected two banks of the Red River as well as the two districts of Hoan Kiem and Long Bien. Long Bien bridge was considered as the precious gate connecting Hanoi to the provinces in the east.
Thang Long Water Puppet Theater
Thang Long Water Puppet Theater (sovhtt.hanoi.gov.vn )
Address: 57b Dinh Tien Hoang, Ly Thai To, Hoan Kiem, Hanoi
The ancient art form of water puppetry is original from the Red River delta and Hanoi is one of the cradles of this art form. Coming to this theater, watching the puppets dancing elegantly, which are controlled by a whole troupe of puppet masters, telling the historical story of Vietnam such as Legend of the Restored Sword of King Le Loi.
Vietnam Museum of Ethnology
Address: Nguyen Van Huyen, Nghia Do, Cau Giay, Hanoi
This museum is a common house of the 54 different ethnic groups in Vietnam. It is an interesting place for tourists to browse through the displays and learn about the ethnic history of Vietnam. Closed on Mondays.
Hanoi is the pride of Vietnamese people where the landscapes and people lifestyle become the measurement and standard. If you still wonder about your Vietnam package trip, contact us to know more details. Thank you and see you in Vietnam soon!