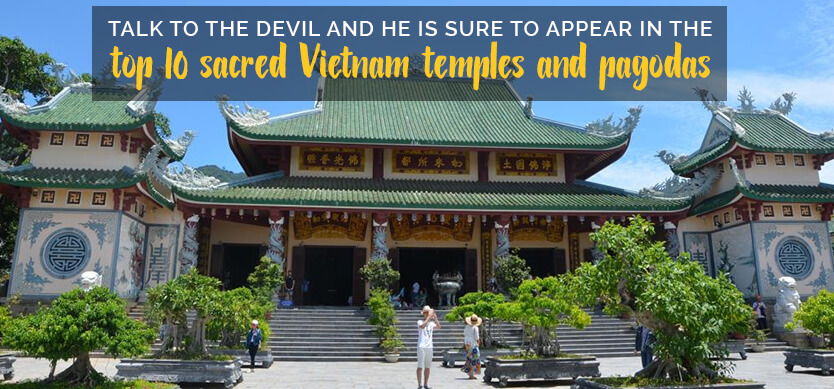 Talk to the devil and he is sure to appear in the top 10 sacred Vietnam temples and pagodas (Editor's choice)
Your pilgrimage in a Vietnam tour will really be imperfect if these pagodas and temples are not presented in your map. They are not only sacred but also beautiful as in heaven. Let's explore the most sacred temples and pagodas in this country that you should not miss with us.
Linh Quy Phap An pagoda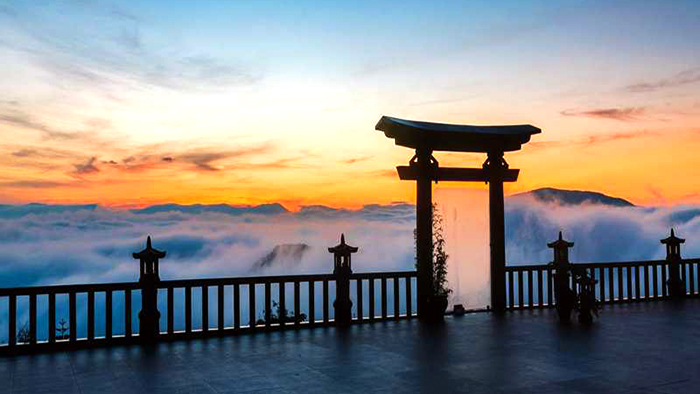 The gate of heaven in Linh Quy Phap An pagoda
The road to Linh Quy Phap An temple in Lam Dong province is a bit difficult, but the result will be paid off that the temple has features of a Japanese pagoda style, especially the unique gate of heaven Torii. The gate is said to be the boundary between sacred and secular places. Standing at the gate, travelers can see the four sides as a picture. There is also a gravel garden based on the philosophy of tranquility and meditation with a Bodhisattva statue in a lake and many other sceneries.
Bai Dinh pagoda
Bai Dinh - Ninh Binh is one of the most sacred temples in the new year occasions. There are two areas of the pagoda, the Old Pagoda and the New Pagoda. Old Pagoda leads tourists to the place of Mother, Nguyen Lords, and Mountain God worship. Here also has the largest Jade Well in Vietnam.
The New Pagoda has the largest bronze Buddha statue and largest bronze bell in Southeast Asia, the longest lobby of Arahant statues in Asia, etc. The two colors of classic brown of wood and green of stones have made Bai Dinh Pagoda - Trang An outstanding in the scenery of clouds and nature.
Linh Ung pagoda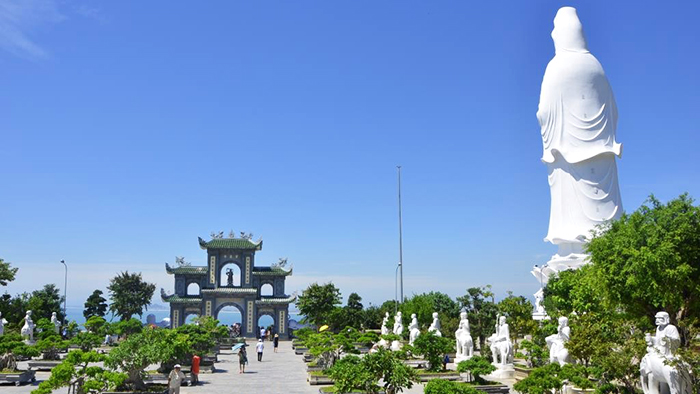 The highest statue of Avalokitesvara in Linh Ung pagoda
Linh Ung includes three pagodas of Da Nang city: Linh Ung Non Nuoc in Ngu Hanh Son mountain, Linh Ung Ba Na on the "Dalat of Central Vietnam" area, and Linh Ung Bai But in Son Tra peninsula. Especially when travelers come here, they will be overwhelmed to witness the highest statue of Avalokitesvara in Vietnam.
Tay Ho temple
Tay Ho temple is located on a small peninsula protruding in West lake, Hanoi and the front is a village of ancient Thang Long capital. In front of the village, there was a shrine dedicated to Lieu Hanh Lord, a talented and warm-hearted woman who was considered as Mother. Therefore, on Tet holidays, there are many pilgrims coming here.
Ha pagoda
If you're wishing for love, Ha pagoda in Hanoi is a place you should not miss. The pagoda was built by King Le Thanh Tong to express his gratitude to the magnates such as Nguyen Trai, Nguyen Xi, and Dinh Liet. The pagoda is located on Dich Vong ward, Cau Giay district. On days of Lunar New Year and the full moon, people come to Ha pagoda for love wishing.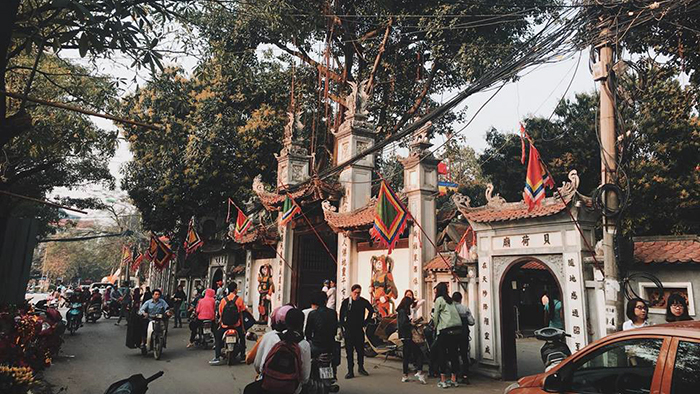 Ha pagoda of Hanoi city
Ba Chua Kho temple
Ba Chua Kho or Lady of Storehouse temple is a place to commemorate a skilled Vietnamese woman in organizing food production, supervising stockpile, and managing the national treasure in wartime. The temple was set up in the old food warehouse of the court in Kho mountain. People usually visit this temple of Vietnam to praying for a year of prosperous business.
The Temple of Literature
At the beginning of the year, students go to Quoc Tu Giam or Temple of Literature to ask for ancient Vietnamese scripts. Van Mieu - Quoc Tu Giam relic is a diverse and abundant population of Hanoi capital. The best place to go in Vietnam has been included in the ranking of 23 special national monuments. Students come here and wish a good year of study.
Linh Phuoc pagoda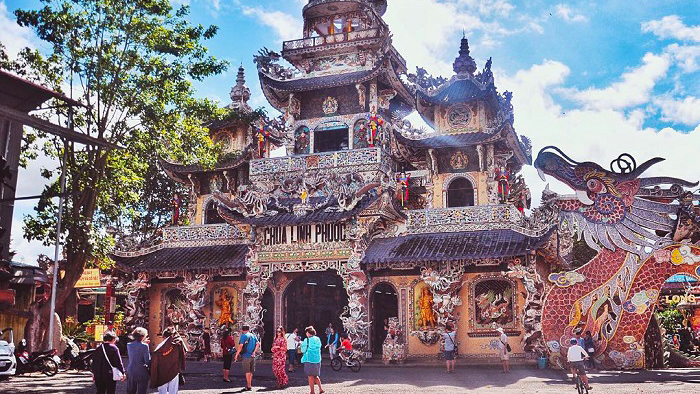 Unique architecture and decoration of Linh Phuoc pagoda
Linh Phuoc is very brilliant among the dreaming Dalat because the entire space of the pagoda is inlaid with pieces of porcelain and bottle flakes but it still retains the architecture of Vietnamese pagoda. The pagoda has a 49-meter-long dragon statue with scutes made of 12,000 bottles flakes and mouth covering the Maitreya Buddha statue. Moreover, the temple owns Bodhisattva Avalokiteshvara statue made of 600,000 immortal flowers.
Ong temple
If the North has Ha pagoda to wish for love, the South also has Ong temple which is very sacred. The pagoda is located at 676 Nguyen Trai street, Ho Chi Minh City. The temple worships Quan Cong, an excellent character of the Three Kingdoms in China. This is the spiritual address of the Chinese and the Vietnamese people to pray every day.
Vinh Trang pagoda
Vinh Trang pagoda has European style with curved columns, reliefs of 8 fairies riding horses, Renaissance patterns, Roman door, and ceramic tiles, etc. However, inside the pagoda, it brings bold architecture of Vietnam with the lacquered or wooden statue. This is really a place for those who want to pray for business, health, and love.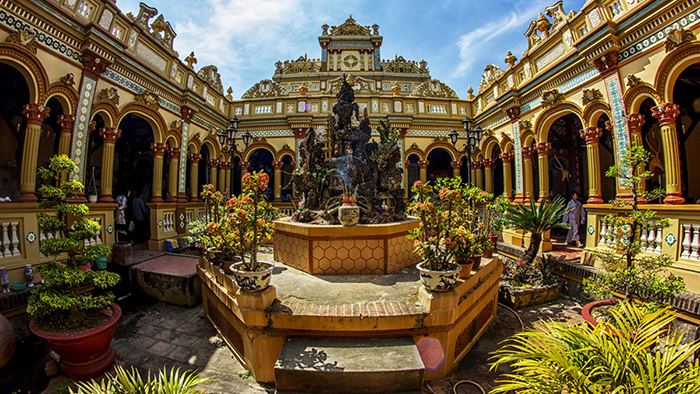 Vinh Trang pagoda
Temples of Vietnam, as well as pagodas, are places for people to hope for love, peace, and luck. Hope you will find your own wish in these sacred destinations. If this is helpful for you, don't hesitate to share with your friends. Thank you.