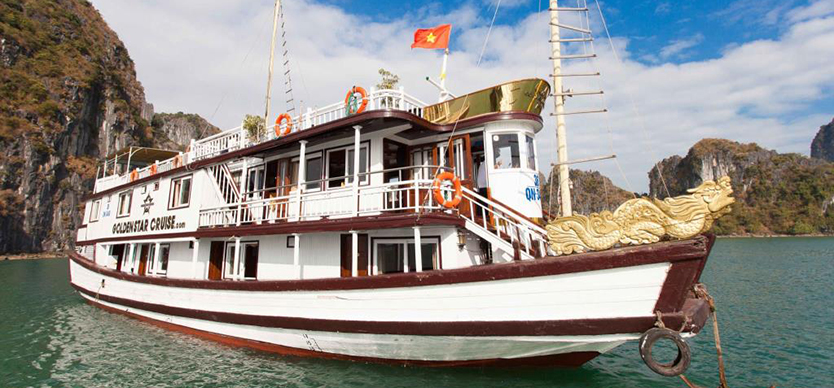 With the magnificent natural landscapes and the fascinating tourist activities, it's no surprise that Halong Bay is always on the bucket list of any authentic travelers when arriving in Vietnam. Many visitors choose to take a rest on the cruise to enjoy the feeling of mingling with the immense ocean. Here is our suggestion of 4 best 3-star cruises in Halong for your consideration. Do not forget to take Asia tours as well as Vietnam tours to get more information about things to do in Halong.
Golden Star cruise
Established in 2011, Golden Star Cruise which is one of the leading tour offerers in Vietnam ensures both competitive prices and excellent service. Being built in the model of the ancient Vietnamese court vessels with wide rectangular structure, Golden Star Cruise is designed in the opulent style which the traditional architecture blends perfectly with sophisticated modern furniture and comforts.
The cruise is embellished with several romantic wooden decorations and various windows and sundecks. All cabins are equipped with air-conditioning and windows to make the most of the panoramic views over the bay. The total fee which includes the full transfers ranges from $175-185 for the trip of 3 days and 2 nights or $135 for the journey of 2 days and 1 night.
To ensure the customer's comfort, private vehicles are used to travel on the road. The air-conditioned cars may contain from 4 to 29 seats, basing on the size of the group. Golden Star Cruise will surely offer you the mythical ways to experience the magnificent islands.
Oriental Sails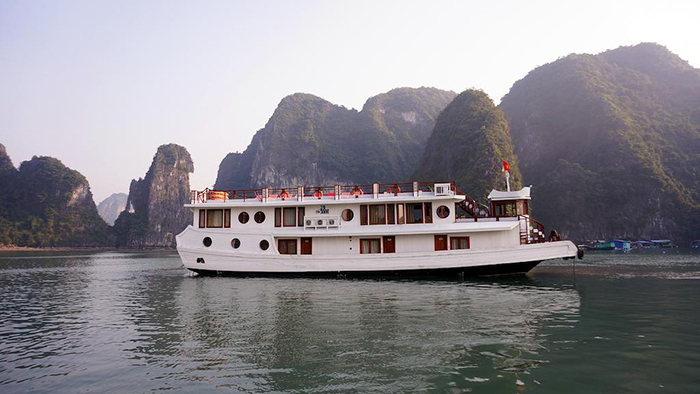 Oriental Sails
Oriental Sails is one of the leading tour operators in Halong with eight years full of professional experiences holding Halong Bay tours for international customers. Being considered to be the favorite choice of many tourists, this company has operated 3 groups of the cruise, including Oriental Sails, Calypso Cruise, and Starlight Cruise. While Oriental Sails and Calypso Cruiser are designed in Vietnamese traditional style with the hallmarks of the Orient characteristics, Starlight Cruise is the most luxurious and modernest which can be compared to other Halong Bay cruises.
With two cruises 1 & 2, Oriental Sails always offers the standard service. Oriental Sails 1 has 18 while Oriental Sails 2 which contains 8 cabins is newer and has been in operation since 2011. Being a deluxe cruise with 12 cabins, Calypso is well-known for stylish design, exquisite food as well as professional staffs, which is fairly fit with deluxe guests. Being the latest product, Starlight Cruise was launched in 2013, aiming to the luxury groups of guests.
With the design of double bottom, Starlight which is supposed to be the safest cruise in Halong contains 32 cabins furnished with the most comfortable fixtures. Moreover, there are 2 suites with an area of 50 square meters with the private balcony. The service of massage and beauty spa are offered on Calypso and Starlight Cruise while there is a wide range of onboard activities: exploring stunning caves, sunbathing, swimming, kayaking, practicing Tai Chi or hiking up rocks in Lan Ha bay. Moreover, if you go on a diet or are vegetarian, inform the staff and your demand will be met.
Aclass cruise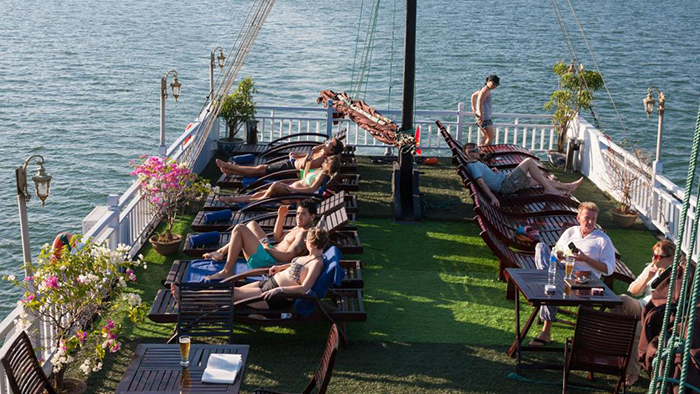 The sundeck on Aclass cruise
The list of the top-quality cruises in Halong can be intact without mentioning Aclass Cruise. There are 3 cruises for your choice including Carina cruise, Aclass Legend, and Stellar cruise and all of them guarantee the same efficient service. The most outstanding thing about Carina Cruise is its size that allows the boat to reach other parts of the Bay which are less crowded and less touristy.
Being an intimate boat, Carina contains 9 opulent en-suite cabins, aiming to serve small groups, couples, and individuals. The cozy atmosphere doesn't mean that customers feel cramped. With 14 luxury guest rooms and suites, Aclass Legend Cruise is equipped with stylish wooden furniture as well as beautiful amenities. Each room has a very large window that offers the spectacular bay view.
Being designed in traditional oriental style, the Stellar cruise has 21 spacious cabins, full of luxury fixtures such as private bathroom, a large sundeck, delicate dining room or lounge bar. Beauty spa, massage, or other exciting activities are available in Aclass Cruise. Undoubtedly, Aclass Cruise will give you a one-of-a-kind experience.
Halong Phoenix Cruiser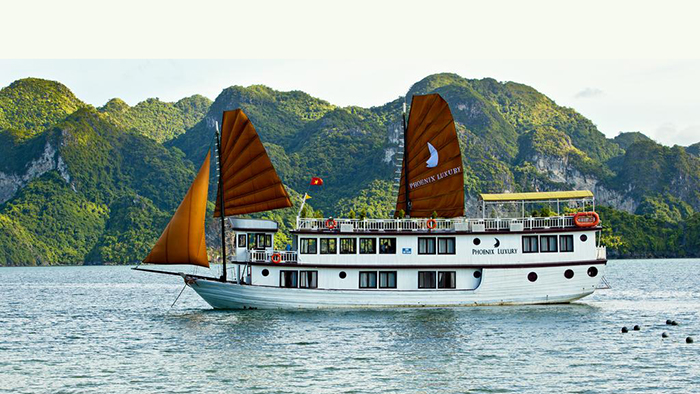 Halong Phoenix cruise
For 8 years operating, from 2009 to 2017, Halong Phoenix cruise won "the best tourism products and services" award by the Guide. Built in the modern style, Halong Phoenix Cruise creates a luxurious and comfortable atmosphere for customers. Fully-equipped room, professional staffs who can speak English fluently and the breathtaking Halong sceneries will make your vacation marvelous as much as possible.
The sundeck is an incredible place to contemplate the fascinating limestone and unique karst formations in the World Heritage site. Moreover, there are various activities on the board, including swimming, kayaking or cooking class. At night, you can enjoy the meal in the excellent restaurant, take a rest in the opulent room or spend time catching fish.
Halong has been well-known for an exceptionally charming beauty for a long time. It's a good idea to pop on a cruise, drift on the seawater and start a sea exploration. These above stunning cruises will contribute to making your trip satisfying as much as possible. Do not hesitate to take a 3-star cruise in Halong and have a memorable journey.