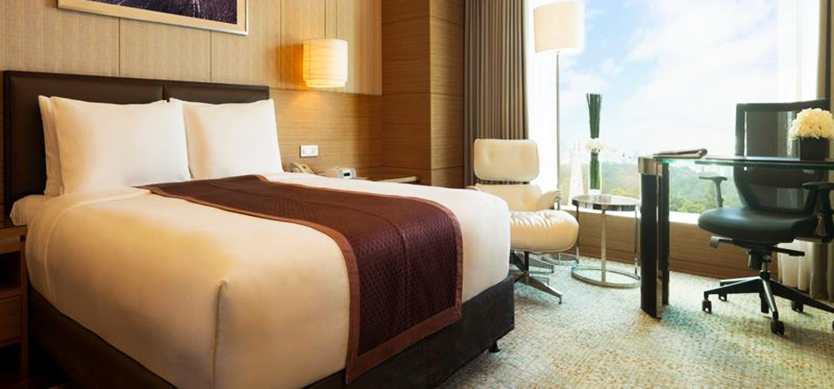 If you're planning your luxury Vietnam tours in Ho Chi Minh City and wondering where to stay, take a look at the list we suggest below. Due to the convenient location and the most luxurious services, top 5-star hotels in Ho Chi Minh City surely bring you an extraordinary experience when traveling there.
InterContinental Saigon
Located at the corner of Hai Ba Trung and Le Duan Street in District 1, InterContinental Saigon is one of the most popular 5-star hotels in Ho Chi Minh City. Featuring 305 rooms and suites, the hotel promise to bring guests the comfortable stay with the floor-to-ceiling windows to enjoy fantastic views of the city, high-speed Internet, and world-class amenities.
Thanks to the wide range of restaurant and cafe, guests can receive a wonderful dining experience including the Yu Chu Restaurant with authentic Cantonese and Peking cuisine, Market 39 with the best Western and Asian culinary traditions, Basilico and The Library with welcoming atmosphere, and Purple Jade with innovative cocktails.
As one of the leading hotels, InterContinental Saigon offers 8 conference rooms and one party room which can accommodate up to 600 guests. The 20-meter outdoor lap pool with sundeck and spacious fitness center with the latest equipment can give guests a relaxing time. Along with luxurious services, the hotel also provides special promotions for VIP guests. At Lounge on the 19th floor, guests can enjoy unique drinks, premium wines, and cocktails in the atmosphere of live music.
Park Hyatt Saigon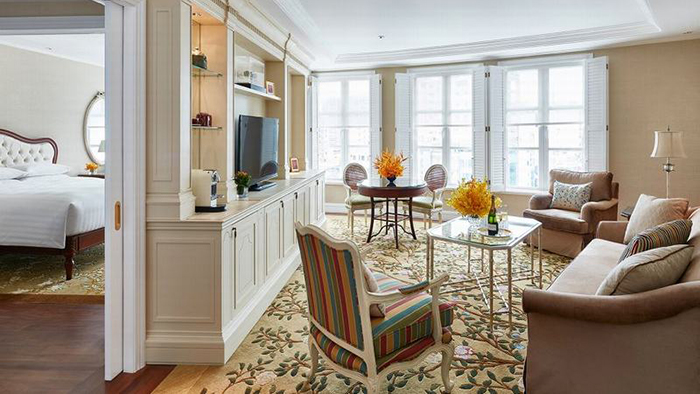 Park Hyatt Hotel (via kiwicollection)
Situated in the heart of city center, Park Hyatt is one of the best 5-star hotels in Ho Chi Minh City managed by an American Group Hyatt. The hotel has 252 rooms including 21 apartments and room types: Park Twin or King, Park Deluxe King or Twin, Park Suite King, Park Executive King, and Presidential Suite. All rooms are featured with air-conditioning, coffee & tea maker, hairdryer, internet, safe box, fridge, private bathroom, LCD flat screen TV and work desk.
The restaurant and bar in the hotel will bring guests an amazing dining experience. The Opera restaurant serves pizza, noodles and local food and a wide range of wines such as Toscana, Veneto, Sicilia, and Umbria. The Square One on the rooftop serves Western and Vietnamese dishes in a cozy atmosphere.
Park Lounge is the ideal place for meeting and working designed with glass window viewing to the city. To ensure guests to have the most relaxing time, Park Hyatt provides spa services with 7 therapy rooms, jacuzzi, body treatments, 20-square-meter swimming pool in a garden and gym with full equipment.
Caravelle Saigon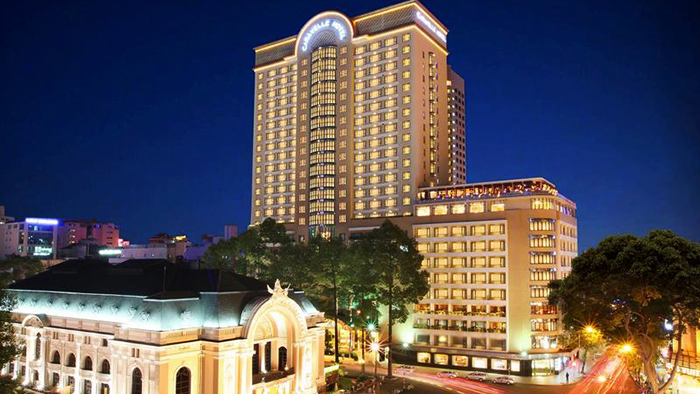 Caravelle Saigon
Located in the heart of Saigon since opening in 1959, Caravelle is a 5-star hotel that associated with the history of the city dubbed as the pearl of the Far East. Caravelle hotel has 335 rooms fully-equipped, luxurious and private lobby for VIP, non-smoking rooms, and rooms for disabled people. All rooms are featured with international telephone, LCD TV, CD & DVD player, fax machine, minibar, coffee & tea maker, safe box and free internet access.
The hotel brings the most Ho Chi Minh City's most unforgettable culinary experiences at six superb dining outlets. You can enjoy five-course menus at Reflections Fine Dining, seafood dinner buffets at Nineteen, sip elegant afternoon tea at Cafe de I'Opera, mix your favorite martini and cocktails at Martini Bar and Saigon Saigon Bar. Take a rest at Kara Salon & Spa or work out at the gym club with modern imported equipment and professional coach.
Caravelle Saigon is the ideal place to hold outstanding meetings, celebrations, and events. The planning and catering team will support enthusiastically to ensure the success of any meetings and conferences.
Sofitel Saigon Plaza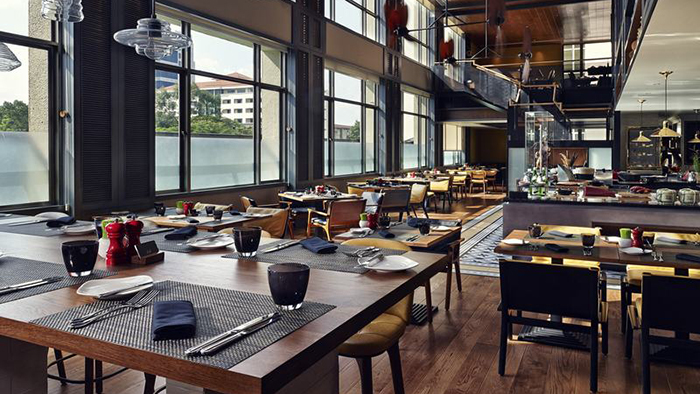 The restaurant in Sofitel Saigon Plaza
Opened from 1999, Sofitel Saigon Plaza is a 5-star hotel managed by the famous Accor Group. The French 20 story-building situated in the heart of the city is the best place to stay for tourists when traveling to Saigon. The hotel has 286 guestrooms including 10 luxurious rooms on the highest floor with the spectacular view of the city and Saigon River.
Guests can relax at the swimming pool on the 18th floor, work out at the gym with full equipment on the 3rd floor and other services such as sauna, yoga and aerobic. Sofitel Saigon Plaza offers a 400-meter-square banquet room which can accommodate up to 350 people, 7 function rooms for meeting and events with free wireless internet access.
Olivier Restaurant is a traditional French restaurant with Mediterranean cuisine and well-known with unique cuisine programs, opening from 11:30 am to 2:30 pm and 6:30 pm to 10h30 pm. The Cafe Rivoli on the 2nd floor is the place for the buffet with a wide range of international and featured Asian dishes. On Fridays, the restaurant introduces over 50 world famous types of cheese such as Fondue, Raclette, Blue, Goat, etc.
Hope that with our suggestions, you will find the most suitable hotel to stay for your trip. You can also refer to other things to do in Ho Chi Minh City via our website. If you find this article useful, share with others. Have a nice trip!