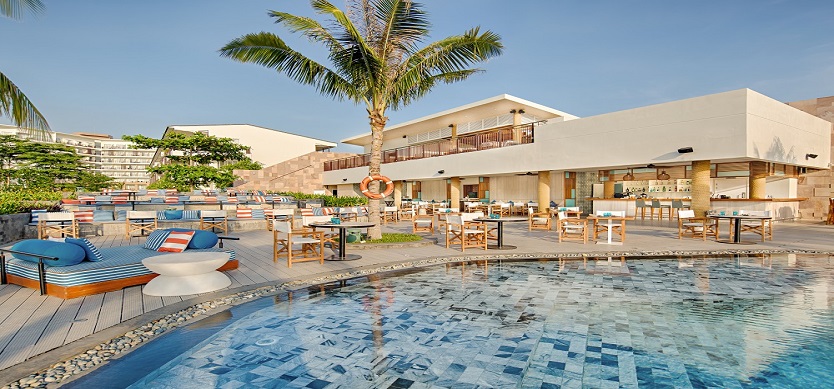 Dubbed as the pearl island of Vietnam, Phu Quoc Island is a must-see destination when taking your Vietnam luxury tours. Besides the breathtaking landscapes and amazing cuisine, Phu Quoc also offers luxury accommodation for tourists travelling there. Look at our top suggestions below to find the best place to stay in this beautiful island.
Novotel Phu Quoc Resort
Located in the center of Long Beach, Novotel Phu Quoc Resort is one of the best places to stay when traveling to Phu Quoc. The resort is in the complex of Sonasea Villa & Resort managed by the prestigious Accor Group, just 25 minutes drive from Duong Dong Town.
Inspired by the picturesque fishing village, Novotel Phu Quoc offers a total of 366 hotel rooms and 96 villas with many different styles. Each room is equipped with a sofa bed, balcony with sun loungers, minibar, free wi-fi, Cable TV, air-conditioning, safe box, work desk, hairdryer, and shower. Coming to Novotel Phu Quoc Resort, guests will be offered a complete culinary experience from local specialties and a wide range of Vietnamese, Asian and Western dishes at Food Exchange Restaurant, Phu Quoc Seafood Restaurant, and Tropicana Restaurant. The Ocean Bar and Lounge Bar are the places where you can enjoy fine food and balanced cocktails with live music.
As a 5-star resort, Novotel Phu Quoc also provides with luxury services for MICE activities and wedding. Other services and facilities include swimming pools, kids club, live music, beach activities, night market and Vietnamese cooking class.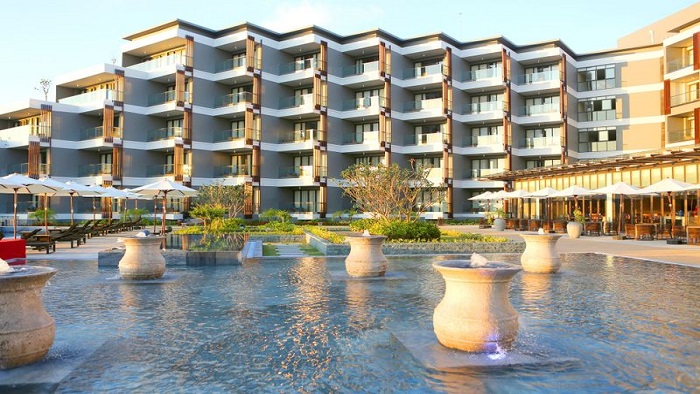 Novotel Phu Quoc Resort
Sol Beach House Phu Quoc
Managed by Melia Hotels International Group, Sol Beach House Phu Quoc is a 5-star resort located in Long Beach, just 8 minutes drive from Duong Dong Town. Sol Beach House Phu Quoc features 284 rooms designed airily which associated with nature. All rooms are equipped with the private balcony overlooking to garden and the sea. Most of the furniture is made of wood, rattan, and bamboo with the main color white and blue jade.
Sol Beach House Phu Quoc has a sophisticated combination of vintage style inspired by youth, modernity and bold ocean breath. The room amenities include satellite TV, air conditioning, minibar, bathrobe, flip-flops, hairdryer, bathroom amenities and safe. The restaurant with a vibrant atmosphere and natural surroundings will bring guests a wonderful dining experience with the best Asian and international cuisine infused with local flavors in The Kitchen, The Shack, and Ola Beach Club.
Coming to Sol Beach House Phu Quoc, guests can participate in entertaining activities such as gym, yoga, swimming, relaxing in a hammock on the beach, windsurfing, skateboarding, diving or live music. Due to the well-trained staff, Sol Beach House Phu Quoc surely brings you a memorable time.
Salinda Island Resort & Spa
Nestled on the beautiful beach in Duong Dong Town, just 4 kilometers from Phu Quoc International Airport, Salinda Resort is an ideal place to escape from the bustle of life. With 5-star standard, 121 rooms and villas in Salinda Resort Phu Quoc are furnished in the contemporary Oriental style.
Situated separately behind secluded rocky terraces with breathtaking sea views, Salinda's luxurious villas provide tranquility and ambiance with a spacious bedroom. All villas at Salinda Resort have outdoor dining areas and bathrooms with oversized natural bathtubs. With private space and large balconies, the high-end rooms are ideal places to see the sunset. The interior of the rooms is the combination of local architecture with modern facilities to bring guests the most comfortable stay.
The resort offers a wide range selection of cuisine, from the traditional Vietnamese food at Salinda Restaurant, Italian cuisine at Casa Italiana, Indian cuisine at Namaste India with seafood and vegetarian dishes. You can also enjoy light snacks and drinks at the Pool Bar and Lobby Lounge. Other services and facilities include a swimming pool, water sports, kayaking, club U-Sing-Along, souvenir store, gym, working room and kids club. The spa is a highlight of services in the resort. Managed and operated by Thai Guru Spa, Salinda Spa will provide you with special treatments for your body to bring you the perfect experiences and make you feel young and energized.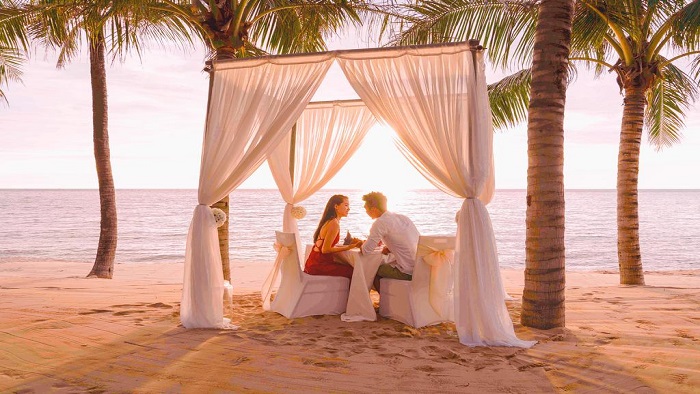 Salinda Island Resort and Spa
Fusion Phu Quoc Resort
Launched in June 2017, Fusion Phu Quoc Resort is one of the best places to stay when visiting Phu Quoc. Situated in the north of Phu Quoc, this resort covers a total area of 20 hectares. Fusion Resort Phu Quoc is a perfect combination of the contemporary style and the elegance of the countryside to bring guests luxurious experiences but still comfortable. The resort uses natural materials characteristic of the traditional fishing village in construction and architecture.
Fusion Resort Phu Quoc offers 97 villas with the leaf-roofs. Each villa has a private pool and garden giving the guest the most relaxing time with nature. Villas have from one to five bedrooms which are suitable for couples, family, group or solo travelers. Like other resorts of Fusion brand, guests will find many cuisine selections including tapas menu serve right at the bar or swimming pool and delicious seafood at the restaurant.
In addition, the international standard buffet breakfast is served at Secret Garden. This is the featured service that only has at Fusion. Fusion Brand is well-known for hotels and resorts with the package spa services. Fusion Resort Phu Quoc provides guests with a daily spa without any extra fee to escape from the bustle and hustle of life.
Hope that our suggestions above can help you answer the question where to stay in Phu Quoc. Visit our website to get more information about Asian tours. If you find this article helpful, share with others. Have a nice trip!