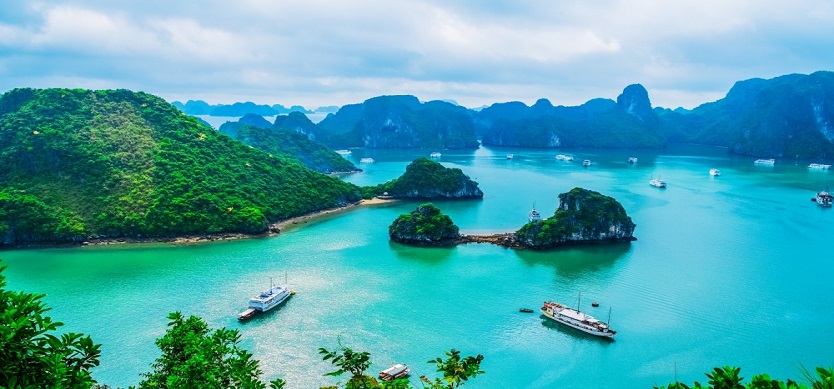 Vietnam is a beautiful country with many rivers and lakes that create the spectacular views and in fact, there are a lot of beautiful lakes in both nature and artificiality that you shouldn't ignore during your journey exploring the north of Vietnam. Here, we provide you top 5 charming lakes in northern Vietnam to visit in your Vietnam package tour.
Nui Coc Lake
Nui Coc Lake is located in the northeastern province of Thai Nguyen, around 90 km from Hanoi. This lake is a reservoir with an area of 25 square kilometers and 23 meters depth that is surrounded by mountains and covered by 89 islands. It is an attractive place for tourists thanks to its picturesque scenery, fresh atmosphere, and immense emerald rice fields. Especially, the local people until now still orally transmit a legend of a sad love story.
Top 5 Beautiful Lakes In The North Of Vietnam
The legend has it that there was a man named Coc who was so poor that he has no ability to find a girl to get married. He then met a beautiful girl named Cong who was a daughter of a rich mandarin. They fell in love with each other very much, but the girl's family did not allow them to get married as Coc was so poor. Coc returned to his homeland and waited for so long for his sweetheart until he turned into the present Coc Mountain.
When Cong heard that sad new, she was broken-hearted and cried until she passed away. Her tears flowed and changed into a river which is the present Cong River and holds Coc Mountain closely. That's why when visiting Nui Coc Lake, you can still feel the mystical beauty like a watercolor painting than a real landscape. You can visit Nui Coc Lake in one day or can arrange it as a stopover on your discovery to the northeast of Vietnam.
Thac Ba Lake
Being well-known as one of the biggest artificial lakes in Vietnam, Thac Ba Lake is located in Yen Bai province that is a truly beautiful stop for your trip to the northwest of Vietnam. The lake is created on the Chay River for construction of the Thac Ba hydroelectric plant in the 1960s.
The lake is 24,300 hectares with 1331 beautiful islands dotted on the water surface that form charming and spectacular landscapes of mountain and river. While cruising on the lake, you will enjoy the fresh atmosphere of emerald water. Especially, it is so easy to see beautiful images of local inhabitants fishing on the lake by their small boats moving slowly around. A fantastic trip to the northwest of Vietnam combining with Thac Ba Lake can leave the beautiful memories in your mind.
Ba Be Lake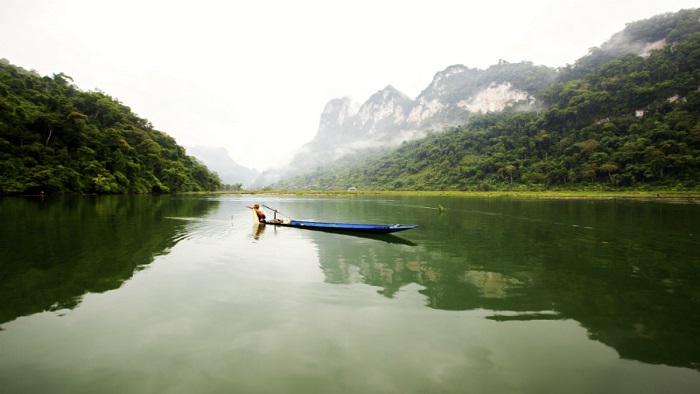 Top 5 Beautiful Lakes In The North Of Vietnam
Located at Ba Be district, Bac Kan province, Ba Ba Lake is a fantastic place for a sightseeing tour as well as for adding on any Vietnam adventure tour. Ba Be lake covers a water area of around 500 hectares and spreads over 8 km enclosed by steep, densely wooded slopes and white limestone cliffs. It is considered the biggest natural water lake in Vietnam that offers a feast of limestone and tropical forest.
The main sites to visit in Ba Ba Lake include Tay ethnic villages who live around the lake for generations, caves, and waterfalls that you can see while boating around the lake. Or if you are wildlife lovers, Ba Be is a great place to watch animals as it belongs to Ba Be National Park and you can see at least of 220 animals, 417 plans and 49 fish species that are recorded here. When coming to this beautiful lake, we advise you to spend at least a 2-day 1-night trip to visit and explore the landscapes of Ba Be lake and the lifestyle of Tay people living around the lake.
Hoa Binh Lake
Hoa Binh lake is located in Hoa Binh province which is a popular stop while you are on the way to visit Mai Chau. The lake is so beautiful that tourists even praise it as Halong Bay on the mountain. This lake offers great scenery with picturesque islands jutting out from the water surface.
Normally, the tours only arrange driving on the road running along Hoa Binh lake, however, it is also a great idea to stop at a local house in the middle of the lake and take the 1-hour boat trip for enjoying the beautiful view of the lake and surrounding areas.
West Lake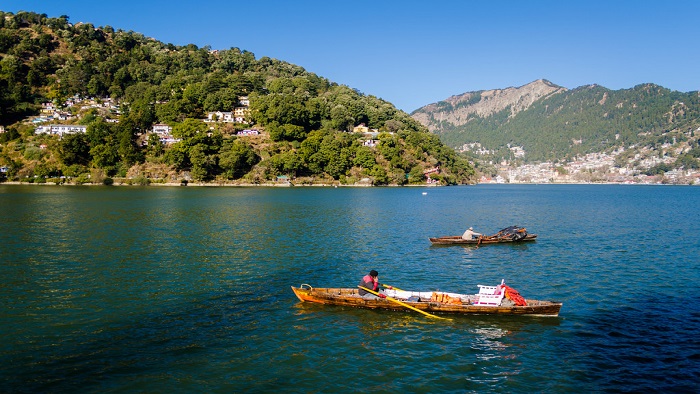 Top 5 Beautiful Lakes In The North Of Vietnam
West Lake is Hanoi's largest freshwater lake, located right in the center of the capital. Apart from Hoan Kiem Lake, this lake is a rare peaceful place in Hanoi that attracts foreign tourists as well as local citizens who wish to see a thin blanket of mist rising over the surface at sunrise and sunset.
There is a lotus field in the lake, so taking a trip around the lake in the morning to see the beautiful lotus flowers and take the best photos if you go to West Lake in the lotus season. Besides that, you can go around the lake to see how people live and fish, then you will forget all about the city's crazy traffic.
Vietnam is warmly welcoming you to come and see the beautiful landscapes as well as explore the local culture. if this information is helpful for you, share with others to have the memorable moments in Vietnam like you. Thank you and have a nice trip!