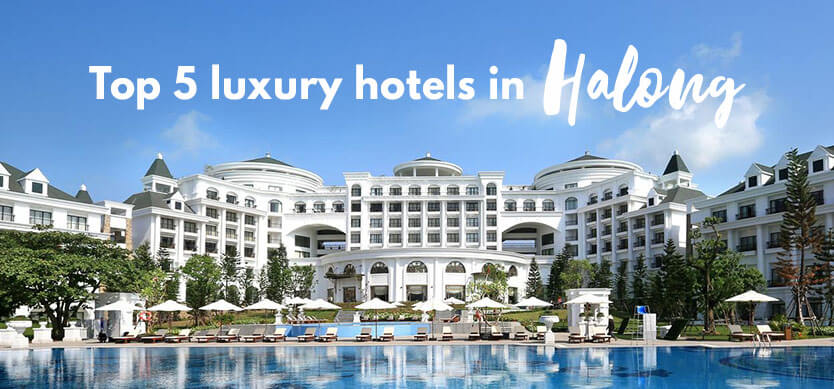 2018 is the year marking the noticeable development of Halong tourism. In this year, the hotel system in Halong has been upgraded that many 5-star hotels officially operating are appreciated by both domestic and foreign tourists. The following are the 5 best hotels in Halong you need to know in a Vietnamese tour.
Wyndham Legend Halong
Address: 12 Halong street, Bai Chay ward, Halong city, Quang Ninh province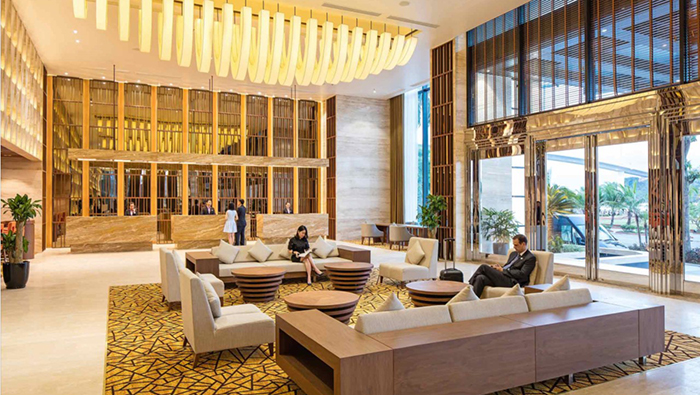 At the top of the list is the Wyndham Legend Halong which is one of the most prominent hotels of the Wyndham Group of America. The hotel is located near Bai Chay beach, overlooking the World Natural Heritage Halong Bay and Bai Chay bridge, is very convenient for moving. The 5-star hotel has 217 elegantly designed rooms in classic European style with classy service and high-speed wifi, suitable for all the needs to stay on business trips or vacation.
Moreover, this hotel in Bai Chay is very close to the entertainment areas and the beach. From the hotel to the Sun World Halong amusement park and Queen Victoria cable car station, it takes just minutes. There are also car rental service, an outdoor swimming pool, a gym, and professional 24-hour receptions, etc in the hotel where to stay in Halong. For those conveniences, Wyndham Legend Halong hotel was largely rated by guests overall.
Halong Paradise Suites Hotel
Address: Tuan Chau island, Halong city, Quang Ninh province
Halong Paradise Suites exterior (elle.vn)
Paradise Suites hotel is located in the heart of Tuan Chau island, only 19.2 kilometers from Halong city. This is one of the 4-star best places to stay in Halong that you can trust.
The hotel consists of 156 luxurious bedrooms with luxurious European furniture which are designed and executed exquisitely with the main materials of natural wood, marble, and premium leather. The spacious suites have air conditioning, smart flat-screen TV, dark wood furnishings, and large windows with sea view. In addition, Halong Paradise Suites hotel also has a customer service team who are very attentive and dedicated.
When booking, customers will be advised to choose a tour to Halong bay, Cat Ba island, and Yen Tu relics, carefully arranged from booking plane tickets to the limousine or private helicopter to be picked up.
Muong Thanh Halong Hotel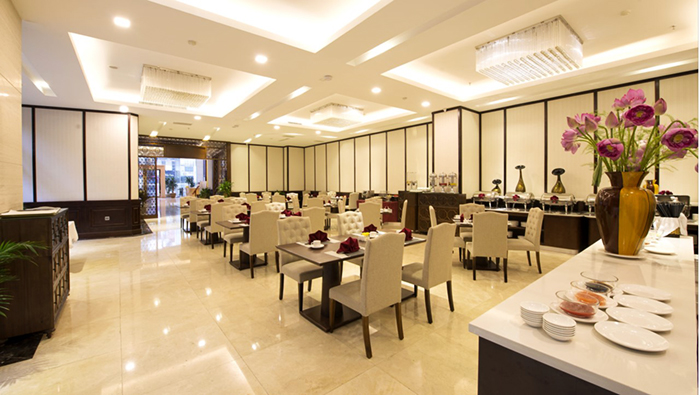 Muong Thanh Halong hotel restaurant
Address: 138 Halong street, Bai Chay ward, Halong city, Quang Ninh province
Muong Thanh Halong hotel is located right at Bai Chay tourist area. From here, visitors can observe and see the panoramic view of Halong. Muong Thanh Luxury Quang Ninh is a stroke in the giant mountain and water painting and also a beautiful creation of nature. The rooms of this best hotel in Halong are designed to suit all the needs of vacation or business trip. With its convenient location, the best hotel in Vietnam will certainly give customers comfort and convenience for each travel occasion in Halong.
Royal Villas Halong
Address: Halong street, Bai Chay ward, Halong city, Quang Ninh province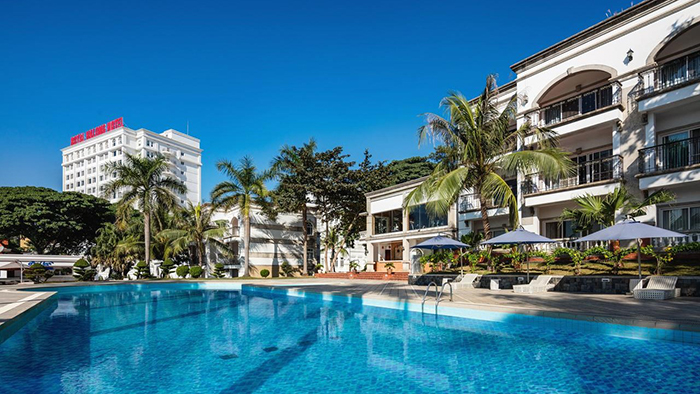 Royal Villas Halong Hotel offers visitors with full of services and facilities
Royal Casino Villas Halong hotel is located in Halong street, Bai Chay, Quang Ninh, taking around 3.5 hours to drive from Noi Bai International Airport, 900 meters from Sun World Halong Park, 800 meters from the beaches, and 2 kilometers from Vietnam night market in Halong.
The hotel is designed in a modern style, exuding luxurious and courteous appearance with all facilities to meet the needs of visitors. The best place to stay in Halong has an airy, beautiful, and clean atmosphere, good quality service, and friendly staff who are enthusiastic to help customers. More than that, the hotel also offers guests with entertainment activities to keep them always happy and excited during your stay.
Hoang Gia Halong Hotel
Address: Bai Chay ward, Halong city, Quang Ninh province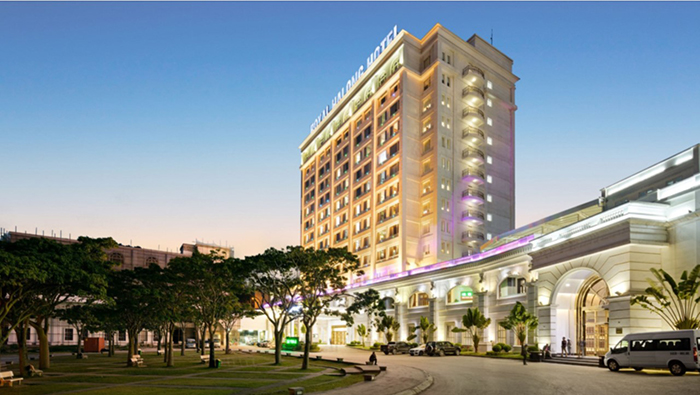 Royal Halong Hotel - one of the best places to stay in Halong
Hoang Gia Halong or Royal Halong hotel is located right in the heart of Halong city. Royal Halong is a 4-star hotel that is elegantly designed and furnished with modern amenities and beautiful views over Halong Bay. With a variety of amenities such as outdoor amusement area, luxury Halong restaurants, fitness center, nightclub, and other varied games, this will definitely be a pleasant place in Halong that meet the desires of travel, leisure, or business of all tourists.
Not only does it bring tourists exciting experience and flawless beauty, but the city also gives travelers a lot of choices of hotels where to stay in Halong. The 5 Halong hotels above are in the best hotels in Halong bay in 2018. If this is helpful for your tours of Vietnam, don't hesitate to like and share with others. Thank you and hope to serve you in Halong.