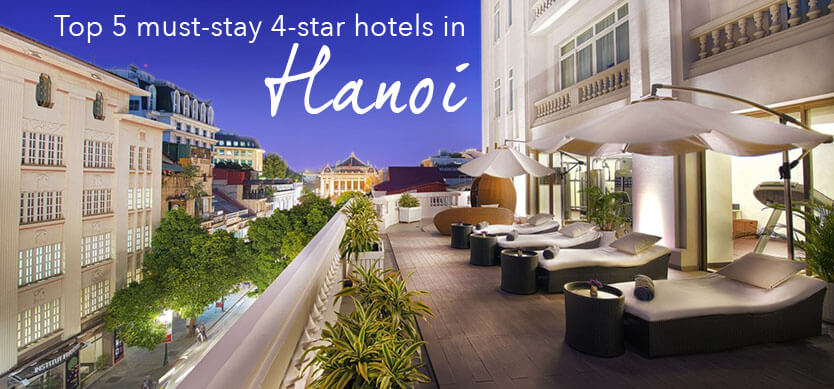 Being high-end yet not expensive, 4-star hotels are the best choice of most travelers and those who have business travel frequently. This list of the best 4-star hotels in Hanoi are evaluated based on design, quality of service, price level, and location, etc, so you can choose and compare prices to find the most suitable one.
Candle Hotel
Address: 287 Doi Can street, Lieu Giai, Ba Dinh district, Hanoi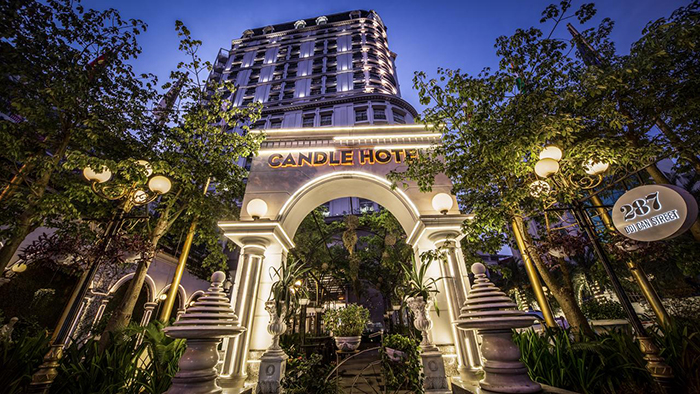 Candle Hotel, Hanoi
From Noi Bai International Airport, it takes only about 30 minutes to reach Hanoi Candle Hotel - one of the best 4-star hotels in Hanoi, located at 287 Doi Can, Lieu Giai, Ba Dinh, Hanoi. Candle Hotel Hanoi consists of 17 floors and 124 bedrooms with ancient yet luxury design and many trees, giving the most comfortable experience for visitors to rest here.
At Candle Hotel Hanoi, guests can enjoy high-class services such as conferences, weddings, swimming pool, gyms, massage rooms, etc and visit many famous spots like Hoan Kiem lake, Thang Long Citadel, Ho Chi Minh Mausoleum, Dong Xuan market, and Hanoi Old Quarter, etc. The price level at Hanoi Candle Hotel is higher than other 4-star hotels. Visitors can book directly on Agoda.com for the cheapest price of VND 1,787,996/night for a double room, Booking.com, or Hotels.com.
Chalcedony Hotel
Address: 4 Nguyen Truong To street, Ba Dinh district, Hanoi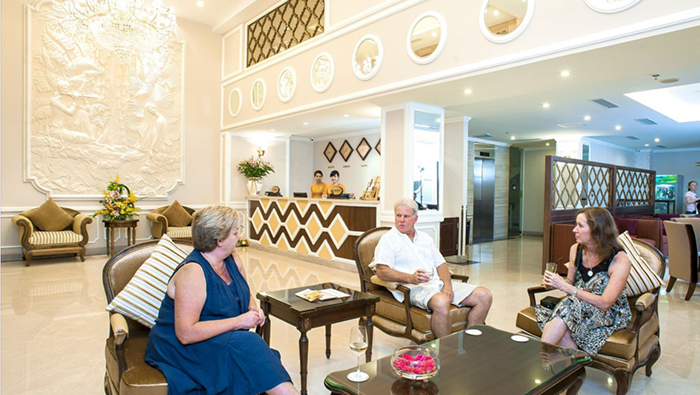 The luxury space in Chalcedony hotel, Hanoi
The 4-star hotel is located between Hoan Kiem lake and West lake, in Nguyen Truong To street, Ba Dinh district. Chalcedony Hotel Hanoi is one of the best places to stay in Hanoi which is near the city center. Staying in Chalcedony Hotel Hanoi, guests will only spend 15 minutes walking to Hoan Kiem lake, 30 minutes to Noi Bai Airport, and it is also near Hanoi railway station. Tourists can book 1 night in a double room at Chalcedony Hotel Hanoi on many travel websites such as Booking.com at price of VND 1,708,428, Hotels.com at price of VND 1,549,203 or Agoda.com for the lowest price guaranteed of VND 1,051,762.
Boss Legend Hotel
Address: 1 Hang Thung street, Ly Thai To, Hoan Kiem district, Hanoi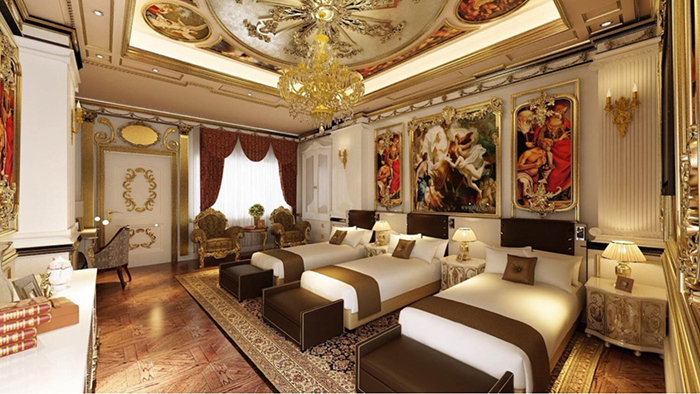 The attractive decoration in Boss Legend hotel
Boss Legend Hanoi hotel can be mentioned as one of the best 4-star hotels in Hanoi, located in Hang Thung, a street in Hanoi Old Quarter. With its prime location, tourists staying at Boss Legend hotel will be extremely convenient to visit, go shopping, and eat in the busiest streets of Hanoi. With ancient yet luxury design, 80 rooms, and full of hotel services such as games, swimming pools, massage rooms, and gyms, etc, Boss Legend hotel will be a comfortable place for tourists to come to Hanoi. Travelers can book Boss Legend Hanoi at the lowest prices in Agoda.com, Hotels.com, or Amoma hotel reservation websites.
Fortuna Hotel
Address: 6B Lang Ha street, Dong Da district, Hanoi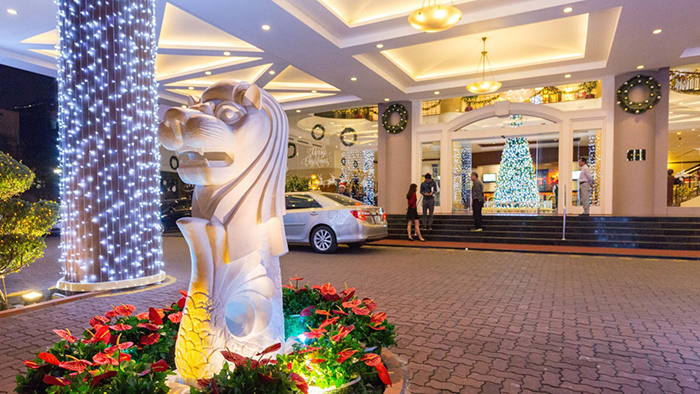 The entrance of Fortuna hotel
Hanoi Fortuna Hotel is one of the largest 4-star hotels in Hanoi with 350 spacious rooms and it is fully equipped with convenient facilities such as telephone, en-suite bathroom, safe deposit box, and satellite TV, etc. Besides, Fortuna Hotel Hanoi offers attentive customer services such as massage and sauna service, outdoor swimming pool, and conference room, etc, which help guests staying here have the most relaxing and comfortable moments.
The price of accommodation at Fortuna Hanoi is higher than the 4-star hotels of Chalcedony or Hanoi Candle that the cheapest price on Agoda.com is VND 2,590,364/night and the highest one on Booking.com is VND 2,163,401/night. Staying here, guests are also offered free buffet breakfast.
Lan Vien Hotel
Address: 37 Ly Thuong Kiet street, Hoan Kiem district, Hanoi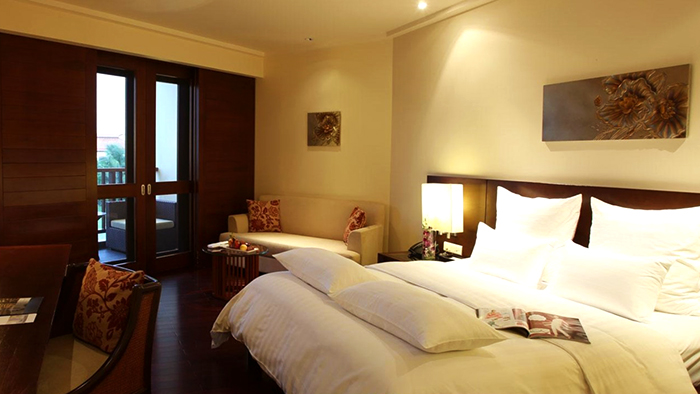 The warm atmosphere of Lan Vien hotel rooms
Lan Vien Hanoi Hotel has total 115 rooms including 5 Superior Suites which are 25 square meters wide, 34 Deluxe Double Suites of 35 square meters with view to Hoan Kiem lake, large windows, and large balcony, 34 Deluxe Twin Suites of 35 square meters, 24 Executive Suites of 50 square meters, 4 Junior Suites of 60 square meters, etc. At Lan Vien, customers will enjoy free services such as wifi, printing, massage services, gyms, etc. This is really one of the ideal destinations for tourists in Hanoi.
Resting in the beautiful 4-star hotels in Hanoi will help you feel comfortable and relaxed after a day exploring the streets of Hanoi or the tired working days. The price level of the 4-star hotels is much higher than the price of 3-star hotels in Hanoi, however, the luxury and class of the hotels are the factors that make a difference. If this is useful for your Asia tours, don't hesitate to like and share with others. Thank you.